Easy Homemade Haitian Spaghetti (Espageti)
Haitian spaghetti or Espageti is a very popular dish in Haitian cuisine. Like a lot of Caribbean cuisines, Haitian food has been influenced by its many historical invaders and neighbors. You can find, Spanish, French and American influences in much of its food. Many people equate Haitian food with spice and that is not true. While it does use a number of spices, Haitian food is packed with flavor. Deep spices, tangy sauces and bright, refreshing garnishes are fundamental elements of Haitian cooking.
Spaghetti, sausage and tomato ketchup is a popular dish and comprises the fundamentals of this dish. Spaghetti is very often eaten for breakfast and lunch in Haiti. This is because the carbs keep you full the rest of the day. Sausage and ketchup are key ingredients of this dish. The rest of the flavors, herbs and spices are all up to you. I have made a simple and Haitian spaghetti dish that can be made in no time and makes for an easy and filling meal for the whole family.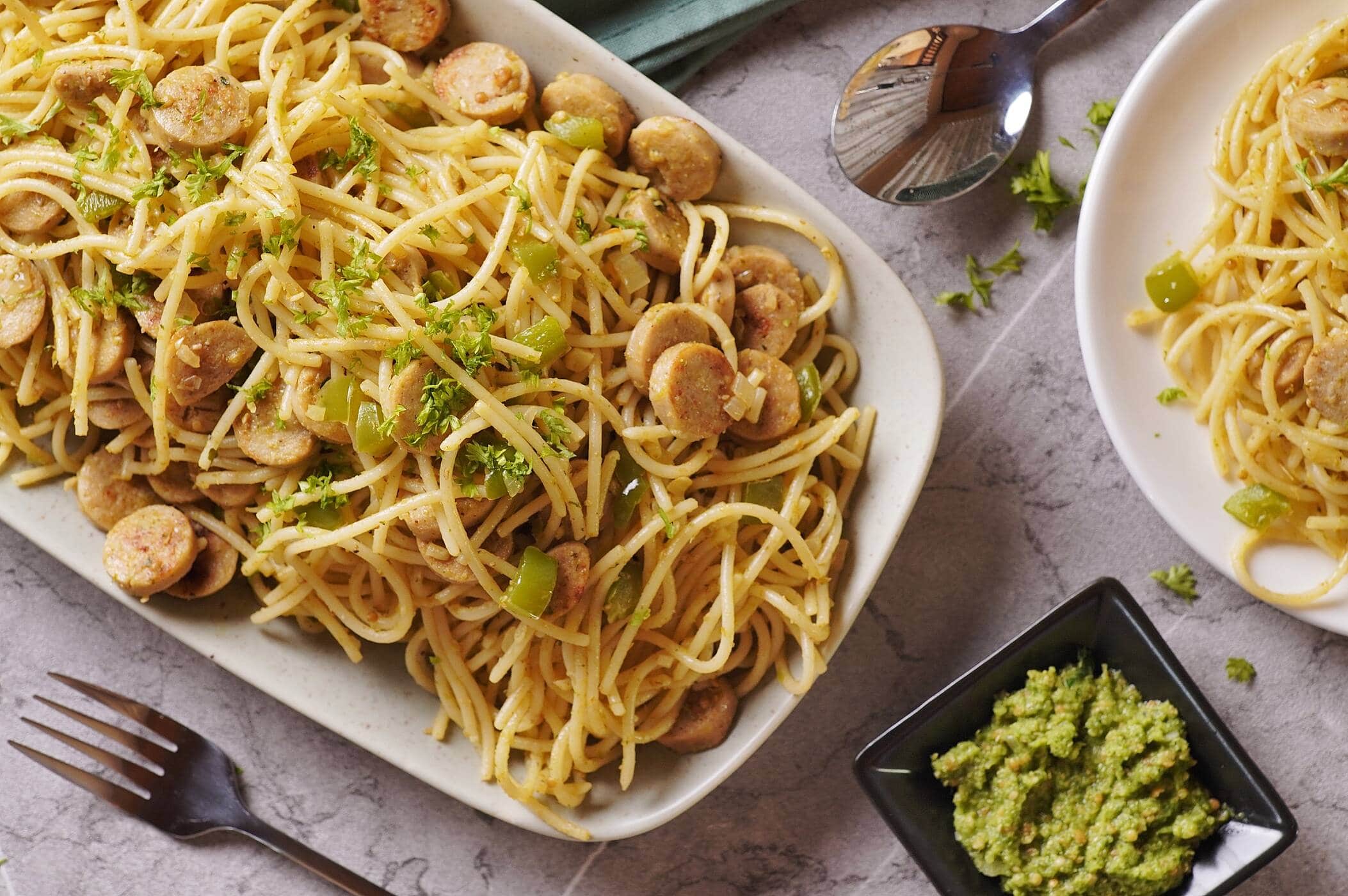 Ingredients
1

pound

spaghetti

½

pound

chicken sausage

cut

3

tablespoons

of tomato paste

1

onion

finely diced

2

cloves

of garlic

minced

½

cup

of bell peppers

diced, green or red

¼

cup

fresh parsley

2

teaspoons

of Haitian Epis

optional

Reserve some pasta water

Olive oil

Salt and pepper
Instructions
Assemble your ingredients together.

Cook the spaghetti as per box instructions. Drain and set aside and reserve about two cups of the pasta water

In a pan, heat some oil. Add the sausage pieces and sauté for about 2-3 minutes.

Now add the onions and garlic and sauté till they turn fragrant.

Add the peppers and sauté

Add the tomato paste and add about one cup of the reserved pasta water. Combine well. Bring to a boil and let it simmer for a few minutes.

Now add the cooked pasta. Add, the Haitian epis, salt and pepper. Mix well.

Take off the heat and garnish with parsley.
Video
Nutrition
Calories:
564
kcal
|
Carbohydrates:
94
g
|
Protein:
25
g
|
Fat:
10
g
|
Saturated Fat:
2
g
|
Polyunsaturated Fat:
1
g
|
Monounsaturated Fat:
1
g
|
Cholesterol:
40
mg
|
Sodium:
686
mg
|
Potassium:
481
mg
|
Fiber:
5
g
|
Sugar:
7
g
|
Vitamin A:
1283
IU
|
Vitamin C:
35
mg
|
Calcium:
44
mg
|
Iron:
3
mg
Tips & Tricks
If you have any leftover meat or vegetables, add it to this this dish to if you think it could be a good fit.
Hot dog sausages are the most popular sausage used in the traditional Haitian spaghetti
Tomato ketchup is often added to this or used instead of the tomato paste, adding extra flavoring to the dish and a little sweetness from the sugar
Shrimp is a great way to bring more flavor to this dish and compliments the hot dog/sausage very well
Storage
Haitian spaghetti can be stored in the fridge for 3-4 days. Let it sit out for about 30 minutes, if possible, before you heat it up. Add a little bit of water or stock (chicken or vegetable) when you are heating it up. It will keep the spaghetti from drying out.
You can freeze the this dish in an airtight container for about 2 months. Let it thaw overnight in the fridge. While heating it up, in the microwave or the stove, add some water or stock. You can also add some tomato ketchup to wake up the flavors a bit.
Questions
What is Epis?
Haitian epis is basically a blend of spices, herbs and seasoning that is used as a base in most Haitian dishes. It is made up of onion, garlic, vinegar, olive oil, peppers and parsley along with a number of other herbs as spices. It can include bouillon cubes, thyme, rosemary, chili, lime and so much more. A few spoons of epis can be added to most dishes to give it a lovely, spicy, Haitian twist. Epis can last in the fridge for up to a week in the fridge and for 3-4 months in the freezer.
What sausages can I use in the Haitian spaghetti?
While, hot dog sausages are most commonly found in Haitian spaghetti, you can use any sausage you prefer or have available. Chicken sausage, spicy pork and even vegetarian or tofu sausages taste good with this. Just slice up your sausage of choice, sauté in oil, till it gets cooked and then carry on with the rest of the recipe.
Is there a vegan option for the Haitian spaghetti?
While traditional Haitian Spaghetti has sausages in it, you can add your own little twist to make it vegan or vegetarian. You can use a plant-based sausage, salami or just eliminate it completely and replace with vegetables. If you choose plant-based sausage, Field Roast is a fantastic brand at the time of this writing. You can add more peppers, peas, asparagus and broccolini, which are good options, but you can really go with anything you like.
Substitutions
Spaghetti: Linguini and fettuccini are both good options. Angel hair pasta is another alternative, but because it is so fine, you have to ensure you don't overcook it or cook it as long as you cook regular spaghetti, as it gets mushy.
Sausages: You can use any sausage you like, dice it and cook it and it is ready to go. Spicy pork, any hot dog sausage, chicken and turkey go well with the Haitian spaghetti. You can also use a vegan or vegetarian sausage.
Tomato paste: Tomato ketchup is very often used in Haitian spaghetti, and you can either use it instead of tomato sauce or along with.
Epis: Epis is optional, but it really does elevate the spaghetti and gives it a nice rich flavor. You can quickly make it at home with a few ingredients.
Parsley: It is a delightful garnish for this dish, if you don't have parsley, you can use cilantro, but definitely go with the parsley as it has a refreshing taste.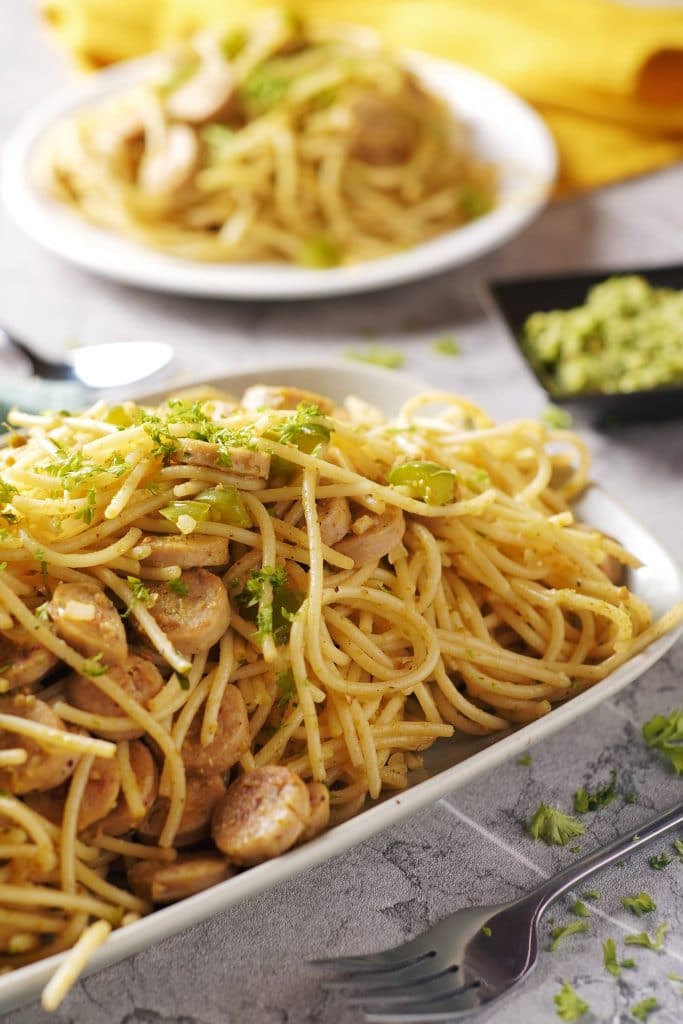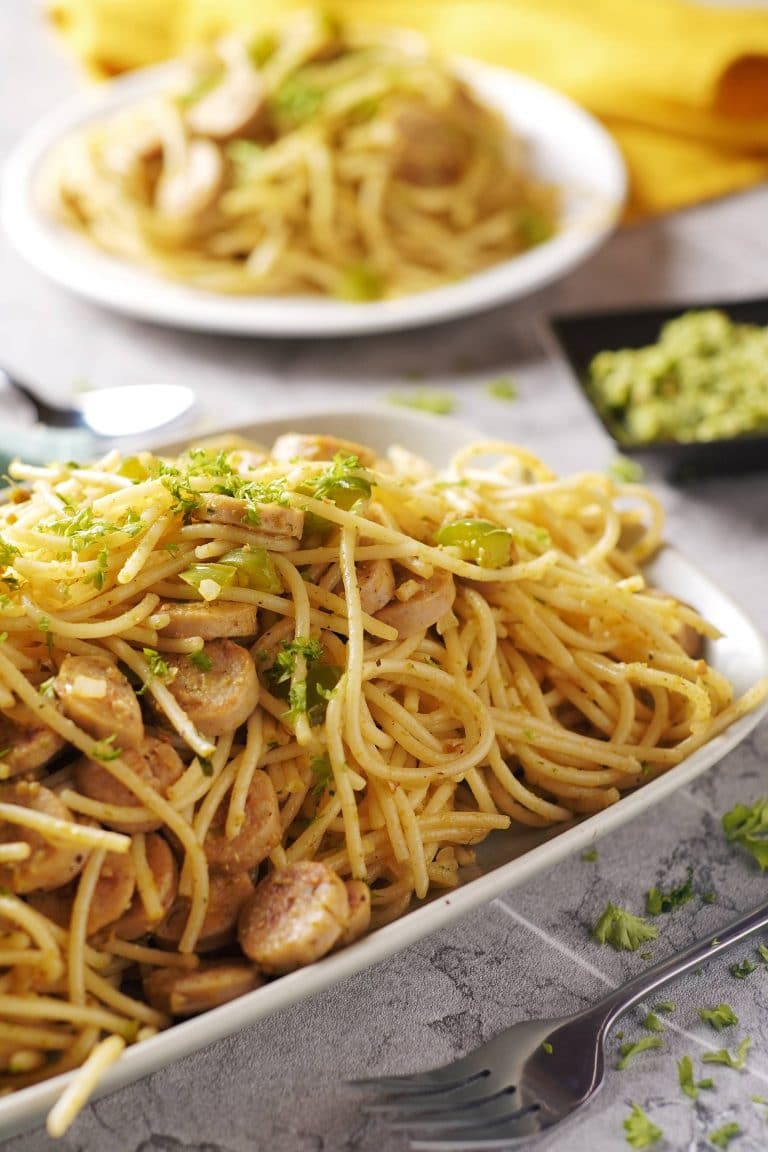 Accompaniments
This Haitian spaghetti is a wholesome, filling dish all on its own. It is hearty and has a very distinctive flavor, so it doesn't need too much more. A warm bread is a nice accompaniment, as is a light, side salad. Spaghetti is often eaten as breakfast or lunch in Haiti to keep you satiated and loaded with energy for the rest of the day. Spaghetti is often accompanied by sliced avocadoes, eggs and toast.
Here is another classic Haitian dish to kickstart the day, the Haitian Akasan Shake. And if you are looking for something sweet to round up your meal here is a light and delicious Haitian Cake.
---
Recent Recipes