All The Jersey Mike's Vegan Menu Options
Many people are interested in veganism and want to know what it is like. What do vegans eat? Do they miss anything from their old diet? Jersey Mike's has expanded their vegan menu! This is great news for people who are looking to try new food but also want to stick with a vegan diet. The restaurant chain now offers a variety of veggie patty options that can be substituted in any of the regular sandwich combinations on the menu. The sandwiches are all made with meat substitutes, and there are also salads for those who don't want to eat bread. Even the fries have a vegan option! In addition, Jersey Mike's also offers salads and wraps that contain no meat or dairy products.
So, there is no need to feel left out if you're vegetarian or vegan – Jersey Mikes has your back. In this blog post, we will discuss the vegan options available at Jersey Mikes so that vegans can enjoy a great meal without any animal products or byproducts!
| Menu Item | Type | Notes |
| --- | --- | --- |
| The Veggie Sub | Sandwich | Order without cheese using bread and toppings from this list |
| Grilled Portabella & Swiss Sub | Sandwich | Order without cheese using bread and toppings from this list |
| Baked Lay's | Chips | |
| Banana Peppers | Cold Toppings | |
| Cherry Pepper Relish | Cold Toppings | |
| Dill Pickles | Cold Toppings | |
| Fritos | Chips | |
| French Fries | Sides | |
| Grilled Onions | Hot Toppings | |
| Guacamole | Cold Toppings | |
| Jalapeno Peppers | Cold Toppings | |
| Lay's BBQ | Chips | |
| Lay's Classic | Chips | |
| Lay's Salt & Vinegar | Chips | |
| Lettuce | Cold Toppings | |
| Miss Vickie's Sea Salt | Chips | |
| Mushrooms | Hot Toppings | |
| Mustard | Cold Toppings | |
| Onions | Cold Toppings | |
| Oregano | Cold Toppings | |
| Olive Oil Blend | Cold Toppings | |
| Portabella Mushroom | Hot Toppings | |
| Red Wine Vinegar | Cold Toppings | |
| Red/Green Pepper Strips | Hot Toppings | |
| Seeded Italian Bread | Bread | |
| Sun Chips Original | Chips | |
| Tomato Sauce | Hot Toppings | |
| Tomatoes | Cold Toppings | |
| White Bread | Bread | |
Note: Cross-contamination can occur. Menu items as of 1/13/2023. Some item are only available at certain locations. Please ask your server to confirm these options as they may have changed.
Veggie Subs
The veggie sandwiches available at Jersey Mikes are made with soy-based substitutes for the meat. They come in different flavors so that there is something for everyone! The subs include Italian Veggie, Philly Cheesesteak, and Caesar Club. All of them taste great and fit a vegan diet just fine. However, these veggie subs don't contain any cheese because that would not be vegan.
There are two bread options – Italian and Wheat bread. These subs come in a blend of olive oil, grilled onions, and green bell peppers. However, you can always customize your subs with the following vegan toppings:
Cold Toppings:
Guacamole
Green Bell Pepper
Mustard
Cherry Pepper Relish
Dill Pickles
Jalapeno Peppers
Banana Peppers
Oregano
Olive Oil Blend
Red Wine Vinegar
Tomatoes
Onions
Lettuce
Hot Toppings:
Tomato Sauce
Portabella Mushroom
Mushrooms
Grilled Onions
Red/Green Pepper Strips
Since cheese is not included, you can always substitute it with avocado. However, you will have to tell them at the time of ordering.
Build your own Sub
The build your own sub option provides a great way to include the vegan options you want in your sandwich. You can choose from veggie subs, fresh salads, or wraps that are all vegan-friendly!
You have three bread options:
Wheat bread (contains honey as the very last ingredient)
Seeded Italian bread
White bread
It is not just bread but wraps as well. If you prefer wraps over bread, Jersey Mike's offer the following options:
"Tub" option: You just get the sub contents in a container.
Tomato wrap
Spinach wrap
Flour wrap
Once you choose the bread or wrap of your choice, you get to add the following condiments, sauces, and veggies to your custom vegan sub:
Salt
Oregano
Mustard
Olive oil blend
Red wine vinegar
Cherry pepper relish
Jalapeño Peppers
Banana peppers
Dill pickle
Green bell pepper
Lettuce
Avocado
In some Jersey Mike's locations, you get additional vegan condiments and sauces, such as sauerkraut, Buffalo sauce, and Teriyaki sauce. Please note that the primary sources of calories you get from this vegan option are olive oil, avocado, and bread. So, if you are eating to fill up for a while, you are advised to pack in some extra avocado.
Tossed Salad
Most Jersey Mike's outlets offer tossed salad as vegan options for its customers. The tossed salad option is a great way to stay on track with your vegan diet. It provides the perfect balance of vegetables and fruit, which makes it an excellent source of nutrients for vegans and vegetarians alike!
However, you get the standard ingredients, such as green bell pepper, cucumber, tomato, and lettuce. They don't have seasoning in them, but you can always ask for some olive oil drippings. With that said, these salads are not filling, and you may want to order them as a side dish and not the main course.
Overall, different locations offer different salads that are healthy options for getting your daily dose of veggies. Some locations prepare Southwestern salads that are more filling as they contain corn and rice. So, go with these if they are available at your location.
Chips and Dips
Most Jersey Mike's locations offer chips and dips that are vegan by default. There is a wide variety of flavors for the dip, but there are always three options. These include:
Tzatziki sauce
Guacamole
Salsa Verde not (available in some stores)
However, please note that Jersey Mike's don't have their own recipe for chips. The chips they offer are from popular brands like Lays Chips, Fritos, Baked Lays, Sun Chips, and other popular brands. Most of these chips are vegan and have their original flavor. To give you an idea, the Classic BBQ Lays are vegan. Always ask the right questions before ordering to make an informed decision.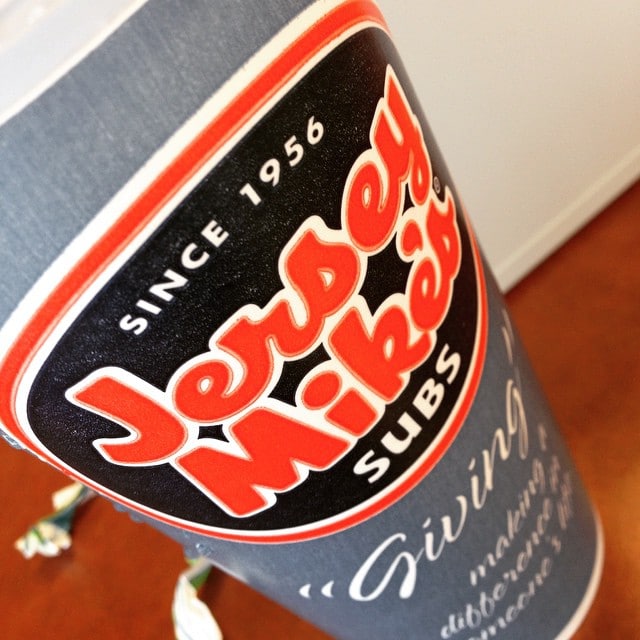 Vegan Vegetable Soup
If you are wondering about the vegan options in Jersey Mike's, do not fret. The restaurant chain offers a soup that is perfect for vegans: Vegetable Soup!
What does it have? Well, it contains vegetables such as zucchini and squash. You can also add your choice of protein to make this dish even more filling. However, please note that there is no information given on Jersey Mike's official website about the vegetable soup. So, you may have to inquire about it at the outlet as not all locations offer the same.
French Fries
This is a vegan option that you can get at any Jersey Mike's. All this dish contains are potatoes and oil, which makes it completely vegan-friendly! They come with different seasonings, such as salt, oregano, or rosemary.
Conclusion
Jersey Mikes offers everything from bread to wraps, and you can add your choice of sauces as well. These are the primary vegan options at Jersey Mike's that you can try. If you find the seasoning, toppings, and sauces limited, you can always buy your preferred vegan outside and combine it with your bread or wrap.
---
Recent Recipes