8 Places Where You Can Buy Gyro Meat Online
Gyro meat is traditionally the combo of lamb and beef, or chicken, sliced and seasoned with spices and herbs. It provides an explosion of flavors that you will undoubtedly love.
Also, who does not love adding sliced gyro meat in the pita bread with some sauce and sauteed veggies? We are sure this made you crave for some right now. If you don't have some gyro meat available at your home, do not worry.
We have compiled a list of online stores where you can buy Gyro meat. So, just make a few clicks and get this amazing meat delivered to your doorstep.
Basil Grocery
You can buy the Kronos Authentic fully cooked Beef and Lamb gyros here. The gyros can bring the taste of restaurant food to your home just by making a few clicks. The gyro slices have great taste and quality, and you will absolutely like them.
The site is user-friendly and gives detailed information about preparation and nutritional facts. You can easily track orders and get in touch with customer care in case of any query.
But, there are certain shipping conditions that you have to read before making a purchase. Also, they do not offer returns unless there are shipping damages. Therefore, make sure to go through the instructions carefully.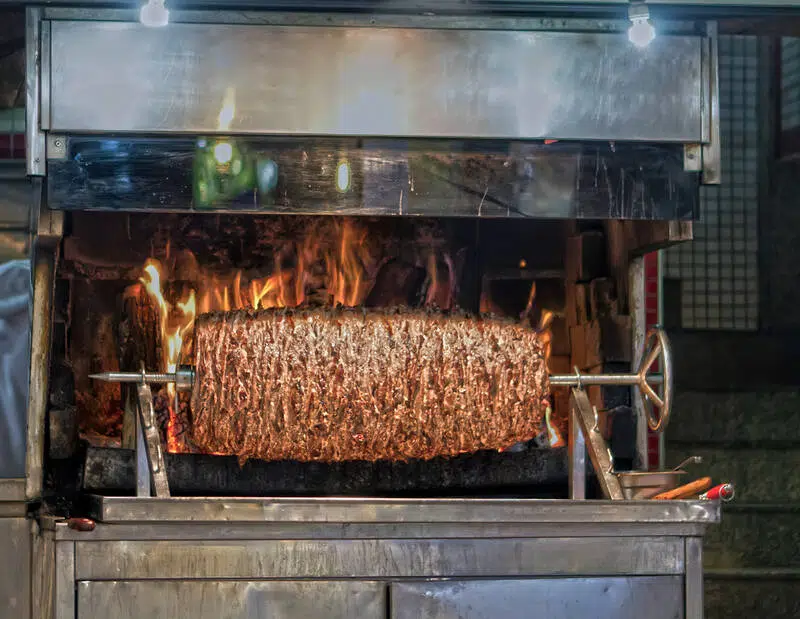 Webstaurant Store
Webstaurant Store is an online store based in Lancaster selling different types of meat, cooking equipment, and furniture. They have served thousands of both professional and individual customers. For example, you can buy gyro meat here.
The pros of buying gyro meat from the Webstaurant Store are that they usually ship in two to three business days and have a user-friendly website.
You can also ask questions on the site. The site also offers free shipping and has a chat option for customer service.
The only con of the site is that there are only four options of gyro meat available for you to choose from.
Shepherd Song Farm
The Shepherd Song Farm offers 100% grass-fed lamb gyro slices to enhance the flavor of your greek style cuisines. The gyro meat here is seasoned with lemon, onion, and garlic.
The site provides detailed information about the nutrition, delivery schedule, and shipping.
Moreover, the lamb meat is USDA inspected and vacuum-sealed to keep it fresh. They also provide recipes so that you can cook some mouth-watering dishes conveniently.
But they charge a flat rate shipping to include the cost of coolants and reusable containers. Also, they take orders on specified days, so you have to keep a track of them on their site.
Amazon
This online shopping site is not new to people. It is one of the most trusted sites among users, and you can get everything here. Surprisingly, you can get gyro meat as well here.
Since Amazon is a popular and frequent site, you do not have to worry about money transactions and delivery. Moreover, you can see plenty of reviews before buying the meat, check frequently asked questions to clear your doubts, and see seller information.
However, the site has very few options for Gyro meat, and the stock is unavailable at times. Therefore, you may not get your hands on the meat when you need it on a few occasions.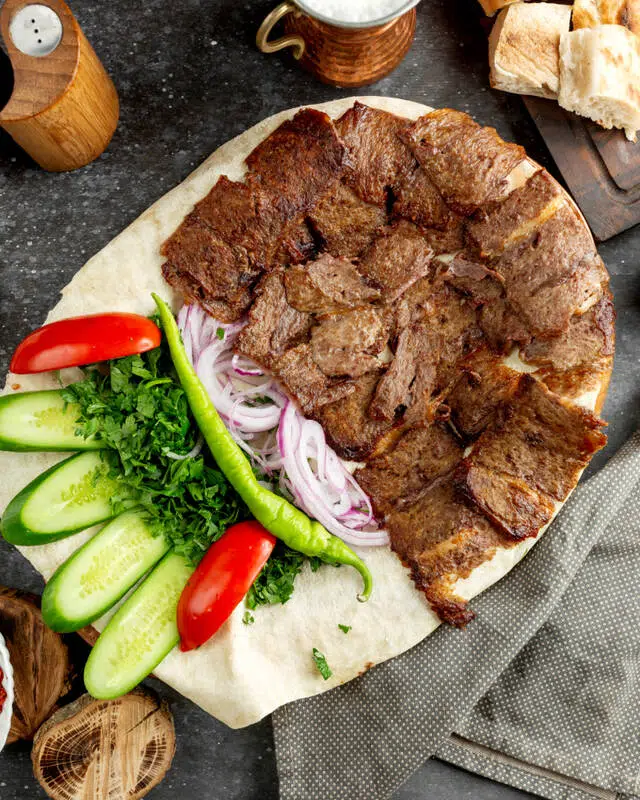 Walmart
Again, Walmart is very famous in the US.
Not only can you buy gyro meat here, but you can check the gyro meat kit available on the site that contains pita bread and tzatziki sauce. It is the best option for your lazy days when you do not want to struggle with making sandwiches.
The best part about Walmart is that it gives a detailed product description stating everything from the ingredients, directions to use, specifications about the manufacturer, and nutritional facts. Moreover, the products here are affordable.
However, just like Amazon, the meat might not be available for delivery or pickup near you. Therefore, you might have to look for another option.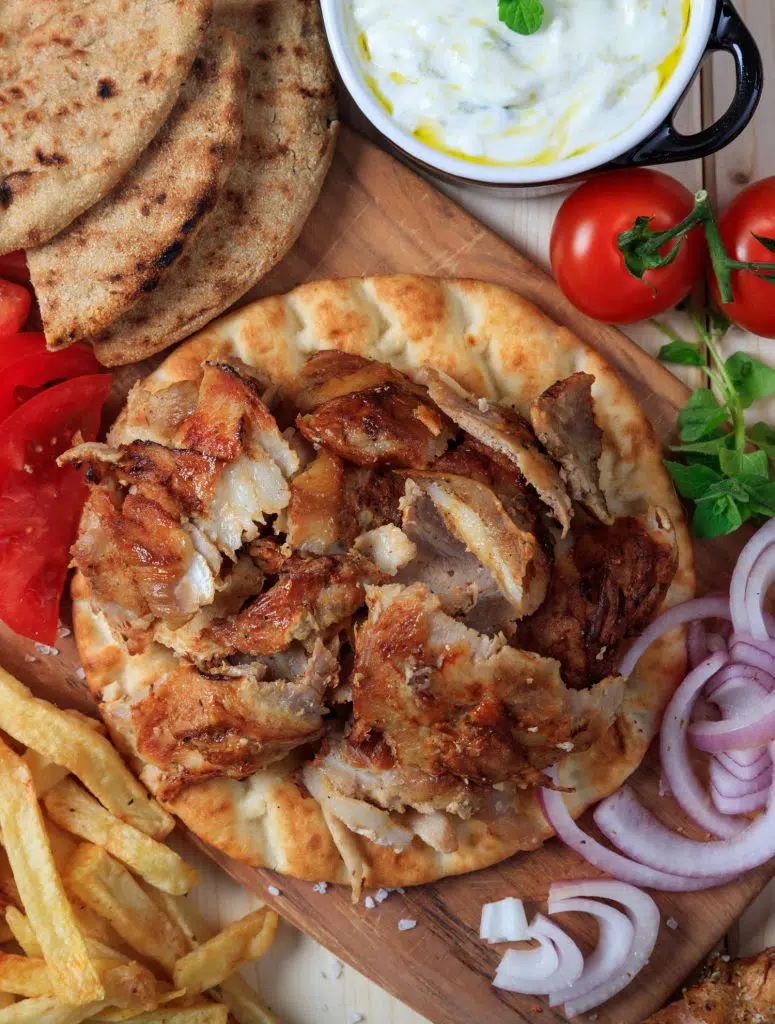 Food Service Direct
Food Service Direct offers Kronos gyro meat of 5lbs and four packs per case. The meat is USDA inspected and approved, frozen, and ready to use. You can buy the meat from here.
The best part about buying from Food Service Direct.com is that the product is carefully packed with dry ice and generally shipped within two to three days. They have various offers for clearance and direct sales.
However, the gyro meat is non-returnable as of now. Also, they do not offer free shipping for orders below $750. Therefore, you might have to incur shipping charges if you buy a lesser quantity.
Sam's Club
Sam's Club offers two-pound boxes of Krono gyro meat. It is easy to prepare as it is fully cooked and flame-broiled. You get the perfect Mediterranean flavors in this box. You can check out gyro meat available here.
The site has some really good reviews of the product as it is good for sandwiches. Moreover, the product is also covered under Sam's Club Member Satisfaction Guarantee.
Note that gyro meat here is unavailable sometimes due to its extremely high demand. However, you may check the website as if it might become available when you need it.
ParthenonFoods
ParthenonFoods offers various dairy, meat, loaves of bread, and canned and jarred products. One such product is their gyro meat. Check out the sliced gyro meat here.
They sell gyro meat made in the USA. In addition, they also mention the serving information, nutritional facts, and ingredients.
The site has more than 90 customer reviews for you to see before buying the meat. Apart from this, they offer fast and secure shopping.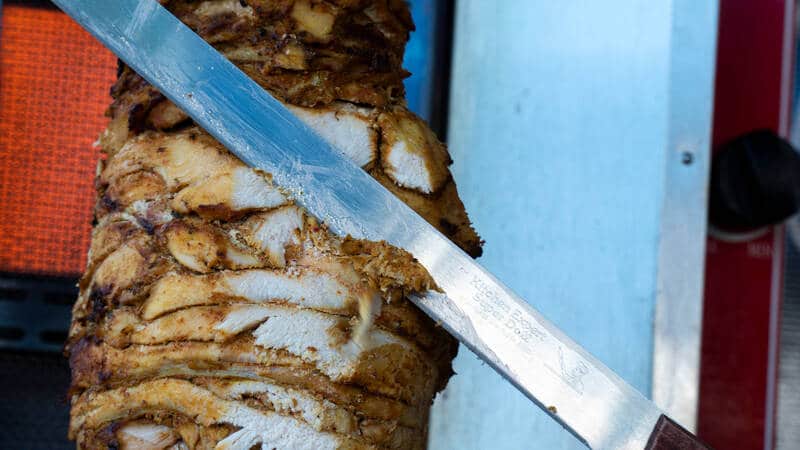 Final Thoughts
So, note the names of these online stores for the next time you are looking for gyro meat! This will not only save your time but also make the process super easy.
We hope you can find the gyro meat at the above-mentioned stores and cook some delicious gyro meat dishes!
---
Recent Recipes