Easy Homemade Haitian Black Mushroom Rice
Haitian Black Mushroom Rice is a very special dish with a very distinctive flavor that is often made for birthdays, special events or any type of celebration in Haiti. Haitian Black Mushroom Rice, also called Diri Djon Djon is made from a dried black mushroom that is found in northern parts of Haiti.
Interestingly in this recipe, the mushrooms are soaked in water and the water is what is used to flavor and make the rice. The mushrooms are discarded. This is because they are so flavorful, the soaked water has all the flavor that we require. The Easy Homemade Haitian Black Mushroom Rice is made with lima beans, red peppers, Jasmine rice, coconut milk and a combination of a lot of spices and herbs. I have used scotch bonnet peppers for some heat and of course a generous helping of Epis for its uniquely Haitian taste.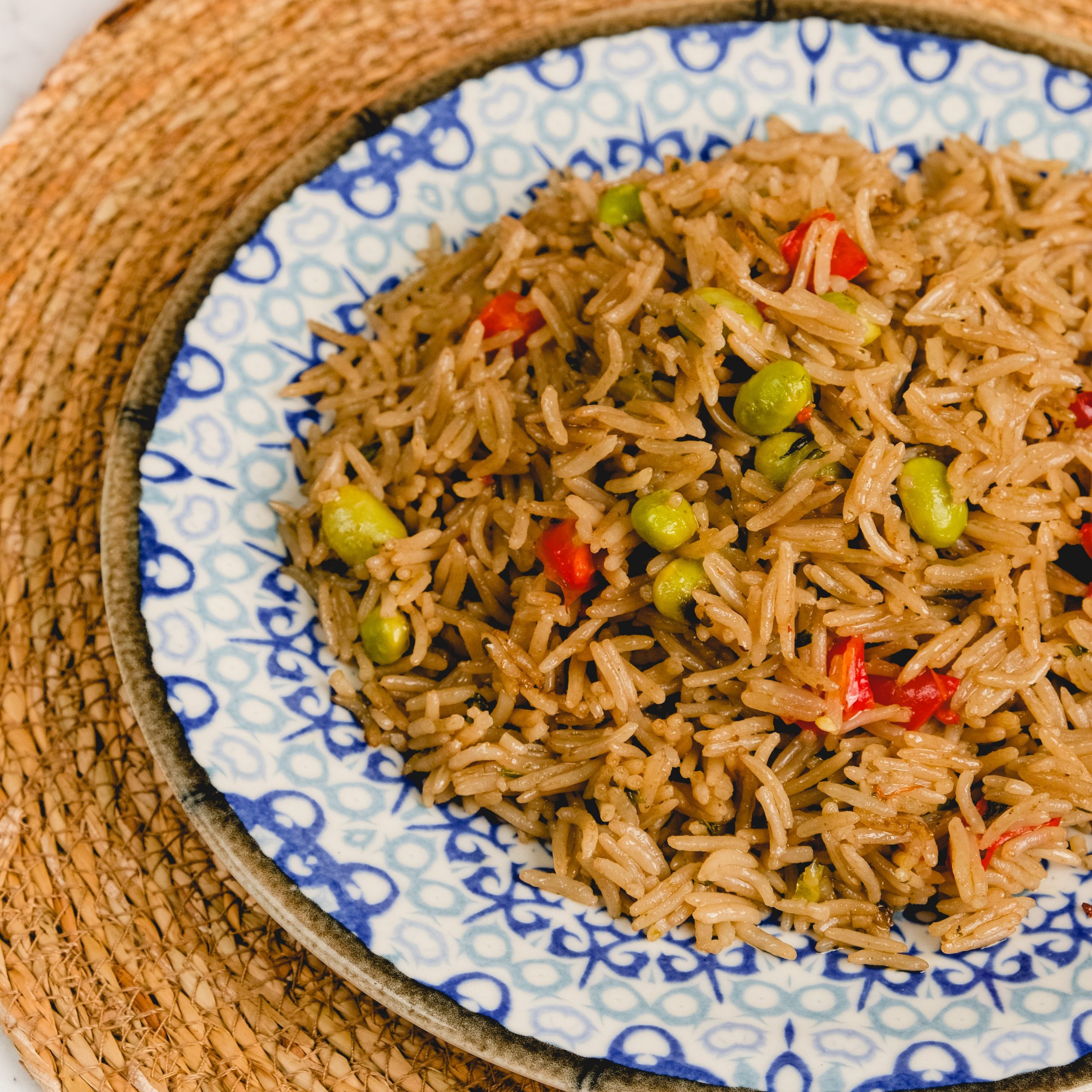 Ingredients
2

cups

of Jasmine rice

1

cup

lima beans

2

cups

of dried black mushrooms

4

tablespoons

of oil

1

red pepper

diced

4

cups

water

1

tablespoons

Epis

1

cup

coconut milk

1

tablespoon

butter

1

scotch bonnet pepper

4

cloves

Thyme and parsley

Salt
Instructions
Soak the dried mushrooms in 4 cups of water for a minimum of two hours to overnight.

Wash the rice well and set aside.

Drain the mushroom, save the soaked water, discard the mushrooms. The water should be black.

Strain the water again, this time through a cheesecloth so that all the sediments are removed.

Heat oil in a pan and add the Epis. Sauté till it browns.

Now add the chopped peppers and the lima beans. Let them sauté together for about 3-4 minutes.

Now add the coconut milk, butter, cloves, scotch bonnet pepper, thyme and parsley.

Let it all simmer together for a few minutes.

Now add the mushroom water, the rice and salt.

Give it a stir and let it all boil together.

Once the water has almost completely evaporated, cover with lid and let it cook for about 15-20 minutes.

Enjoy your Easy Homemade Haitian Black Mushroom Rice!
Video
Nutrition
Calories:
461
kcal
|
Carbohydrates:
64
g
|
Protein:
10
g
|
Fat:
19
g
|
Saturated Fat:
8
g
|
Polyunsaturated Fat:
3
g
|
Monounsaturated Fat:
6
g
|
Trans Fat:
1
g
|
Cholesterol:
1
mg
|
Sodium:
51
mg
|
Potassium:
594
mg
|
Fiber:
5
g
|
Sugar:
4
g
|
Vitamin A:
692
IU
|
Vitamin C:
28
mg
|
Calcium:
45
mg
|
Iron:
3
mg
Tips & Tricks
You have to soak the mushrooms as long as possible to get the color you want for the rice. Remember we are not using the actual mushrooms, just the water it was soaked in.
After soaking it, you have to run the mushroom water through a cheesecloth, because the mushrooms will have dirt and sand on it, and you don't want gritty food.
Wash the rice till it runs clear.
You can use fresh or frozen lima beans.
Storage
If you end up making a huge pot of this and have leftovers, don't worry this Easy Homemade Haitian Black Mushroom Rice, tastes amazing even days after. Store in an airtight container and keep it in the fridge for about 4-5 days. You can reheat it on the stovetop or microwave. Let it sit out for about 20 minutes before you heat it. Microwave for about a minute and continue heating it up in 30 second intervals if it is not hot enough. You can add a little bit of water, stock or butter to keep it from drying.
Similarly, to heat over the stovetop, heat on medium low. Add a little bit of water, stock or butter to prevent drying.
FAQs
What is Djon Djon?
Haitian edible black mushrooms are called Djon Djon. Dried black mushrooms can often be found in African supermarkets. These mushrooms are known for their distinctive dark color, taste and smell. The stems are usually removed and only the mushroom caps are eaten. Like in this Easy Homemade Haitian Black Mushroom Rice recipe, the flavor comes from the water the mushrooms are soaked in rather than the mushrooms themselves.
Substitutions
There are definitely a few things that we can turn around in this recipe depending on availability.
Black Mushrooms: This is the main ingredient of the dish. You can usually find Djon Djon or Haitian black dried mushrooms in supermarkets. If you don't find these the best replacement would be the flavored bouillon cube made by Maggi that replicates the taste and flavor Haitian black mushrooms.
Jasmine Rice: Jasmine rice works wonderfully in this dish, as the flavor of the light jasmine works with the earthy mushroom. Plain basmati or any long-grained rice can be used.
Lima Beans: You can use frozen or fresh. You can also use green peas instead or a combination of both.
Scotch bonnet peppers: They are distinctly spicy, and you can either drop them whole or slice them up for more heat. You can also use habanero or jalapenos.
Cloves: You can use clove powder or freshly ground cloves
Red Pepper: This is optional. I like the crunch and the sweet and spiciness of red peppers. You can use any other colored pepper or eliminate them completely.
Coconut Milk: Almond milk will work in a pinch
Epis: This is authentic Haitian flavor. It makes the dish both flavorsome and spicy. You can always use an assortment of your preferred herbs, spices and condiments instead.
Parsley and thyme: You can use only of, if that's all you have available. But they work best in combination.
Butter: You can use oil instead
This is a vegetarian dish, but you can add more protein if you are so inclined. Shrimp is a favorite to add to this recipe. You can also make it with more vegetables like peas and carrots.
Accompaniments
This Easy Homemade Haitian Black Mushroom Rice is served usually with fried plantains and pikliz. It is a filling and heart entrée.
If you want to try out more hearty rice entrée, be sure to check out this Vegan Tofu Bok Choy Stir Fry or this Easy One-Pot Rice and Beans.
---
Recent Recipes