Tasty Necci (Chestnut Flour Pancakes)
One of the key ingredients in the cuisine of Tuscany is chestnut flour. Tuscany's mountain regions are forested with majestic chestnut trees. The nuts are dried and milled into fine flour for making pasta, bread, pastry, and necci.
Necci are thin pancakes similar to a crepe. They are made with only chestnut flour, salt, and water. Necci are commonly filled with sweetened ricotta cheese cream and then rolled into a cannoli shape. These are eaten for dessert, breakfast, or a sweet snack.
Chestnut flour is naturally sweet. Crepes made with chestnut flour lend themselves well to sweet rather than savory fillings. Sheep's milk ricotta is traditional, as is a drizzle of local honey. You can also add cacao nibs or dark chocolate chips to the cream filling if desired.
Like many of the dishes prepared in the area, necci are traditionally cooked on a cast-iron pan that is placed over an open fire. But you can make these at home with a round-bottomed oiled skillet or sauté pan that you would normally use to make pancakes in.
What I like about this recipe is how incredibly simple it is. There are only a few ingredients and not many steps. And of course, the results are delicious. It is also a plus that chestnut flour is naturally gluten-free and this recipe is egg and dairy-free for those with allergies.
You will need to procure a bag of chestnut flour. Some specialty and health food markets do carry chestnut flour, especially around the holidays. If you can't find it nearby, you can order it online.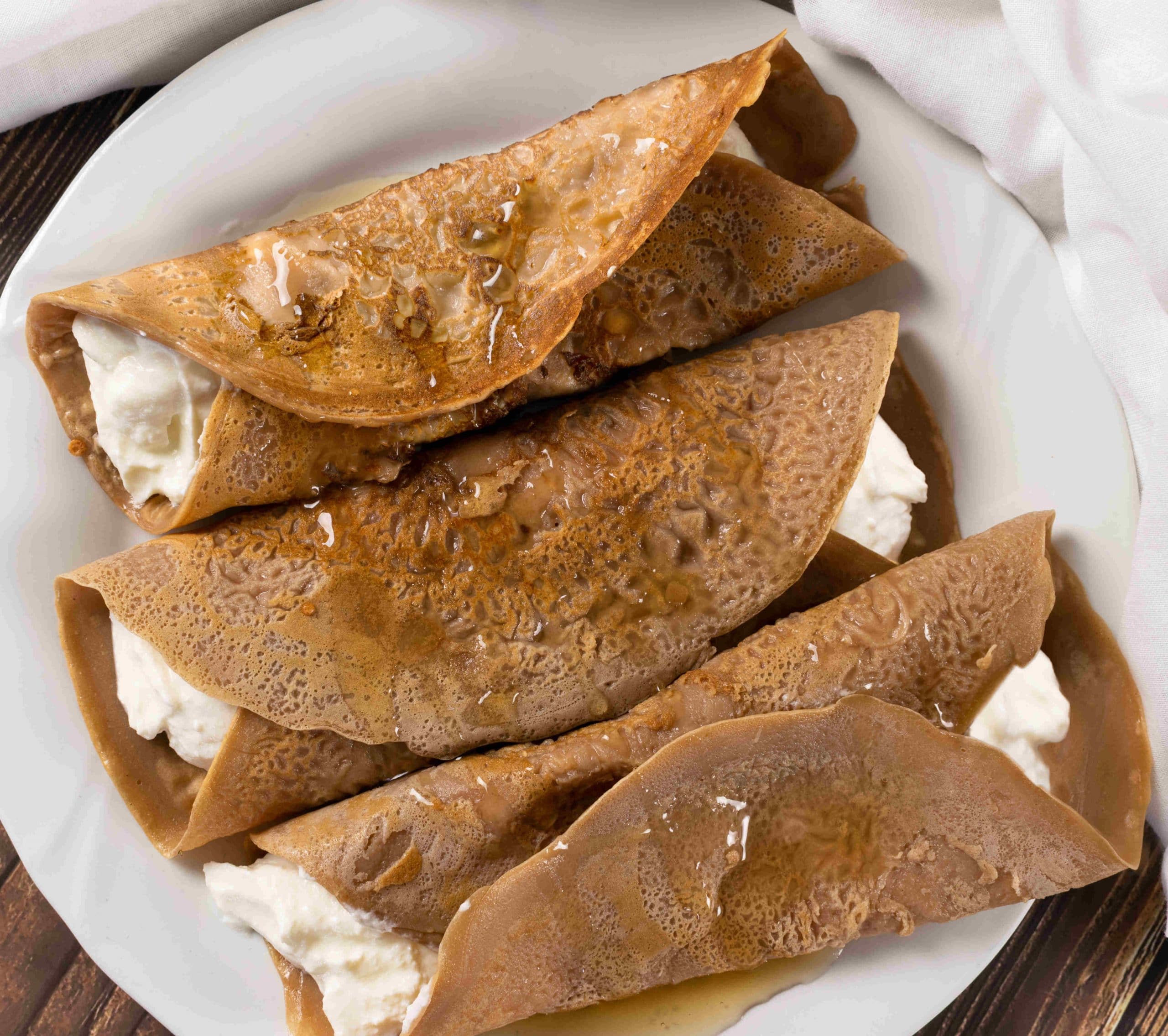 Ingredients
3

cups

chestnut flour

1-1/2

cups

lukewarm water

1/2

tsp

fine sea salt

Extra virgin olive oil for cooking
Filling
1-1/2

cup

ricotta cheese

2

tbsp

granulated sugar

runny honey for drizzling
Instructions
Sift the flour into a large mixing bowl. Add the salt and whisk to combine. Whisk in the water a little at a time until you have a smooth batter that is the consistency of cream, not too thick, and has no lumps. Add more water if the batter is too thick to pour.

To a non-stick skillet or crepe pan over low heat, add a teaspoon of olive oil. Pour a ladle of batter into the pan and swirl the pan to form a thin and evenly distributed layer of batter.

Cook for 1 to 2 minutes until bubbles form. As soon as you see the bubbles, carefully flip the pancake over with a spatula and cook for another minute on the other side. Repeat this, adding more oil as needed, until all the pancakes are cooked and stacked on a plate.

Clean out the bowl and dry it. Add the ricotta to the bowl, along with the sugar. Stir to combine into a creamy texture.

Place a generous spoonful of the ricotta cream in the center of each necci. Roll the pancakes around the cream to resemble a cannoli. Place the necci on a serving platter or individual plates.

Drizzle honey over the top of each and enjoy.
Video
Nutrition
Calories:
368
kcal
|
Carbohydrates:
73
g
|
Protein:
8
g
|
Fat:
5
g
|
Saturated Fat:
2
g
|
Polyunsaturated Fat:
1
g
|
Monounsaturated Fat:
2
g
|
Cholesterol:
9
mg
|
Sodium:
181
mg
|
Potassium:
16
mg
|
Fiber:
8
g
|
Sugar:
21
g
|
Vitamin A:
119
IU
|
Vitamin C:
33
mg
|
Calcium:
63
mg
|
Iron:
3
mg
Notes & Tips
You do need a few basic tools to make necci. First is a flour sifter or a fine-mesh sieve to sift the flour so there aren't lumps in the batter. Next, you need a whisk to mix the batter. A round-bottomed non-stick skillet or crepe pan works best for cooking the necci, about 8-inches in diameter. Use a little extra oil if you don't have a non-stick skillet. A ladle seems to be the perfect measure for these pancakes. You can also use a measuring cup. You want about 1/3 cup of batter. A spatula is needed for flipping the pancakes over.
Substitutions & Additions
I don't like overly sweet desserts. However, if you do want a sweeter pancake, you can enhance the necci batter by adding 1 tablespoon of granulated sugar to it.
The filling doesn't have to be ricotta cream. You can use mascarpone, whipped cream cheese, farmer's cheese, or even thick Greek yogurt. I like to add roasted cacao nibs or even dark chocolate chips to the filling, though not too many. If serving necci for breakfast, try them with some hazelnut spread on them and then roll them up.
While honey is traditional in Tuscany for drizzling over necci, you can top the necci with powdered or icing sugar instead.
Since necci are naturally sweet, you can skip the filling and just roll them up and eat them with your hands. This is a perfect snack for those who are gluten-free, paleo, keto, or vegan.
Some Tidbits About Chestnut Flour
Surprisingly, chestnut flour can be a bit pricy. In the days of famine and poverty in Tuscany, chestnuts were a versatile staple in the region's diet. They are high in calories, yet low in fat. The flour made from dried chestnuts is a good source of protein, dietary fiber, vitamin E, B-complex vitamins, potassium, and magnesium.
Chestnut flour has been referred to as farina dolce (sweet flour) for centuries. This is what makes it an ideal flour for use in pastries, cakes, pancakes, brownies, and other sweet dishes. Though, it can also be the main ingredient in savory dishes, such as polenta, pasta, gnocchi, and sandwich bread. Chestnut flour is used as a substitute for wheat flour for those who need to avoid gluten.
---
Recent Recipes