Easy Simple Jello Shot Syringes
You've heard of jello shots, but have you heard of jello shot syringes? This is a fun, slightly spooky twist on the traditional jello shot. It is, essentially, the exact same, but sucked into a syringe. It makes a great addition to any Halloween party, Grey's Anatomy film night, or other themed party. You'll need plastic, 2 oz sized syringes. You can find these online or at most party stores, if you have one in your area. They are NOT medical syringes with a metal tip, so please don't go out looking for something like that! The right syringes should be plastic and have a really wide tip. If you can find ones with caps to the tips, that's even better.
For my jello shot syringes, I used a combination of peach, passion fruit, and mango flavors. Passion fruit liquor is my absolute favorite alcohol ever, so I was so excited to use it for this! The peach and mango go well with passion fruit and result in an exotic, summery taste. That being said, just because I used these flavors, doesn't mean you have to. Because this recipe is so so simple, there's hundreds of combinations you could make! Check below the recipe for some more flavor combination suggestions.
Table of Contents
How To Make Syringe Jello Shots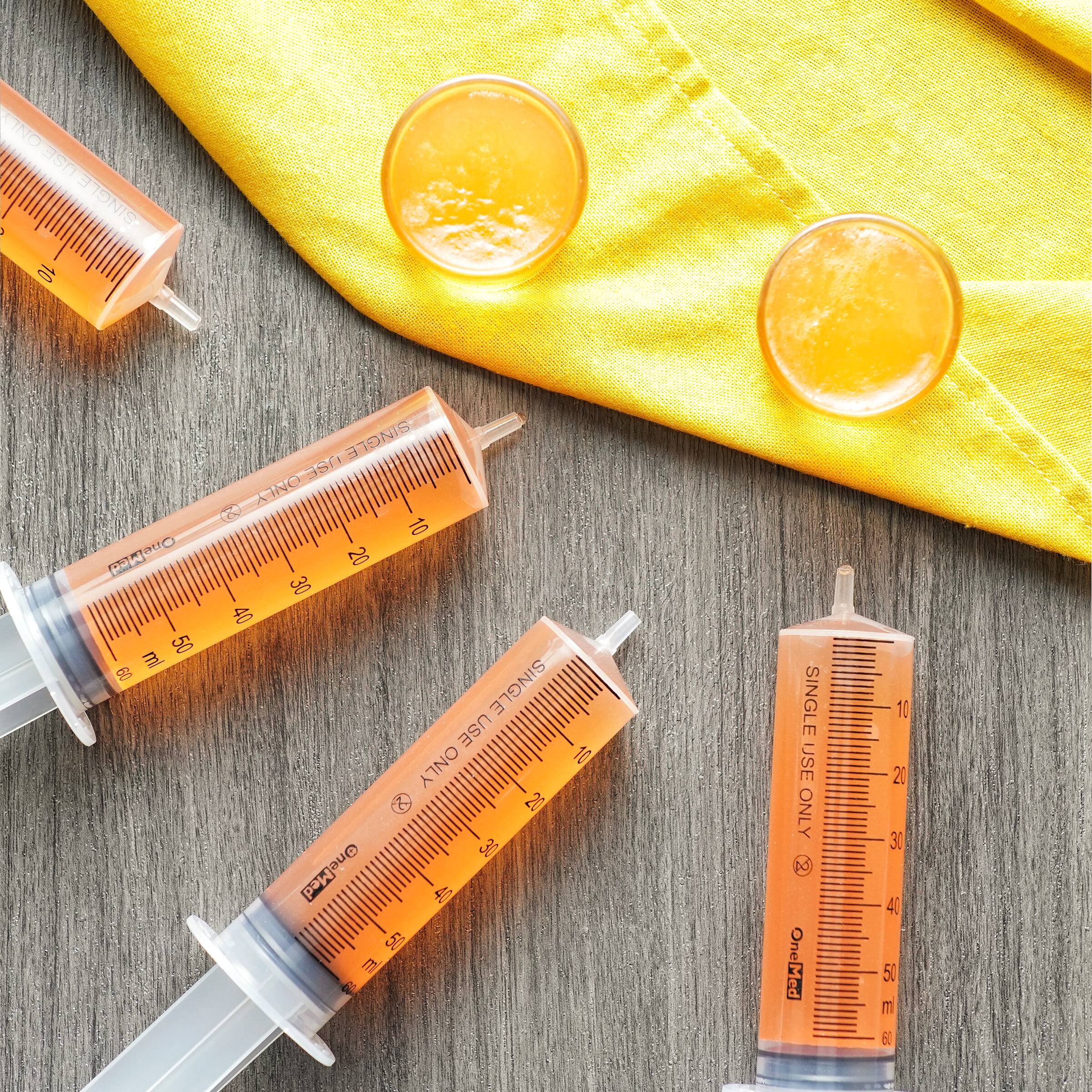 Ingredients
1

box of peach jello

1 ¼

cup

water

1/2

cup

passion fruit rum

1/2

cup

mango vodka
Instructions
Assemble your ingredients.

Bring the water to a boil. Measure out one cup and put it in a bowl with the jello powder. Whisk with a small whisk or a fork until the jello is completely dissolved.

Add the rum and vodka to the bowl and stir again until it is all mixed.

Uncap the syringes and suck 2 ounces of the liquid into them. Depending on what syringes you've found, they may have a marker on them to indicate 2 oz. If not, you can always measure a little liquid out, suck it into the syringe, then judge the rest based off of that.

Once you've sucked the liquid in, squirt a little out like doctors do in tv shows. It makes you feel cool, but it also helps get rid of pesky air bubbles.

Cap the filled syringes and put them in the fridge to set. If you can, place the syringes standing up so they don't leak out of the caps. If you don't have caps, you'll definitely want to set them up straight!

Leave the jello shot syringes in the fridge for at least 4 hours so they can fully set. If you want, you can leave them at room temperature before serving so the jello will slide out a little bit easier.
Notes
Video Note: The video is only making 6 servings, not 12.
Equipment Note: Jello Shot Syringes on Amazon.
Nutrition
Calories:
73
kcal
|
Carbohydrates:
6
g
|
Protein:
1
g
|
Sodium:
34
mg
|
Potassium:
1
mg
|
Sugar:
6
g
|
Calcium:
1
mg
|
Iron:
1
mg
Notes & Tips
These jello shot syringes can be made several days in advance and will last for about a week in the fridge. The syringes themselves can be kept and reused – all you need to do is pull them apart and wash them before storage. You can even reuse them to make gummies if you want to switch it up.
Serving Suggestions
It's always a good idea to have snacks to munch on when you consume alcohol, but rarely does anyone want to sit down to a full meal. That's why these fried feta cheese balls are such a good thing to have on hand. If you'd like something that's in-between a meal and a snack, you can whip up the Haitian version of Mac and Cheese beforehand and simply reheat it for a bit in the microwave when you or your guests get hungry. Yum!
Looking for maximum Halloween theme? Try making this candy corn cake or our Halloween themed bundt cake to serve with these syringes.
Different Flavor Ideas
Like I said, I really love passion fruit. However, with the amount of jello flavors and alcohol options, the possibilities are practically limitless! You also don't have to confine yourself to rum and vodka. I think white rum and vodka work best because they're clear, but you could really do anything you like. Maybe even try wine! Additionally, you could use just rum or vodka. The choice is completely up to you. For your consideration, I've written out a list of flavors that I think work well together as well as a rainbow of colors, in case you're going for a specific look. Use your imagination and take a risk!
Malibu jello shot: Pineapple jello, coconut rum, and whipped cream vodka.
Cinnamon cake jello shot: Cherry jello, rumchata, and fireball.
Apple pie jello shot: Green apple jello, apple vodka, and fireball.
Mojito jello shot: Lime jello, white rum, and mint liqueur.
Cosmopolitan jello shot: Lime jello, orange vodka, and cranberry vodka.
Strawberry daiquiri jello shot: Strawberry jello, lime vodka, and strawberry rum.
Red jello shot: Cherry jello, lime vodka, and triple sec.
Pink jello shot: Strawberry jello, strawberry vodka, and pink Moscato.
Orange jello shot: Orange jello, mango vodka, and pineapple rum.
Yellow jello shot: Lemonade (or lemon) jello, elderflower gin, and citrus vodka.
Green jello shot: Green apple jello, lime vodka, and melon gin.
Blue jello shot: Berry Blue jello, blueberry vodka, and whipped cream vodka.
Purple jello shot: Grape jello, blackberry vodka, and sloe gin.
Where and When is a Good Time for Jello Shot Syringes?
The short answer is: everywhere and anytime! The long answer is…kind of still the same. Jello shots work well for any party, but the syringes will add an aspect of fun. I included a list of colored shots because it's a great idea for any themed party. You can have the quirky, fun shot while still keeping with your aesthetic.
For a summer party, I would make a lot of different flavors and stick the syringes in a bowl of ice so people can grab them as they walk past. The green, purple, and/or orange shots would help spookify any Halloween party. The pink ones would not be out of place at a spring picnic or birthday party. Red and green would fit right in at Christmas. Maybe you could even hide the syringes in a Christmas tree (at the very least it would make sure nobody took their shots too fast).
I love these jello shot syringes because the possibilities are limitless and they help bring out the kid in all of us, while still pacifying our adult side.
---
Recent Recipes