Easy Potato Milk, Milk Shake
Plenty of people are allergic to dairy or maintain a diet that prohibits animal-based products. Does that mean they can't enjoy popular staples like milkshakes? Absolutely not! If you love milkshakes but can't consume dairy for any reason, you're going to love this recipe.
Thanks to the Potato Milk, Milk Shake, you can partake in a sweet, rich, and creamy treat just like everyone else. Best of all, this recipe whips up in just a few minutes. All you need is a blender and a few basic ingredients like potato milk.
Potato milk-based recipes are all the rage right now, so there's no better time to introduce our loyal readers to the Potato Milk Shake recipe. If you have never used potato milk, keep reading after the instructions to find out how you can make your own for this recipe and many others.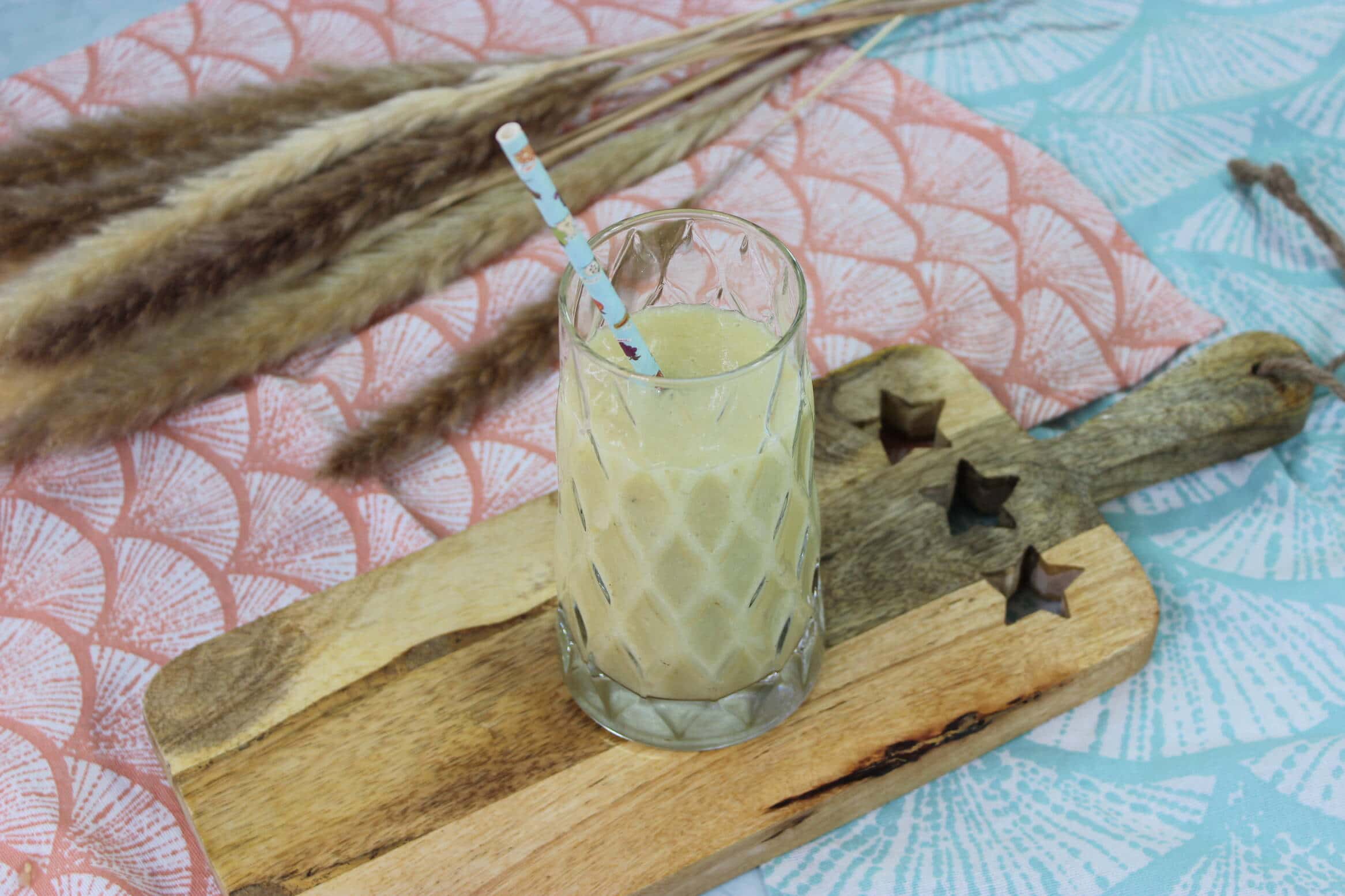 Ingredients
1

tablespoon

of lecithin granules

¼

cup

of cooked potato

1

tablespoon

of honey

100

mL

of potato milk

Pinch

of salt
Instructions
You only need a small amount of cooked or steamed potatoes and then let them cool.

Add the cooled potatoes, potato milk, mango chunks or ripe banana, and salt to your blender.

Blend until you reach a smooth, even consistency.

Add honey a teaspoon at a time until you reach the desired sweetness.

Pour in the lecithin granules, then blend.

Enjoy.
Video
Notes
If you wish to give your Potato Milk Shake some more flavor and texture, feel free to add either 1 ripe banana, half an avocado or 1 cup of mango chunks to the list of ingredients.
Nutrition
Calories:
66
kcal
|
Carbohydrates:
14
g
|
Protein:
2
g
|
Fat:
1
g
|
Saturated Fat:
1
g
|
Polyunsaturated Fat:
1
g
|
Monounsaturated Fat:
1
g
|
Sodium:
68
mg
|
Potassium:
135
mg
|
Fiber:
1
g
|
Sugar:
9
g
|
Vitamin A:
1
IU
|
Vitamin C:
5
mg
|
Calcium:
64
mg
|
Iron:
1
mg
Notes & Tips
Some people omit the lecithin granules, which is certainly OK if you wish. However, they go a long way in improving the texture of the Potato Milk Shake. You can always try making the recipe with them and adjust the next recipe accordingly if you don't like them in your shake.
When preparing the small potato to use in this recipe, we found that it's a good idea to make a couple more to have handy just in case you want to make another Potato Milk Shake. And even if you don't, you can always find another use for them.
Substitutions
Don't have any potato milk on hand? It's easy to make your own. You just need about 40 minutes and a few ingredients. If you're in a hurry or don't want to use potato milk, you may use any plant-based milk. Popular substitutes include coconut milk, almond milk, oat milk, and soy milk.
If you're interested in making your own potato milk for this recipe and many others, check out the Common Questions section below to find out how.
Also, if you don't have any honey readily available, you may substitute it with either agave nectar or maple syrup. We like maple syrup, but any choice of sweetener will work just fine. If you end up substituting honey with another sweetener, you don't need to worry about adjusting the amount.
Simply start adding 1 teaspoon at a time until you reach your desired level of sweetness. If you end up going slightly over 1 tablespoon, don't worry. You just don't want to add so much that it affects the consistency of the shake. The key is to maintain a rich yet thick consistency and a smooth texture.
Common Questions
What is potato milk?
Potato milk is a milk substitute. As a plant-based alternative, potato milk is essentially made from cooked mashed potatoes and mixed using the cooking water. Additional ingredients are added to give potato milk its sweet taste. We have a whole post about it if you want to learn more.
What are the best potatoes for making Potato Milk, Milk Shake?
If you want to make your own potato milk to use in the Potato Milk, Milk Shake recipe, you can use almost any kind of potato, including sweet potatoes. The only types that should be avoided are potatoes that are too waxy, such as baby potatoes, Red Bliss, and New Potatoes.

Another problem with these types is that their shape is too well maintained. The only exception is certain fingerling potatoes with red skin but low moisture content.

You are looking for starchy but nutritious selections that can be cooked into a creamy texture. White potatoes are usually the easiest to locate. Plus, they have really good nutritional value, as do russets.
Can I use other fruits besides mango and banana?
Of course, although you want to be mindful of how much moisture the fruit will add to your shake in the end. What's more, some fruits aren't ideal for shakes of any kind, such as apples. You want something soft, palatable, and digestible.

On that note, you may add other ingredients if fruit isn't your thing. Perhaps dark chocolate chips or coconut shavings. If you're on a special diet, you also need to be mindful of what you add to your Potato Milk Shake.

The same is true if you're vegan. Therefore, it's important to research the most suitable toppings and ingredients based on your diet. We recommend looking up popular milkshake recipes based on your diet and using the toppings they use. This will ensure the best results without interfering with your diet or adversely affecting your health.
Sides and Pairings
The Potato Milk Shake is fantastic on its own. But you can add a variety of fruits and other ingredients to enhance the flavor and texture of the shake. The same is true for toppings, so don't be afraid to experiment with different kinds to get the perfect taste.
If you are interested in learning about even more wonderful recipe ideas for additional snacks or main courses, be sure to head on over to our recipes section and explore the many unique meals and treats that we've compiled for your consideration. If you're strictly looking for vegan recipes, you can find a whole assortment of them here.
---
Recent Recipes