Homemade Bulgarian Moussaka
Moussaka is a dish that can be found throughout a few different regions. Each region has its own way of making the dish, but this recipe focuses on a more Bulgarian inspired version. What makes this recipe stand out versus, say, a Greek version of moussaka is the potatoes. Greek versions tend to use eggplant instead of potatoes, or, if they do include potatoes, eggplant is still the main ingredient.
One or two ingredients may be a bit confusing, so make sure to read below the instructions to make sure you're fully prepared.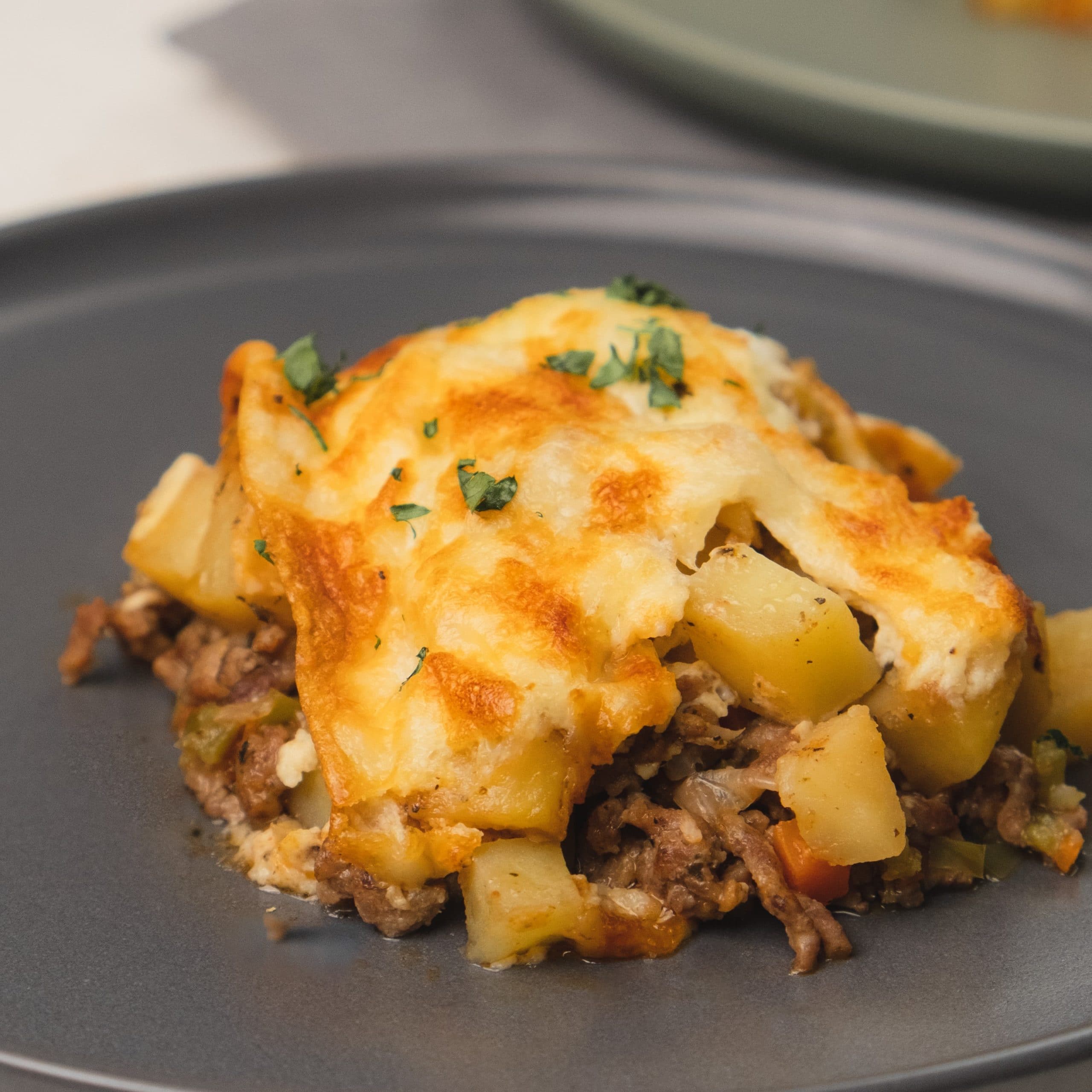 Ingredients
1

lb

ground beef

2

lbs

potatoes

1

onion

3

bell peppers

1

carrot

1

celery stalk

1

garlic clove

1 to

mato

Olive oil

2

tsp

paprika

2

tsp

salt

1

tsp

pepper

2

tsp

summer savory

1/2

tsp

ground cumin

1

cup

yogurt

1/4

cup

milk

4

eggs

4

tbsp

water

1/2

tsp

baking soda

1/2

cup

shredded cheese
Instructions
Preheat the oven to 400F.

Destem and deseed the bell peppers. Finely chop the peppers along with the onion, carrot, tomato, and celery. Mince the garlic. Peel and chop the potatoes.

In a large pan over medium-high heat, warm about a tbsp of oil.

Once the oil is hot, add the onion and cook for 2 minutes, constantly stirring.

Add the carrot, celery, and bell pepper, and salt into the pan. Continue stirring for another 3 minutes, or until the veggies feel tender.

Add the chopped tomato and garlic and continue cooking and stirring for 5 minutes or until it begins to resemble pasta sauce.

Add half the pepper, half the paprika, half the cumin, and half the summer savory. Stir until incorporated.

Remove from heat and transfer the contents of the pan to another dish, then put the pan back on the stovetop.

Put the beef into the pan (still over medium-high heat) and stir constantly for 6 minutes or until the beef turns brown.

Add the cumin and previously cooked vegetables. Stir together until combined.

Use non-stick cooking spray or butter to grease a 9×13 inch baking dish.

Transfer the beef and veg mix to the baking dish and spread in an even layer.

In the same pan, heat another tbsp of oil. Add as many of the chopped potatoes as can fit (it's okay to cook them in batches, you just want each piece evenly cooked).

Add a proportionate amount of the remaining spices and cover the pan. Allow to cook for 10 minutes, stirring occasionally.

Once the potatoes are slightly tender (not fully softened), add them on top of the beef mix in the baking dish.

Repeat with the remaining potato pieces (remembering to use up the rest of the spices).

Once all the potatoes are lightly cooked, spread them as evenly as possible on top of the beef.

Pour 2 cups of water into the baking dish. You don't want the water to cover the potatoes, you want it to fall just below the surface.

Put the baking dish in the preheated oven and cook for 50 minutes or until the potatoes have become soft enough to stab with a fork.

Before the moussaka is ready, you need to make the topping.

Separate your yolks from your whites and keep both in separate bowls.

Use an electric mixer to whisk the egg whites until stiff peaks form.

Add 4 tbsp of room temperature water to the egg yolks and beat them separate from the egg whites.

In a third bowl, add the yogurt, milk, baking soda, and a pinch of salt and pepper. Stir to combine, then carefully fold in the egg yolks and egg whites.

Pull the moussaka out of the oven and spread the yogurt mix on top in an even layer.

Sprinkle the cheese on top in an even layer, then put the moussaka back into the oven and cook for another 10-15 minutes or until the top has turned golden.

Remove from the oven and allow to cool for a few minutes before cutting and serving.

Enjoy your Homemade Bulgarian Moussaka!
Video
Nutrition
Calories:
268
kcal
|
Carbohydrates:
23
g
|
Protein:
15
g
|
Fat:
13
g
|
Saturated Fat:
5
g
|
Polyunsaturated Fat:
1
g
|
Monounsaturated Fat:
5
g
|
Trans Fat:
1
g
|
Cholesterol:
106
mg
|
Sodium:
637
mg
|
Potassium:
739
mg
|
Fiber:
4
g
|
Sugar:
5
g
|
Vitamin A:
2494
IU
|
Vitamin C:
68
mg
|
Calcium:
127
mg
|
Iron:
3
mg
Notes & Tips
This can be stored, covered, in the fridge for about 5 days. Reheat it in the microwave when ready.
If you want an easy side dish to serve with your moussaka, I recommend this Simple Bulgarian Shopska Salad.
What Kind of Cheese to Use?
The easiest answer is none. A lot of moussaka recipes don't include sprinkling the cheese on top at the end. I included cheese in this recipe because I like it and I think it helps make a crispier top.
Greek versions of moussaka most often use kefalotyri or mizithra cheese (also spelled myzithra). Both are made from the milk of sheep or goats. Kefalotyri is fairly salty, while mizithra has a uniquely sweet taste and is often eaten as a dessert.
However, this version of moussaka is Bulgarian, not Greek. Besides, kefalotyri and mizithra cheese can be hard to find. If you do choose to top with cheese, I recommend parmesan or gruyere. I actually enjoy using a combination of those two and a little bit of goat cheese as well. It's completely up to you!
What is Summer Savory & Where Can I Find it?
Summer savory is a specific herb used on its own as well as in herb mixes. It smells like lemon balm and it looks sort of like thyme. It is a staple in Bulgarian cuisine, but it is popular throughout Southeast Europe and other regions, including Canada and Asia. In Bulgaria, summer savory is also known as chubritsa. If you can't find it in local stores or online, see if you have any European food markets in your area.
If you can't find summer savory, that's okay. It can be substituted for Mediterranean seasoning. In lieu of that, you could try making your own Mediterranean-stye seasoning. You could search for a specific ratio guide, or do what I do and estimate it. Just sprinkle together oregano, basil, fennel, bay leaf, cloves, cumin, mint, parsley, paprika, rosemary, thyme, and turmeric, or pick and choose your favorite flavors to add.
---
Recent Recipes