Turkish moussaka is a layered dish consisting of eggplant, ground beef, and a tomato-based sauce. It is baked in the oven until the eggplant is tender and the sauce is bubbly and fragrant. The dish is savory and satisfying, with a rich and complex flavor from the combination of ingredients. It is a great dish to make because it is relatively simple to prepare and can feed a crowd. Plus, the leftovers are even better the next day. Let's learn how to make this savory dish.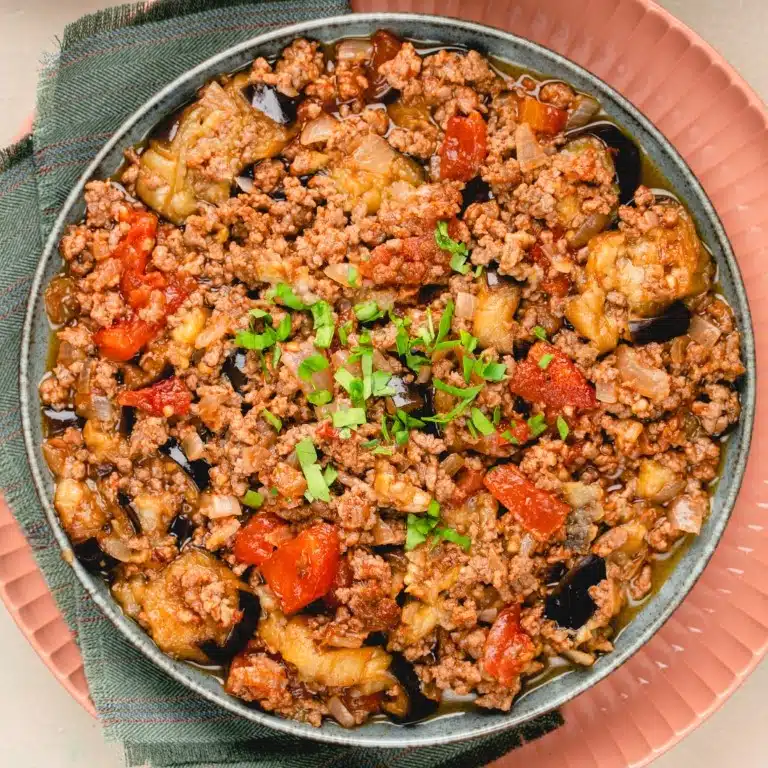 Ingredients
3

long thin eggplants

325

g

ground beef

1

medium onion

diced

2

garlic cloves

minced

2

medium tomatoes

2

tbsp

tomato paste

2

tbsp

olive oil

1

cup

water

¼

tsp

red pepper flakes

Salt

Pepper

Chopped parsley

for serving (optional)
Instructions
Heat the olive oil in a large pan. Add the onion and saute them on medium heat for about 4 minutes, then add the ground beef, and garlic to the pan, and continue to saute for about 8 minutes. After the ground beef turns brown, add the remaining ingredients to the pan. Cook for a few minutes until it boils; turn off the heat, and set it aside.

Peel the eggplants to form thick lines. Cut them into 0.5 cm/¼ inches discs. Heat the frying oil in a large pan. Fry the eggplant discs until they are soft and slightly golden brown on both sides, for about 2-3 minutes for each side.

Transfer the fried eggplant discs to the baking tray. Pour the ground beef mixture on top of the fried eggplant discs.

Bake it in the preheated oven at 190°C/375°F for about 45 minutes. Take the moussaka out of the oven, then transfer it to the serving plate.

Serve warm or hot. You can sprinkle chopped parsley on top before serving.
Nutrition
Calories:
386
kcal
|
Carbohydrates:
27
g
|
Protein:
19
g
|
Fat:
24
g
|
Saturated Fat:
7
g
|
Polyunsaturated Fat:
1
g
|
Monounsaturated Fat:
12
g
|
Trans Fat:
1
g
|
Cholesterol:
58
mg
|
Sodium:
144
mg
|
Potassium:
1283
mg
|
Fiber:
12
g
|
Sugar:
16
g
|
Vitamin A:
772
IU
|
Vitamin C:
21
mg
|
Calcium:
66
mg
|
Iron:
3
mg
Tips, Notes & Substitutes
Make sure that the eggplants you use are fresh. Eggplants with many seeds and soft seeds will reduce the quality of your meal.
Soaking eggplants in salted water is common in Turkey, but I find it sufficient just to salt them. Eggplant absorbs water like a sponge due to its structure, and I don't like its texture. If you rub your eggplants with salt and a little bit of oil, you will prevent them from browning, and you can help them get rid of it if it is bitter. However, after rubbing with this salt, you will see water drops on your eggplants; you should dry them thoroughly.
After frying, keep the eggplants on a paper towel to drain the excess oil.
If you do not want to fry the eggplants, you can drizzle olive oil on them and cook them in the oven. It will still be delicious.
Make sure you sauté all the ingredients well while making the minced meat mixture; this will enhance the flavor of your meal.
I love the taste of moussaka cooked in the oven, but you can also cook it on the stove. Instead of a tray, place your eggplants and minced meat mixture in the same way in a pot, reduce the heat as soon as it starts to boil, and cook it on low heat until it absorbs its water.
You can serve it with Turkish-style rice and tzatziki on the side.
Common Questions
How is Turkish-style Moussaka different then Greek-style Moussaka?
Greek moussaka is similar to Turkish moussaka, but there are some key differences in the ingredients and preparation. One of the main differences is that Greek moussaka typically includes a layer of bechamel sauce, which is made from flour, butter, and milk. Turkish moussaka, on the other hand, does not include this layer, and instead relies on a tomato-based sauce for flavor and moisture. In addition, Greek moussaka often includes potatoes in the layers, while Turkish moussaka typically only includes eggplant. These differences result in two distinct dishes that are both delicious in their own ways.
If you keep these things in mind, you'll be well on your way to making a delicious Turkish moussaka!
---
Recent Recipes