Easy Korean Seafood Pancake
Korean cuisine sometimes gets lumped into the broad genre of general Asian cuisine, which is a shame as Korea has its own unique culture and dishes. This Korean seafood pancake recipe is a good way to begin exploring the food, if you haven't already. It has a fantastic crispy texture alongside the chewier seafood and is packed with yummy flavor. If you are interested in trying another yummy Korean dish, consider these Korean rice balls. You could even serve them with your seafood pancakes.
The main factor of these seafood pancakes is actually not the seafood, it's the green onions! Instead of chopping up the green onions like you might expect for something like this, you keep them long and cook them long in the pancake which means a little less work for you. Plus, they add a pleasant little crunch when you bite in.
These pancakes are simple to make and do not require any unusual ingredients, so you will not have to make an extra trip to a specialty food store.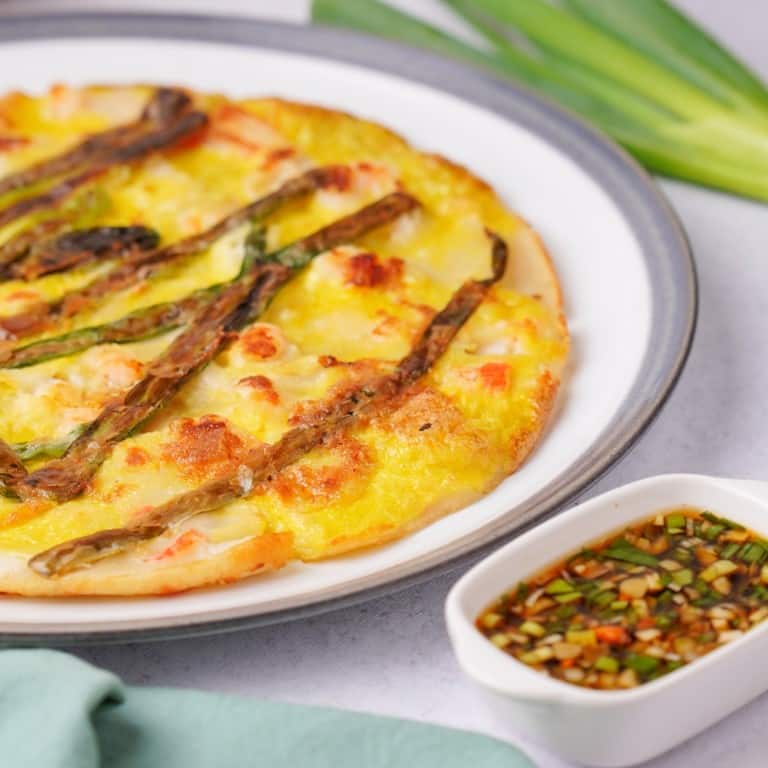 Ingredients
For the sauce:
2

tbsp

soy sauce

2

tsp

rice vinegar

1

tbsp

water

¼

tsp

chili pepper flakes

½

tsp

sugar

1

green onion
For the pancakes:
2

cups

seafood

1

tsp

salt

1

cup

flour

2

tbsp

potato starch

¼

ground pepper

1

cup

vegetable stock

2

eggs

1

bunch green onions

3

tbsp

sesame oil
Instructions
All ingredients ready? Let's begin!

Roughly chop 1 green onion and add to a small bowl. Add the soy sauce, rice vinegar, water, chili flakes, and sugar.

Mix together with a whisk or fork then cover and set aside.

Prep the seafood in anyway it needs (e.g. peel and devein shrimp) then roughly chop it all into small pieces. Add the chopped seafood to a large mixing bowl. Also add a pinch of the salt and mix around with your hands then set aside.

In another large mixing bowl, add the flour, potato starch, salt, pepper, and vegetable broth. Whisk together until there are no lumps. The texture should be between regular pancake batter and crepe batter, so still relatively thin.

In a different bowl, add the eggs and whisk until combined. Cut the roots off the green onions and leave the long stalks un-chopped.

Add roughly half of the seafood to the batter and gently mix to combine.

In a large skillet (preferably a good cast iron skillet), heat some of the oil over medium-high heat.

When the oil has heated through, pour in about ½ cup of the batter.

Dip ¼ of the green onion stalks in the batter then spread across the batter in the pan in an even layer.

Drizzle some of the egg on top of the green onions and let cook in the pan for about 3 minutes or until the bottom is solid and crispy.

Flip and cook for another 3 or so minutes until the other side is golden and crispy.

Remove from heat and repeat with the remaining ingredients.

Give the previously made sauce a little stir to incorporate everything again.

Serve the pancakes hot alongside the sauce and enjoy!
Nutrition
Calories:
362
kcal
|
Carbohydrates:
33
g
|
Protein:
25
g
|
Fat:
14
g
|
Saturated Fat:
3
g
|
Polyunsaturated Fat:
5
g
|
Monounsaturated Fat:
5
g
|
Trans Fat:
0.01
g
|
Cholesterol:
82
mg
|
Sodium:
2422
mg
|
Potassium:
150
mg
|
Fiber:
2
g
|
Sugar:
2
g
|
Vitamin A:
371
IU
|
Vitamin C:
2
mg
|
Calcium:
29
mg
|
Iron:
2
mg
Notes & Tips
If you have leftovers, you should store them separately in different air-tight containers in the fridge for up to 5 days. To reheat the pancakes, you can pop them in the microwave for a minute or so until hot. If you want the pancakes to get crisp again, reheat it in a skillet again for a few minutes.
If you would rather have more pancakes, you can use a smaller pan to fry them and simply add less of the ingredients. This is a good option if you want to serve them as small appetizers or as a side.
What Seafood to Use?
A variety is the best option here. The most popular options are some sort of mix of squid, clams, shrimp, mussels, oysters, and scallops. You don't need to include all of them for this recipe to be delicious, but using more than one type of seafood is the key to unleashing the maximum flavor here.
Because this recipe is best with a myriad of seafoods, this is a great option if you have any leftovers from a seafood dinner. Fresh is best, but that is often more expensive and means you will have to make it all quickly, which is not always feasible for everyone, so frozen works well too.
Substitutions
As with several cooked dishes, it does not make a huge difference if you switch around some of the ingredients. If you want a heartier kind of flavor, you can use chicken or beef broth instead of vegetable broth. Alternatively, you can make the seafood pancakes have an extra seafood flavor by using kelp stock or something similar. If you use kelp stock, the umami flavor of this dish really stands out.
If you want a little more spice, you can adjust some of the seasoning amounts. Add a few more chili flakes or even more ground black pepper. You can also add a chili pepper (or two). You will need to destem and deseed it then finely chop it before adding it to the batter. Cook as normally from there.
Traditional seafood pancakes often use a Korean spice called gochugaru, but I wanted to make this recipe a little bit more accessible for anyone who is unfamiliar with the spice. However, if you want to try it, you can find it online or at Asian grocery stores, or try our 5 gochuraru substitutes.
You do not have to use eggs to make this, which can make the recipe more appealing for some people and cuts out an extra step. I like to use eggs (sometimes more than two) because it means the pancakes are a bit more filling which can be nice, especially if it is the main dish for a dinner.
---
Recent Recipes