Homemade Haitian Beef Stew
There is no stew like the Haitian Beef Stew. It is a big, hearty, filling soup loaded with beef, vegetables, bouillon, dough dumplings and a ton of flavorful seasoning. There are of course variations of the soup, but the essentials are beef, potatoes, spinach and bouillon. Traditionally, in Haiti, this Beef Stew is made every week and definitely during the colder season or as a picker-upper when you're sick.
If you are intending to make this soup, make a large, large, large pot of it because it is a long, detailed process. The Bouyon Bef is definitely worth all the time it takes to make it, but this is not what you can whip up for a quick meal. Here's my version of the Homemade Haitian Beef Stew.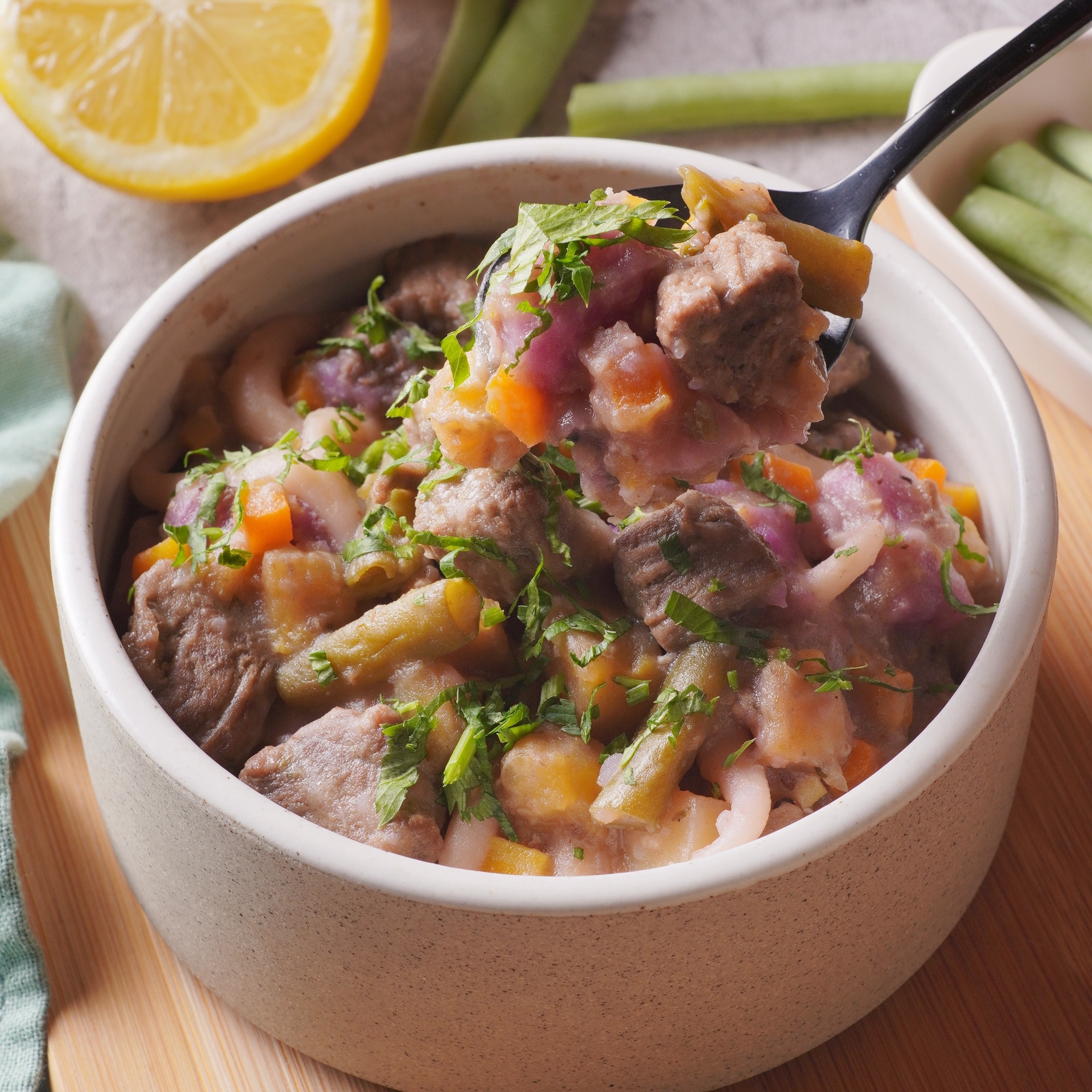 Ingredients
2

lbs

beef

cut into pieces

2

potatoes

peeled and chopped

2

plantains

peeled and chopped

1

malanga or taro peeled and chopped

2

celery sticks

chopped

1

cup

carrot

peeled and cut

1

cup

green beans

cut into 1-inch pieces

3

cloves

of garlic

minced

1

onion

finely chopped

2

cups

of spinach

2

bouillon cubes

3-4

tablespoons

of Epis

2

cloves

2

bay leaves

1

sprig parsley

2

tablespoons

of lemon juice

1

teaspoon

of Adobo seasoning

Salt

Oil

Water
For the Dumpling:
2

cups

of flour

½

cup

of water

1

tablespoon

of oil
Instructions
All ingredients ready? Let's begin!

Clean and cut the meat, trimming out any excess fat

In a large bowl, marinate the cut beef with Epis, Adobo seasoning, lemon juice, garlic, onion and salt.

While the beef marinates, prep the vegetables. Peel and cut the potatoes, malanga or taro, plantain, celery, carrots, beans and spinach.

In a large pot, heat 3 tablespoons of oil. Add the marinated beef. Cover and cook on medium heat for about 10 minutes. The beef will cook in its own juices.

Now uncover the pot and continue cooking till all the juice evaporates. This should take about 5-7 minutes.

Continue to cook the beef, on high heat, till it develops a nice dark outer color

To the beef, add the cloves, bay leaves and parsley. Then add the carrots, celery, beans, plantain, malanga or taro and the spinach. Do not add the potatoes now.

Add 8 cups of water and the two bouillon cubes. Cover and bring to a boil. This should take 20-30 minutes. In the meantime, start making the dough dumplings.

In a bowl, mix all the ingredients listed under Dumpling.

Make into small balls and roll the balls between your hands and make it into small strings or ropes.

Add the dumplings to the boiling soup and cook uncovered for another 20 minutes.

Add the potatoes, cover and let it all cook together for about 10 minutes. This will be enough time for the potatoes to cook, but not break apart.

Add more salt if needed. Take off heat and enjoy.
Video
Nutrition
Calories:
730
kcal
|
Carbohydrates:
74
g
|
Protein:
34
g
|
Fat:
34
g
|
Saturated Fat:
12
g
|
Polyunsaturated Fat:
2
g
|
Monounsaturated Fat:
15
g
|
Trans Fat:
2
g
|
Cholesterol:
107
mg
|
Sodium:
3946
mg
|
Potassium:
1345
mg
|
Fiber:
6
g
|
Sugar:
12
g
|
Vitamin A:
5336
IU
|
Vitamin C:
37
mg
|
Calcium:
87
mg
|
Iron:
7
mg
Tips & Tricks
Don't add in the potatoes too early as they will break apart, become mushy and make the soup clumpy
You can add more vegetables if you like or reduce it to just spinach and potatoes.
Make sure the beef is well cooked and doesn't get tough or chewy.
The longer you marinate the beef, the better it is going to taste
Storage
The Hearty, Homemade Haitian Beef Stew is perfect to store in the fridge for a rainy day. It will last in the fridge for up to 4 days. You can also freeze this beef stew. Put it in an airtight container and freeze for up to 2 months. Let it sit out in the fridge overnight the day before you want to consume it. You can heat it in the microwave or over the stove.
This is an elaborate dish, and you can prep parts of it and make ahead. Firstly, you can marinate the beef a day ahead. It gets more juicy and flavorsome, the longer it marinates. Secondly you can cut the beans, carrots, spinach and celery ahead of time. The root vegetables and plantain will start browning as soon as it is peeled and exposed to the atmosphere. You can place them in water to prevent browning, but I wouldn't recommend doing this overnight as they vegetables will get squishy. You can do it the day of. You can make the dough ahead of time. Make the dough, cover with saran wrap or a plastic sheet and keep in an airtight container.
FAQs
What is malanga?
Malanga is a root vegetable, that is popular in Caribbean, African and South American cuisines. It is a starchy root that is very similar to taro and yucca.
What is Adobo seasoning?
Adobo is a seasoning that is popular in Caribbean and Latin American cuisines. It has a strong garlic taste and also has pepper, oregano and cumin. It has a very earthy flavor to it. It is commonly used to season meats.
Substitutions
The beef, potatoes, spinach and bouillon are absolutely essential for this dish. You can play around with the rest.
You can add any other vegetables like leeks, mushrooms, turnips, squash, peppers and even cabbage to this Hearty, Homemade Haitian Beef Stew.
You can also add some heat to this soup by adding scotch bonnet peppers or hot sauce to this.
The whole spices used in this recipe are completely optional. They add some extra elements to the flavor, but the soup is just as delicious without.
The parsley adds a bit of freshness to the soup. You can use cilantro instead.
The dumplings do not need anything extra. You can add cayenne, paprika or allspice if you want and give it some more flavor.
Accompaniments
The Homemade Haitian Beef Stew is amazing with a slice of warm bread. You can also pair it with a bowl of rice.
For more hearty soup dishes, try this delicious Homemade Noodle Soup or this flavorful Moroccan Fish Soup.
---
Recent Recipes