Easy Bacon Wrapped Chicken Thighs
If you eat animal protein, you are going to love this recipe. It is high in protein and is salty and slightly sweet. It will satisfy several of your food cravings. And, it is beyond easy to prepare. This one pot entrée can be on the table in about 35 minutes.
This dish is basically chicken thighs, a blend of spices with sugar, and bacon. The thighs are seasoned well and then wrapped in the bacon and roasted in a hot oven until the bacon is crisp and the chicken is cooked through. The fat in the bacon helps to keep the chicken moist and flavorful. Because the thighs are skinless and boneless, the bacon is instrumental in keeping the chicken meat juicy. And what's not to like about crispy bacon?
This recipe is gluten-free. It isn't keto or paleo compliant because of the sugar. But you can make it compliant by omitting the brown sugar for keto and substituting pure maple syrup for paleo.
I like making bacon-wrapped chicken thighs when I have guests arriving for the weekend and I need a quick main dish on a Friday night. I like to pair this with a leafy green salad and simply pan-seared baby carrots with minced fresh herbs from my garden. This chicken is also great nestled into creamy grits (polenta) or mashed cauliflower.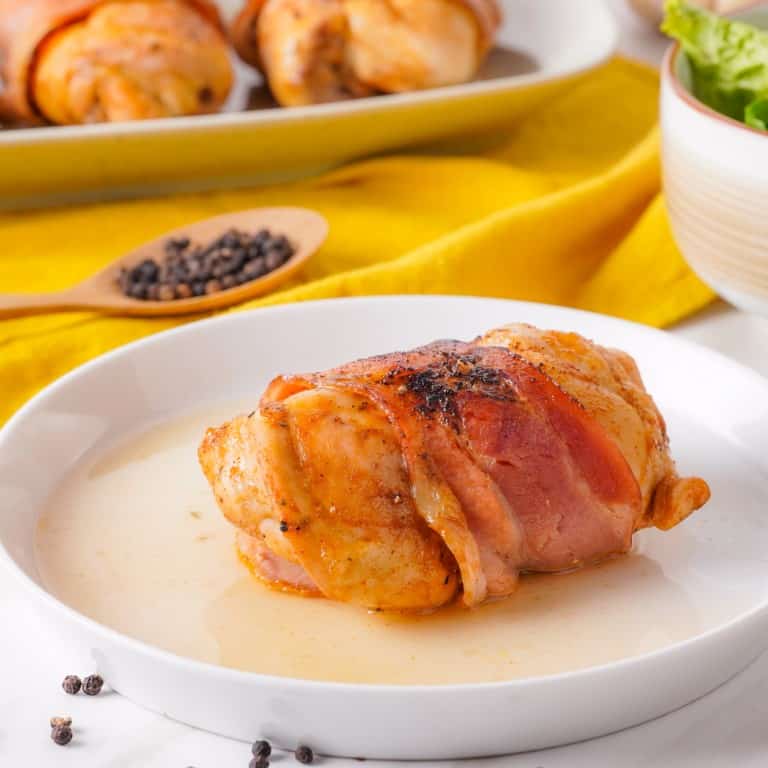 Ingredients
18.5

oz

boneless chicken thighs

10.5

oz

corn starch

1 ½

Tbsp.

soy sauce

1 ½

Tbsp.

cooking sake

¾

tsp.

mirin

3

tsp.

freshly grated ginger

including the juice

Vegetable oil for deep frying

Optional: fresh shredded cabbage and parsley to garnish
Instructions
All ingredients ready? Let's begin!

Cut the chicken thighs into bite-sized pieces and pat them dry with paper towels.

Put the soy sauce, sake, mirin, ginger, and chicken into a large zip lock bag and massage the chicken until all pieces are coated with the marinade. Let sit in the fridge for at least 30 minutes to 1 hour. Remove from the fridge 30 minutes before frying.

Heat vegetable oil in a deep pot or pan to 320°F. The oil should have a 1 ¼ to 1 ½ inch depth.

Drain excess marinade from the chicken and place it on paper towels to remove excess liquid, then put them in a bowl. Sprinkle the cornstarch and toss the chicken to coat every side with it.

Fry in small batches for 2.5-3 minutes, adding one piece of chicken at a time. You might have to move the pieces around to make sure they don't stick to the bottom of the pot.

Remove chicken pieces from the oil and allow them to rest for 3-4 minutes on paper towels. Repeat until all chicken is fried and resting.

Increase the temperature of the oil to 374-392°F. Put the chicken pieces back into the oil in small batches. Fry for 30 seconds to 1 minute or until golden brown and crispy. Repeat with remaining chicken.

Serve immediately with shredded cabbage and sprigs of parsley to garnish.
Nutrition
Calories:
781
kcal
|
Carbohydrates:
93
g
|
Protein:
30
g
|
Fat:
29
g
|
Saturated Fat:
8
g
|
Polyunsaturated Fat:
6
g
|
Monounsaturated Fat:
12
g
|
Trans Fat:
0.1
g
|
Cholesterol:
171
mg
|
Sodium:
567
mg
|
Potassium:
399
mg
|
Fiber:
1
g
|
Sugar:
1
g
|
Vitamin A:
136
IU
|
Vitamin C:
0.2
mg
|
Calcium:
19
mg
|
Iron:
2
mg
Notes & Tips
I love a cast-iron skillet for this recipe. It helps the bacon to crisp nicely. If you don't have one, use a heavy-bottomed and oven-proof skillet. Place a pot holder on your countertop to remind you that the handle will be hot when taking the pan out of the oven.
You can easily double this recipe and bake it in a large glass or ceramic baking dish.
For this recipe, I like to use smaller chicken thighs that are about 3-1/2 ounces each. If you have ginormous thighs that are 5 ounces or larger, slice them in half so they cook within the allotted time without the bacon burning.
If the bacon hasn't crisped up enough, place the skillet with the wrapped chicken over medium-high heat on your stovetop and rotate until the bacon crisps up to your liking.
Substitutions
Smoked Paprika: I have seen this recipe made with chili powder in the seasoning rather than my choice of smoked paprika. While I love the smokiness from the paprika, I think chili powder is a great substitute if that is what you have in your spice rack. Don't get too hung up on the seasoning rub. You can customize this recipe to what you have available. The bacon will be the main ingredient imparting flavor.
Brown Sugar: If sugar isn't an ingredient you consume, please choose bacon that is not cured with sugar and substitute pure maple syrup if you are following a paleo diet. Simply omit the sugar if you are on a keto diet.
Chicken Thighs: Some people prefer light meat to dark meat chicken. You can definitely use chicken breasts, but you will probably need to cut the breasts in half for this recipe. Be mindful that breast meat might take less time to cook than thigh meat. So, keep an eye on it and check the meat with a digital thermometer at about 20 minutes.
Bacon: I was tempted to try this recipe with turkey bacon but decided it was simply too lean. However, duck and beef bacon are good alternatives, especially if you don't consume pork. You could also try caul fat, which is the lining that surrounds the internal organs of an animal.
If you like chicken as much as I do, you will probably enjoy Grilled Boneless Chicken Thighs that are seasoned with lemon juice, garlic, and fresh herbs. These are perfect for an easy backyard barbecue dish. Want to add some heat to your chicken? Try our super easy Chicken Diavolo which is made with a couple of different chili peppers. The chicken is marinated in chili pepper-infused olive oil and lemon juice and then baked in the oven.
---
Recent Recipes