Best Substitutes For Almond Bark
Finding an ideal almond bark substitute might at first sound intimidating for novice bakers. However, my tried and tested almond bark substitutes will work a treat once you understand what almond bark consists of and how it interacts with other recipe ingredients.
A substitute for almond bark should melt and harden quickly and ideally have a similar taste and texture, suitable for dipping candies. Great substitutes include Candiquick, white chocolate (chips and solid bars), candy melts, frosting, couverture chocolate, and marshmallows.
While substituting almond bark with the other alternative ingredients might sound like a straightforward decision, there are several essential factors to consider if you want to avoid a potential kitchen disaster. Trust me — I know!
So, I have included eight great substitutes, including a brief handy baking guide that will help you create a sweet masterpiece.
Almond Bark In A Nutshell: What You Should Know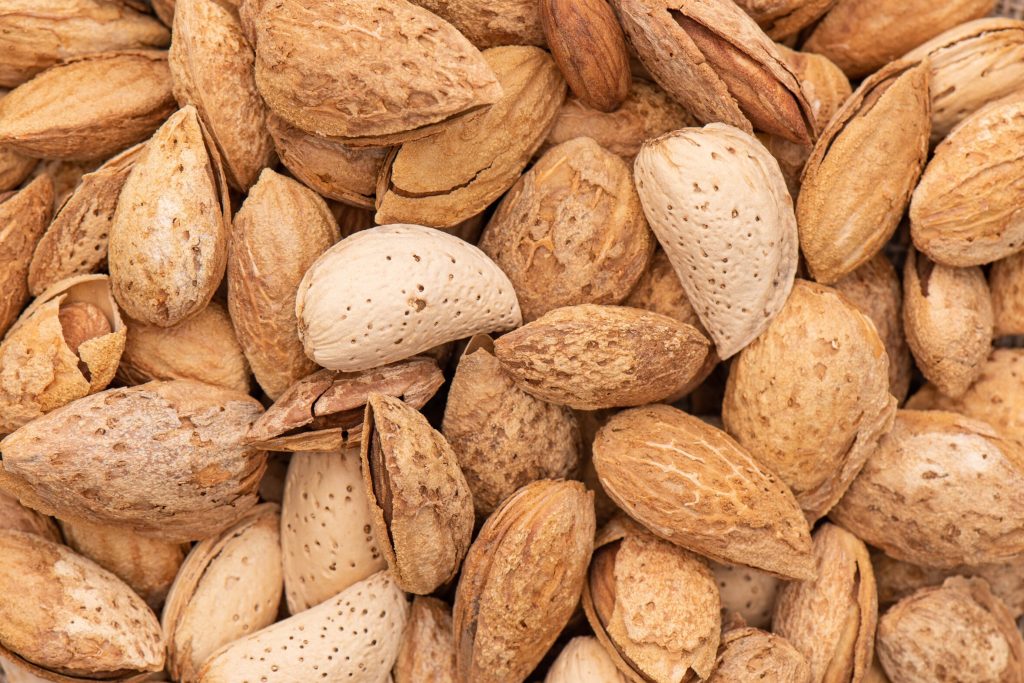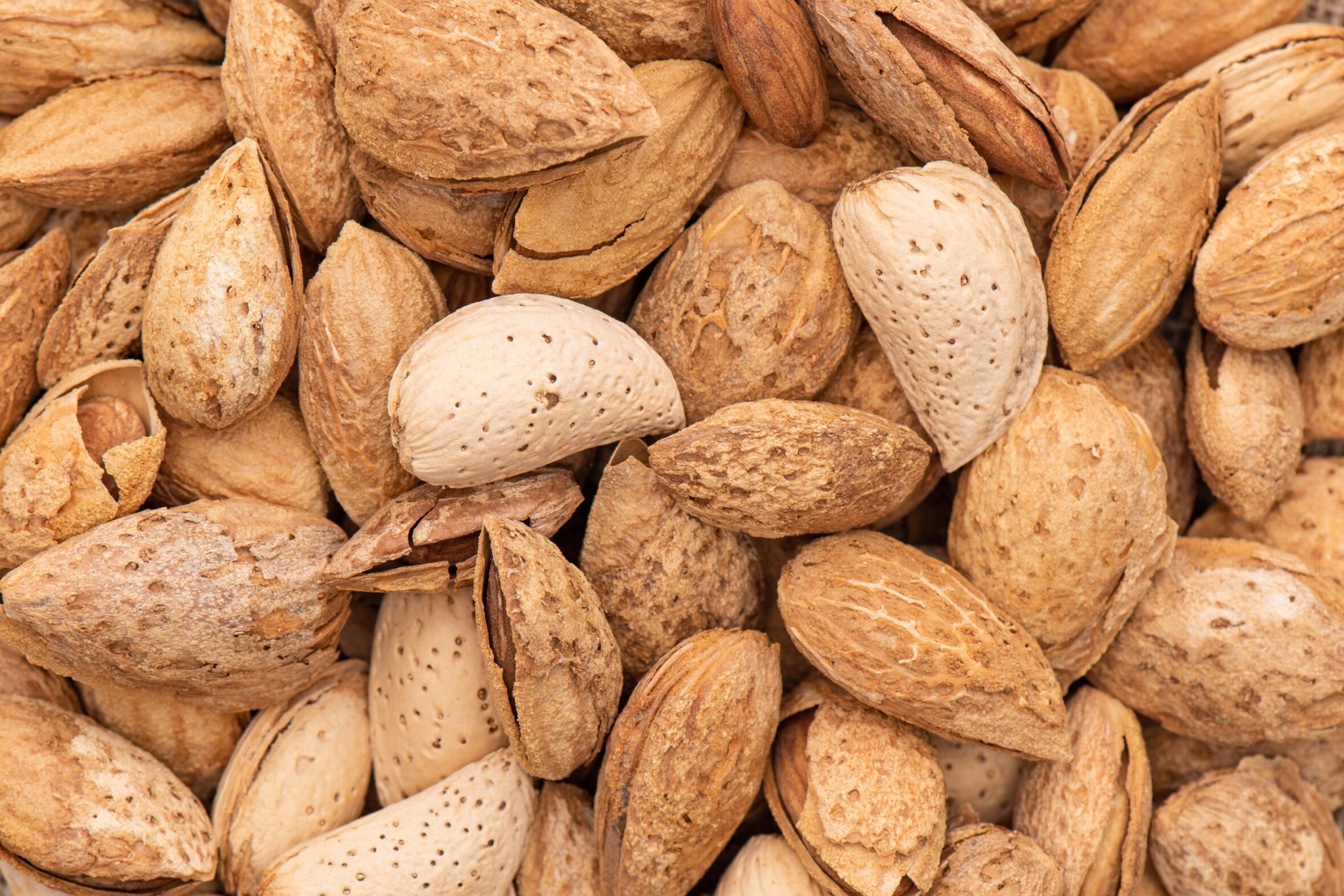 If you need a delicious substitute for almond bark that will satiate your craving for sweet bliss, it's essential to understand what almond bark is and how it is produced. The answer might surprise you!
So, let's have a look at what makes almond bark so delectable and how you should choose a substitute that will harmonize with your recipe's other ingredients.
The Ins and Outs Of Almond Bark's Nutty Name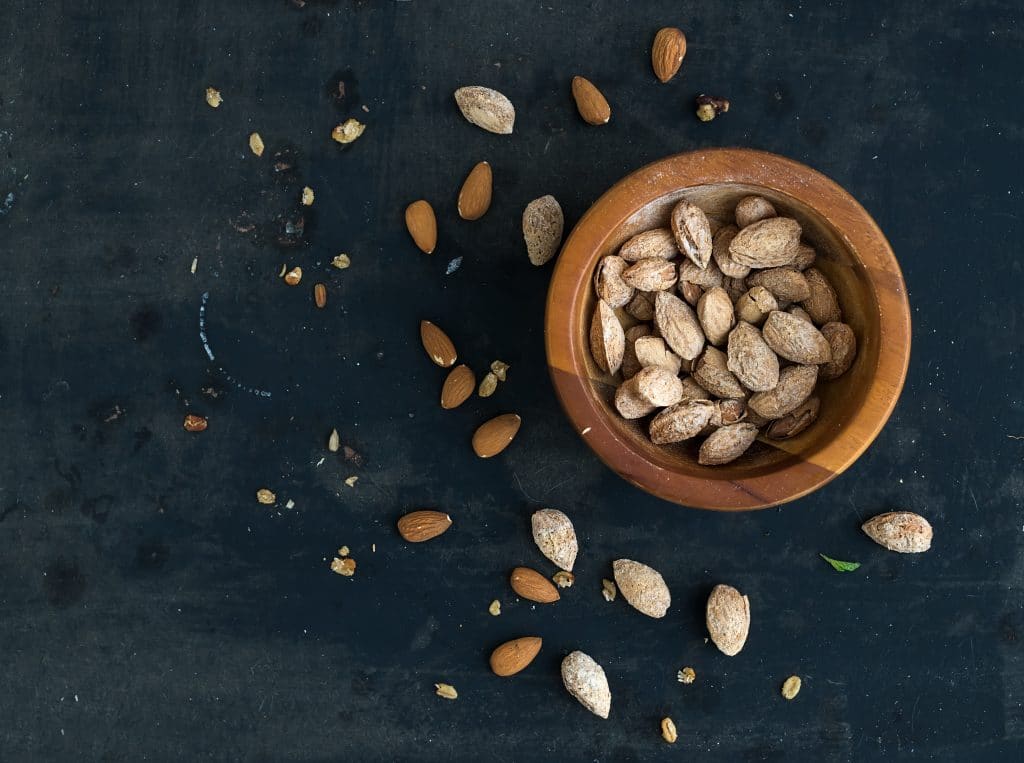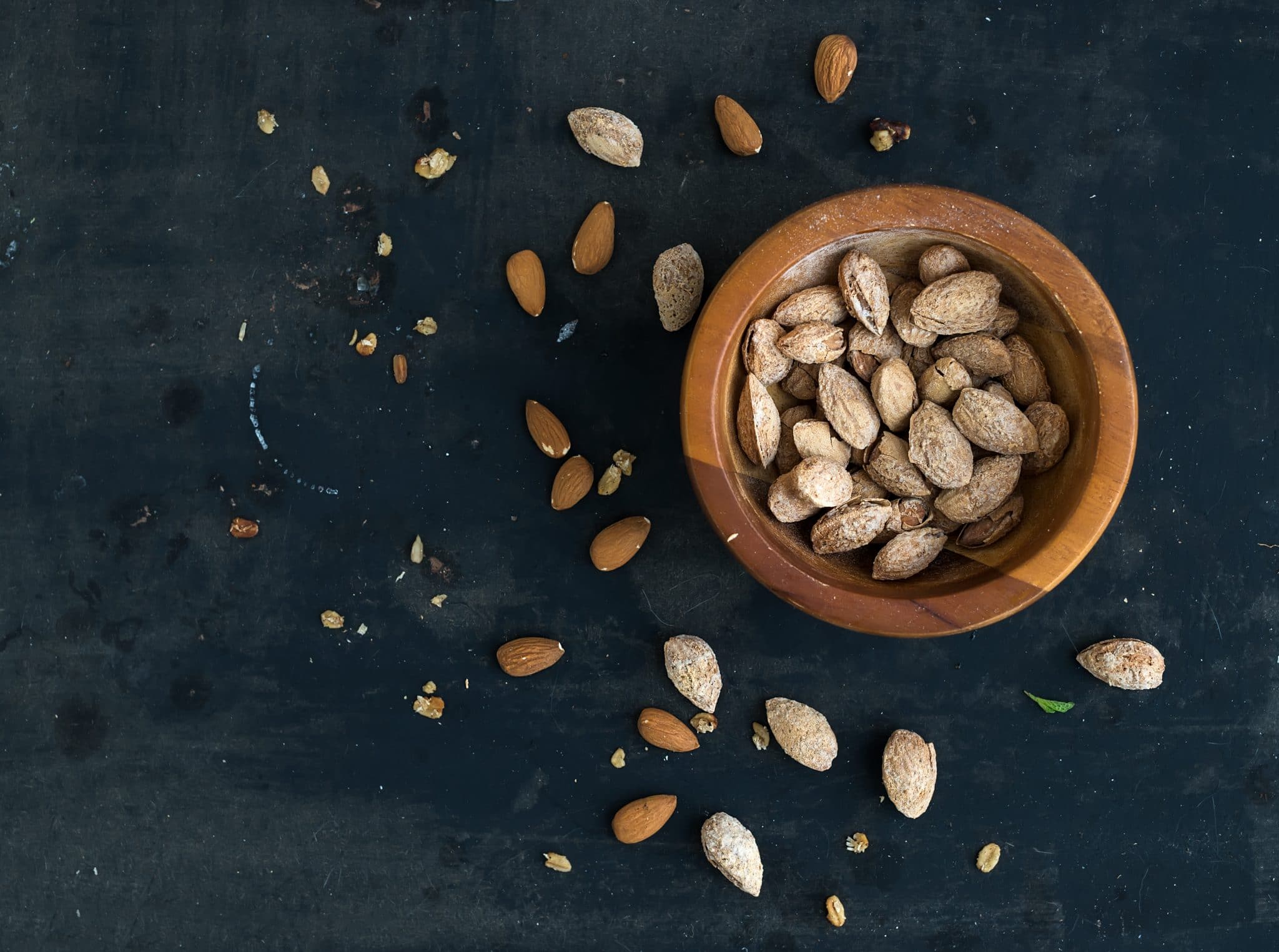 You might be astounded to learn that almond bark's name is a complete misnomer as the product does not contain any nuts whatsoever.
Almond bark was traditionally used to cover almonds (and most nuts for that matter), which is certainly more appealing than its authentic description of a confectionery or candy coating that closely resembles white chocolate.
Almond bark became incredibly popular as it's super easy to melt, even in a microwave, and it hardens quickly, which means that you don't have to wait for hours to enjoy the fruits of your labor.
Anyone who has botched tempering chocolate in the past will know that it demands the patience of a saint, coupled with constant stirring.
Alternatively, you will end up with a costly, exploding, hot sticky mess and potentially end up in a flood of tears. Been there — done that!
Almond bark is crafted from colored vegetable fats (not cocoa butter) with added sugar and bespoke flavorings.
It is available in various shapes and sizes, ranging from round discs to blocks to cover oats, fruits, crackers, cookies, or granola instead of real chocolate.
However, almond bark should not be confused with the "real McCoy," which consists of decadent pieces of white, milk flavored, or decadent dark chocolate encrusted with roasted almonds, with a potential hint of cinnamon, salt, or cherry flavorings.
Fabulous Almond Bark Substitutes For Decadent Candies
So, now you know what almond bark consists of, it is much easier to choose a substitute if it is not available, or you could not be bothered to shop around.
What's more, I will include more unusual alternatives to almond bark that you might have in your pantry. While they might not be exactly like almond bark, they are all easy to melt, a prerequisite for any great substitute.
White Chocolate Chips
White chocolate chips would be my first choice if I had to choose an ideal almond bark substitute as they share so many startling similarities, like their ability to melt and harden quickly.
More importantly, you don't have to look far and wide to source quality white chocolate chips as they are readily available.
Although, it needs to be said that in comparison with dark chocolate, white chocolate is harder to temper. So, if you have never tempered chocolate before, I would suggest that you use quick and easy Candiquick or one of my other suggestions.
However, add a little shortening agent to replicate the almond bark's creamy texture before starting the melting process.
If a shortening product is not easily available, add any form of solid fat, like butter. However, less is more, so stick with a teaspoon of whichever solid fat you have on hand.
Though white chocolate chips are laden with butter, it contains less sugar than almond bark which is an added advantage if you prefer candies that are not too sweet.
Solid White Confectionary Chocolate Slabs 
While we're on the topic of white chocolate, like almond bark, its name is highly misleading as it is not what it purports to be.
Solid white chocolate is derived from cocoa bean flesh, which is finely ground to produce a chocolate liquid. The liquid is then divided into solids and butter components which are used to make white chocolate.
So technically speaking, white chocolate is cocoa butter, blended with milk, antioxidants, emulsifying agents, whey, and lecithin.
White confectionary chocolate is a fantastic almond bark substitute as it also has a low melting point and quickly hardens with a smooth chocolate glaze.
If you plan to use it as a substitute for almond bark, add the same amount of white chocolate with one teaspoon of butter, or shortening to aid the melting process. Followed by a colorant of your choice.
If the melted white baking chocolate is not sweet enough, add a little sugar (one/two teaspoons) before it hardens.
Candy Melts
Candy melts are great almond bark substitutes as they share comparable flavors and textures.
They are crafted from a blend of sugar, powdered milk, vegetable oil, including various colorants and flavorings.
Like almond bark, candy melts dissolve in the nick of time, so they are perfect for dipping sauce recipes. However, you will have to work fast as they tend to harden more quickly than almond bark.
The other advantage of using candy melts is that they already contain colorants, so it's one less thing to worry about.
If your recipe requires a certain amount of almond bark (like one cup), substitute the same amount with candy melts.
While they are readily available in supermarkets, you can make your candy melts with the following ingredients if you already have them at home: 7 Oz white chocolate, 2 Tbsp coconut oil, including flavorings and colorants of your choice.
Melt the white chocolate and coconut oil at a low temperature, add your coloring or flavor of choice, and use a piping bag to create your homemade candy melts. Then pop them in the fridge to set, to use as an almond bark substitute.
Convenient Candiquik
While white chocolate chips are my favorite go-to substitute, many argue that Candiquick is far better.
Candiquick is a blend of delicious cocoa, milk, and sugar with a texture that is uncannily like almond bark, making it an ideal substitute.
If your recipe calls for a certain amount of almond bark, substitute it with the same amount of Candiquick.
However, the best part of using Canidquick is that it is normally supplied in a little microwavable tray, and like almond bark, it will melt in seconds. No mess – no fuss!
Good Old-Fashioned Frosting 
There are so many readily available types of frosting, ranging from royal icing, ganache, buttercream, glazes, including cooked and whipped cream frosting.
If your cupcake or cake recipe calls for almond bark, substitute it with any buttercream frosting containing the following ingredients: butter, milk, sugar, eggs, flavorings, or cream cheese.
Alternatively, use either a glaze which consists of a simple blend between powdered sugar, milk, or cream and a little butter. Royal icing would also be a good substitute.
The frosting might take some time to set, so they are not great options if you need an instant sweet treat.
Couverture Chocolate
If you are looking for a superior, quality almond bark substitute — look no further!
Couverture chocolate is produced from at least 31% cocoa butter and 35% solid cocoa ingredients, which results in a decadent chocolaty taste, and a fine texture.
It's a perfect almond bark substitute as it melts within the blink of an eye. Couverture chocolate is best suited to dipping candies or truffles that cures into a lustrous, smooth layer, with a satisfying snap when you take a bite of your delicious creation.
On a cautionary note — there's much debate on whether you can bake with couverture chocolate.
Due to its excessive cocoa butter, contents might be unpredictable if your recipe requires melted chocolate for brownies or cakes.
Unlike baking chocolate, it also has a different ratio of cocoa solids and sugar, so rather use it for coating candies, and stick to good quality baking chocolate.
You will be spoilt for choice as couverture chocolate is available in white, milk, and dark varieties from leading retailers.
Compound Chocolate
Compound chocolate (chocolatey or compound coating) is a more affordable almond bark substitute in comparison with high-quality chocolate. However, it costs a little more than almond bark.
It is produced with either palm kernel or coconut oil instead of premier cocoa butter, including cocoa and sweeteners.
Compound chocolate is a fuss-free almond bark substitute as it melts quickly and is less demanding than true chocolate, which can be tricky to temper.
If you would like to use it for coating, molding, or dipping, simply melt it in a microwave (in a suitable dish) for about a minute.
Don't panic if the melted compound chocolate is too runny; just add a little shortening of your choice until you have the right consistency.
Fluffy Marshmallows
Marshmallows are last on my list as potential almond butter substitutes as they are not a perfect match in the taste department.
Although, who can resist these melted fluffy, sugary clouds made from a blend of sugar, corn syrup, water, including gelatin that is whipped to create puffy candy delights.
They are great almond bark substitutes as they melt easily and are incredibly versatile as they can be used to cote cake-pops or as a decadent cake frosting. Moreover, the leftovers are perfect for impromptu campfire desserts.
So, if you don't mind that they don't taste exactly like almond bark – go for it!
Almond Bark Substitute: Final Tips & Tricks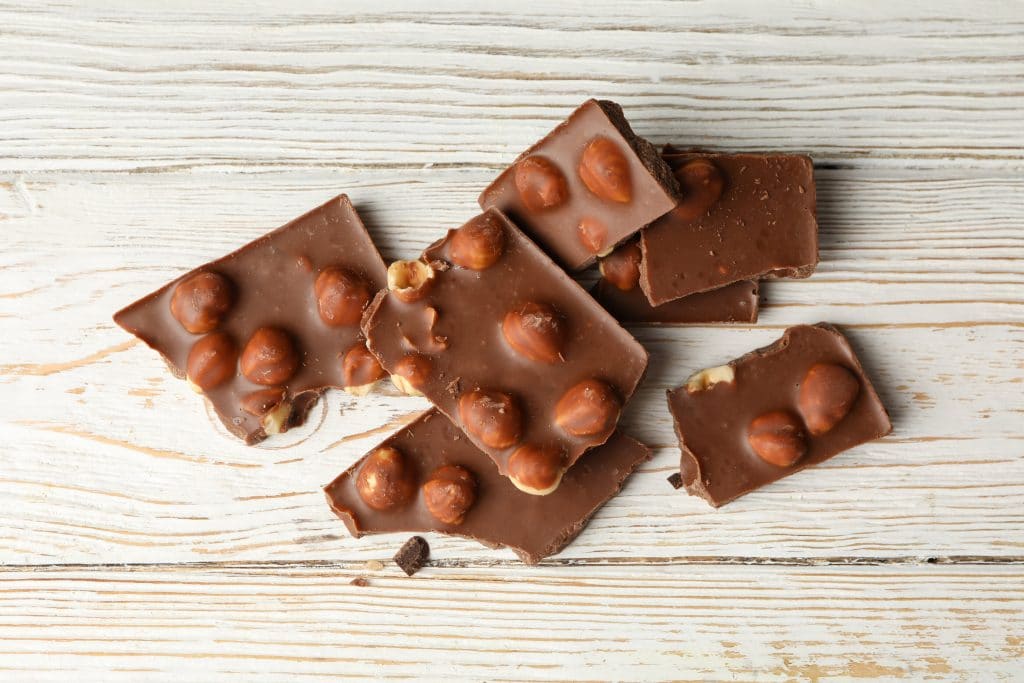 Hopefully, the following tips and tricks will help you to reach a decision if you are still unsure which almond bark substitute to choose.
Ultimately your substitute of choice will depend on your recipe and the reason it requires an almond bark ingredient.
Unlike luxurious couverture chocolate, which is best suited for dipping delectable candies, white chocolate would be my first choice as a substitute for almond bark for baking recipes.
Although, it's imperative to choose a good quality white chocolate that is glossy and solid, without any gray or white crumbly streaks.
The only potential downside of using white cholate is that you would need to temper it in a microwave for approximately 15-30 seconds at a time, with constant, in-between stirring.
Trust me — it's not as intimidating as you think; all you need to do is watch your microwave like a hawk! While it is not as sweet as almond bark, you can address that issue by adding a little sugar and a shortening agent or butter.
Another great almond bark substitute is Candiquick, as its taste and texture are uncannily similar to almond bark (and it might include a microwavable tray). However, it might be hard to find at your local supermarket.
While marshmallows, frosting, and compound chocolates are not standard almond bark substitutes, it really does not matter if your substitute of choice is conveniently on hand and satisfies your craving for candy- bliss.
So, What's The Best Substitute For Almond Bark?
You don't have to be a patisserie chef to find an ideal substitute for almond bark. The essential factors to consider are that it is easy to work with and suited to your recipe.
Besides, it's often more fun to experiment with ingredients that you have on hand, and you might just discover a delicious substitute that I would not have thought of. Happy baking!
---
Recent Recipes