Sweet & Crumbly Taiwanese Mooncake
Mooncakes are traditionally served during the Mid-Autumn Festival, which is the second most important holiday in China after Chinese New Year (the Spring Festival).
There are many varieties of mooncakes served all over Asia during this happy, festive season. They are often given as a gift to friends and family as part of the celebrations.
Today we'll be making Taiwanese mooncakes.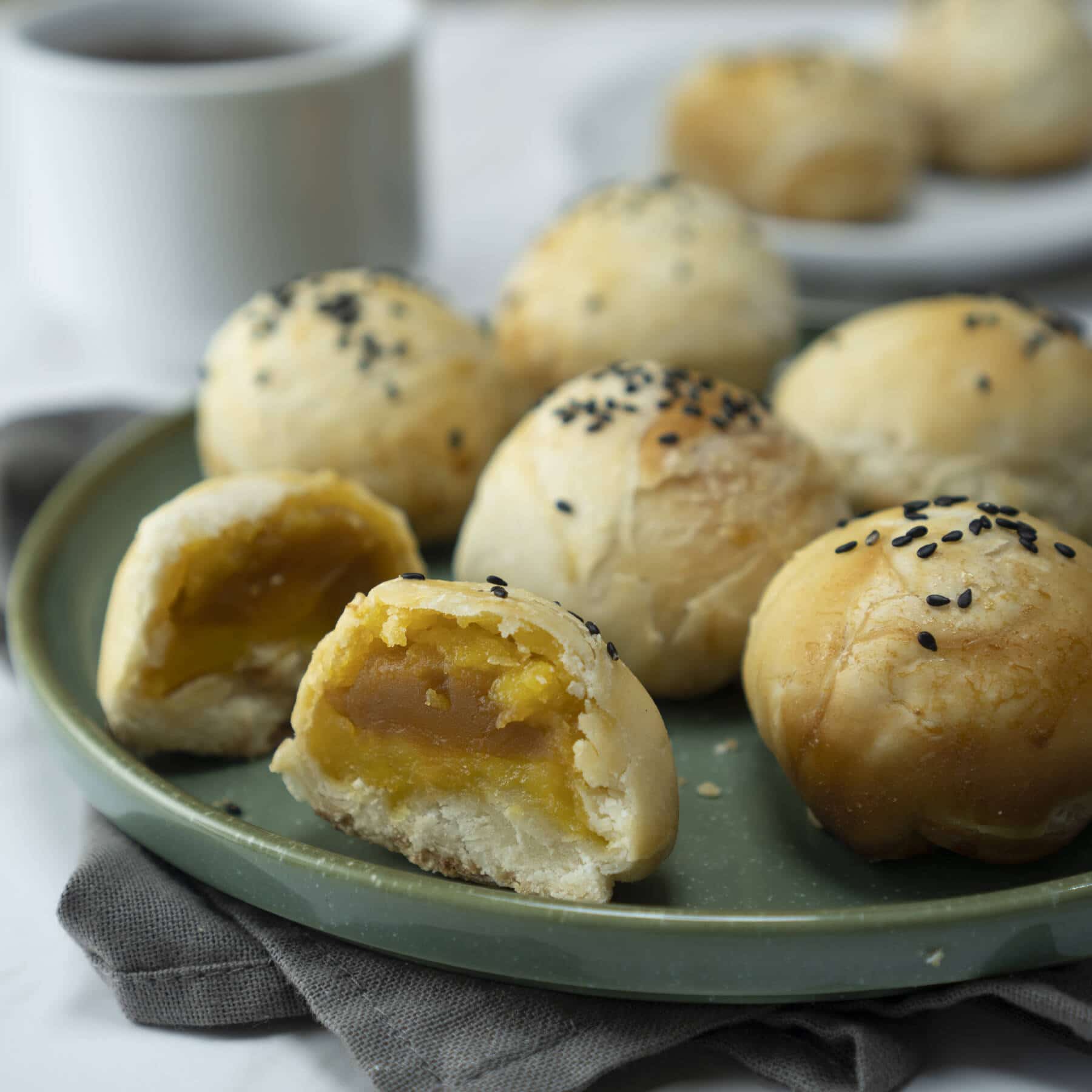 Ingredients
For the outer pastry (water pastry):
2

ounces

bread flour

4

ounces

cake flour

½

cup

water

1

ounce

icing sugar
For the inner pastry (oil pastry):
6

ounces

cake flour

3

ounces

vegetable shortening
For the custard:
2

ounces

custard powder

1/4

cup

milk

4

ounces

caster sugar

5

ounces

coconut milk

3

ounces

evaporated milk

2

regular eggs

1

ounce

melted unsalted

or vegan butter
For assembling and baking the mooncakes:
8

salted duck egg yolks

steamed until cooked and then cut in halves

1

regular egg

beaten (used as the egg wash)

1

tablespoon

vegetable oil

for the baking tray

1

pinch

black sesame seeds

for garnish
Instructions
To make the custard:
Mix all ingredients except the butter.

Add butter and mix until combined.

Pour into a large bowl and steam on low heat until the custard sets. The custard will be ready when a fork inserted in the middle comes out clean.

Remove from heat and allow to cool. Stick it in the fridge for a few minutes so it cools further.

Put the custard on a clean surface and knead it with your hands until it looks smooth and shiny.

Set aside 14 ounces of the custard. Put the rest back in the fridge.
To make the water pastry:
Mix together everything except the water.

Slowly add the water, kneading as you go.

Place the dough in a bowl, cover with plastic film, and let it set for 30 minutes
To make the oil pastry:
Mix all ingredients.

Place the oil pastry in a bowl, cover with plastic film, and let it set for 30 minutes.
To make the filling:
Divide the custard into 16 equal portions.

Put half an egg yolk inside each custard portion and roll it into a ball.
To assemble and bake the mooncakes:
Divide the water pastry and the oil pastry into 8 equal portions each.

Use a rolling pin to flatten a portion of the water pastry. Wrap a portion of the oil pastry into the water pastry and roll it into a ball so that the oil pastry is now inside the water pastry.

Repeat until you have 8 balls.

Use a rolling pin to roll out each pastry ball into a flat oval shape, then roll them back up into a Swiss roll shape.

Cover the 8 rolls with plastic film and let them rest for 30 minutes.

Cut the rolls into halves to form 16 rolls.

To put the custard and egg yolk filling into the rolls, roll out each piece of dough, then place the filling inside the piece. Roll it back up into a ball. Repeat with each one.

Preheat oven to 356° Fahrenheit (180°Celsius). Put the rolls on a baking tray lined with parchment paper.

Evenly separate the mooncakes on the baking tray.

Brush each mooncake with the egg wash and sprinkle on the sesame seeds to garnish.

Bake for 25 minutes and serve immediately.
Video
Nutrition
Calories:
289
kcal
|
Carbohydrates:
29
g
|
Protein:
9
g
|
Fat:
15
g
|
Saturated Fat:
6
g
|
Polyunsaturated Fat:
2
g
|
Monounsaturated Fat:
6
g
|
Trans Fat:
1
g
|
Cholesterol:
355
mg
|
Sodium:
83
mg
|
Potassium:
171
mg
|
Fiber:
1
g
|
Sugar:
10
g
|
Vitamin A:
352
IU
|
Vitamin C:
1
mg
|
Calcium:
59
mg
|
Iron:
2
mg
Notes & Tips
You can use a hand mixer or a stand mixer when mixing ingredients.
Assembling and baking the mooncakes is by far the most labor-intensive part of the process.
Where to find mooncake ingredients
Cake flour: this has a lower protein content than all-purpose flour and contributes to the light, flaky texture of these mooncakes. You can find cake flour online or in grocery stores.
Caster sugar: caster sugar is superfine and creams more easily than granulated sugar, so it's ideal for this recipe. It is usually sold in grocery store baking aisles as "superfine sugar." You can also buy it online.
Custard powder: this is readily available in most supermarkets.
Salted duck eggs: you can find these in a vacuum-packed bag at your local Asian grocery store.
Storage
Mooncakes should be stored in an airtight container in a cool, dry place. They will last at peak quality for up to a month.
You can also freeze the mooncakes in an airtight container or heavy duty freezer bag. Kept properly stored, they will last for up to four months.
Do not re-freeze them again after they have been thawed. Mooncakes can be enjoyed at room temperature, but you can reheat them in the oven.
Preheat your oven to 338° Fahrenheit (170°Celsius). Place the mooncakes on a baking sheet lined with parchment paper. Warm up for about 5 minutes or until the crust is warm. Turn off the oven and let the mooncakes sit for 2-3 minutes before serving.
History
Taiwanese cuisine is marked by colonialism, cross-border trade, and political rifts. Modern Taiwanese food is a combination of indigenous culinary customs and years of outside influence.
Common Questions
What can I serve to drink with mooncakes?
Strong green or black tea will cut back the oily sweetness in the mooncakes.
What kind of pastry brush should I use for the egg wash?
We recommend using a natural bristle pastry brush, since they are more absorbent than silicone ones and so will apply the egg wash more evenly.
What kind of spatula should I use for scraping the ingredients?
We recommend using a silicone spatula, since they are nonstick and scrape the sides of the mixing bowls most cleanly.
What do Taiwanese mooncakes taste like?
The mooncakes in this recipe are sweet with a soft crumbly outer crust.
---
Recent Recipes