Easy Cheesy Pizza Dough Breadsticks
Are you familiar with long thin crunchy breadsticks that are sometimes served at Italian restaurants in the bread basket? You bite into them and they make a crumbly mess because they are so dry. They also taste faintly of stale bread. What is up with that? I used to slather butter on them, or dip them in olive oil – anything to make these sticks more palatable.
Let's ditch the hard and tasteless breadsticks and make a version that will knock your socks off. I think breadsticks should be more like bread snacks that are soft, cheesy, and herbaceous. These can be served as a first course, a party snack, or a terrific snack for kids.
The good news is that you can make cheesy breadsticks in very little time with grocery store ingredients that make the process seamless. I am one who likes to try every recipe from scratch at first. There is something in me and many cooks who want to be purists. Once I get that out of my system with many a recipe, I am so okay with finding really good shortcuts.
The first time I made breadsticks, I prepared a pizza dough that I kneaded by hand and proofed for a couple of hours before adding toppings and baking it. I also prepared marinara dipping sauce from scratch. The result was awesome, but it took half a day to make and was gone in 10 minutes. Using premade pizza dough offers the same result and no one knows the difference.
The more I cook, the more I am open to using great convenience ingredients. Quality does matter, so source ingredients that don't have additives or things on the label that you can't pronounce. When making easy cheesy breadsticks, look for pizza dough that has flour, yeast, water, salt, and a little sugar for proofing the dough. I do like to shred my own cheese, but there are really good pre-shredded organic cheeses available that don't have added stabilizers and preservatives. For the dipping sauce, I like to go for a simple clean marinara, such as Muir Glen or Raos.
I think you are going to love this recipe for easy cheesy pizza dough breadsticks. You can have this delicious dish on the table in less than 30 minutes. You will need a small saucepot, a sheet pan, and a pastry brush.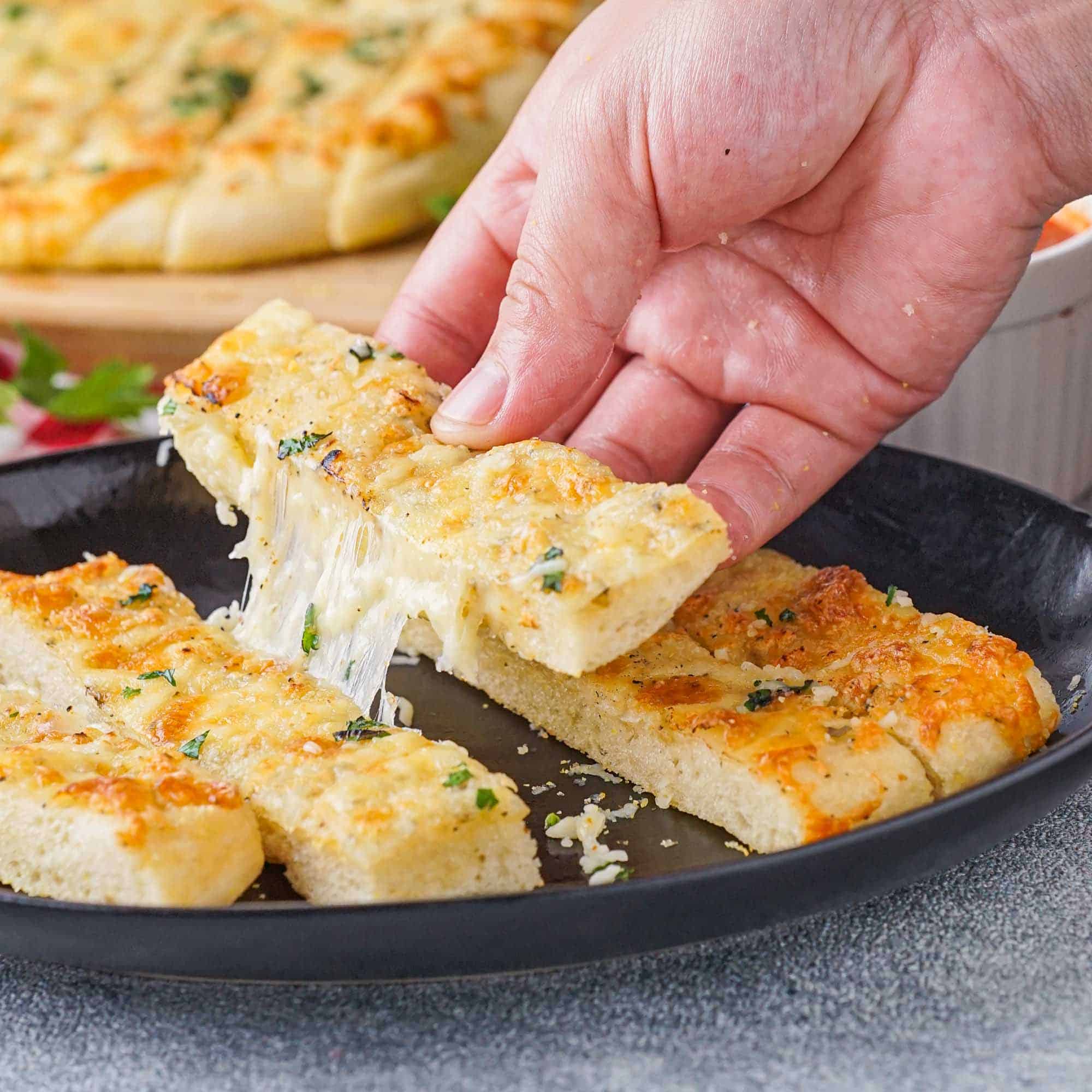 Ingredients
14

oz

package of refrigerated pizza dough

1 ½

Tbsp

cornmeal

3

Tbsp

extra virgin olive oil

divided

1

Tbsp

butter

1

Tbsp

butter

1

large clove of garlic

minced

½

tsp

dried basil

½

tsp

dried oregano

1 ¾

cups

shredded mozzarella cheese

¼

cup

grated parmesan cheese

2

Tbsp

chopped fresh flat-leaf parsley

1

cup

of your favorite jarred marinara sauce
Instructions
All ingredients ready? Let's begin!

Preheat your oven to 425°F.

Brush a sheet pan with 1 tablespoon of the olive oil.

Sprinkle the cornmeal over the oil in the pan.

Roll out the pizza dough onto the pan. Using your fingers, press the dough to spread it out. Alternatively, you can roll the dough out with a rolling pin on a lightly floured flat surface and transfer it to the pan.

In a saucepot, warm the remaining 2 tablespoons of olive oil, butter, garlic, basil, and oregano. Once the butter has melted and the garlic is slightly fragrant, brush the oil and herb mixture evenly over the pizza dough. Set the saucepot aside to reuse. Don't wipe it clean.

Top the pizza dough with the mozzarella cheese. Sprinkle the parmesan over the mozzarella.

Place the pizza in the oven and bake for 10 to 15 minutes until the crust is golden and the cheese is bubbling.

Remove the pizza from the oven and scatter the parsley evenly over the top. Set aside for a couple of minutes while you heat the marinara sauce in the saucepot over medium heat until just warm.

Transfer the pizza to a cutting board. Using a pizza cutter or sharp knife, make a slice down the center lengthwise. Then, cut in the opposite direction into 1-inch wide breadsticks. Transfer the breadsticks to a serving platter.

Place the marinara in individual ramekins and serve with the breadsticks.
Nutrition
Calories:
365
kcal
|
Carbohydrates:
37
g
|
Protein:
15
g
|
Fat:
18
g
|
Saturated Fat:
7
g
|
Polyunsaturated Fat:
2
g
|
Monounsaturated Fat:
8
g
|
Cholesterol:
30
mg
|
Sodium:
956
mg
|
Potassium:
182
mg
|
Fiber:
2
g
|
Sugar:
6
g
|
Vitamin A:
558
IU
|
Vitamin C:
5
mg
|
Calcium:
221
mg
|
Iron:
3
mg
Notes & Tips
I look for pizza dough that is in a ball in the refrigerated section of the market. That way, I can roll it out into a rectangle that fits my sheet pan. If you can only find a circular dough in the freezer section, that will still work but the ticks at the perimeter will have a curved edge. It should still taste the same.
The cornmeal isn't absolutely necessary. I always use it beneath pizza dough because it keeps the dough from sticking to the pan or stone and adds a little textural crunch that I like.
I actually bake this on a pizza stone. If you have a pizza stone, warm it in the oven for several minutes. Roll out the pizza dough on your counter that has been dusted with a little all-purpose flour. Dust the rolling pin with flour as well. Then, sprinkle the preheated stone with cornmeal and place the dough on the stone. You don't need to oil the stone. Transfer the dough to the preheated stone and quickly add the toppings. Bake per the instructions. This results in a crispy crust.
Substitutions & Additions
Pizza Dough: You can make your own pizza dough from scratch. This is especially good if you are on a gluten-free diet. You might want to try our low-FODMAP pizza dough that can be prepared ahead of time.
Butter: Butter is not normally part of any pizza recipe, but it is often used in breadsticks as an ingredient or as a condiment. It really adds some richness. You can skip the butter and add more extra virgin olive oil if you prefer.
Fresh Garlic: You can absolutely make this dish with garlic powder. I think 1-1/2 teaspoons would work in place of fresh garlic.
Basil and Oregano: Go ahead and use an Italian seasoning blend instead of individual dried herbs.
Mozzarella Cheese: I think mozzarella makes this dish. But you can swap it out for provolone, stretchy Swiss cheese, or American cheese slices for picky kids who want their breadsticks to taste like grilled cheese. You might be surprised how well American cheese works.
Parmesan Cheese: There are so many great substitutions for parmesan cheese. Try pecorino Romana, asiago, grana Padano, Manchego, or even nutritional yeast.
Parsley: I am not a fresh herb snob. I will use whatever is in my garden on pizza and breadsticks. My parsley tends to bolt early in the season, so I will switch to basil, oregano, or chives later in the season. It's all good.
Additions: You can add so many things to these cheesy breadsticks. My only recommendation is that the additional toppings be cut into small pieces. I like sauteed mushroom slices, crumbled bacon bits, mini pepperoni slices, caramelized or crispy fried onions, and sliced black olives as optional additions. A little sprinkle of cayenne pepper flakes is also nice for a kick.
---
Recent Recipes