Easy Brioche Grilled Cheese
I remember my first time having a slice of brioche bread. I was at a local diner with my father. When he visited me in his 70s, he would sneak out of the house before my mom woke up to go have a decadent Sunday breakfast of his favorite foods that his bride wouldn't allow him to eat at home.
One morning I hopped in the car and went with him. I was sworn to secrecy about what he would order. He always picked a diner that offered a senior discount. His order was almost always French toast with bacon or sausage and coffee with milk and sugar. But the French toast was either made with challah or brioche bread. We ordered the brioche on that day. It was made in-house, like many good diners. My dad knew his bread.
I took a bite and was stunned. The bread was soft, buttery, eggy, sweet, and sliced thick. Brioche is a yeast-risen bread that has copious amounts of butter and eggs in the dough. I mean, this bread is like a croissant with its butter content. The outer crust is crisp while the inside is airy and tender.
Sliced brioche is terrific for making sandwiches, especially when layered with sharp, bitter, and salty fillings. A grilled cheese sandwich comes to mind. The sharpness of the cheese compliments the slight sweetness of the bread. The sugar in the bread encourages it to toast up nicely and almost caramelize when grilled or pan-fried.
You could make your own brioche, but it does take some time for the bread to proof. You can easily find brioche in most markets or at your local bakery these days. For this grilled cheese recipe, we'll use store-bought brioche slices. It is paired with cheddar cheese, gruyere cheese, and fresh greens. My favorite cheddar cheese for this sandwich is an Irish dry, sharp cheddar made with milk from pastured cows. I also like an organic, raw milk cheddar that is made in La Farge, Wisconsin. Gruyere is a hard Swiss cheese from cows roaming the mountainsides. It is strong in flavor, easy to shred, and becomes stretchy when heated up.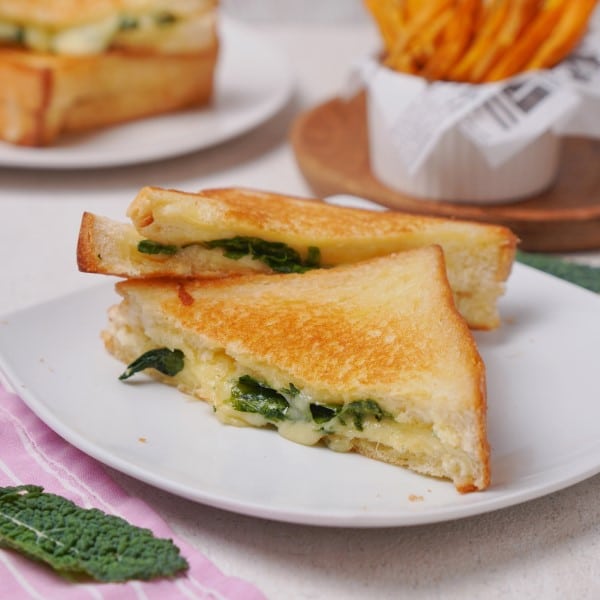 Ingredients
8

thick slices of brioche bread

3

Tbsp

butter at room temperature

1

cup

shredded sharp cheddar cheese

1

cup

shredded Gruyere cheese

1 ⅓

cups

baby greens

spinach, arugula, kale, or a mix

1

Tbsp

avocado or grapeseed oil
Instructions
All ingredients ready? Let's begin!

Preheat a flat griddle or 2 cast iron skillets to medium.

Butter one side of each slice of brioche. Flip 4 slices over. Place a small handful of cheese on the unbuttered side of the bread.

Add some greens and top with another layer of cheese.

Place the other slice of bread, buttered side up, on top of each sandwich.

Add the oil to the griddle or skillets. This will help to keep the butter from burning.

Place the sandwiches on the griddle or in the pans. Lower the heat to medium-low. Cook the sandwiches until golden brown, approximately 2-1/2 minutes. Flip over and cook for another 2-1/2 minutes or until golden brown and the cheese has melted.

Remove the sandwiches to a cutting board and slice them on the diagonal. Serve immediately.
Nutrition
Calories:
559
kcal
|
Carbohydrates:
34
g
|
Protein:
21
g
|
Fat:
47
g
|
Saturated Fat:
26
g
|
Polyunsaturated Fat:
3
g
|
Monounsaturated Fat:
7
g
|
Trans Fat:
0.3
g
|
Cholesterol:
199
mg
|
Sodium:
760
mg
|
Potassium:
69
mg
|
Sugar:
0.2
g
|
Vitamin A:
1580
IU
|
Vitamin C:
3
mg
|
Calcium:
444
mg
|
Iron:
1
mg
Notes & Tips
If adding the greens to the recipe, make sure they are spring or baby greens. More mature greens will be too chewy with the soft cheese. There are so many delicious young greens you can use.
It is important that the griddle isn't screaming hot or the butter will burn before the cheese melts. Likewise, the addition of the avocado or grapeseed oil will help the butter not to burn. Any vegetable or olive oil will do.
Variations & Substitutions
I love making this sandwich with the addition of caramelized onions. Sometimes I will add grainy mustard on the bread as well for a hint of acid. You could also add some prosciutto or slices of ripe tomatoes when in season. Another great addition is thinly sliced granny smith apples. I could go on, but you get the idea. Or, simply go with cheese.
If you can't find brioche bread, you can definitely substitute it with sliced challah or even Texas toast. Texas toast is basically white bread that is sliced about an inch thick. It isn't as sweet, but crisps up nicely.
The cheese is a personal choice. I like how cheddar and Swiss compliment the sweetness in the brioche. There are numerous Swiss cheeses that you can substitute for Gruyere. Cheddar can be swapped out for Manchego (my personal favorite) or Cantal.
What Goes With Grilled Cheese?
There is no denying that a steaming bowl of hot fresh tomato soup is a classic pairing with grilled cheese. Who doesn't love dipping a corner of the sandwich into soup? I think any kid in the states who stayed home from school with a winter cold was given grilled cheese and tomato soup for lunch. Though, the soup was probably from a can or a packet back then.
If this is an adult lunch, you would do well to serve flutes of chilled prosecco or pink champagne with this elevated grilled cheese sandwich. I would also serve this dish with crispy sweet potatoes and some cornichon pickles. Of course, a lightly dressed green salad would be perfect for a healthier spin on this classic lunch.
---
Recent Recipes