All The Vegetables That Start With J
You've made it nearly halfway through the alphabet and undoubtedly you've experienced some truly amazing vegetables. Whether you're here to learn more about your favorite vegetables or introduce yourself to some new ones, the J vegetables are a good bunch. From root veggies to peppers and everything in between, this list has some veggie shining stars. While some of the J veggies are perfect for raw consumption others require cooking. Nevertheless, the J vegetables are a nutrient-rich bunch that will afford you new ways to get your daily dose of vitamins, minerals, and antioxidants. Let's take a look at this small but mighty list of vegetables that start with J.
Jalapeno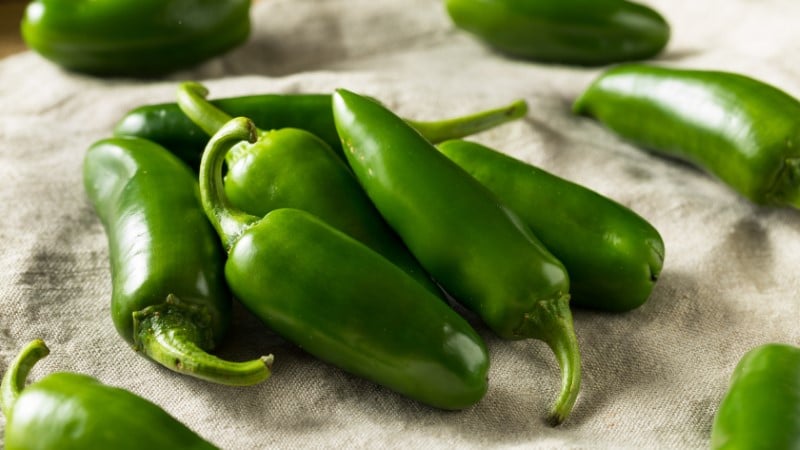 The discovery of the jalapeno pepper dates back to the Ancient Aztecs, however, they weren't popularized until the late 1400s. Jalapenos go by the scientific name Capsicum annuum 'Jalapeño'. Though jalapenos are mostly cultivated in parts of Mexico such as Jalapa and Chihuahua, this spicy, green pepper is now grown all over the world. In the US, jalapenos are cultivated in Southwestern states such as New Mexico, Texas, and California. Furthermore, jalapenos, which grow in hot weather, are a popular garden vegetable harvested in the summer.
When ripe, jalapenos can measure between two and three inches in length and about an inch in diameter. Though they're typically harvested when they reach a deep green hue, if they're given the time to fully ripen, they actually turn a deep red in color. Jalapenos have a taste similar to green pepper, however, they're much spicier. Jalapenos can be enjoyed raw or cooked, but the small white seeds pack tons of heat; so if you're looking for a milder flavor, simply scoop the seeds out.
Jalapenos are a staple in Mexican cooking and they can be found in popular recipes for salsa, pickled jalapenos, stuffed jalapenos, and chiles toreados. In American cooking, popular jalapeno recipes include jalapeno poppers, jalapeno scones, jalapeno cornbread, and spicy queso. A great source of dietary fiber, phosphorous, and magnesium as well as vitamins C and B6, jalapenos are a nutrient-rich addition to a well-rounded diet. What's more, routine consumption of jalapeno peppers is said to aid in weight loss, help fight cancer, prevent bacterial growth, and ward off the common cold with their high antioxidant count. 
Japanese Eggplant
Botanically coined the Solanum melongena, the Japanese eggplant grows wild in South Asia. Thriving best in warm weather, Japanese eggplants do grow in parts of North America. Smaller in girth than its Chinese counterpart, the Japanese eggplant has thin skin, fewer seeds, and is exceptionally tender. Though indigenous to Japan, this variety of eggplant can be purchased, when in season, throughout the US. It's also a popular crop for American home gardeners to grow annually.
The Japanese eggplant is similar in shape to the standard eggplant, however, it's smaller in size and darker in hue. This variety of eggplant is as long as its standard counterpart, however, more slender and though the skin is similarly purple, it's a much deeper shade. Although the Japanese eggplant is technically considered a fruit, it has always been treated as a vegetable in the way it's prepared, thus its placement on this list.
Japanese eggplants, unlike globe eggplants, are more bitter in taste and have a mild, sweeter flavor. Moreover, there are many wonderful ways to enjoy eggplant including raw. Some popular Japanese preparations include sauteed with ginger and scallions, miso-glazed eggplant, and agebitashi. Common American ways to prepare and serve this delicious vegetable include grilled, parmigiana, stir-fried, and a popular dip called baba ganoush. Lastly, Japanese eggplants are a wonderful source of dietary fiber, protein, and vitamin C. What's more, some of the nutrients in Japanese eggplants aid in heart health, reduce blood pressure, and help to manage diabetes by regulating the absorption of the body's glucose levels. 
Japanese Mustard Spinach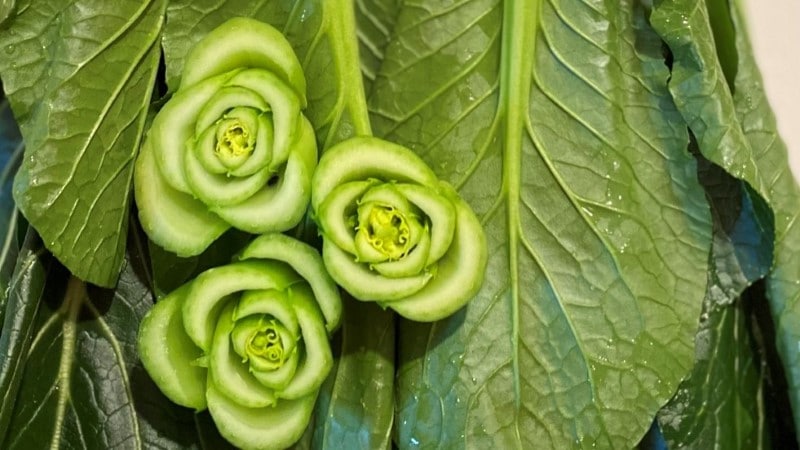 Brassica rapa var. Perviridis as it's scientifically known, or komatsuna as it's known in Japan, is a leafy vegetable that is commercially cultivated in Japan and Taiwan. A close relative to the turnip and napa cabbage, Japanese mustard spinach is a leafy green vegetable. Japanese mustard spinach thrives in cool climates and though it's not commercially available in the US, it's a popular crop for stateside home gardeners. Occasionally, however, Japanese mustard spinach can be found in grocery and ethnic food stores domestically.
Japanese mustard spinach is a dark green, leafy vegetable that looks like a cross between romaine lettuce and bok choy. Delicious consumed raw or cooked, Japanese mustard spinach is crispy and crunchy in texture while sweet and fresh in taste with notes of mustard, thus its name. When serving this leafy green raw, it's a wonderful addition to salad blends, atop burgers or sandwiches, or even as an omelet garnish. When cooking this delectable vegetable, it's common to prepare it much the same way you would standard or baby spinach. Japanese mustard spinach is great for sauteing or steaming. Some common recipes that feature Japanese mustard spinach include stir-fries, mustard spinach and pork, and fried tofu and greens.
Best of all, this green is packed full of impressive nutrients. Of note, Japanese mustard spinach is loaded with vitamin C, calcium, and beta carotene. What's more, Japanese mustard spinach contains high levels of sulforaphane which is linked to fighting cancer. 
Jerusalem Artichoke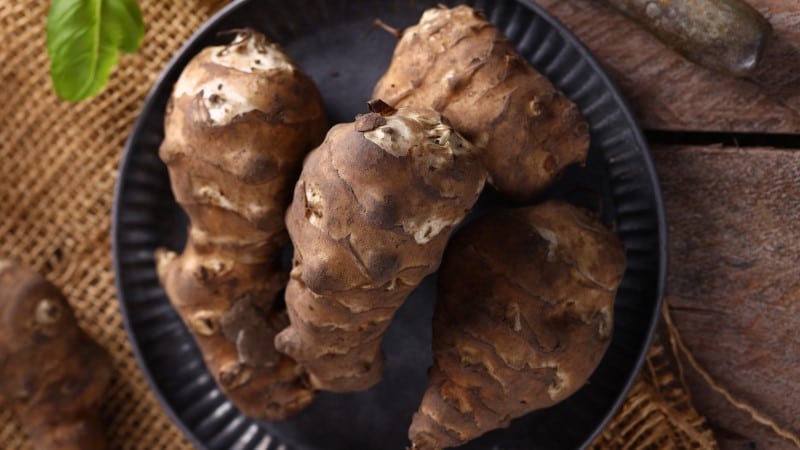 Helianthus tuberosus, better known as the Jerusalem artichoke, was first cultivated in North America by indigenous peoples. A close relative to the sunflower, the Jerusalem artichoke is a root vegetable that thrives in temperate climates. Although they grow all over the US, Jerusalem artichokes are also cultivated in other parts of the world such as Australia and Canada. This vegetable takes about 150 days to mature and is harvested from late October through December.
Jerusalem artichokes look a lot like ginger roots in shape, size, and color; the skin is brown and the shape is irregular and bumpy. When cooked, these tubers have the same starchy texture as potatoes while the flavor is similar but a bit sweeter. When eaten raw, the Jerusalem artichoke is more akin to the texture of water chestnut while the taste is nuttier. Interestingly, this vegetable smells a bit like chocolate.
Jerusalem artichokes can be eaten raw or cooked. When served raw, they're typically found in salads or even pureed. When cooked, they can be sauteed, fried, or roasted like other root vegetables. Some popular recipes that feature Jerusalem artichokes include sunchoke soup, gratin, and Jerusalem Artichoke Provencal. Lastly, Jerusalem artichokes are packed with antioxidants, fiber, vitamins, and minerals; it's even said that this vegetable can be used to fight fungus and improve digestive health. 
Jicama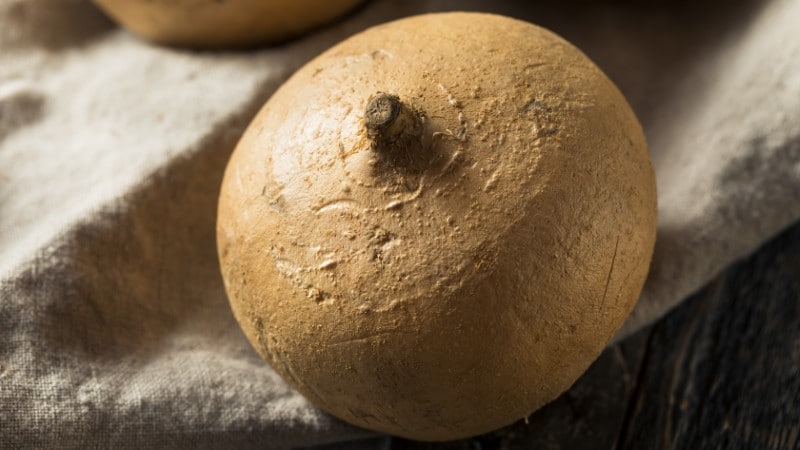 Jicama is a root vegetable that's native to Mexico and Central America. Known to the science community as Pachyrhizus erosus, jicama is also known as the Mexican yam bean or Mexican turnip. Notably, jicama thrives best in subtropical climates and is a member of the legume family. Jicama is grown all over the world including in the US where it's cultivated in Puerto Rico, Hawaii, and the southwestern states. Interestingly, jicama has a long growing season and is best planted early in the year and harvested prior to the first frost.
Jicama is a root vegetable that closely resembles a potato; it has a thick brown, inedible skin and takes the shape of a turnip. The jicama's interior is identical in color and texture to a potato; it's white, crispy, and starchy. Jicama can be peeled and eaten raw or cooked. Some popular raw preparations include cutting into thin matchsticks, seasoned, and dipped. It's also common to chop jicama and add it raw to salads or make a sweet jicama slaw. Some common cooked jicama preparations include baked jicama fries, roasted jicama, jicama stew, bacon-wrapped jicama, and jicama soup.
Finally, jicama is nutrient-dense and has many known health benefits. Jicama is loaded with fiber, vitamins, and minerals such as folate and potassium. Best of all, jicama is known to aid in digestion, treat diabetes, improve heart health, and strengthen bones. Incredibly, jicama is even connected to slowing the growth of cancer cells. 
The Final Letter
Undoubtedly, the letter J shines on the produce aisle. Herein, you've been introduced to all of the wonderfully nutritious and exceptionally delicious vegetables that start with J. From cancer-fighting greens to bone-strengthening root veggies and tubers that improve gut health to ones that support heart health, this list contains many tasty reasons to incorporate the J veggies into your diet. Besides all of the noteworthy vitamins and minerals included in these vegetables, they are all low-calorie options to incorporate into your diet. So whether you're here to naturally fight particular maladies or looking for ways to round out your nutrient intake, the J vegetables can take you the distance.
---
Recent Recipes