Simple Spanish Tomato Toast
Northeastern Spain, the region known as Catalonia, is an area steeped in culture and a mecca for incredible food, especially tapas. I may be biased on that front because I have enjoyed the regional dishes and good wine in and around Barcelona more than once. Situated on the Mediterranean Sea, this area is home to some of the finest beaches, the freshest seafood, and abundant produce. The region's proximity to France just adds to the gastronomic experience.
When in this part of Spain, you will definitely experience the tapas bar scene with the myriad variety of small plates that are commonly shared as an early afternoon light meal or a pre-dinner bite with a drink. You will find patatas bravas, small meatballs, smoked or salted anchovies and sardines, cured olives, bacalao, thinly sliced Iberian cured ham, and toasted bread with the essence of tomatoes. This last dish is also known as pan con tomate. These are small plates meant to be shared with friends while enjoying a nice drink.
Tomato toast is one of the simplest, yet most delicious tapas dishes. It is basically toasted bread rubbed with garlic and topped with a thin layer of the freshest tomatoes. It is finished with a drizzle of good olive oil and seasoned with flaky sea salt. You can also order this with a delicate anchovy fillet on top or a thin slice of Iberian cured jamón – the Spanish version of prosciutto. This is one of the most delicate and buttery textured cured meats I have ever eaten.
The bread needs to be sturdy slices from a good crusty loaf. It can also be a thick flatbread, such as focaccia. Given the proximity to France, I really like to make this appetizer on thick toasted slices of batard bread. The beauty of batard is in the simplicity of its ingredients: water, yeast, salt, and flour. It rises and proofs for a long time so it is airy on the inside and crusty on the outside. It is a perfect vehicle for super fresh and ripe tomatoes. But you can use any good artisanal white, whole wheat, multigrain, or gluten-free bread for this recipe.
Tomatoes are the key to a good pan con tomate. They need to be super fresh, in season, and ripe. I like beefsteak, smaller vine-ripened, or heirloom tomatoes. These are all very juicy and usually peak in late July and August.
You will need an oven broiler or toaster oven, a box grater, a cutting board, a serrated bread knife, and a sheet pan with a wire rack insert to make this recipe.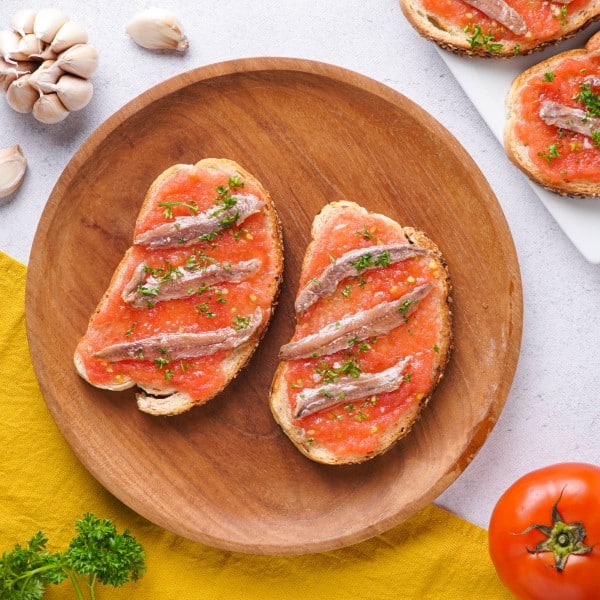 Ingredients
2

ripe beefsteak tomatoes

2

cloves

of garlic

peeled and sliced in half

8

½ to 1-inch thick slices of wheat or multigrain crusty loaf bread

3

Tbsp

good extra virgin olive oil

divided

Flaky sea salt

such as fleur de sel

8

anchovy fillets

optional
Instructions
All ingredients ready? Let's begin!

Slice the tomatoes in half through the center. Place a box grater over a shallow bowl. Holding the tomato half by the uncut side with the palm of your hand, grate it over the large holes of the box grater.

The flesh and juices will run into the bowl and the skin should remain in your hand. Discard the skin. Do this for all 4 halves of the tomatoes. (See Notes and Tips for juicy tomatoes)

Move the top rack of your oven to about 5 inches below the broiler element. Preheat the broiler to high.

Slice the bread on a cutting board with a serrated bread knife. Brush or spoon each slice with a small amount of olive oil, approximately 1 ½ tablespoons divided.

Place the bread, oiled side facing up, on a wire rack that fits inside a rimmed baking sheet.

Place the pan in the oven and toast the bread until just golden and crispy, approximately 2 ½ minutes. Alternatively, you can place the bread right on the rack of your oven or toaster oven.

Remove the toast from the oven and place on the cutting board. Rub the toasted side of each slice with garlic until aromatic.

Place a spoonful of tomato pulp on the toast and spread it out to coat the bread evenly. You don't need much so the bread stays crispy.

Drizzle with a little more olive oil. Sprinkle with salt and top with an anchovy fillet, if using.

Serve immediately.
Nutrition
Calories:
139
kcal
|
Carbohydrates:
16
g
|
Protein:
5
g
|
Fat:
7
g
|
Saturated Fat:
1
g
|
Polyunsaturated Fat:
1
g
|
Monounsaturated Fat:
4
g
|
Cholesterol:
2
mg
|
Sodium:
135
mg
|
Potassium:
290
mg
|
Fiber:
3
g
|
Sugar:
3
g
|
Vitamin A:
711
IU
|
Vitamin C:
12
mg
|
Calcium:
61
mg
|
Iron:
1
mg
Notes & Tips
I actually like to place the tomato pulp in a sieve or colander over a bowl and allow the excess moisture to drain away for about 15 to 30 minutes. I highly recommend doing that if there is a lot of moisture in the bowl of tomato pulp.
In Spain, pan con tomate actually has just a thin layer of tomato spread onto the toast. This is delicious, but I simply love fresh tomatoes in late summer and tend to make this a heartier appetizer with a good spoonful of the fruit. I suggest experimenting to see how you prefer the dish.
One of the keys to this being extra good is using your best extra virgin olive oil. I keep a small bottle or can of fruity Spanish olive oil that is simply for finishing. It is crazy expensive, but I use so little of it that it is entirely worth it. I cook with a good supermarket brand of extra virgin olive oil that is at least 1/2 the price of my tiny bottle of finishing oil.
Substitutions & Shortcuts
Bread: I make this toast with gluten-free bread often. There are some great GF breads coming out of Europe and the Middle East that I think work pretty well. One is Schar from Italy and the other is Green Lite from Israel. Both are available in USA markets. I also make my own yeast-risen buckwheat, almond, and tapioca flour focaccia that works quite well.
Tomatoes: My favorite tomatoes are big, ripe, beefsteaks for this dish. I am also okay with the tomatoes on the vine that my local market carries. If you can't find in-season, fresh, ripe tomatoes, don't even think about going for mealy, hothouse, supermarket tomatoes. I would rather you used high-quality canned diced tomatoes that have been well-drained of all the liquid. Canned tomatoes are very good these days and they will save you a step.
Salt: Flaky sea salt is a bit of a luxury pantry item that you might not use often. I love it as a finishing salt on both savory dishes and sweet desserts. Himalayan pink salt or coarse sea salt will work just fine.
Toppings: Anchovy fillets are fairly common in Spanish tapas. I realize, that is an acquired taste for some and is probably not appetizing if having tomato toast for breakfast. You can omit them, especially if vegan, or top the toast with freshly chopped green herbs or a paper-thin slice of cured ham.
---
Recent Recipes