Until I started to really get into experiments with different mocktails and shots, I was always confused by the various names of these drinks. Even more so once I found out some of the ingredients included in these drinks. I mean, how could a green tea shot ever pair well with peach vodka?? But when I learnt that many drinks are only named because of their reminiscent tastes, I wanted to try as many cocktails with as many whacky names as possible. That is when I came across a white tea shot.
Now I am forever a big lover of tea – a few of my favourites being green tea, vegan taro iced tea, and Turkish black tea. Having tried white tea before, I knew that a white tea shot was likely to be a delicate combination of flavours with a floral freshness. And I was not disappointed! A white tea shot perfectly embodies the complex flavour of a white tea, just with a bit more impact and much more alcohol.
As the flavour of white tea is so delicate, it is often served with some honey or lemon to make the flavour a little sweeter. Because my favourite types of tea always have a little sweetness to them, my white tea shot not only embodies the typical white tea flavour but also incorporates typical additions to the tea to make the shot a lot more enjoyable too.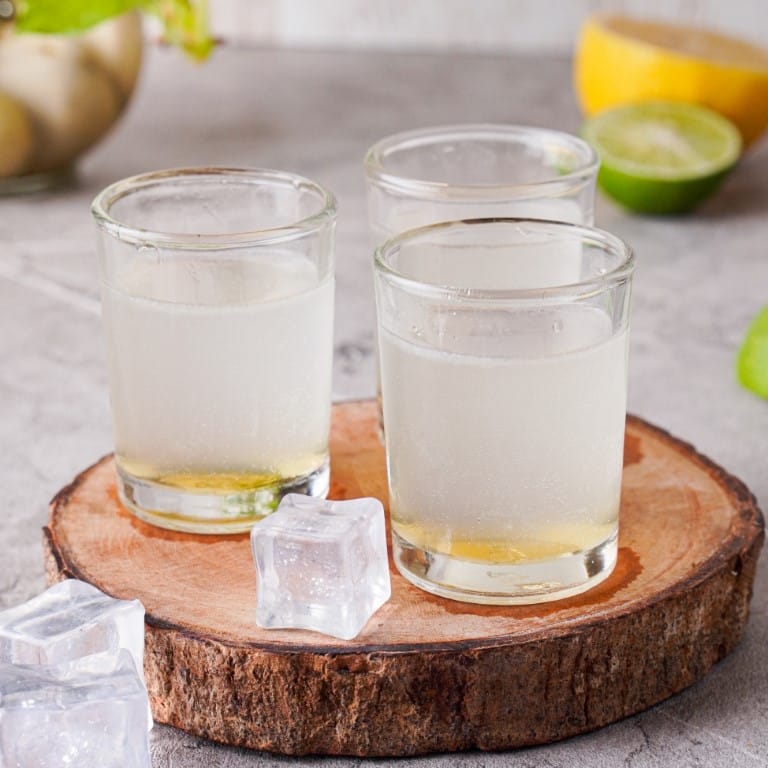 Ingredients
½

cup

sugar

½

cup

water

1

tablespoon

lime juice

2 ½

tablespoon

lemon juice

pinch

of salt

5

ice cubes

¼

cup

peach schnapps

¼

cup

vodka

1

tablespoon

Sprite

½

tablespoon

honey
Instructions
All ingredients ready? Let's begin!

Start by preparing a sweet and sour mix, also known as a simple syrup, to add to your shot. Do this by heating a medium sized pan on a medium low heat.

Once the pan is hot, pour in your ½ cup of sugar and ½ cup of water. Use a whisk to stir the mixture continuously until all of the sugar has dissolved into the water.

Remove the pan from the heat and set aside to cool down.

Once the syrup is cool enough to touch without burning yourself, go ahead and add in 1 tablespoon of lemon juice, 1 tablespoon of lime juice, and a pinch of salt. Give the syrup another good whisk to combine all of the ingredients together.

Then leave the pan to continue cooling. Use this time to prepare the rest of your white tea shot.

In 4 shot glasses, drizzle a little honey so that it hits both the bottom and internal sides of the shot glasses. Then line the shot glasses up on your counter for easy access.

Add some ice to a cocktail shaker. Pour your peach schnapps, vodka, Sprite, and remaining lemon juice over the ice.

Quickly measure out 1 tablespoon of your sweet and sour mix and add that to the shaker as well.

Secure the cocktail shaker shut and give everything a good 20 second long shake. Do not stop shaking until you are sure that the ice has made all of the drink cold.

When the drink has been properly shaken, separate it into your 4 prepared shot glasses. Try to pour an equal amount of the drink into each shot glass. Leave the ice in the shaker.

Serve within 10 minutes and enjoy!
Nutrition
Calories:
199
kcal
|
Carbohydrates:
36
g
|
Protein:
0.1
g
|
Fat:
0.1
g
|
Saturated Fat:
0.003
g
|
Polyunsaturated Fat:
0.003
g
|
Sodium:
13
mg
|
Potassium:
16
mg
|
Fiber:
0.05
g
|
Sugar:
36
g
|
Vitamin A:
2
IU
|
Vitamin C:
5
mg
|
Calcium:
3
mg
|
Iron:
0.04
mg
Notes & Tips
To better taste the sweetness of the honey in your white tea shots, you can wait to use it until you have poured your shots. Then you can drizzle the honey on top of the shots. To stop the honey dissolving too much into your drink you should serve the shots immediately.
Fresh lemon juice in the white tea shot itself is what gives the shot a delicious freshness reminiscent of a standard white tea. However, you can use bottled lemon juice or lime juice if you have that on hand instead. The resulting taste may not be as fresh but it will still add an extra dynamic to your shot.
You do not have to make your sweet and sour mix fresh every time you want to make a white tea shot. Make one bigger batch as instructed above and you will be able to keep it in your fridge in a sealed bottle or jar for up to 3 weeks to use again.
White Tea Shot Variations
For those who prefer a much fruiter drink than a typical white tea shot, you can easily transform the cheaply made white tea shot into a more tropical, fruity shot. All you need to do is replace the homemade sweet and sour mix with your choice of fruit syrup. Raspberry is a particularly good pairing for the peach schnapps of a white tea shot, though would result in a drink similar to the white gummy bear shot.
You can easily turn a white tea shot into a green tea shot for more variety at your next party. Replace the straight vodka for Jameson Irish whiskey for a richer and more impactful drink. You can even garnish the two shots the same way if you wish.
How To Turn A White Tea Shot Into A Cocktail
I have found the white tea shot to be the perfect cocktail when I want a more delicate drink to enjoy with my meal or to help get my night started.
To turn a white tea shot into a full-on cocktail, follow the same directions and ingredient measurements as listed above. But instead of pouring the drink into a honeyed shot glass, pour it into a tall glass with honey drizzled all the way around the inside of the cup. Then top the drink off with some more Sprite.
Keep in mind that the amount of ingredients listed above will only be good for 1 cocktail.
---
Recent Recipes