Tasty Vegan Taro Iced Tea
Vegan taro iced tea is a bright bubble tea made with purple ground taro root. If you haven't yet tried a delicious boba tea, taro's light, refreshing creaminess combined with the nutty sweetness reminiscent of coconut is a great place to start. The texture of chewy, bubbly tapioca pearls pairs perfectly with the fragrant flavor of pureed taro, creating a filling sweet caffeine-free Taiwanese "tea" that tastes just as exciting as it looks.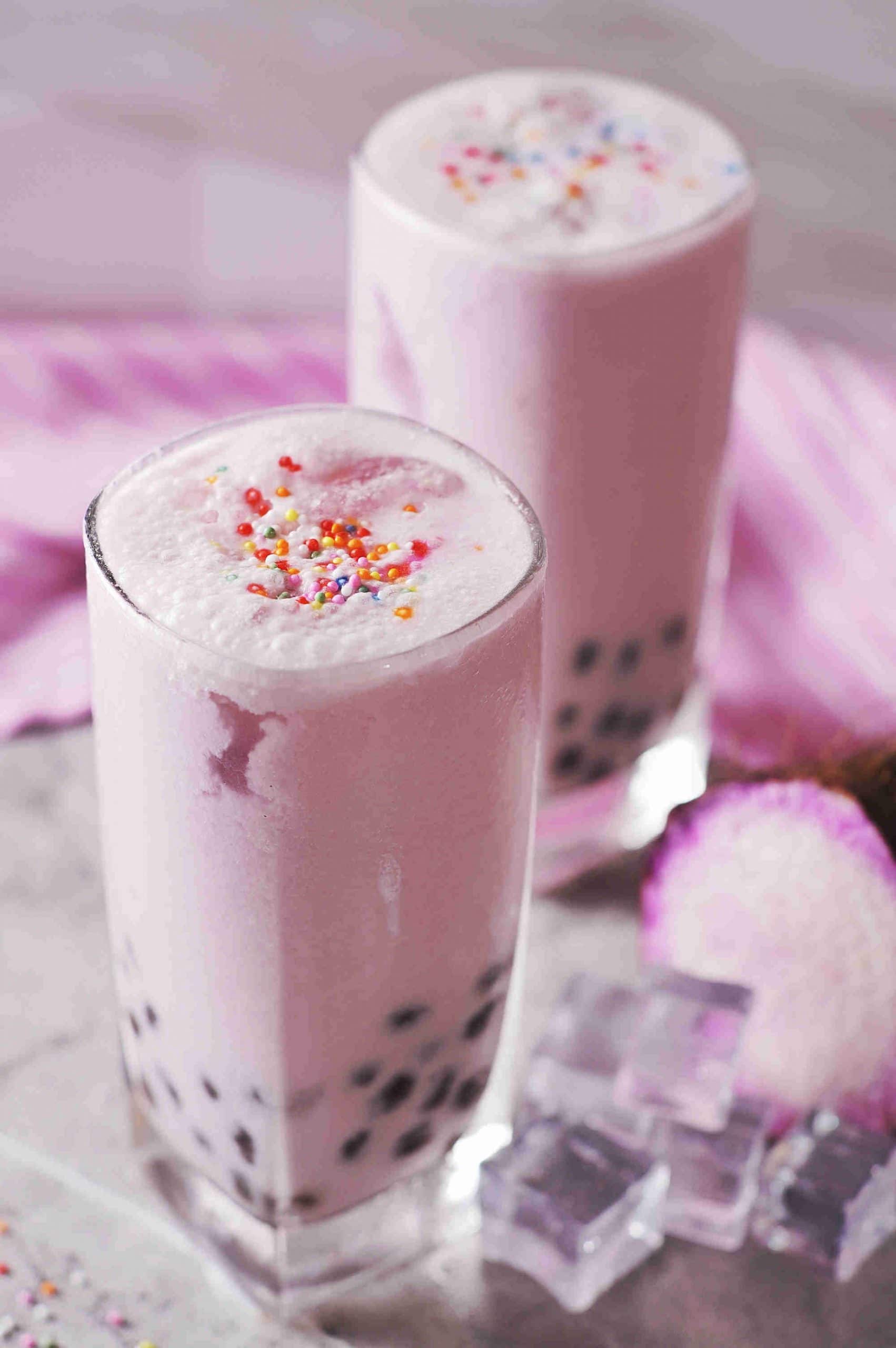 Ingredients
¼

Cup

White Sugar

¼

Cup

Brown Sugar

¼

Cup

Water

4

Jasmine Green Tea Bags

2

Cups

Boiling Hot Water

1 ⅓

Cups

Taro Root

Peeled And Cubed

1 ¾

Cups

Coconut Milk

6

Tablespoons

Black Tapioca Pearls

1

Pinch

Salt

1

Cup

Ice Cubes
Instructions
Let's start by getting all the ingredients together.

Begin by steeping the tea for 4 minutes before removing the bags. Use two tea bags to a single cup of hot water and steep two cups of tea in total. Set aside until later needed.

Dissolve the quarter cup of brown and white sugar in a quarter cup of hot water and boil while stirring constantly. Once boiled and combined, remove from the stove, dispense into a container, and allow your boba syrup to cool down to room temperature.

Heat a small pot filled with cold water over high heat and bring the cubed taro root to a boil.

Once boiling, reduce the heat to medium-low and simmer for 20 minutes or until the taro is tender.

Drain, discard the water, and either process in a blender or mash the boiled taro root to form a paste.

Once a paste-like texture is reached, add two tablespoons of the sugar syrup you made earlier and continue blending or mashing until silky smooth.

Combine the coconut milk, taro paste, steeped tea, and a pinch of salt and mix until thoroughly combined.

Heat a small pot filled with boiling water over high heat.

Dissolve two tablespoons of sugar into the boiling water and add the black tapioca pearls once rapidly boiling.

Allow the tapioca to boil for 5 to 8 minutes or until the pearls start floating. Cook until they reach the softness desired.

Drain, remove from the pot and set aside.

Add half the black tapioca pearls to a large glass that you can seal and shake.

Fill the glass halfway with ice.

Pour over the taro tea and milk solution.

Shake well and serve.
Video
Nutrition
Calories:
803
kcal
|
Carbohydrates:
109
g
|
Protein:
5
g
|
Fat:
42
g
|
Saturated Fat:
37
g
|
Polyunsaturated Fat:
1
g
|
Monounsaturated Fat:
2
g
|
Sodium:
68
mg
|
Potassium:
886
mg
|
Fiber:
3
g
|
Sugar:
53
g
|
Vitamin A:
53
IU
|
Vitamin C:
5
mg
|
Calcium:
100
mg
|
Iron:
8
mg
What Does Taro Iced Tea Taste Like?
Taro iced tea is best described as an earthy, creamy sweet drink with a rich, bright, and coconut-like nutty taste. The sweetness is more akin to the sweetness of sweet potato rather than that of refined sugars. It is rather difficult for most to place the flavor of nuts, leading many to describe taro iced tea as similar to cookies and cream.
Vegan Taro Iced Tea Tips
Feel free to make the simple syrup listed in bulk. You'll be putting away most of it anyway, as each taro iced tea calls for just two tablespoons. The combination of brown and white sugar creates a taste that goes great in all types of bubble tea. If you want to make a simple syrup for use in other drinks, perhaps cocktails containing alcohol, make it using refined white sugar only.
Jasmine green tea, green tea, and all other varieties of black leaf tea are best brewed at 176°F. To reach between 175 and 180 degrees, stop your kettle as it begins to boil but before it starts to rapidly bubble. Steeping tea at too high or too low of a temperature will bring out bitterness instead of the tea's full range of aromatics and flavor.
Vegan Taro Iced Tea Substitutions
The first few steps of our recipe detail how to make a delicious sweet syrup granting a taste that's most similar to commercial bubble tea. If you're in a hurry, feel free to combine the taro paste with a tablespoon of sugar instead. Be sure to process until smooth, or the granulated sugar will give your iced tea a gritty texture.
Coconut milk suits the nutty flavor of taro well, but you can use any type of milk preferred. Plant-based milk is essential to keep the recipe vegan, but any milk, dairy included, will technically work. Almond milk is a leading favorite for many, but oats milk, cashew milk, and soy are all viable.
We've recommended Jasmine tea because the lingering fragrant bitterish flavor complements and offsets the sweetness of taro. However, any black tea can take its place. Green tea is easily accessible and a great option, but Ceylon comes out tasty in a pinch. For a healthy fortification to this tasty boba tea, give oolong tea a try.
Vegan Taro Iced Tea Variations
Boba teas like vegan taro iced tea are often served with a range of delicious toppings. The easiest topping to start with is coconut froth. Just like milk, it froths to a decadent foamy powder that goes great atop just-shaken bubble tea.
What To Serve With Vegan Taro Iced Tea
Vegan taro iced tea is a filling drink that's generally enjoyed alone, with a variety of toppings, or with something light. Our vegan taro iced tea goes great with pancakes, Belgian waffles, and at times, ice cream or frozen yogurt. It also pairs great with lighter savory breakfast snacks like avocado toast. Mochi, a spongy Japanese dessert similar to a dense marshmallow made from taro and sweet glutinous rice, is the perfect accompaniment for those with a sweet tooth, but you'll have to hunt it down or make your own.
Toppings For Bubble Tea
Custard or flan is a favored topping for bubble tea. Otherwise, spoon over a flavored gelatin-free jelly in your favorite flavor. While not something typically prepared at home, red adzuki beans and mung beans are often cooked sweet and then added atop boba tea. Taro balls are a tasty but filling treat if you can find or make them yourself.
What Is Bubble Tea?
Bubble tea is a blend of tea that originated in Taiwan during the 1980s. It can be either inclusive or omitting of milk and includes tapioca pearls, brewed tea, and a sweetener. Black, green, and oolong tea are all used as a base. Once a mixture of flavoring is prepared, the tea solution and tapioca are shaken together, creating an abundance of bubbles within the glass. The smooth but thick viscosity tea is then typically consumed through a large straw. There are endless flavor variations, and bubble tea can be blended with yogurt, ice cream, or fruit.
What Is Boba Tea?
Boba tea is a colloquial term for bubble tea. The word 'boba' originated as a reference to the prime assets of busty Amy Yip, one of the raciest film stars during the eighties in the Hong Kong film industry. While many mistakenly believe boba refers to the round tapioca balls, it actually references the bubbles that form when boba tea is shaken.
---
Recent Recipes