Is There Really an M&M for Everyone… Including Vegans?
M&Ms are a popular candy that comes in a variety of types ranging from plain to peanut butter center. They have been a family favorite for 80 years and are available in over one hundred countries. While we all love a good M&M, one must wonder: are they vegan?
Unfortunately, if you are vegan these delectable delights will not be on your list of go-to snacks. None of the available flavors including peanut, mint, or dark chocolate are vegan. Additionally, it does not appear as if the company has any plans on creating an alternative soon, either.
The good news is that there are some vegan alternatives to the M&M candy that you can equally enjoy. Some people say they prefer them to the original.
Why Are They Not Vegan?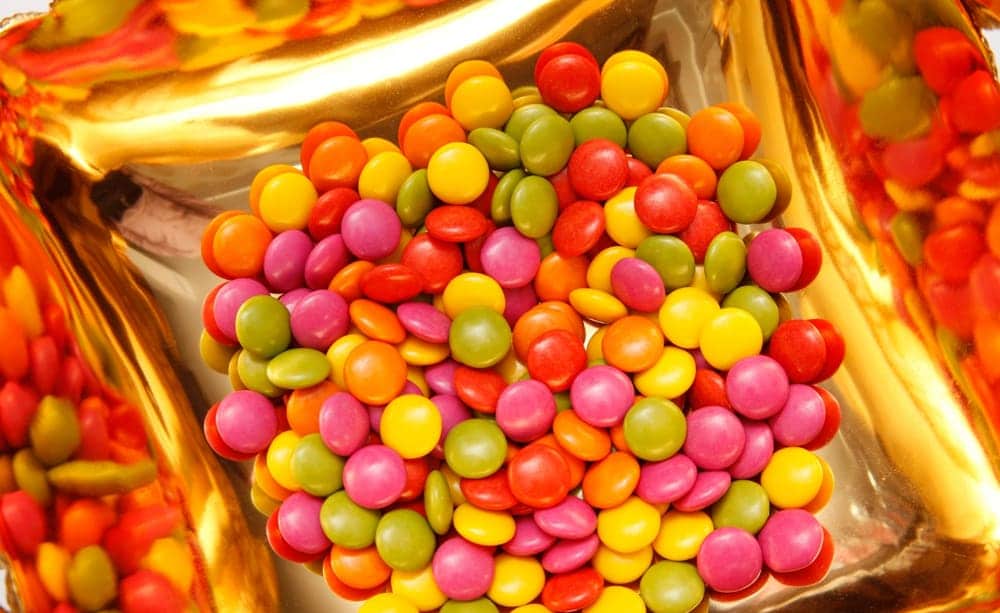 Ingredients: Milk Chocolate (sugar, skim milk, chocolate, lactose, cocoa butter, milk fat, salt, soy lecithin, artificial flavor, cornstarch, sugar, less than 1% – corn syrup, coloring (Blue 1 lake, yellow 6, yellow 5, red 40 lakes, yellow 6 lakes, Red 40 lake, and blue 2) dextrin, and gum acacia. Contains milk and soy. May contain peanuts.
When determining if a product is vegan, you have to examine its ingredients. Milk is the main ingredient in the M&M flavor. Therefore, this makes them unsuitable for vegans, and non-consumable for those who are lactose intolerant.
M&Ms are not classified as vegan mainly due to the contents being dairy. In fact, dairy is one of the main ingredients in this candy. However, there are some additional ingredients that vegans need to avoid which is coloring.
While red 40 and yellow 6 do not have any ingredients that come from animals, they are regularly tested on animals. This makes them not cruelty-free.
What About Different Kinds of M&Ms?
Are all M&Ms bad for vegans, or can some of them be consumed? While they may appear to be innocent, none of them are ideal for vegans.
Regular M&Ms contain dairy, food coloring, and natural flavor. There may be large amounts of vegan food coloring available, but some have animal products and are animal tested. The yellow 6 food coloring is made artificially which may not be bad, but they are tested on animals.
Additionally, studies linked the toxins found in this food coloring to hyperactivity in kids.
The natural flavor found in this product is not vegan as well. Natural flavor is often an umbrella term describing several ingredients which include beef, milk, and non-vegan materials.
Peanut M&Ms contain palm oil, milk products, and non-vegan food coloring. Also, the most prominent ingredient in the package is dairy.
Peanut Butter M&Ms are sweet and crunchy. However, they are not vegan. They contain natural flavor, milk, palm oil, and non-vegan food coloring. This makes them not ideal if you are a vegan.
Dark chocolate M&Ms, unfortunately, are not vegan. While it is created from the cocoa bean which is fully plant-based, it does have skim milk and the outer shell has coloring that is animal tested.
Crispy M&M's have animal-derived ingredients like milk. The coloring is also not vegan as well.
Better Alternatives
All is not lost when it comes to this favorite snack treat. These alternatives are the tastiest alternatives available and are free from artificial colors that may be harmful. They are also available on Amazon for purchase.
Unreal
Unreal is one option, however, it is not entirely vegan. This company manufactures vegan chocolates which include vegan M&M alternatives.
For many vegans, it is frustrating when you love candy but are unable to eat it. This provides the satisfaction of eating this beloved candy again without the guilt. Most vegans found this a total relief and game-changer for their palates.
Presently, Unreal offers two vegan alternatives entitled, "Gems". They come in dark chocolate peanut and dark chocolate crispy. Unreal also creates dark chocolate peanut butter cups, dark chocolate crispy peanut butter cups, and dark chocolate almond cups for those who enjoy the Reese Peanut Butter cups.
In a brief time, these have become very popular, and are offered in Whole Foods as well as Amazon.
No Whey Foods
No Whey has a range of chocolates that are dairy and egg-free. They are completely vegan and are allergen-free (peanut and tree nuts).
Most vegans are fond of the vegan Choco No No's. They are perfect for people with food allergies and are a great M&M substitute.
The Choco No No's are available in regular and peppermint. They also make a peanut butter cup (Pea Not Cups) as well.
They are naturally coated and are processed in a facility without the common eight food allergies. Choco No No's are also Kosher.
In addition to being dairy and egg-free, Choco No No's Are:
Peanut free
Nut free
Soy free
Wheat free
Sesame free
Fish free
Shellfish free
Gluten free
Choco No-Nos are available on Amazon.
Little Secrets
This company is in Boulder, Colorado, and offers the same exact taste as an M&M. They are rooted in dark chocolate treats. Their M&M product is called "Pieces".
Pieces come in sea salted peanuts, sea salted almonds, toasted coconut dark chocolate, peppermint pieces (Christmas), and dark chocolate. They contain a candy coating made from vegetable and fruit extracts. There are no artificial colors, flavors, ingredients, or high fructose corn syrup.
Little Secrets are available only on Amazon and may be difficult to find in grocery stores.
While your favorite candy treat may not be entirely vegan, there are wonderful alternatives to choose from. Most vegans feel these treats are much better than the original. Not only are most of them vegan, but they are allergy-free as well. This makes it appealing to many consumers.
Most candies are available through Amazon and are reasonably priced. So, the next time you get a craving for a chocolate-coated M&M, you will be aware that there are some vegan substitutes for this delectable dessert treat.
---
Recent Recipes