What exactly is a burrito? In a really good Mexican restaurant, you may be served a flour tortilla that is filled with meat or seafood and vegetables that is folded like a crepe and presented with a rich and complex mole sauce spooned over the top. This is something you would normally eat with a fork. What we are more familiar with in the states is a fat, filled, and rolled tortilla that can be eaten with your hands. I like both interpretations.
The word burrito means little donkey. I can't even begin to explain why this classic food item is named that and I really don't want to speculate. What I do know, or think I know, is that burritos are not prepared with anything donkey related. Though, you can stuff a few burritos into the packs that burritos carry on long excursions. I recall hiking the north rim of the Grand Canyon where we had to place our backs tight against the narrow cliff trail walls so the donkeys could pass with their packs carrying supplies for the hikers who had paid a premium to have these noble animals be their sherpas for the trek down to the Colorado River basin for a stay at the Phantom Ranch.
There really is no limit to what you can fill a flour tortilla with to make a burrito. Protein, veggies, beans, cheese, avocados……. These are all good options. I am fond of fresh crab burritos at our local Tex-Mex restaurant. But they are seasonal, so I order the shrimp burritos when crab isn't on the menu. Shrimp burritos are crazy good. You can make them with small sweet gulf shrimp or meaty jumbo shrimp.
My preference with a shrimp burrito is to allow the main ingredient to shine. I tend to keep the rest of the filling fairly neutral so as not to upstage the sweet and briny flavor of good-quality shrimp. Of course, fresh raw shrimp is best, but you can use frozen shrimp if that is what is available.
This burrito recipe has a lot of ingredients, but it is fairly simple to prepare and assemble. I will offer ingredient substitutions if you want to make the recipe easier. The base of the burrito filling is cilantro lime rice. The shrimp is well seasoned and then sautéed briefly. Avocado crema is drizzled over the filling. Lettuce is added for freshness and crunch. You can serve these burritos with a spicy hot sauce on the side for those who want a kick.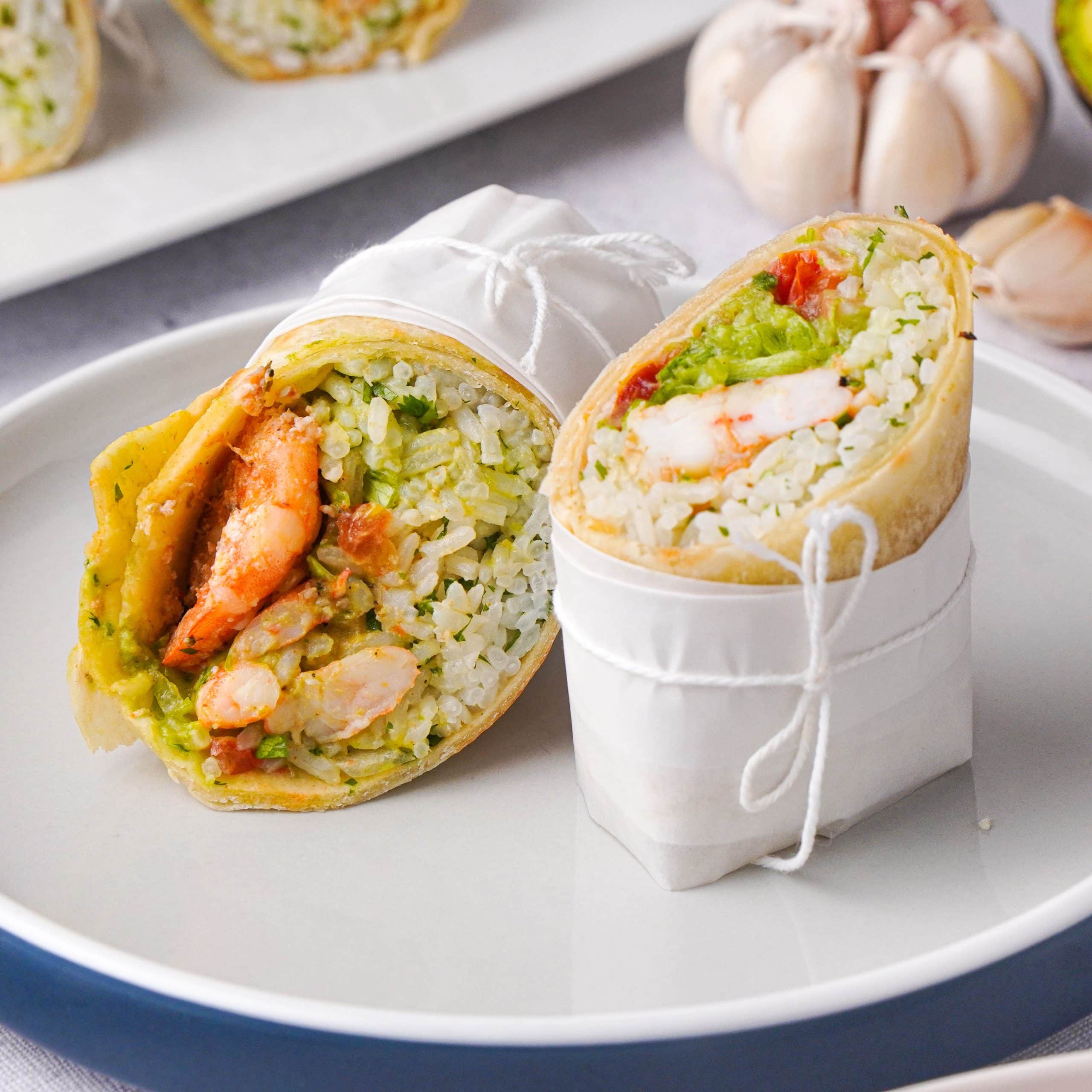 Ingredients
Rice
1 ½

tsp

avocado or olive oil

½

cup

long grain white rice

rinsed well

¼

tsp

sea salt

1

cup

of water

Juice of 1 lime

1/4

cup

chopped cilantro

1 ½

pounds

large shrimp

peeled and deveined

2

Tbsp

extra virgin olive oil

1

tsp

ground cumin

1

tsp

chili powder

1

tsp

dried oregano

½

tsp

garlic powder

½

tsp

sea salt

½

tsp

freshly ground black pepper

⅛

tsp

cayenne pepper

Juice of 1 lime
Crema
1

medium avocado

pitted, peeled, and cubed

Juice of 1 lime

1

jalapeno pepper

seeded and chopped

2

garlic cloves

chopped

¼

cup

fresh cilantro leaves

3

Tbsp

sour cream

Salt and pepper to taste
Burritos
4

10-inch flour tortillas

1

cup

cilantro lime rice

Cooked shrimp

Avocado crema

1

cup

shredded romaine or iceberg lettuce

1

cup

pico de gallo or salsa

optional
Instructions
All ingredients ready? Let's begin!
Rice
In a small pot with a lid over high heat, warm the oil. Add the salt and rice and stir to coat the rice and toast it slightly.

Add the water to the pot. As soon as the water boils, turn the heat down to a low simmer and place the lid on the pot. Cook, without lifting the lid for 15 to 18 minutes. Marinate the shrimp while the rice is cooking.

Remove the cooked rice from the heat and set it aside to rest and cool down with the lid on. When the rice is cooled, fluff with a fork and stir in the lime juice and cilantro.
Shrimp
In a large bowl, whisk together the olive oil, cumin, chili powder, oregano, garlic powder, salt, pepper, and cayenne.

Add the shrimp to the bowl and toss to coat completely. Set this aside for 15 minutes while you make the crema.

In a large skillet over medium heat, sauté the shrimp until just opaque, approximately 3 minutes per side. Add the lime juice to the cooked shrimp and remove the pan from the heat.
Crema
In the bowl of a food processor, add the avocado, lime juice, jalapeno pepper, garlic cloves, and cilantro. Process until creamy. Stir in the sour cream and season with salt and pepper to your liking.
Burritos
In a cast iron skillet over medium heat or a 250°F oven, warm the tortillas.

Place 1/4 cup of the rice in the center of each tortilla. Place 1/4 of the shrimp on top of the rice. Spoon or drizzle crema over the shrimp. Top that with shredded lettuce. Add spoonsful of pico de gallo or salsa, if using.

Fold two opposite sides of the burrito towards the filling. Roll the tortilla away from you to tightly wrap the filling.

Using a sharp serrated knife, slice the burritos in half and wrap them in foil or parchment paper for eating with your hands. Serve with your favorite hot sauce on the side.
Nutrition
Calories:
735
kcal
|
Carbohydrates:
101
g
|
Protein:
34
g
|
Fat:
23
g
|
Saturated Fat:
5
g
|
Polyunsaturated Fat:
3
g
|
Monounsaturated Fat:
12
g
|
Trans Fat:
0.01
g
|
Cholesterol:
221
mg
|
Sodium:
2180
mg
|
Potassium:
736
mg
|
Fiber:
8
g
|
Sugar:
9
g
|
Vitamin A:
2116
IU
|
Vitamin C:
29
mg
|
Calcium:
239
mg
|
Iron:
4
mg
Notes & Tips
It is possible to overfill a burrito, so use a little discretion. For a 10-inch tortilla to remain rolled tightly enough to eat without the burrito falling apart, I recommend keeping the fillings to about 12 ounces or 1-1/2 cups total.
You can heat up the rolled burritos in a pan with some oil for a crunchy exterior. A fried burrito is called a chimichanga.
Substitutions & Shortcuts
Rice: If you are pressed for time, you can use frozen cooked rice and just follow the package directions to heat it up. You can warm it right in the bag in your microwave in minutes. You can also make rice a day ahead of time and refrigerate it until ready to make your burritos. If you don't want white rice, try long-grain brown rice, riced cauliflower, or tri-color quinoa.
Shrimp: if using frozen shrimp, thaw it out in the refrigerator overnight. You can easily substitute crab or lobster for the shrimp. If you are vegetarian, try marinated tofu cubes, diced and roasted butternut squash, or well-seasoned black beans.
Crema: Most markets have creamy guacamole available in the produce aisle. Just add some sour cream and guacamole and you have an easy crema.
Lettuce: For more crunch, try shredded cabbage instead of lettuce. You can buy a bag of coleslaw mix and you're done. I have also used julienned bell peppers, thinly sliced jicama, diced celery, and shredded carrots.
---
Recent Recipes