Unfortunately, no.
Spaghettios are a favorite childhood dish for many; they're a staple of the Campbells soup line and are known for their tasty flavor, good serving size, and offshoot varieties and flavors. The Original Spaghettios canned soup doesn't have any meatballs, so is it vegan? No, as we'll soon show.
Let's take a look at Spaghettios, its ingredients, and break down whether you can find any vegan Spaghettios types that can scratch your spaghetti-flavored soup itch.
Spaghettios Ingredients List
The below ingredients are found in Original Spaghettios:
Water
Tomato purée, which includes water and tomato paste
Enriched pasta, which includes wheat flour, niacin, ferrous sulfate, thiamine mononitrate, riboflavin, and folic acid
High fructose corn syrup
Salt
Vegetable oil
Enzyme modified cheddar cheese
Enzyme modified butter
Skim milk
Citric acid
Paprika extract
Onion extract
Flavoring
As you can see, there are several problematic ingredients in Spaghettios that make them a poor choice for vegans. The enzyme-modified cheddar cheese and butter are two stand-out ingredients that are absolutely not vegan friendly, although they may qualify for your diet if you are a vegetarian.
Furthermore, regular Spaghettios include skim milk, which is also not vegan by default. Even worse, the natural flavors used in Spaghettios may or may not be vegan friendly depending on the processes Campbell uses to make the soup.
Since there aren't any details about those processes, there's no way to know if the natural flavors found in Spaghettios are vegan-friendly or not.
So, bottom line: Original Spaghettios are not vegan because they contain several non-vegan ingredients.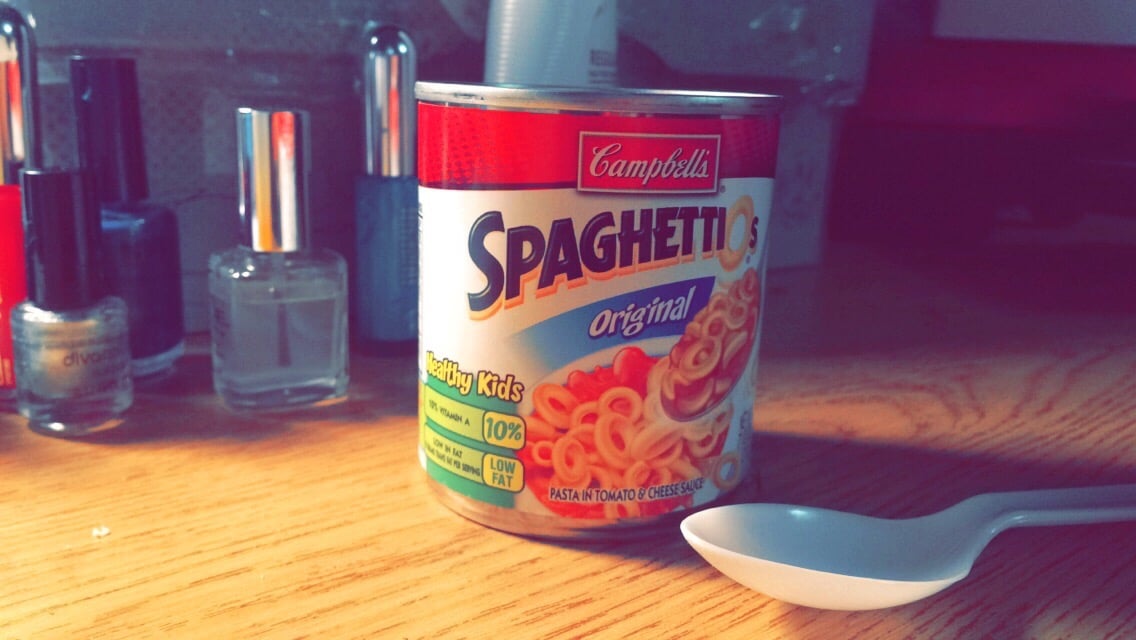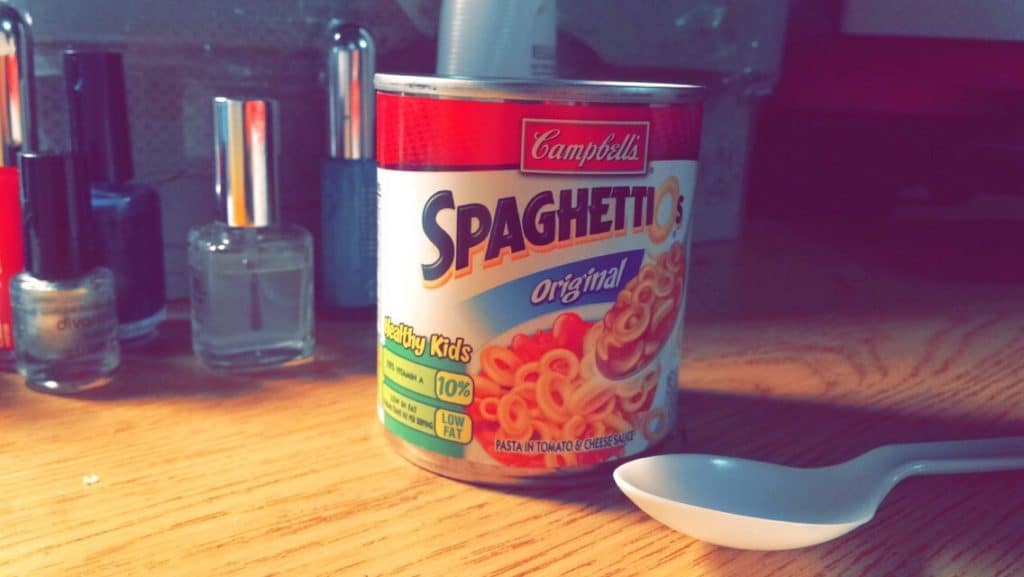 Are All Spaghettios Not Vegan?
But wait, you might say; Spaghettios don't just come in the Original flavor. There are several other types of Spaghettios that might qualify instead!
While you're not wrong for considering this possibility, unfortunately other types of Spaghettios are also not vegan friendly. Take Spaghettios with Franks. This type of Spaghettios includes the same anti-vegan ingredients engine above in addition to chicken and pork frankfurters made with chicken, pork, and beef.
Naturally, any type of canned soup that includes meat is non-vegan no matter what!
Spaghettios with Meatball is the same, as it includes meatballs in its recipe. Unfortunately, only the Original Spaghettios lack any type of meat product. If there was going to be a vegan-friendly Spaghettios offering, it would be the Original flavor.
Are Spaghettios Vegetarian?
Technically, yes! The Original Spaghettios are vegetarian friendly even if they aren't exactly vegan friendly since they don't include any direct meat products. That said, some vegetarians also don't like to eat products that include dairy by-products like cheese or milk, which Original Spaghettios have.
So, it's ultimately up to you whether you want to classify Spaghettios as vegetarian or not. Either way, your options are very limited since only the Original flavor is possibly vegetarian-friendly.
Can You Make Spaghettios at Home?
While it's pretty darn tough to find vegan Spaghettios from any brand, there's some good news; you can always make your own vegan-friendly Spaghettios right now! There's a big advantage to this. By making your own vegan Spaghettios, you'll always know exactly what you're putting in your body and you'll never have to worry about any anti-vegan ingredients sneaking into your dinner.
To make vegan-friendly Spaghettios, follow this quick easy recipe: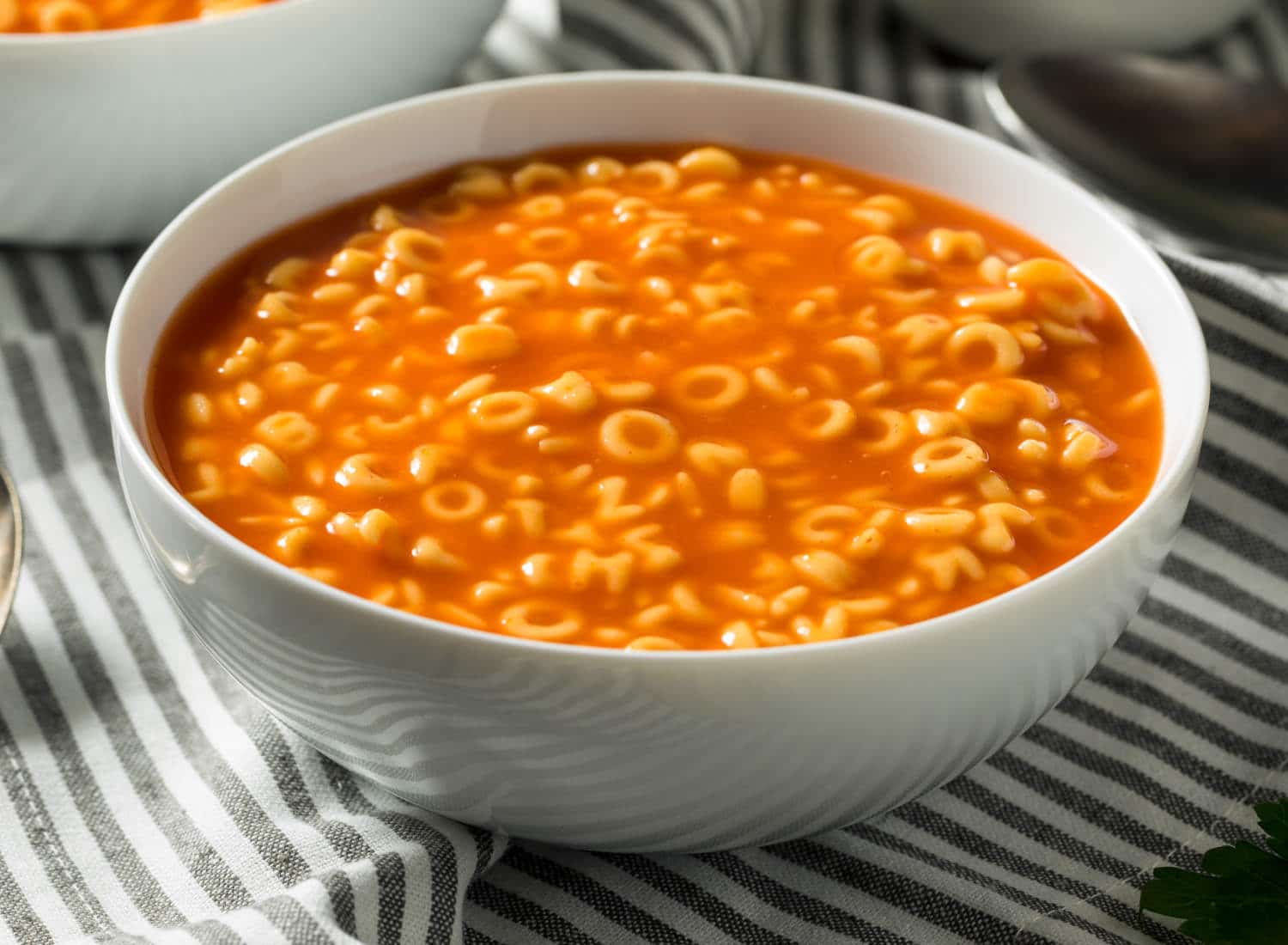 Ingredients
Alphabet Pasta

Radiatore is another fun alternative pasta but any pasta will do as long as it's vegan

Salt

Paprika

Tomato sauce

Soy milk

Vegan margarine

Onion powder

Sugar

Nutritional yeast
Instructions
Get two pots to cook the Spaghettios. Boil the water for the pasta in one pot. You'll use the other half of the sauce.

Pour your tomato sauce into the pot

Add a little bit of soy milk

Add a dash of salt, paprika, and onion powder

Add one spoonful of vegan margarine

Add a little sugar nutritional yeast

Mix all the ingredients together and bring your sauce to a boil

Then, add the sauce to the pasta when the pasta noodles are ready.
Notes
You can store any unused vegan Spaghettios in your refrigerator to eat later!
There you have it; an easy, DIY vegan Spaghettios recipe you can enjoy anytime!
You might be better off using this Spaghettios recipe if you are a vegetarian as well. That way, you can be sure that you don't eat any animal products or too many dairy products at a time.
Possible Vegan-Friendly Alternative – Heinz Spaghetti Hoops
Let's be frank; Spaghettios aren't exactly a novel concept. So it's no surprise that other companies have their own versions of Spaghettios that might be a little more vegan friendly.
Heinz Spaghetti Hoops is one such option (Heinz is also a company that offers vegan ketchup!). It doesn't have any animal ingredients like skim milk or enzyme-modified cheese as part of its recipe. Only the basic Spaghetti Hoops canned soup is vegan friendly, however; other varieties do include animal products.
That said, some Heinz Spaghetti Hoops are made with vitamin D derived from lanolin. Lanolin is an animal product, so that would be non-vegan. You may have to check the back of the ingredients list for any given can of soup to see whether those Spaghetti Hoops are appropriate for your diet or not. Different cans may be made with different ingredients due to resource restrictions, shipping requirements, or other reasons entirely.
So, are Spaghettios Really Vegan?
All in all, Spaghettios are not being in the slightest. Unfortunately, both the Original and later flavors of this classic kids' canned soup are non-vegan because they contain several non-vegan ingredients that cannot be changed at all.
However, there are alternatives to Spaghettios if you have a hankering for pasta-flavored soup but don't want to compromise your diet. You can make your own Spaghettios at home or check out the Heinz Spaghetti Hoops mentioned above.
Want to know more vegan-friendly recipes or want to find places where you can get a tasty vegan bite to eat? In either case, Cookgem has all the guides and recipes you could ever need; check out our offerings today!
---
Recent Recipes