Best Bang Bang Chicken Pasta
If you're familiar with Bang Bang Chicken or Shrimp, you'll know it is a super delicious, spicy yet creamy dish. It is a traditional Chinese street food that packs a punch. It refers to fried chicken or shrimp in a spicy sauce and it was called bang bang because the meat was pounded and tenderized using a wooden hammer or mallet. Another version is that it is called bang bang from the "bang bang" noise the cleaver makes when cutting the meat. This chicken has not been hit with a heavy object but has been sliced and spiced. But the sauce is spicy and definitely has some heat. You can adjust the spice levels to fit your taste.
I have rubbed the chicken down with spices before cooking, but you can add the spices while sauteing the chicken and allow it to cook together.
It all comes down to the sauce. I like using full fat mayonnaise to the sauce, it makes it thick and creamy and mixes well with the other spicy sauces like Sriracha and Sweet Chili sauce. Some people use cream cheese or heavy cream for the sauce, both good alternatives, but I find mayo is easier to stir with and combines well. And there are a lot of flavors at play here, and I find the mayo + chili sauce combo along with the chicken works well.
Best Bang Bang Chicken Pasta is spicy and creamy, so I like to use a fresh, light garnish like parsley or cilantro to brighten it up and add some green to it.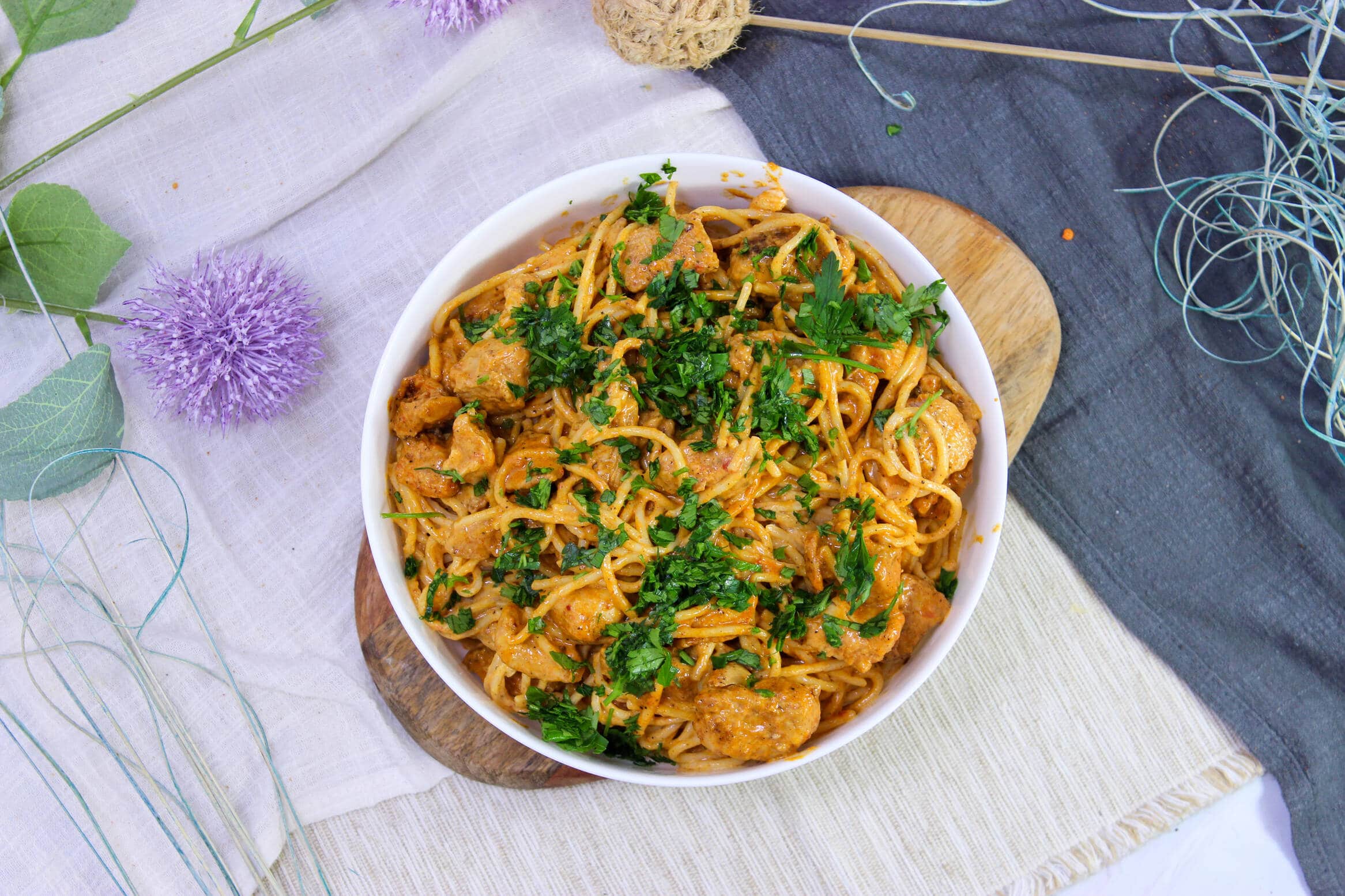 Ingredients
10

oz

spaghetti pasta

½

lb.

boneless chicken breast

cut into small pieces

1

tablespoon

paprika

1

tablespoon

onion powder

1

tablespoon

garlic powder

½

tablespoon

pepper

Salt

Oil

Fresh parsley

chopped for garnish
Sauce:
2/3

cup

mayonnaise

½

cup

Thai sweet-chili sauce

1

tablespoon

Sriracha sauce

1

tablespoon

lemon juice

½

tablespoon

honey

½

tablespoon

chili flakes
Instructions
In a bowl mix the onion powder, garlic powder, paprika, salt and pepper. To this add the chicken pieces and mix well till the chicken pieces are coated in the spice. Set aside.

Cook pasta according to package instructions and set aside

For the sauce mix all the ingredients under "sauce" in a bowl. Whisk until smooth and set aside.

Heat oil in a pan

Add the spiced chicken and sauté until fully cooked and slightly browned.

Take off the heat and add the cooked pasta to this and mix well.

Now pour the sauce over the chicken and pasta and mix well.

Garnish with parsley.
Video
Nutrition
Calories:
644
kcal
|
Carbohydrates:
66
g
|
Protein:
23
g
|
Fat:
31
g
|
Saturated Fat:
5
g
|
Polyunsaturated Fat:
17
g
|
Monounsaturated Fat:
7
g
|
Trans Fat:
1
g
|
Cholesterol:
52
mg
|
Sodium:
869
mg
|
Potassium:
587
mg
|
Fiber:
5
g
|
Sugar:
9
g
|
Vitamin A:
652
IU
|
Vitamin C:
13
mg
|
Calcium:
43
mg
|
Iron:
2
mg
Tips and Tricks
Save some pasta water and add to the sauce if it is too thick
You can also boil the chicken and then sauté it with the spices before adding to the pasta
You can also use store-bought, precooked chicken strips. Spice accordingly.
You can add some minced garlic to the sauce if you want a more garlicy sauce.
Storage
This pasta can easily be stored in the fridge for 2-3 days. You can also make a large batch of the sauce and store in the fridge for weeks and use as and when you need it. If you want to freeze the dish, store in an airtight container and freeze. Let it thaw for about 45 minutes to an hour before heating and eating.
If you want to make ahead, cook the chicken and refrigerate. Make the sauce and store in an air-tight container in the fridge. Make the pasta the day of and add the chicken, sauce and garnish.
Questions
There is spice in the chicken and there is spice in the sauce as well, what should I eliminate if I don't want it that spicy?
I would suggest going easy on the chicken seasoning. Reduce or even eliminate the paprika altogether. If the sauce is still too spicy, eliminate the chili flakes as well. But you definitely need the Sriracha and sweet chili sauce.
If I refrigerate the sauce, do I have to cook it or heat it before using?
There is no need to cook the sauce, you can warm up the amount you're going to use in the microwave. Or what I do is, I let the sauce sit out till it gets to room temperature and then pour over the pasta. If you are using the sauce as a spread or salad dressing, use cold.
Substitutions
Spaghetti: Any pasta would work for this, but I prefer long pastas like spaghetti or fettucine for the Best Bang Bang Chicken Pasta.
Chicken: Shrimp is the most popular substitute and goes well with this sauce. You can also make it a vegetarian pasta dish. Use tofu, chickpeas and vegetables. Zucchini and sliced carrots go well in this pasta dish. Roasted, spicy broccolini tastes great and complements this sauce well. You can also add mushroom and peas, but they don't retain the spice as well, so you can make the sauce spicier.
Mayonnaise: Mayo has a perfect consistency for this pasta, but you can use heavy cream or even cream cheese. If you are using cream cheese and the sauce is getting too thick, either thin it down with pasta water, chicken stock, vegetable stock or water.
Sriracha: The Sriracha sauce brings the heat to this sauce, so you cannot avoid it. In a pinch use chili garlic sauce, hot sauce, Tabasco or harissa.
Thai Sweet Chili Sauce: if you don't have Thai sweet chili sauce mix equal parts hot sauce and honey.
Honey: Maple syrup is the best substitute
Lemon juice: The acidity helps balance out the spice, so you need that splash of lemon. You can use lime juice. You can use fresh or bottled.
Chili Flakes: Optional, but adds a bit of a bite.
Garnish: Fresh parsley, cilantro and basil are all good garnishes. You can also garnish with fresh, black pepper and grated Parmesan.
Accompaniments
My favorite side for a creamy pasta is a cucumber salad. Its freshness makes it a great accompaniment to the Best Bang Bang Chicken Pasta. You can also serve it with a plate of tomato bruschetta. This fantastic Lard Bread is another great option. You can also try this amazing Fried Feta Cheese Balls.
---
Recent Recipes