Best Low FODMAP Chicken Stew
While vegetables can be great for you, for some they cause stomach distress, especially in their raw form. One of the best ways to get around that is by cooking them! When you cook your vegetables, the groups of carbs that can cause digestive discomfort are eliminated. This makes meals like soups and stews a great option for anyone who needs to follow a low FODMAP diet.
With the weather getting colder in the northern hemisphere, a low FODMAP chicken stew might be just what the doctor ordered. You get delicious, softened vegetables and a protein rich chicken that will warm you right up on those chilly nights. The best part? It's easy to make!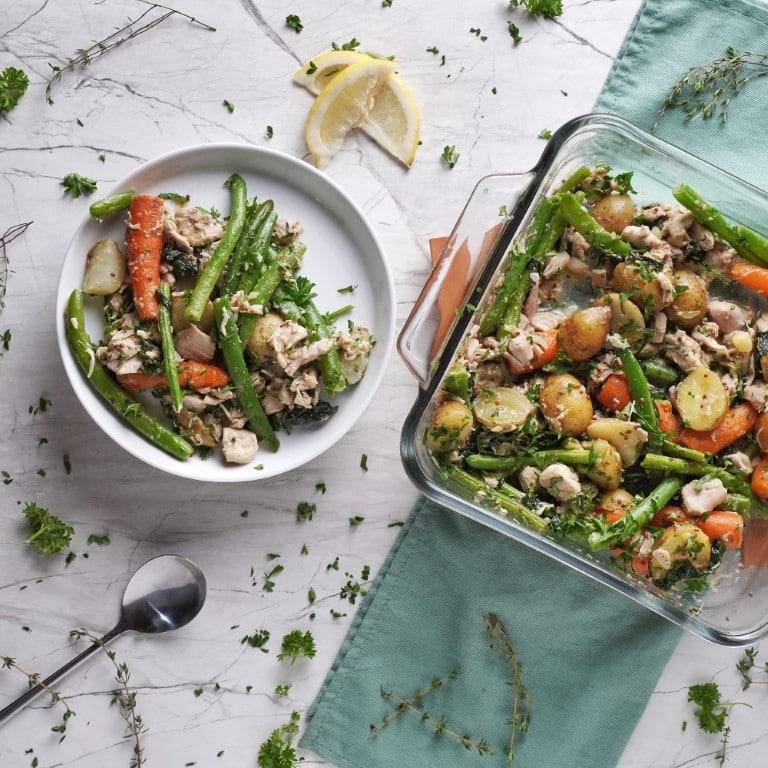 Ingredients
1

tablespoon

of olive oil

150

grams

of baby potatoes

5 to 6 potatoes

1

small stalk of fennel

1

handful of green beans

2

sprigs of fresh thyme

3

stalks of rainbow chard

2

boneless

skinless chicken thighs

100

grams

of baby carrots

about 15 carrots

⅔

a cup of gluten-free chicken stock

1

teaspoon

of whole grain mustard

½

a lemon

1

bunch of fresh parsley
Instructions
Prepare your vegetables and chicken for the stew first. Potatoes should be halved or quartered. Green beans can be snapped in half, or can remain whole.

Baby carrots can be kept whole if desired. Fennel should be finely sliced. Leaves should be picked from the sprigs of thyme. Rainbow chard is to be sliced into large strips. Parsley should be roughly chopped.

Chicken should be diced into small chunks.

Heat the olive oil in a medium sized casserole at a low temp for five minutes. Add the fennel and thyme and allow them to sweat for five minutes.

Add chicken, potatoes, and carrots, as well as all desired seasonings.

Add the chicken stock and the mustard, and cover the dish. Cook on medium for 30 minutes.

Uncover the dish after 30 minutes, adding the rainbow chard and green beans. Allow to cook for 5 more minutes.

Season the dish to taste using the remaining seasonings. Serve with a squeeze of lemon juice and freshly chopped parsley.
Nutrition
Calories:
350
kcal
|
Carbohydrates:
31
g
|
Protein:
29
g
|
Fat:
13
g
|
Saturated Fat:
3
g
|
Polyunsaturated Fat:
2
g
|
Monounsaturated Fat:
7
g
|
Trans Fat:
0.02
g
|
Cholesterol:
110
mg
|
Sodium:
456
mg
|
Potassium:
1413
mg
|
Fiber:
7
g
|
Sugar:
7
g
|
Vitamin A:
15589
IU
|
Vitamin C:
93
mg
|
Calcium:
143
mg
|
Iron:
6
mg
Notes & Tips
While chicken stew is very much a "sit and wait" kind of meal, there are a few things to take care when cooking this recipe. First off, chicken can be prepared in a number of ways for this recipe. However, one of the most important things to your stew is the way that your chicken is cut. Dicing chicken, much like you would for a thinner soup, is one of the best ways to go. It allows the meat to cook evenly, and relatively quickly.
However, if you wanted to, the chicken could be sliced rather than diced. This would provide larger chunks of chicken throughout the stew itself, making it a bit heartier throughout. It all comes down to your preference, though.
The same can be said of most of the vegetables. However, when adding your baby potatoes, also known as fingerling potatoes, these need to be halved at the very least. If your potatoes remain whole, they will not cook through, leaving you with a hard potato in your stews. That's not something that anyone wants to find.
The last tip we can provide comes down to seasoning. Seasoning is a very personal thing, and it's rare that all people will enjoy the same amount. As such, the amounts provided here are intended to be for people who love heavy seasoning. Hence, we provide this cautionary statement: It's easier to add more than it is to take extra away. If you know that you don't like a highly seasoned meal, don't be pressured to add all of the seasoning listed. Season your meals to your liking, we just like having a lot of the seasoning available, just in case!
Substitutions
Vegetables are hard for people to agree on sometimes. The one that we know catches a lot of people off guard in this recipe is the rainbow chard. If you're looking for something with a slightly different flavor palette, you may be better off using wilted spinach! This still keeps the recipe adherent to a low FODMAP diet, and it fills the stew like a rainbow chard would.
If you're looking to make the meal vegan or vegetarian, you can forgo the chicken and the chicken stock in the meal. Replace the chicken stock with vegetable stock, of course. If you want to make the recipe as hearty as it would be with chicken, pump up the vegetables in the stew! This makes it just as filling as if it had chicken in it.
Common Questions
Do I have to use chicken thighs?
Chicken thighs are the cut of choice for almost any chicken stew recipe you'll find. This is because they hold up to simmering better than other cuts do, and they maintain their flavor and texture. However, replacing them with boneless, skinless chicken breasts is totally fine, too!
Can I freeze this stew?
Absolutely! In fact, if you wanted to double or triple this recipe, it freezes quite nicely. Being able to put some away in storage containers means having a meal ready in an instant! The stew can be stored for the entirety of winter, if you feel like making a large amount of it.
How Much Lemon Juice is too much?
Like seasoning, lemon juice is entirely preference based. We find that a squeeze from half a lemon is the perfect amount, providing citrus notes to the entire serving when mixed.
Sides & Pairings
If you're looking for a great side or pairing with this stew, try your hand at baking a low FODMAP sourdough bread! We cover how to prepare your starter, as well as how to bake the loaf of bread itself. If you're looking for other inspired recipes, be sure to check out our cooking guides! We have plenty of global and vegan recipes, as well as preservation methods and recipes.
---
Recent Recipes