Poutine is something I often order while at a restaurant. Usually it's dressed up (like adding beef brisket or pulled pork), and it's always hot, delicious, and worth the indulgence. I often take for granted how easy it is to make at home. It's especially easy when you swap out french fries for store-bought gnocchi.
And that's exactly what we are going to do here. Using gnocchi instead of french fries is a unique twist. It also eases the stress of making crispy french fries only to have them get soggy once you pour the gravy over them.
We will make the gravy from scratch, though. You can use store-bought, but this gravy comes together rather easily and is really delicious. It's worth trying!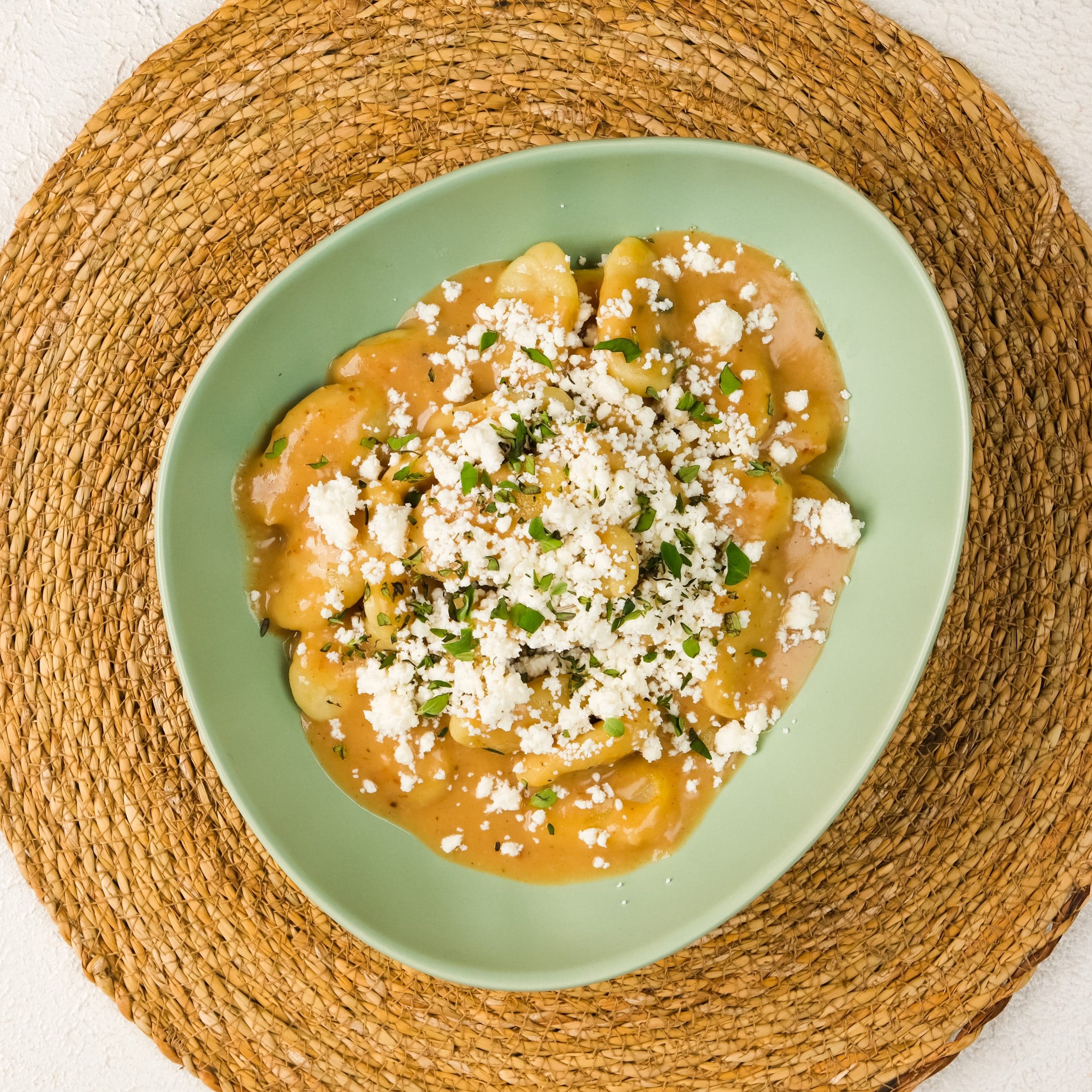 Ingredients
For the gravy
2

tablespoons

unsalted butter

1

shallot

minced

2

tablespoons

all purpose flour

2

cups

beef stock

Kosher salt

Fresh ground black pepper
For Gnocchi Poutine
1

package

17.5 ounces store-bought gnocchi (De Cecco is a good brand)

1

tablespoon

extra virgin olive oil

1

tablespoon

unsalted butter

1

garlic clove

chopped fine

¼

teaspoon

fresh thyme

finely chopped

¼

teaspoon

fresh oregano

finely chopped

1

cup

fresh cheese curds

Chopped thyme and oregano

for garnish
Instructions
To make the gravy, melt the butter in a shallow pan. Add the finely chopped shallot and cook for 1-2 minutes.

Sprinkle the flour over the shallots and butter and whisk until the mixture browns and smells a little "nutty".

Next, pour the beef stock and stir to combine everything. The gravy should thicken. Season with salt and pepper. Remove from the heat for now.

Now, bring a large pot of salted water to a boil. Cook the gnocchi according to the package instructions.

Remove the gnocchi and strain them so that there is no extra liquid. Gently pat them dry with a towel.

Heat a large non-stick pan on medium-high heat. Melt the butter and olive oil. Add the garlic, thyme, and oregano. Stir everything together and cook until the garlic and herbs are fragrant.

Working in small batches, so there is no overcrowding, saute the gnocchi so that each side gets slightly brown and crispy.

Remove the gnocchi and place on a paper towel to remove excess oil.

Once all the gnocchi are all done, reheat the gravy.

Place the gnocchi in a large serving bowl and pour the gravy on top. Sprinkle the cheese curds over the gravy and garnish with the fresh thyme and oregano.
Video
Nutrition
Calories:
670
kcal
|
Carbohydrates:
90
g
|
Protein:
25
g
|
Fat:
23
g
|
Saturated Fat:
11
g
|
Polyunsaturated Fat:
1
g
|
Monounsaturated Fat:
5
g
|
Trans Fat:
1
g
|
Cholesterol:
53
mg
|
Sodium:
428
mg
|
Potassium:
506
mg
|
Fiber:
4
g
|
Sugar:
4
g
|
Vitamin A:
271
IU
|
Vitamin C:
1
mg
|
Calcium:
244
mg
|
Iron:
2
mg
Notes & Tips
Be sure to follow the instructions on boiling the gnocchi exactly. You want the gnocchi to be slightly tender and not overcooked. They will stick to the pan if they are overcooked.
You can make the gravy ahead of time and store in the refrigerator until you are ready to use it. It will keep for 3-5 days.
An alternative to pan frying the gnocchi would be to use an air fryer. Simply spray the gnocchi with a light coating of non-stick spray. Air fry the gnocchi at 350F for 3-5 minutes or until they are golden brown. Follow this link for more tips on using the air fryer.
Feeling ambitious? You can make your own gnocchi! You can follow this recipe. Just keep in mind that homemade gnocchi may be a little more delicate than store-bought.
When you are boiling the gnocchi, make sure that the water comes back to a boil after you remove each batch. The hot water creates a firm seal on the gnocchi so that it keeps its shape while being seared.
What Goes Well With Gnocchi Poutine?
Gnocchi poutine is going to be plenty rich and filling on its own. But there are lots of recipe variations that you can use to mix up the recipe a bit. You can easily add protein (preferably beef) to the gravy to make it a full meal.
You could add 8 ounces of chopped beef (like beef chuck) to the shallots when you are making the gravy. Then proceed with the recipe as normal. You could do the same with chopped pieces of bacon, too.
Alternatively, you could add other toppings to the gnocchi poutine once it's finished. For example, diced pieces of ham or even a few fried chicken tenders would be delicious.
Is Gnocchi Poutine Vegetarian?
We do not consider this recipe vegetarian. It contains beef stock. However, you can easily swap out the beef stock for vegetable stock to make the recipe vegetarian.
You can use a few other ingredients to enhance the recipe if you're going to omit the beef stock. For example, you could saute some diced carrots and celery along with the shallots when making the gravy.
Additionally, you could garnish with a few extra fresh herbs to liven up the dish. Green onions and chives are fantastic options to add on with the thyme and oregano.
What Can I Substitute For Cheese Curds?
First, you better keep it to yourself if you're thinking of swapping out cheese curds. Cheese curds are one of the staple ingredients in poutine! All jokes aside, sometimes we can't get our hands on the precious ingredients we need to complete a recipe. Cheese curds can be hard to come by.
Don't worry though, you can use a few other cheeses and still have delicious poutine. We won't spill the beans! You want a cheese that
Mozzarella and provolone are substitutions you can find rather easily. Halloumi is another great alternative.
If you're looking for a tangier cheese, you can use cottage cheese or even crumbles of cream cheese. Better yet, you could even mix the two together. Ricotta cheese would also be an option that has a slightly sweeter taste.
---
Recent Recipes