Best Homemade Haitian Griot
You don't know fried food if you haven't had a bite of this succulent, juicy Haitian griot. Haitian griot is basically deep-fried pork. But this is pork like you've never had before. Often found in Haitian fritay platter, or a platter of Haitian fried food, griot is one of Haiti's most beloved dishes.
To make this griot you first have to marinate the pork in as assortment of spices. I have used epis, garlic and onion powder along with a whole host of spices, herbs and condiments. It is important to marinate the pork for as long as possible to really get the juices going. The longer you marinate, the more flavorful it is going to be. You then have to cook it till it becomes nice and tender and then it is time to deep fry. I highly recommend using a frying basket, it makes the process easier. Then drain on paper towels and voila, you have the Best Homemade Haitian Griot. Griot is had with a side of pikliz, another Haitian staple. It is cabbage, carrots, hot peppers that is spiced and pickled. The next time you're craving some fried food, instead heading for your local drive through, try your hand at the Best Homemade Haitian Griot.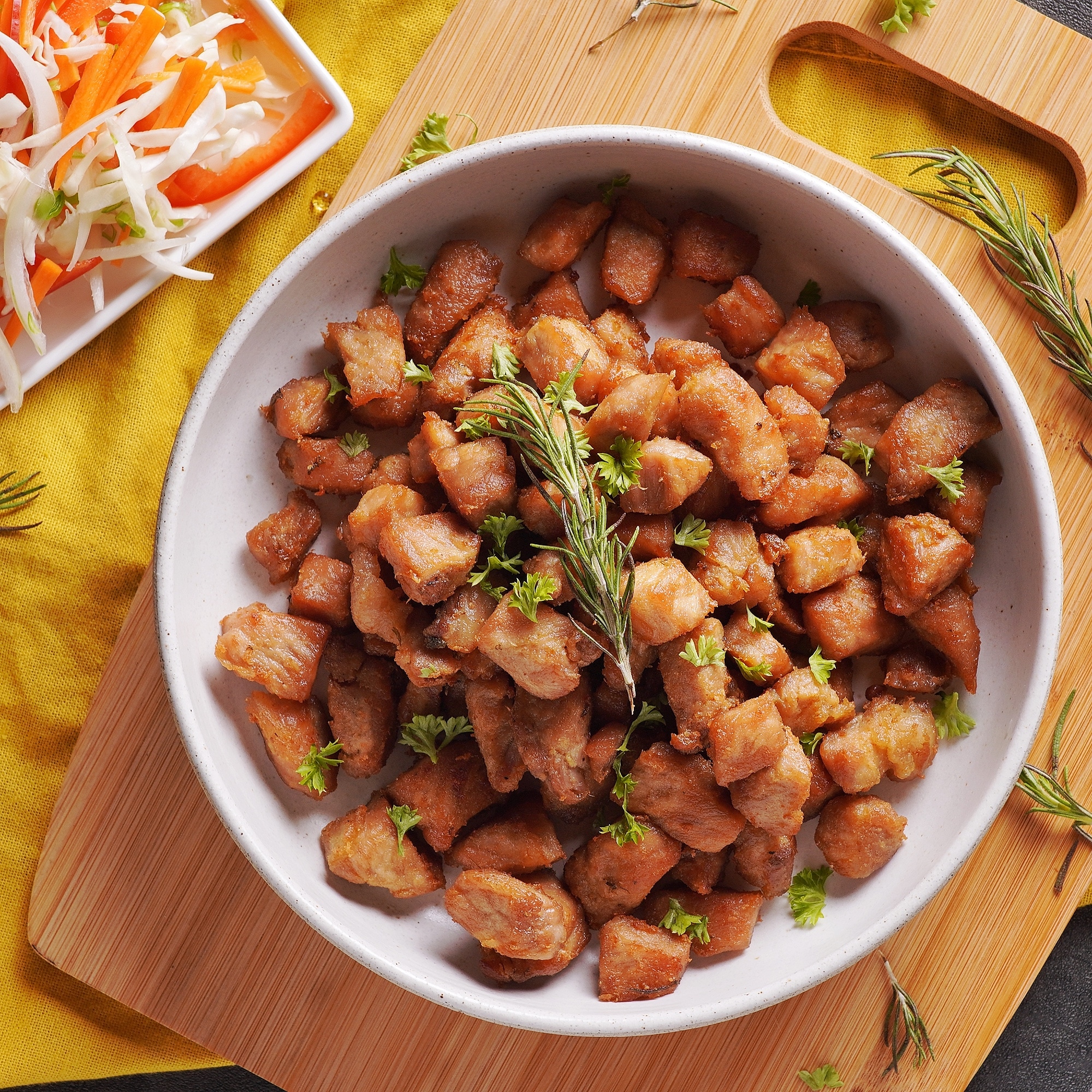 Ingredients
3

lbs

pork

chopped

1

tablespoon

onion powder

1

tablespoon

garlic powder

½

cup

shallots

chopped

½

tablespoon

all-purpose seasoning

1

bouillon cube

3

sprigs thyme

3

sprigs of parsley

4

cloves

1

scotch bonnet pepper

1

tablespoon

of Epis

½

cup

of sour orange juice

1

cup

water

Salt

Pepper

Oil to fry
Instructions
All ingredients ready? Let's begin!

Rub the meat with lemon completely and then rinse with water to clean it. Repeat the process.

Cut the fat off the pork and cut into small chunks.

In a large bowl place the washed and cut pork. To this add 1 tablespoon of epis, the cloves, garlic powder, onion powder, all-purpose seasoning, bouillon cube, shallots, salt, pepper, thyme, parsley, the scotch bonnet pepper and some sour orange juice. Mix well till the pork pieces are well covered in the spices. Cover and refrigerate overnight or for at least 30 minutes.

Remove from the fridge and place the marinated pork in a pan. Add 1 cup of water.

Cover the pan and cook the pork for about 45 minutes

The pork should have cooked in 45 minutes, it should be tender. Then take it off heat and remove just the cooked pieces of pork. Pat it dry.

Heat around 2 cups of oil in a pot or deep frier.

Place the pork in the frying basket and deep fry. It will take 10-12 minutes. The pork will fry to a nice golden-brown color.

Remove from the oil and place on paper towels to drain the excess oil.

Serve the Best Homemade Haitian Griot with traditional pikliz.
Video
Nutrition
Calories:
952
kcal
|
Carbohydrates:
13
g
|
Protein:
59
g
|
Fat:
72
g
|
Saturated Fat:
27
g
|
Polyunsaturated Fat:
7
g
|
Monounsaturated Fat:
32
g
|
Cholesterol:
245
mg
|
Sodium:
2186
mg
|
Potassium:
1225
mg
|
Fiber:
2
g
|
Sugar:
5
g
|
Vitamin A:
241
IU
|
Vitamin C:
27
mg
|
Calcium:
109
mg
|
Iron:
5
mg
Tips & Tricks
It is essential to clean the pork well. The best way to clean pork is with lemon and water.
Remember to cut the fat off the pork as it makes it chewy
The longer you marinate the pork, the more flavorful and juicy it is going to be. But if you are stretched for time, you can either just marinate it for 30 minutes or you can completely forgo marinating the pork. Heat a pan, add the pork pieces, add all the spices and sauté well together. Then add the water, cover and cook as instructed.
You can of course fry the griot without the basket or deep frier, but it makes the whole process easier and less messy.
If you don't have sour orange juice, add 1 part of lemon juice to 1 part orange juice
Storage
The Best Homemade Haitian Griot very rarely has leftovers but in the chance that you do, here's how you can store it. Wrap the griot tightly in foil and keep in an airtight container. Refrigerate for about 2-3 days. The griot will start getting soggy because of the oil.
I would not recommend freezing the griot as deep fried anything develops a weird texture once thawed.
But you can make this ahead. Prep and marinate the pork and keep in the fridge for about 2 days. Cook and deep fry the day of. You can also cook it ahead and deep fry the day of, but this can tend to dry out the pork, so it is best to cook and fry it the day you are going to eat it.
FAQs
Can I shallow fry this?
Yes, you can, but traditionally Haitian griot is deep fried. To shallow fry, add oil to pan and heat it up. Add the pieces of cooked pork and keep turning it over till it is brown and crisp.
Substitutions
Pork: You can use boneless or with bone.
Onion powder: you can also use freshly chopped onions, shallots, chives or scallions or even all of them together. It packs in quite the flavor.
Garlic powder: Similarly, you can use garlic cloves, finely minced
All-purpose seasoning: This is optional, you can add whatever seasoning tickles your fancy
Bouillon cube: Again, entire optional. I use it for more flavor
Scotch bonnet pepper: You can use habanero or jalapeno
Parsley, thyme and cloves: They have very distinctive flavors that cannot be substituted
Sour orange juice: You can mix 1 part lemon juice with 1 part orange juice and use that instead
If you want to try a vegetarian version of the griot with similar flavors, you can use jackfruit. Marinate, cook and fry.
Accompaniments
The Best Homemade Haitian Griot is usually accompanied by a side of pikliz. Pikliz is shredded cabbage and carrots that has been marinating with spices and vinegar. The fresh, tangy flavor of pikliz is a perfect accompaniment to griot.
For more fried indulgences, check out the Homemade Double Fried Chicken Wings and these Awesome Air Fryer Chicken Fries.
---
Recent Recipes