This recipe intrigues me because there isn't a whole lot of information about its origins, which leaves it wide open to interpretation by chefs and home cooks who make it.
Cardinale is Italian for cardinal. Is that the scarlet plumed bird, the Catholic advisor to the pope who wears red robes, or the fundamental principle (as in cardinal rule)? After researching different recipes for this dish, I came to the conclusion that scarlet or red was a common theme and the principal ingredients were chicken, marsala wine, prosciutto, roasted red bell peppers, and cheese.
The roasted red peppers in the dish add a bright red pop of color as well as lots of flavor. However, some recipes rely solely on the prosciutto for a bit of red color. You can roast your own bell peppers. But I think the ones from a jar are really fine for this dish. I would get ones packed in water or olive oil instead of pickled peppers.
Chicken cardinale satisfies a lot of taste buds on your palate. It is savory, a tiny bit sweet, salty, earthy, herbaceous, and a little creamy (cheesy). The components include protein, dairy, fruit (peppers), herbs, and some wine. Pair that with some green veggies and a side of pasta and you have a meal that hits all the food groups in terms of variety and nutrition.
There are variations to my recipe that I will address in the substitutions and additions section of this recipe post. You will need one or two broiler-proof shallow skillets or sauté pans that have lids.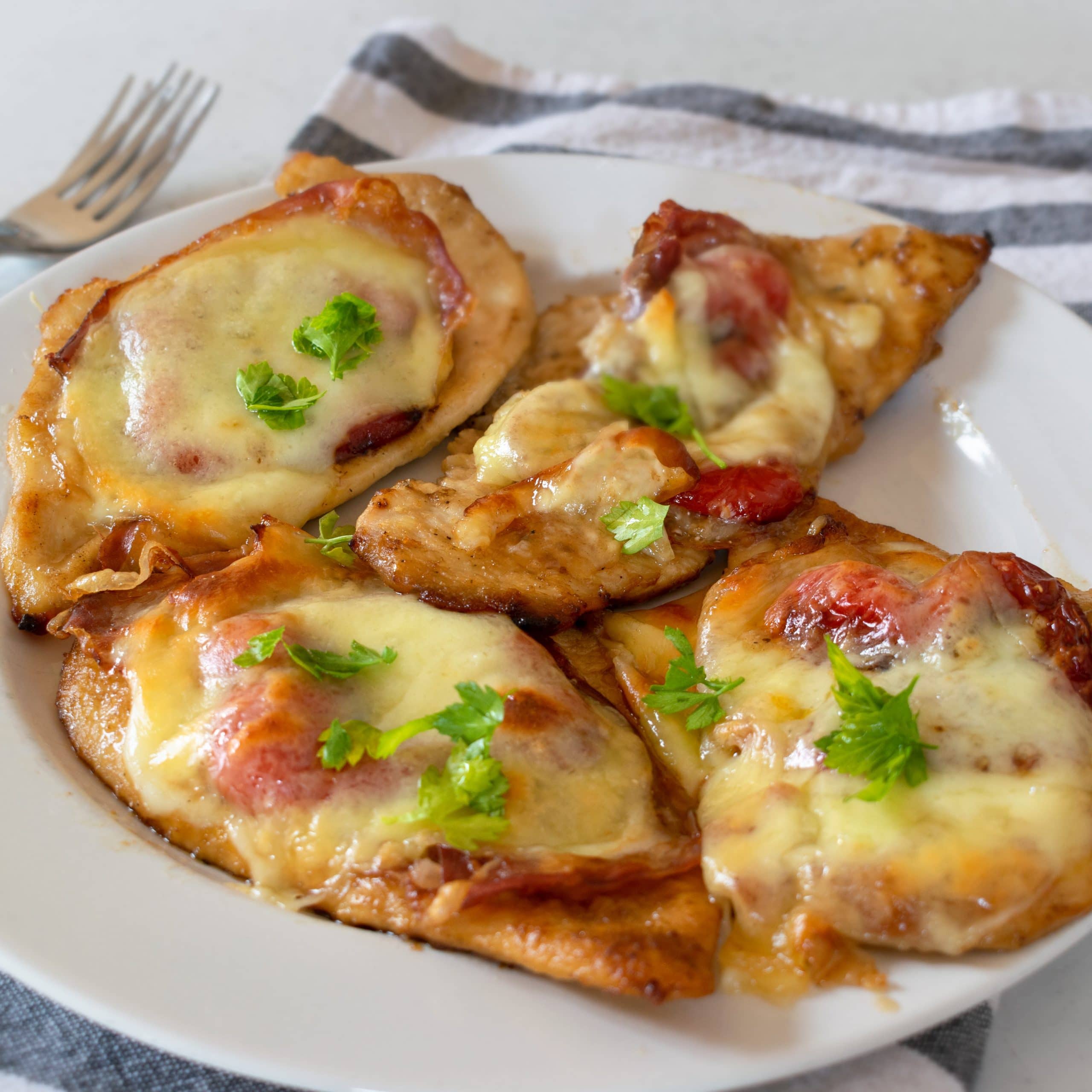 Ingredients
4

chicken breast cutlets

approximately 1 pound total

1/4

cup

all-purpose flour

1/4

tsp

sea salt

1/4

tsp

freshly ground pepper

1/4

tsp

dried oregano

3

Tbsp

olive oil

1-1/2

tsp

butter

1

garlic clove

sliced thinly

1/3

cup

chicken broth

2

Tbsp

sweet marsala wine

4

thin slices prosciutto

4

slices

roasted red bell pepper

2

Tbsp

parmesan cheese

4

slices

mozzarella cheese

Chopped flat-leaf parsley for garnish
Instructions
Rinse the chicken under cold water and pat dry with paper towels.

In a shallow bowl, combine the flour, salt, pepper, and oregano.

Heat a large broiler-safe skillet or 2 over medium heat. Add the olive oil.

Dip the chicken in the seasoned flour. Shake any excess flour off and add the chicken to the skillet.

Sauté for 3 minutes until golden brown on the bottom. Flip the chicken over and sauté for another 3 minutes until golden on both sides.

Drain some of the excess oil from the skillet. Add the butter and garlic slices around the chicken. When the butter has melted and the garlic is fragrant, pour in the broth and marsala. Reduce the heat to low. Cover the skillet and simmer the chicken until cooked through, approximately 8 minutes.

Place the upper oven rack about 6 inches below the broiler element. Preheat your broiler.

Place a slice of prosciutto on each cutlet. Top the ham with a slice of roasted pepper. Sprinkle each with parmesan cheese and top each with a slice of mozzarella. Place the pan or pans under the broiler and cook until the cheese has melted, approximately 1 ½ to 3 minutes.

Remove the chicken to a serving platter and spoon any extra sauce over the chicken. Sprinkle the parsley over the top and enjoy.
Video
Nutrition
Calories:
523
kcal
|
Carbohydrates:
8
g
|
Protein:
57
g
|
Fat:
27
g
|
Saturated Fat:
8
g
|
Polyunsaturated Fat:
3
g
|
Monounsaturated Fat:
13
g
|
Trans Fat:
1
g
|
Cholesterol:
174
mg
|
Sodium:
766
mg
|
Potassium:
903
mg
|
Fiber:
1
g
|
Sugar:
1
g
|
Vitamin A:
291
IU
|
Vitamin C:
3
mg
|
Calcium:
192
mg
|
Iron:
2
mg
Notes & Tips
To pound the chicken cutlets or breasts, place a sheet of plastic wrap on your cutting board. Place the chicken on the plastic. Place another sheet of plastic on top of the chicken. Using the flat side of a meat mallet or a rolling pin, pound the chicken to an even thickness without tearing the flesh.
Some skillets can't be placed under a broiler flame. This is true for ones with wood or plastic handles and those with a non-stick coating. If you don't have a broiler-proof skillet, transfer the chicken to a broiler pan and then top it with the prosciutto, peppers, and cheese before putting it in the oven. Reserve any pan juices in the skillet to pour over the chicken before serving.
Substitutions & Additions
Some cardinale recipes include sliced mushrooms, which I think is a nice addition. You can add them when you add the garlic.
You will also see cardinale recipes that don't have roasted red bell peppers. While other recipes don't include the prosciutto. It is a personal choice as to what you want. I think the red pepper is what makes the dish pop.
What to Serve with Chicken Cardinale?
There are so many great sides to serve with this chicken dish. I think I would start the meal with a Caprese salad that has tomatoes, basil, and buffalo mozzarella. For a starchy component, try spaghetti with tomato sauce, risotto with mushrooms, cheesy polenta, or gnocchi pomodoro. Green vegetables are a healthy accompaniment. You might like broccoli with beans and pesto, escarole sautéed with garlic, or steamed asparagus with fresh lemon juice and a pinch of cayenne pepper flakes.
This dish could be served with a dry Italian red wine, such as Montepulciano or Chianti. I personally like a crisp white wine with chicken cardinale. Sicilian Catarratto is one such wine. Sauvignon Blanc is a good choice as well.
I would finish the meal with a cup of espresso and a slice of sweet dandelion flower bread or olive oil cake. Or, keep it really simple and serve almond biscotti and fresh fruit.
---
Recent Recipes