When I think about making cookies with coconut, my brain automatically goes to macaroons. These small biscuits or cookies are made with shredded coconut, flour, and egg whites. They are moist, chewy, and a little dense in a good way. This is not to be confused with French macarons, which are light, airy, and crisp cookie shells made with almond flour, egg whites, and confectioner's sugar. They are generally layered with a buttercream filling in the center.
Coconut is naturally sweet. It has a toothsome and fibrous texture. I like what shredded coconut adds to cookies in terms of both flavor and texture. Coconut cookies are somewhere in-between a soft butter cookie and a chewy macaroon.
Coconut should not be underestimated when it comes to nutrition and versatility. Coconuts are a food staple in Tropical environments. These are the fruits of coco palm trees. They are large nut-like fruits that are encased in protective shells and husks. This ensures that the meat on the interior remains moist and gets sweeter as it matures. In the center of fresh coconuts is water that is delicious and often used as the base for tropical cocktails. It is also a wonderful electrolyte replacer.
The meat of the coconut is white, fibrous, sweet, and refreshing. Coconut meat actually contains a fair amount of fat. This fat is primarily lauric fatty acid that is responsible for raising HDL cholesterol and is also highly anti-fungal. This is the beneficial cholesterol that helps to balance LDL cholesterol levels. Coconut is a good source of B vitamins, calcium, iron, magnesium, potassium, and zinc.
Coconut meat can be pressed to extract the oil for cooking and use in skin care. The flesh can also be dehydrated and then ground into flour to be used in grain-free and gluten-free baking.
There are countless varieties of coconut cookies. This particular recipe is a fairly common cookie dough with coconut added to the mix. The end result is buttery, sweet, and soft cookies. These are very easy to make. Except for shredded coconut, you probably have everything you need in your pantry and fridge already.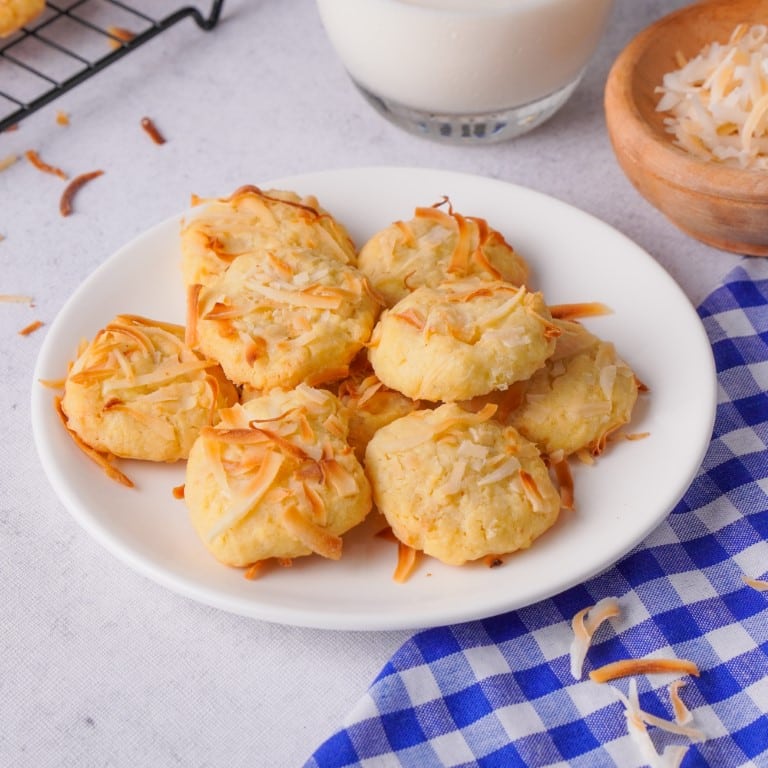 Ingredients
2

cups

unsweetened shredded coconut

2

cups

sweetened shredded coconut

1

cup

granulated sugar

½

tsp

sea salt

¼

tsp

baking powder

½

cup

1 stick chilled unsalted butter, diced into small cubes

1

large whole egg

1

tsp

pure vanilla extract

1 ½

cups

all-purpose flour
Instructions
Preheat the oven to 350°F.

Place 1 cup of sweetened shredded coconut and 1 cup of unsweetened shredded coconut on a plate or in a shallow bowl and set it aside.

In the bowl of a food processor, place the rest remaining 2 cups of shredded coconut, sugar, salt, and baking powder. Process this into a coarse meal.

Add the butter and process again until the butter is incorporated and there are no lumps.

Add the egg and vanilla extract and process again until smooth.

Add the flour to the processor and pulse until the flour is incorporated and a dough starts to form. Scrape down the sides of the bowl as needed. The dough can be a little more like crumbs. No need to overmix it.

Making 6 at a time, take 1 tablespoon of dough and roll it into a ball. Repeat and place the 6 balls in the coconut on the plate or in the shallow bowl. Gently press each ball just a bit so the coconut will stick on all sides of each cookie. Place the cookies on a parchment-lined baking sheet about 1-1/2 inches apart. Repeat until you have about 36 cookie balls.

Place the sheet pan in the oven and bake for up to 15 minutes until a light golden brown, checking at 13 minutes.

Remove the pan from the oven and allow the cookies to cool until you can handle them. Transfer the warm cookies to a wire rack and continue to cool.
Nutrition
Calories:
122
kcal
|
Carbohydrates:
13
g
|
Protein:
1
g
|
Fat:
8
g
|
Saturated Fat:
6
g
|
Polyunsaturated Fat:
0.2
g
|
Monounsaturated Fat:
1
g
|
Trans Fat:
0.1
g
|
Cholesterol:
12
mg
|
Sodium:
53
mg
|
Potassium:
48
mg
|
Fiber:
2
g
|
Sugar:
8
g
|
Vitamin A:
86
IU
|
Vitamin C:
0.1
mg
|
Calcium:
9
mg
|
Iron:
0.5
mg
Notes & Tips
If you want a sweeter cookie, use all sweetened shredded coconut and skip the unsweetened.
There is no need to flatten the dough balls completely. These cookies should have some height. You just want the coconut to stick well to the balls.
Don't be alarmed if the coconut shreds turn a darker brown than the cookies themselves as they bake. That is normal as the sugars caramelize and it offers a little bit of crunchy texture.
Substitutions & Variations
All-purpose Flour: If you are avoiding gluten, you can make these cookies with an all-purpose gluten-free flour blend. Or make your own blend with coconut flour, rice flour, and tapioca or potato starch.
Almonds: You can substitute some of the all-purpose flour with a little almond flour for more flavor. Or, you could add finely chopped almonds to the dough for a little bit of crunch. Coconut and almonds are a good flavor match in baking.
Chips: You can make these cookies a little more fun by adding semi-sweet, butterscotch, or white chocolate chips to the dough. Just stir them into the dough after it has formed.
More Cookie Recipes
We definitely like our cookies at Cook Gem and have tried a few interesting recipes. Here are some we might think you will like if you enjoyed the coconut cookies.
---
Recent Recipes