Easy Belgian Rice Pudding
Rice pudding is popular in countries all across the globe, with each region having their own way of making it. This recipe is specifically based on a Belgian variant of rice pudding, but the base is the same as most others. A basic rice pudding base includes rice (obviously), milk, and sugar.
This recipe uses a pinch of saffron, which might make it one of the most expensive rice puddings you'll ever make. Don't worry, it's still very affordable and the saffron is what makes this particular pudding so special. Do not skip it!
Rice pudding like this is a wonderful treat on cold, winter days. The spices give it a special holiday feel and the flavor is still mild enough to appeal to most people. I love curling up on the couch after dinner with a bowl of warm rice pudding and a book or a tacky Christmas movie.
Another great thing about this recipe is that it's not too unhealthy. After all, it's mostly rice! At least, that's what I tell myself while I eat 3 bowls for dinner. Rice pudding is also incredibly easy to make. It requires no prep and only takes about 30 minutes to cook. One pot, one spoon, and very little washing up afterwards.
If you're looking for one of the warmest, easiest, yummy and filling desserts, you've come to the right place. This Belgian rice pudding is a recipe you'll find yourself saving to use again and again.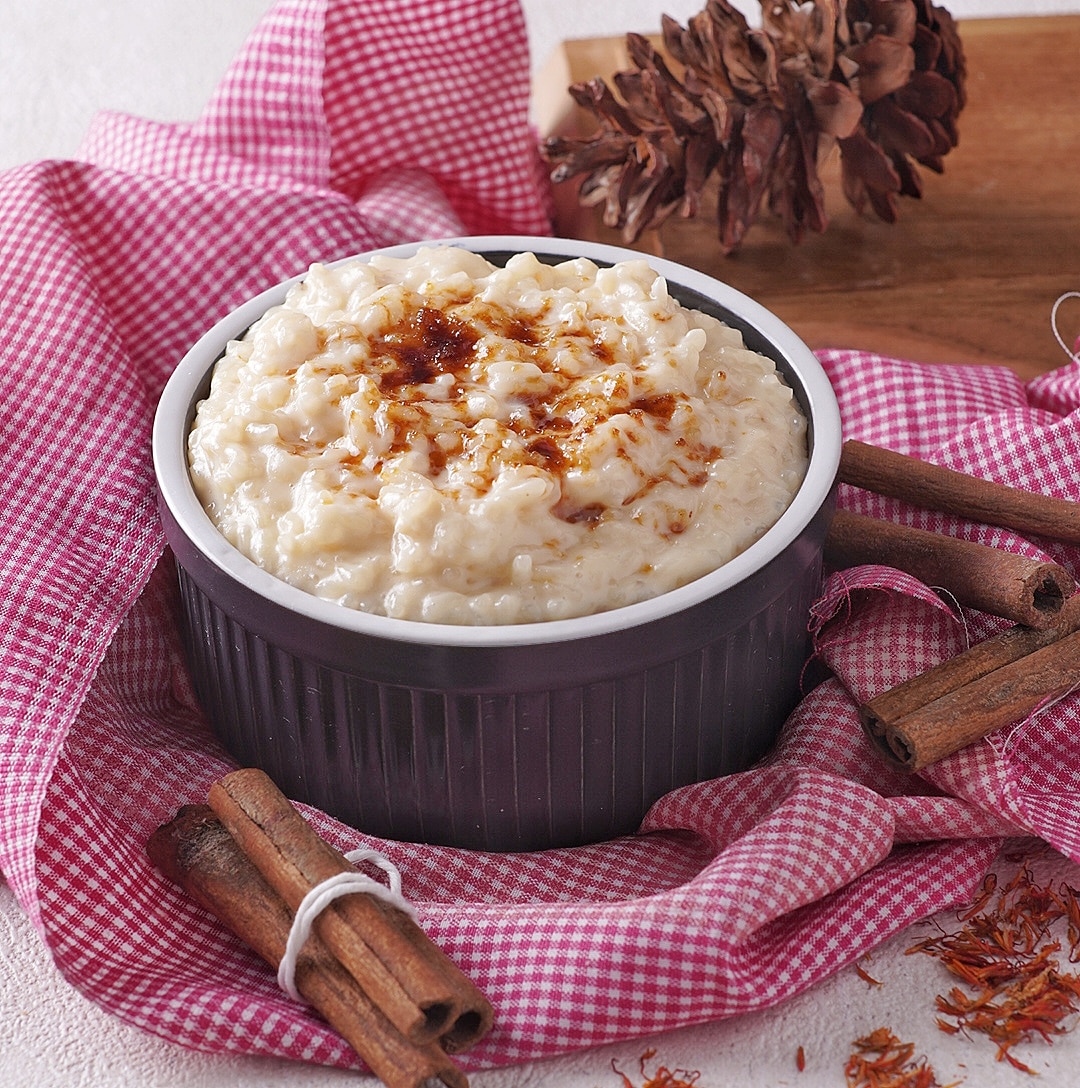 Ingredients
4

cups

whole milk

2/3

cup

medium grain white rice

1

tsp

vanilla extract

Salt

Crushed saffron

1

cinnamon stick

6

tbsp

white sugar

brown sugar
Instructions
In a large pot, add the milk, uncooked rice, vanilla extract, a pinch of salt, a pinch of saffron, and the cinnamon stick.

Over high heat, bring the pot to a boil.

Once it reaches a boil, reduce the heat to medium low and allow to simmer for 20 minutes.

While cooking, stir the rice constantly to help it cook evenly and prevent it from sticking to the bottom of the pot.

After 20 minutes, add the white sugar and continue to cook at a simmer for 10 minutes. Don't forget to keep stirring!

Before serving, remove the cinnamon stick.

Spoon into bowls and sprinkl
Video
Nutrition
Calories:
172
kcal
|
Carbohydrates:
25
g
|
Protein:
6
g
|
Fat:
5
g
|
Saturated Fat:
3
g
|
Polyunsaturated Fat:
1
g
|
Monounsaturated Fat:
1
g
|
Cholesterol:
16
mg
|
Sodium:
70
mg
|
Potassium:
225
mg
|
Fiber:
1
g
|
Sugar:
20
g
|
Vitamin A:
265
IU
|
Vitamin C:
1
mg
|
Calcium:
192
mg
|
Iron:
1
mg
Notes & Tips
This Belgian rice pudding can be stored in an airtight container in the fridge for a week. To reheat, pop it in the microwave for a couple minutes. Before reheating, you might want to add a little bit of milk so the pudding doesn't get too stiff.
If you want to make another dessert to have more options or serve alongside your Belgian rice pudding, I recommend looking into cardamom spice cookies. They have a similar flavor profile and are just as yummy! Cardamom isn't used in this particular rice pudding recipe, but it is used in several others.
What is Saffron?
Saffron is the most expensive spice in the world. Don't let that put you off though, this recipe only requires a pinch. That being said, a large pinch can cost around $5. A mere kilogram can cost $5,000 or more! Saffron is so expensive because harvesting it is incredibly labor intensive.
Saffron comes from a gorgeous, vibrant flower called the saffron crocus. The petals of the flower are a beautiful violet, while the flower's stigma and styles (the antenna looking things in the center) are bright red. I recommend googling a picture because they truly are lovely flowers.
It is the stigma and styles of the crocus that are turned into saffron. The stigma and styles are referred to as saffron threads. Each flower only has three threads and they need to be plucked from the flower by hand. As I'm sure you can imagine, harvesting saffron takes ages.
As an additional complication, saffron crocuses only grow in specific conditions and they bloom for a brief amount of time. That means that the saffron must be grown perfectly and entirely harvested within one or two weeks.
Once the saffron threads have been harvested, they are left to dry then quickly sealed in airtight packaging for distribution.
The origin of saffron is speculated to be Iran, who still produce about 90% of the world's saffron. However, it could also be from Greece, where it is also popular. Saffron has spread across the globe and is grown on several continents.
What Does Saffron Taste Like?
Saffron often smells like hay, due to sharing a few of the same chemicals in their makeup. Even a little bit of saffron can give a dish a lovely yellow color. As far as how it tastes, it is often described as earthy and floral together.
Saffron is a unique spice that I don't recommend substituting, but I also understand that it can be cost prohibitive for a simple rice pudding. If that is the case, you can go here to find some substitution ideas.
Where to Buy Saffron?
You can find saffron at a lot of regular grocery store. However, be careful when buying saffron, as it is often diluted. Because saffron cost so much to produce, some people use tricks to maximize their profits. Unfortunately, that results in a poor quality spice for the consumer. Here are some tips to avoid scams and make sure your saffron is good quality stuff.
The easiest way to spot bad saffron is if every thread is bright red all over. Saffron threads are bright and reddish in color, but the color doesn't look the same on all threads. Each thread should be red, but also have orange or yellow tips. Completely red saffron means the supplier might have dyed it to lie about the quality.
Saffron threads that look shabby, dull, or broken also indicate poor quality.
Because saffron is so often polluted, it's wiser to buy from a Middle Eastern market, whole food market, or similar place that has a higher standard for exotic spices.
---
Recent Recipes