Shirataki rice is often called miracle rice because it's low-carb and has only 10 calories per serving. Miracle rice has a similar texture and bland flavor to rice, and it leaves you full thanks to its fiber content.
But it's important to prepare it correctly to avoid that gummy texture and acidic flavor. In this simple shirataki rice recipe, I'll be sharing the tricks and tips to make a fresh tasting and soft yet not mushy keto rice.
What is miracle rice made out of?
Miracle rice or shirataki rice is made from flour from the Konnyaku Imo (konjac) plant. This rice is naturally low in calories because it consists of 97% water and 3% plant fiber.
I love rice, but I don't always want to eat so many simple carbs. Shirataki rice is great because you can still enjoy the satisfaction of eating rice without all the carbs thanks to the natural fiber.
What Do I Need For This Simple Shirataki Rice Recipe?
There are a few pieces of equipment you should have to make shirataki rice impeccably:
A colander for rinsing the rice (a strainer also works fine)
A saucepan or pot (for boiling the rice)
Paper towels (to dry the rice thoroughly before pan frying)
A large, thick-bottom skillet (for pan frying)
For this recipe, you'll only need a couple of ingredients: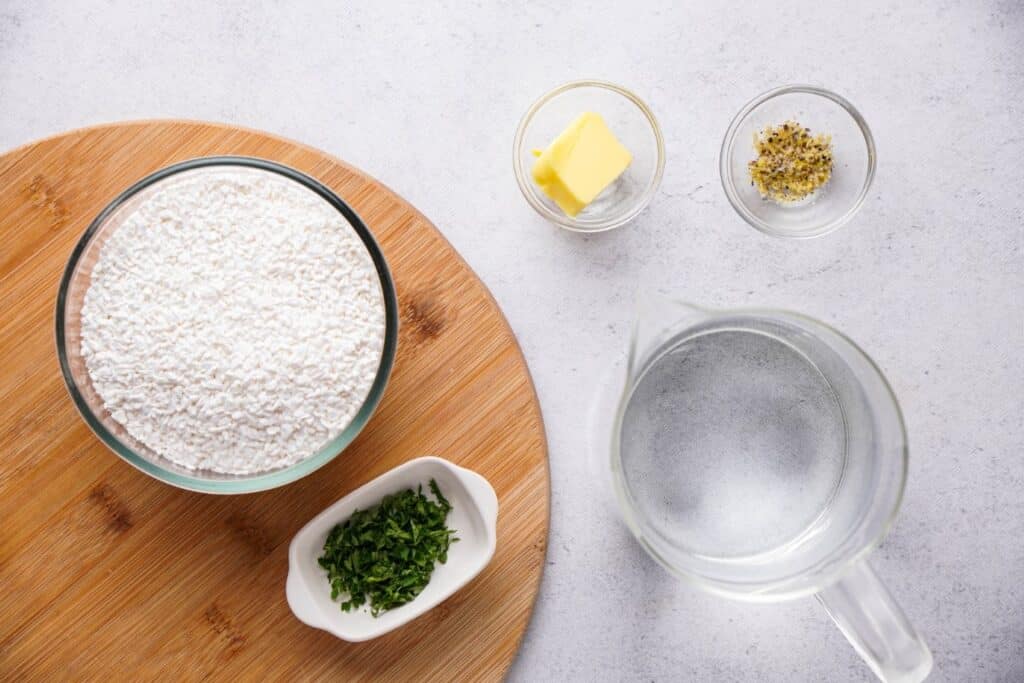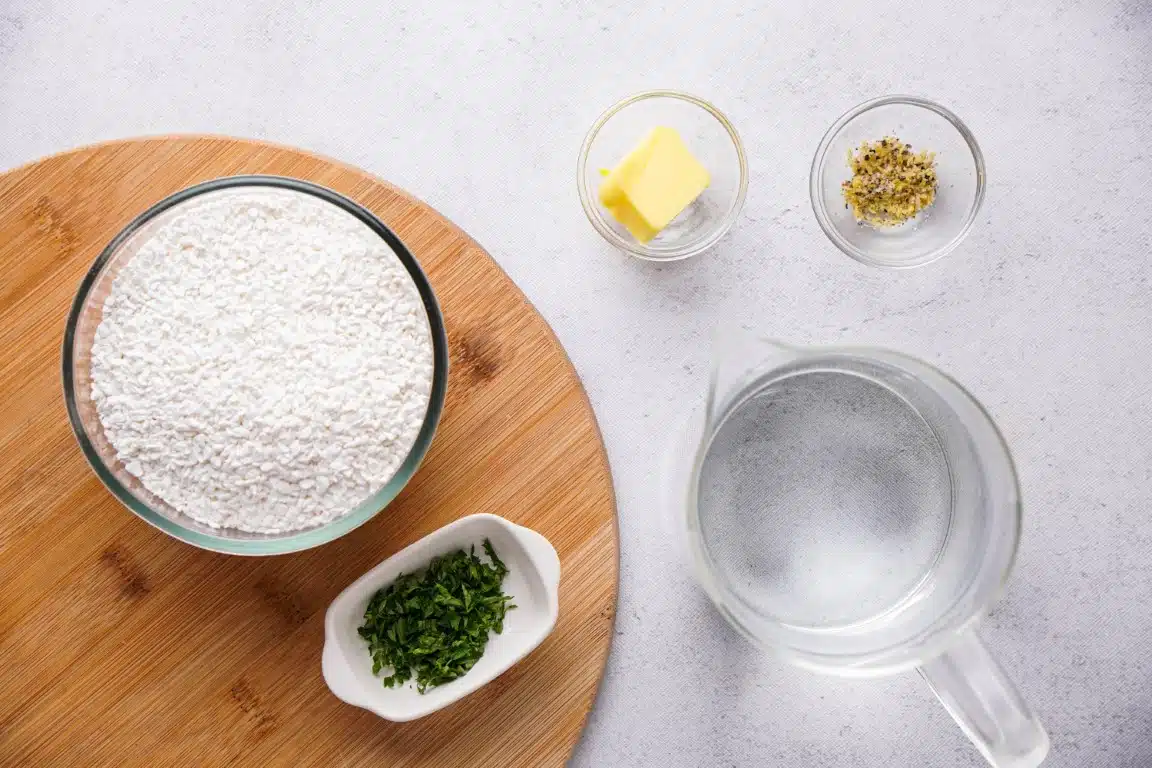 4 cups Shirataki rice (about 32 oz)
1 Tbsp. butter or ghee (or any cooking oil of choice)
1 tsp. lemon pepper seasoning to taste (or salt and pepper)
Optional: chopped parsley to garnish
How Do You Cook Shirataki Rice
Making shirataki rice is easy, but you do have to follow a few steps to ensure it turns out well.
Step 1: Rinse the rice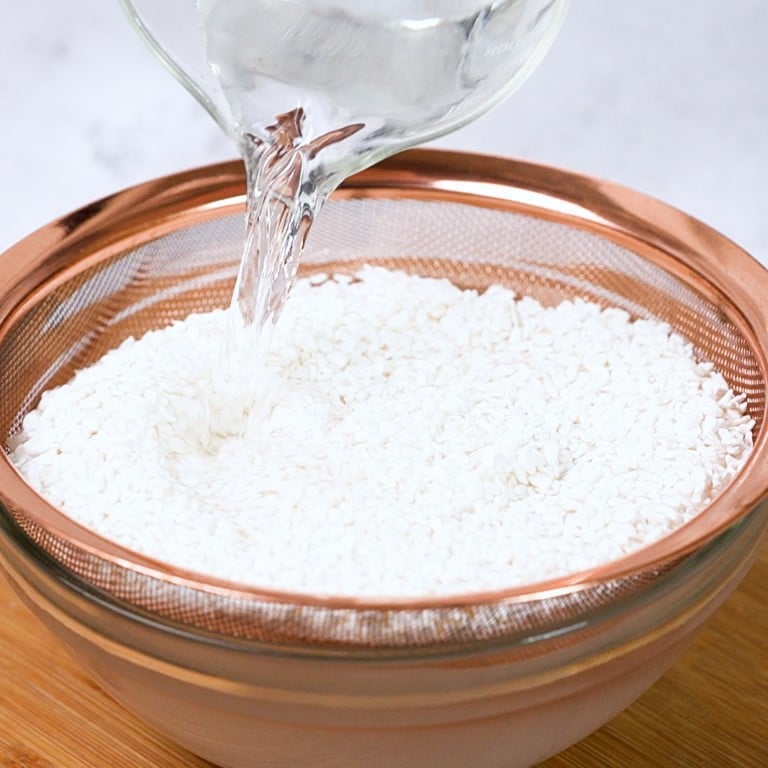 Rinse the shirataki rice thoroughly in a colander under cool running water. Make sure the smell characteristic of konjac is gone. This will give the rice a beautiful bland flavor similar to white rice.
Step 2: Boil the rice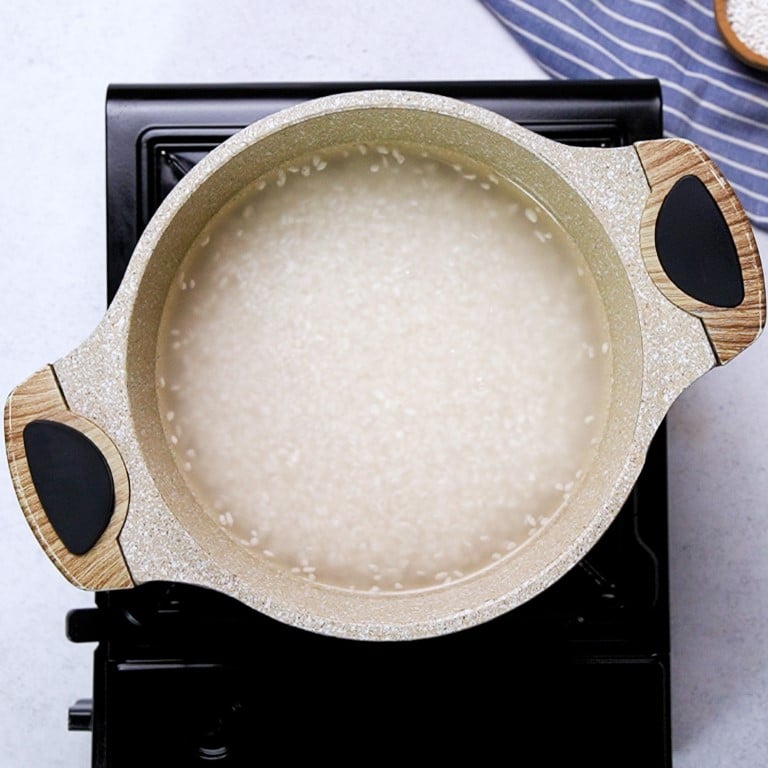 Bring a medium-large pot of water to a boil (about 8 cups of water). Add the rinsed konjac rice and boil for 3 minutes.
Step 3: Rinse and dry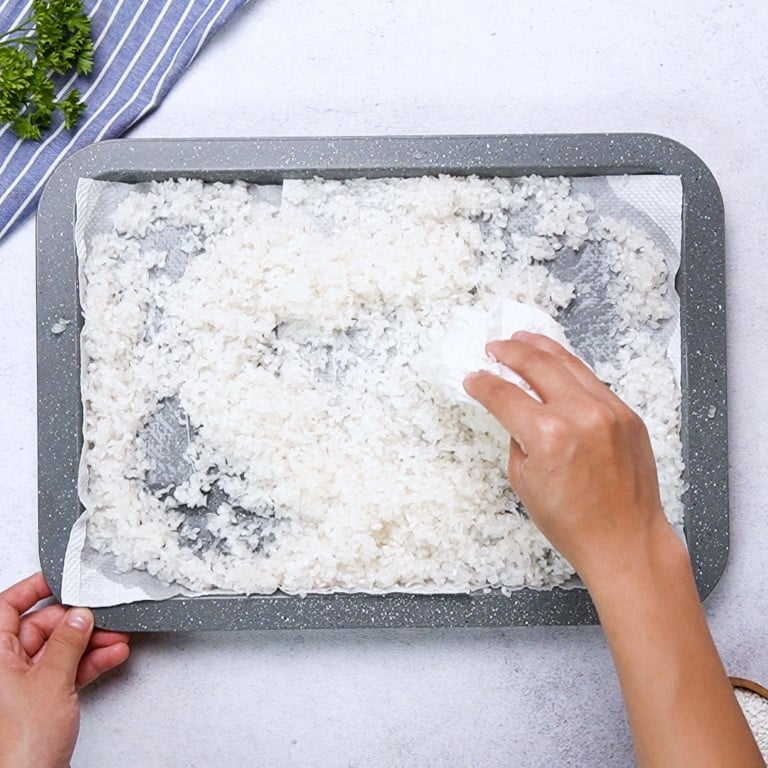 After the rice boils, drain it through the colander and rinse it well under running water.
Then pat the rice until it's very dry with paper towels. This step is crucial for getting that perfect rice-like texture.
Step 4: Cook rice in a skillet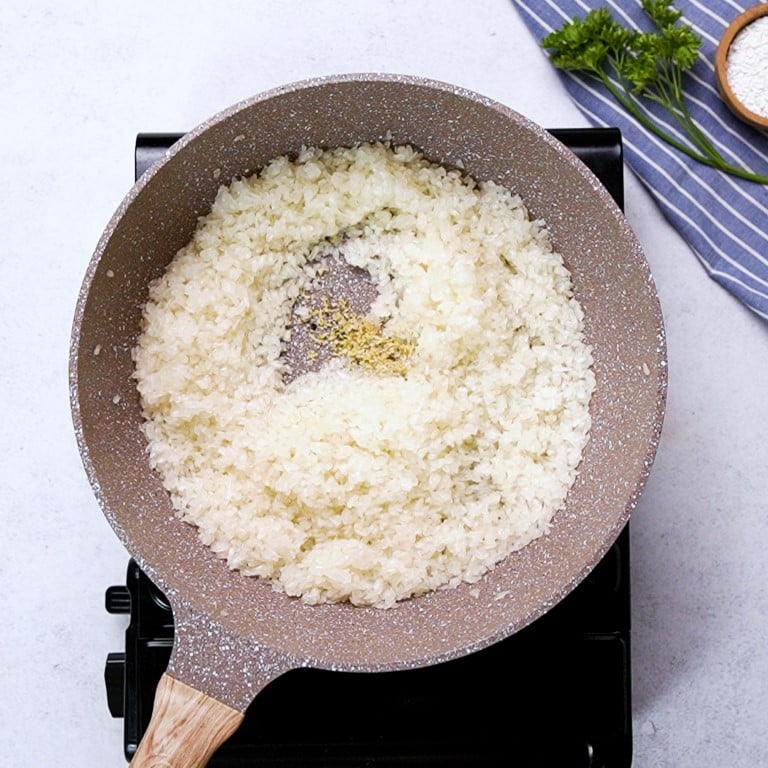 Heat a large skillet over medium-high heat. Add the dry konjac rice (without any oil or butter) and stir with a spatula for 10 minutes or until it's very dry.
Once it's hard to the touch (of the spatula), toss it with butter, let it melt, and season it with lemon pepper to taste.
Step 5: Serve immediately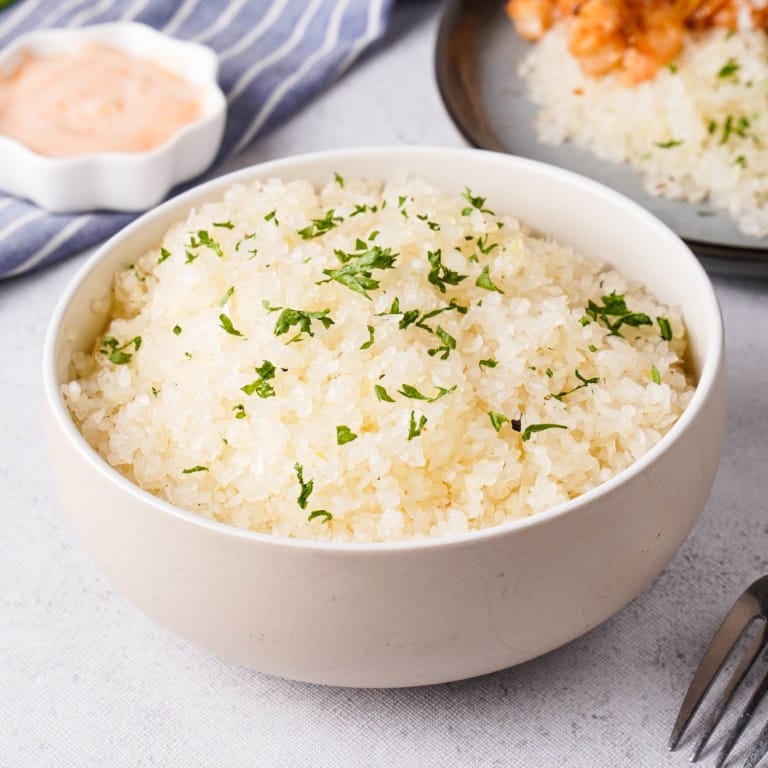 Serve immediately with optional parsley to garnish or let the rice cool and store covered in the fridge for up to 4 days.
Does Miracle Rice Taste Like Rice?
If prepared right, shirataki rice is flavorless so it's an ideal canvas (just like regular rice) for adding other textures and flavors.
It's a great keto rice substitute, and is naturally gluten-free and super low-carb, making it perfect for diabetics or those with other dietary requirements.
Does Miracle Rice Need To Be Refrigerated?
Shirataki rice in its packaging is shelf stable, meaning you don't need to refrigerate it. Once you've prepared the konjac rice according to this recipe's method, you can store leftovers in the fridge.
Do not freeze shirataki rice or noodles because this will make them inedible. If you have a half-used open package of shirataki rice, store it in a sealed container with water in the fridge.
Where To Find Konjac Rice
It'll be hard to find konjac products in regular supermarkets, but you can find shirataki rice in almost any Asian market. It's also easy to order it online through amazon. You don't have to worry about storage because konjac rice is shelf-stable.
Konjac noodles are more popular than konjac rice and thus, easier to find. Similar to konjac rice, they have to be prepared correctly to ensure the right texture and bland flavor. You don't want gummy and acidic noodles either.
If you're interested in using konjac in more ways than just rice or noodles, you can check out our article on Konnyaku. We've got plenty of suggestions on how to add this filling, low-calorie, fiber-rich food to your meals.
How To Use Shirataki Rice?
You can use it in any recipe that calls for rice or add it to recipes that need some bulk. Of course, the cooking method will differ a bit.
I suggest preparing shirataki rice according to the recipe below, but omitting the seasonings and oil. Then you can add the rice to any dish that calls for rice along with the meat or vegetables.
Keep in mind that you won't need to add any liquid to re-cook the shirataki rice, unlike regular uncooked rice. It will, however, absorb the flavors of any sauce and ingredients you're cooking.
Here are some ideas for how to use shirataki rice:
Serve this Taiwanese Minced Pork over shirataki rice for a delicious low-carb meal. There are no extra instructions here.
Make these easy Shrimp Burritos with miracle rice. You can even use keto tortillas to make it keto-friendly. Pan-fry the shirataki rice with some avocado oil and add freshly chopped cilantro, salt, and lime juice to season.
Try Malagasy Romazava, a bone-warming stew with a variety of different meats and greens, paired with this simple shirataki rice recipe.
Substitute cooked shirataki rice in this Homemade Hibachi Shrimp recipe. This tasty Japanese meal comes together in less than 20 minutes and has a special yum yum sauce on the side.
For those of you looking for a hearty vegan meal, try this Simple Tofu Chickpea Curry served over a bed of shirataki rice. This dish is ready in only 30 minutes and it's full of warming and immune-system-boosting spices.
How To Make Shirataki Rice Sticky
To make konjac rice sticky and suitable for making sushi, you'll need to follow a slightly different cooking method.
First, rinse the konjac rice thoroughly. Then bring a pot of salted water to boil and boil the rice for about 7 minutes.
Drain the konjac rice in a colander and let it cool for 20 minutes. Don't pat it dry. After, place it in the fridge for another 20 minutes.
The rice should be nice and sticky and ready to make sushi like these Easy Avocado Sushi Rolls. You can even make Sushi Burritos with shirataki rice.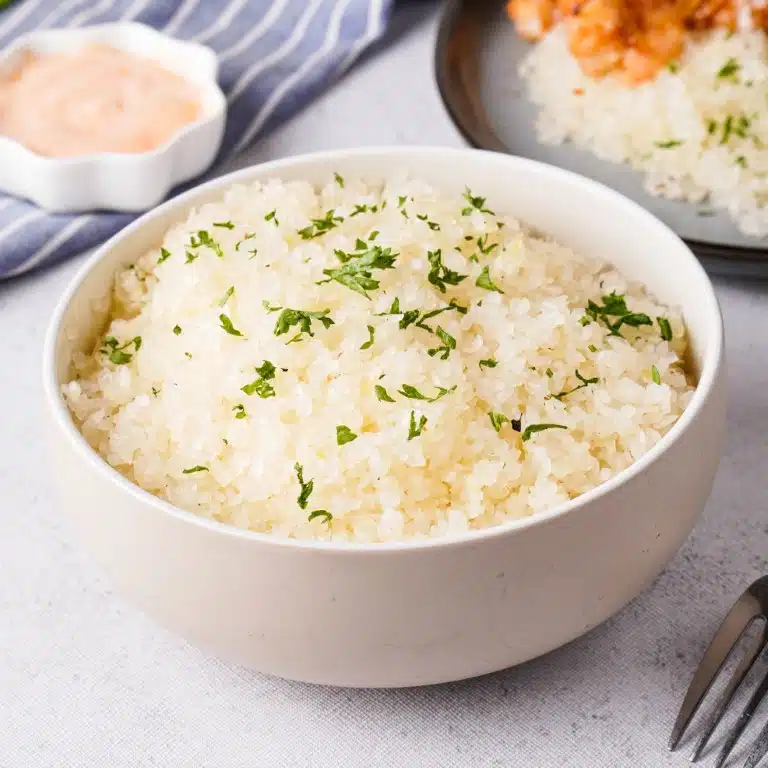 Ingredients
4

cups

Shirataki rice

about 32 oz

1

Tbsp.

butter or ghee

1

tsp.

lemon pepper seasoning

to taste
Instructions
All ingredients ready? Let's begin!

Rinse shirataki rice in a colander thoroughly under cool running water.

Bring a medium-large pot of water to boil. Add rinsed rice and boil for 3 minutes.

Rinse well under running water and pat very dry with paper towels.

Heat a large skillet over medium-high heat. Add the konjac rice and stir for 10 minutes or until very dry.

Toss with butter until melted.

Season with lemon pepper to taste.

Serve immediately or let cool and store covered in the fridge for up to 4 days.
Nutrition
Calories:
30
kcal
|
Carbohydrates:
1
g
|
Protein:
0.2
g
|
Fat:
3
g
|
Saturated Fat:
2
g
|
Polyunsaturated Fat:
0.1
g
|
Monounsaturated Fat:
1
g
|
Trans Fat:
0.1
g
|
Cholesterol:
8
mg
|
Sodium:
24
mg
|
Potassium:
17
mg
|
Fiber:
0.3
g
|
Sugar:
0.01
g
|
Vitamin A:
99
IU
|
Calcium:
6
mg
|
Iron:
4
mg
---
Recent Recipes