Easy Sweet Onion Ice Cream
If you have ever watched the show "Chopped" you are aware that the cooking contestants are given unusual ingredients to work with to make an appetizer, an entrée, and a dessert. Someone always seems to head for the ice cream machine with the strangest items from the basket. I watched a chef make ice cream with black garlic.
If garlic can go into an ice cream why not onions? Before you shake your head, hear me out. I make a delicious onion jam that is naturally sweet. I spread it on toasted sourdough bread. Onions actually contain a fair amount of natural sugar. But you need to cook them until they caramelize to really release and concentrate all that sweet goodness. I would probably not attempt to make onion ice cream with raw onions.
In my opinion, the best onions to use in desserts are Vidalia. Vidalia onions are native to the state of Georgia. They are more oval in shape, contain a good amount of moisture, and are quite sweet even in their raw state.
This onion ice cream recipe is unique in that you don't have to use an ice cream machine. Any home cook can make this with a metal pan and a freezer. If you do have an ice cream maker, you can use that.
The nice thing about this onion ice cream recipe is that you aren't chomping on stringy bits of onions. The onions are first caramelized on your stovetop until very soft and then buzzed in a blender with cream and milk to a smooth consistency. As well, there are no eggs in this ice cream.
In keeping with the Georgia theme, I have added some chopped toasted peanuts to the ice cream. The peanuts offer a little crunch and a nutty flavor to the ice cream. These are optional.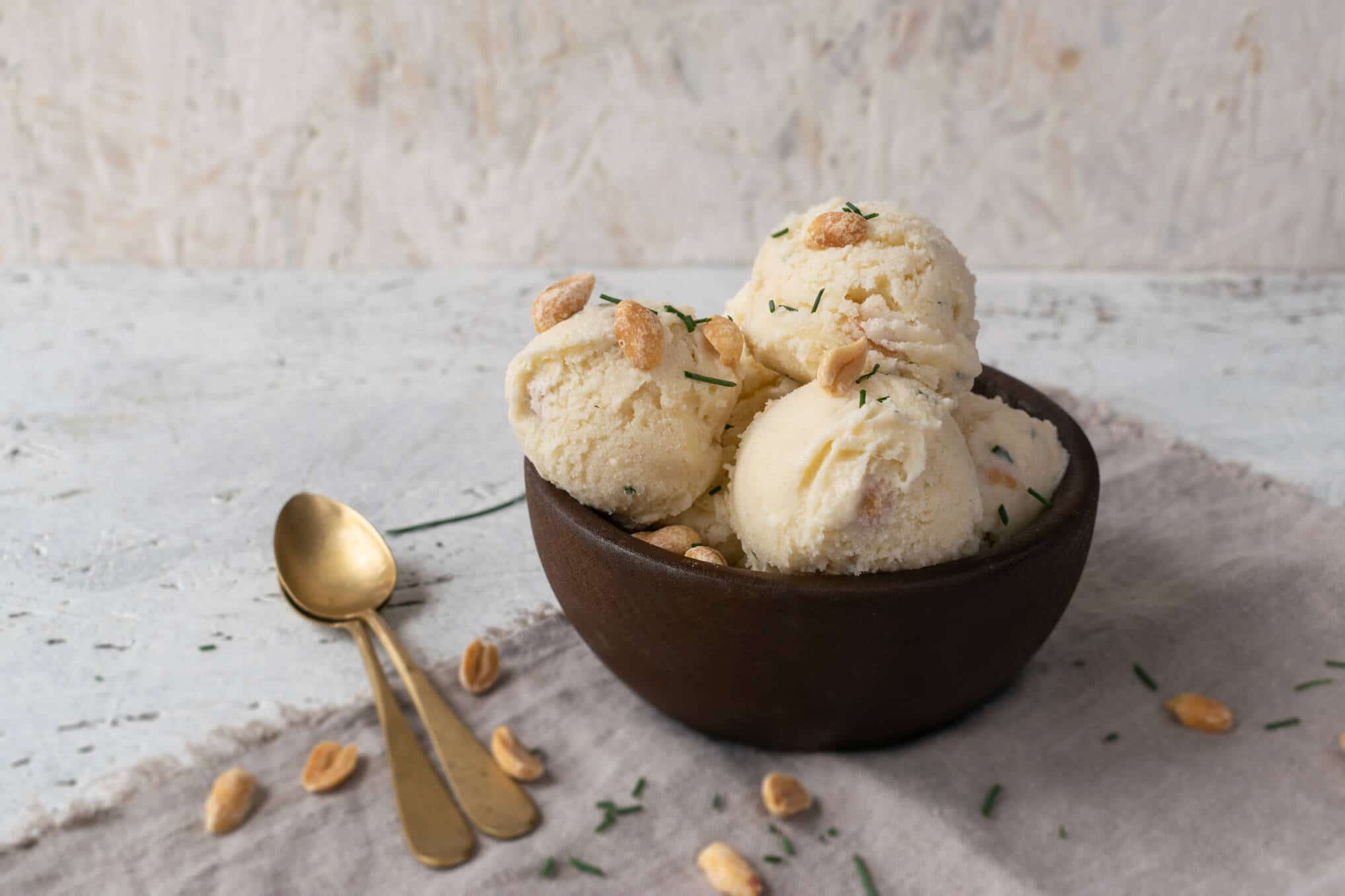 Ingredients
1

large Vidalia onion

peeled and root end removed

1

tsp

neutral vegetable oil

grapeseed or sunflower

1

tsp

unsalted butter

1-1/2

TBS

unflavored brandy

2

cups

heavy cream

1-1/2

cups

whole milk

1-1/2

cups

granulated sugar

1/4

tsp

pure vanilla extract

1/4

tsp

sea salt

2

tsps

minced chives

1/4

cup

dry roasted peanuts

optional
Instructions
Cut the onion in half and cut into thin slices. In a sauté pan over medium heat, warm the oil. Add the onion slices and cook until they are soft and a caramel color, approximately 40 minutes. You will need to stir often to prevent burning. Reduce the heat to medium-low if the onions are turning a darker color too quickly.

Once the onions are the color of maple syrup, add the brandy and deglaze the pan until the alcohol burns off. You will know when there is no longer a smell of liquor and the onions are only slightly moist.

Measure out 2/3 cup of the onions. If there are extra, use them to flavor soups or to spread on toast. Place the 2/3 cup in a saucepot over high heat with the cream, milk, sugar, vanilla, and salt. Bring just to a boil and remove the pot from the heat. Do not allow the cream to boil over. Set aside to steep and cool for 15 minutes.

Transfer the dairy and onion mixture to a blender. Blend until smooth and creamy.

Place the ice cream base in a shallow metal pan. Stir in the chives and peanuts, if desired. Place the pan in the freezer. Stir every 20 minutes for approximately 2 to 3 hours until the desired consistency is achieved.

Scoop or spoon into bowls and enjoy.
Video
Nutrition
Calories:
411
kcal
|
Carbohydrates:
23
g
|
Protein:
4
g
|
Fat:
35
g
|
Saturated Fat:
20
g
|
Polyunsaturated Fat:
2
g
|
Monounsaturated Fat:
11
g
|
Trans Fat:
1
g
|
Cholesterol:
113
mg
|
Sodium:
179
mg
|
Potassium:
156
mg
|
Fiber:
1
g
|
Sugar:
19
g
|
Vitamin A:
1235
IU
|
Vitamin C:
2
mg
|
Calcium:
83
mg
|
Iron:
1
mg
Notes & Tips
Homemade ice cream requires a bit of attention. You need to keep an eye on the onions and then again on the ice cream base while cooking. Then, you need to stir the ice cream while it is in the freezer. Alternatively, you can use a machine that will churn and freeze the ice cream.
I recommend using a stainless steel metal pan for freezing the ice cream. If you don't have one, you can probably get away with 2 disposable pans (one inside the other for stability) or a glass baking dish.
Substitutions
If you can't find Vidalia or another sweet onion, you can still make this with a Spanish yellow onion. It will become sweeter as it is caramelizing.
The brandy isn't necessary, but it does add a nice flavor twist. The alcohol will cook off. If you want, you can add a little bit of balsamic vinegar in place of the brandy.
The chives are for color and a little oniony freshness. The peanuts are for nuttiness and a little bit of crunch. You can leave both out if you want a smoother texture and consistent appearance.
Toppings and Accompaniments
Onion ice cream is both sweet and savory. It would be delicious served over fresh fruit, on top of a savory olive oil cake, or have it as a palate cleanser between dinner courses.
You could add some fermented fruit or preserves to the top of the ice cream for a sweet and sour kick. My choices would be lacto-fermented blueberries or gooseberry jam.
One more thing you can do with this ice cream is add it to a semi-savory smoothie or milkshake. Try this ube smoothie that is made with purple yams and ice cream.
---
Recent Recipes