Best Blueberry Vegan Cobbler
Who doesn't love a good cobbler? Deep fruit flavors, warmed to perfection with a slightly sweet, buttery, biscuit topping?! And don't forget the ice cream! It's a dessert I look forward to in berry season and in the cold winter months. Cobblers are easy (much easier than assembling a pie) and one of the most wholesome desserts that can be made at home.
A vegan blueberry cobbler is no different. I love using blueberries that I picked myself from a local blueberry farm. Fresh or frozen, they work perfectly. Substituting a few simple ingredients will result in this delicious vegan blueberry cobbler.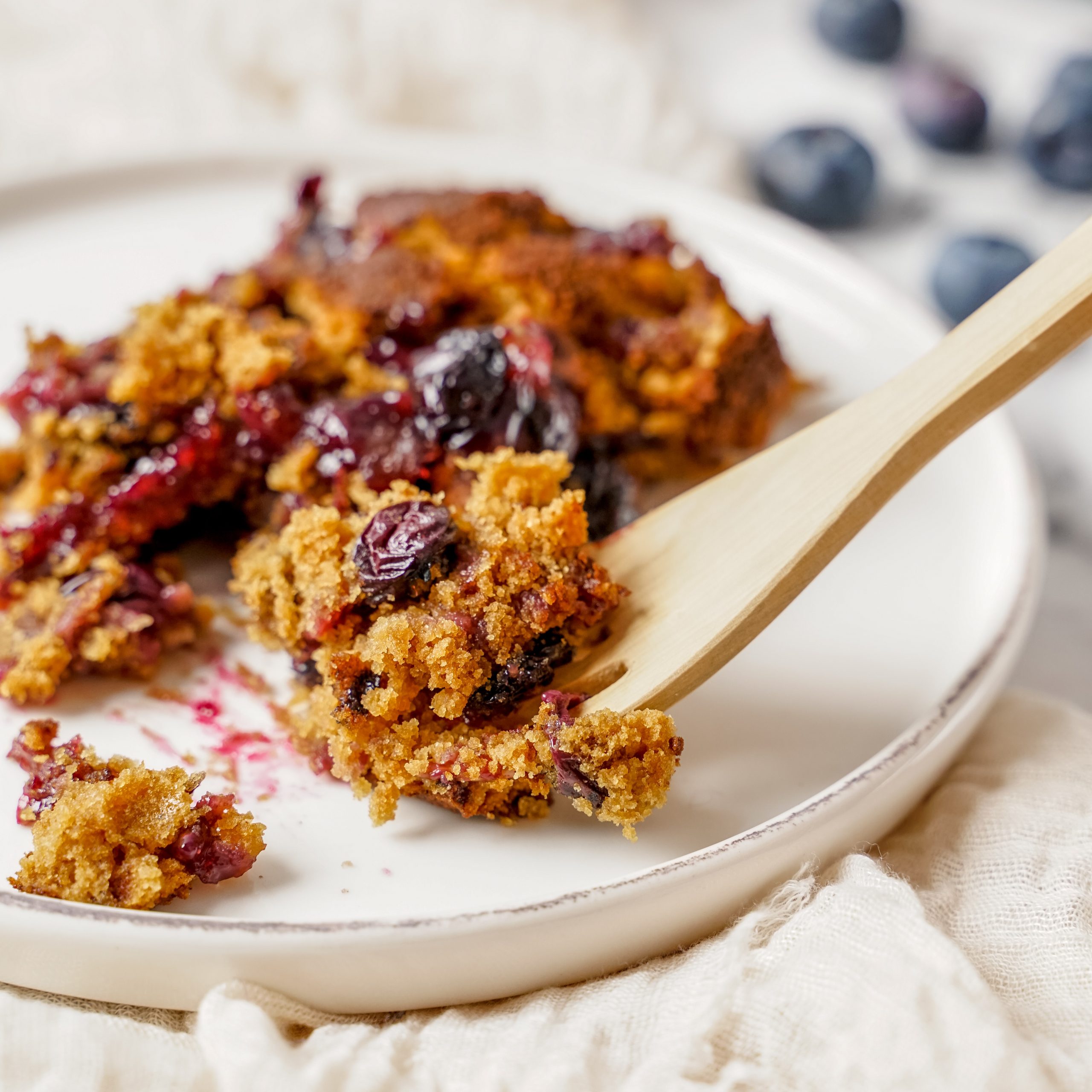 Ingredients
Biscuit Topping
½

cup

vegan butter

melted

¾

cup

coconut sugar

1

teaspoon

pure vanilla extract

1

tablespoon

non-dairy milk

full fat coconut milk is a great option

1

cup

all purpose flour

1

teaspoon

baking powder

⅛

teaspoon

kosher salt
Blueberry Filling
3

cups

fresh or frozen blueberries

¼

cup

maple syrup

1

tablespoon

cornstarch

1

teaspoon

lemon zest
Cinnamon Sugar Topping
3

teaspoons

coconut sugar

1

teaspoon

cinnamon
Instructions
Preheat the oven to 350F.

Spray a small 8×8 or 9×9 baking dish with non-stick cooking spray.

To make the blueberry filling, combine the blueberries, sugar, cornstarch, and lemon zest in a small bowl. Mix so that the blueberries are evenly coated. Set aside for now.

To make the biscuit topping, combine the melted vegan butter, sugar, vanilla, and non-dairy milk. Mix everything together.

To make the cinnamon sugar topping, combine the sugar and cinnamon in a small bowl.

In a separate bowl, combine the flour, baking powder, and salt.

Gradually add the dry mixture into the wet mixture just until everything is combined. Do not overmix.

Pour the blueberries into the baking dish. Spread the mixture out evenly.

Drop spoonfuls of the biscuit batter on top of the blueberries. It doesn't need to be perfect, but try to cover as much as the blueberries as you can.

Sprinkle the biscuit batter with the cinnamon sugar mixture.

Bake for about 30 minutes, or until the biscuits are slightly golden brown and the blueberries start to bubble.

Remove the cobbler from the oven and serve it warm. You can top it with your favorite vegan vanilla ice cream.
Video
Nutrition
Calories:
230
kcal
|
Carbohydrates:
38
g
|
Protein:
2
g
|
Fat:
8
g
|
Saturated Fat:
2
g
|
Polyunsaturated Fat:
2
g
|
Monounsaturated Fat:
3
g
|
Trans Fat:
1
g
|
Sodium:
193
mg
|
Potassium:
79
mg
|
Fiber:
2
g
|
Sugar:
20
g
|
Vitamin A:
507
IU
|
Vitamin C:
5
mg
|
Calcium:
46
mg
|
Iron:
1
mg
Notes & Tips
Regular, non-vegan biscuits are best made with cold, shredded butter. But it's hard to find a vegan butter with the right consistency to do that without it turning to mush. I like to melt the vegan butter and then let it sit at room temperature for a few minutes before putting it in the batter(so that it's not completely liquid but more of a gel consistency). It's not necessary, but results in flakier biscuits.
A creamy non-dairy milk is best for this recipe. Full fat coconut milk (the one from the can) is a good option to use. You could also use almond milk or soy milk. Depending on the milk you're using, you may need to add a bit more depending on the milk that you use.
You can easily freeze this recipe. Double it up and make another one to stick in the freezer for an easy, ready-to-eat dessert.
You can also cook this cobbler in a cast iron skillet.
Substitutions
Cobblers are very versatile. You can use a mixture of berries and other fruits instead of blueberries. One of my favorite combinations is peaches and strawberries.
Gluten-free flour can be used in place of all-purpose flour.
Coconut oil or coconut butter is a suitable substitute for the vegan butter.
You can use regular white sugar instead of coconut sugar.
How to Make Vegan Butter for Blueberry Vegan Cobbler?
Yes, you can easily buy vegan butter from the store. There are plenty of options out there for you. But have you tried making your own vegan butter yet? We have a great recipe for you to try.
This vegan butter recipe has one of my favorite ingredients – coconut butter. Coconut butter is made from using the fruit flesh from the coconut. It's very similar to peanut butter as far as how it's made and used. You can make it at home by putting shredded coconut flakes in a food processor and pureeing them until you get a buttery consistency.
We can use coconut butter just like any other butter. It can be used as a spread, or as I like to eat it, by the spoonful. It's that good! It's sweet, nutty, and has the perfect melt-in-your mouth consistency.
You can use straight coconut butter for this vegan blueberry cobbler recipe, but I highly recommend using the homemade vegan butter for the best flavor.
Is Blueberry Vegan Cobbler Healthy?
I've come to the conclusion that eating a well balanced (plant based and non-plant based) diet is the best way to stay healthy. Every person is different, but it's not a secret that eating plant-based meals will be beneficial to your overall wellbeing.
There are minor changes that you can make to your everyday diet to incorporate more plant based meals into your life. This vegan blueberry cobbler is a great example. Who really wants to give up desserts when you can easily replace them with one like this. Focusing on desserts that contain healthy ingredients is a slight change that can go a long way.
One healthy ingredient swap is to find substitutes for granulated sugar. Using coconut sugar and maple sugar in place of granulated sugar is another good way to make a small, healthier choice. The products are natural and less processed. Coconut sugar also has a lower glycemic level than standard sugar.
Also, using non-dairy products, like vegan butter, are a good way to keep your cholesterol under control. Dairy free desserts are great to have on hand if you're lactose intolerant.
We have lots of other vegan recipes on the site to check out, too! Including other vegan desserts like brownies, ice cream, and chocolate mousse.
---
Recent Recipes