Simple Boza Bulgarian Drink
Boza is a sweet, delicious soft drink with very low alcohol content. It is a traditional Bulgarian drink that was very popular once. Over the course of time, people somehow forgot about the drink. But Boza is back, and people have yet again started to relish this amazing drink. And contrary to other soft drinks in the market today, Boza is a natural and healthy soft drink. It is refreshing and boasts vital vitamins.
What Makes Boza Interesting?
Boza is an oriental drink, and its history dates back to thousands of years. In comparison to most of the modern soda drinks that are loaded with sugar and preservatives, Boza is a healthy drink. It is high in vitamin B1, B2, B3, B6, and B12, along with vitamin E, vitamin A, and iron. Additionally, Boza contains tons of healthy bacteria, making it ideal for our digestive system.
Basically, it was made by people known as Bozadzije and was a common drink at the candy shops. It was especially found in candy shops owned by Albanian people. The drink perfectly complemented the sweet candies. Even today, Boza carries a sentimental value to people who grew up during that time.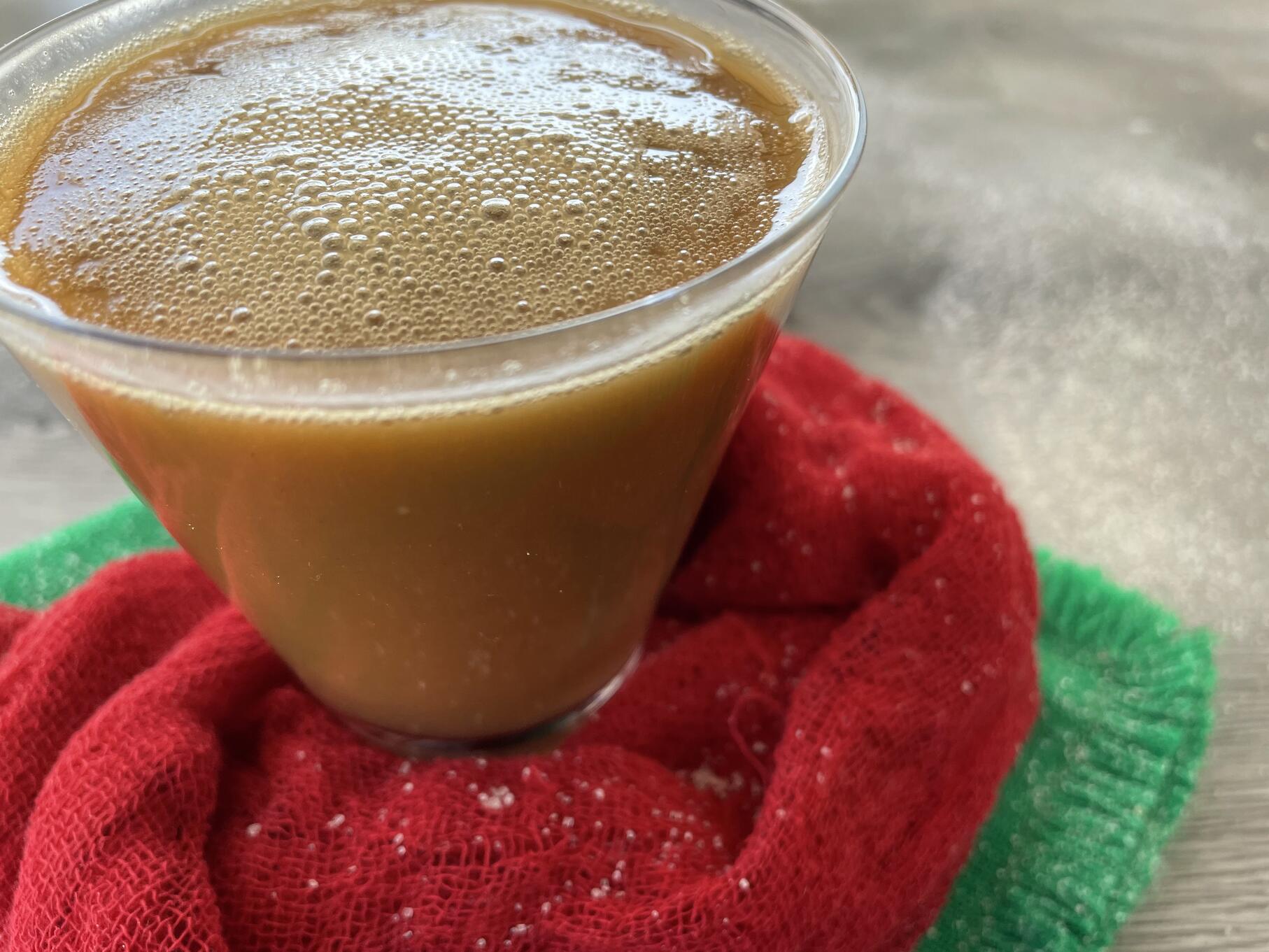 Ingredients
Two litres of water

½

cup

boza with sugar or homemade ferment

1 1/3

cup

sugar

1

cup

flour

For homemade ferment:

One teaspoon sugar

½

cup

water

One tablespoon grilled flour
Instructions
To make a homemade ferment, you will need to mix sugar, water, and grilled flour and make a smooth paste. Transfer the mixture to a glass jar and use a cotton cloth to cover it. Let the jar rest at room temperature for a couple of days for fermentation. Ensure to shake the jar multiple times a day.

Use a skillet to dry-roast the flour. Ensure to stir frequently to avoid burning. Allow the flour to cool down and transfer it to a deep pan.

Mix cold water in the flour to create a smooth puree. Pour the remaining water gradually. Ensure that there are no lumps in your mixture.

Lastly, add sugar and put the pan on the heat until it boils. Keep the flame on medium-high.

The boiling process should take around six minutes, and throughout this time, continue to stir the mixture. It will ensure that the Boza does not stick at the pan's bottom.

Let the mixture cool down and come to 36-38-degree Celsius. Thereafter add homemade ferment or glass of Boza.

Transfer the Boza mix to a glass jar or bottle and seal properly. Leave it in a warm place for fermentation.

Make sure to shake a couple of times a day.

Overall it will take 24 to 36 hours to prepare the drink. Once ready, you can store it in the refrigerator and enjoy it.

It is better to consume the Boza within four days of making it.

Put aside ½ cup to make a new batch.
Video
Other Traditional Bulgarian Drinks To Try
Rakia
Rakia is the national drink of Bulgaria, rooted deep within the country's history. We have a whole post about Bulgarian Rakia here if you want the full story.
Ayran
It is a simple, refreshing drink made from water and yogurt. Simply mix yogurt with water and a pinch of salt. It is the nation's best cure for a hangover or to get relief from the summer weather. The nutritious smoothie is definitely one of the best thirst quenchers. However, you cannot prepare it with just any yogurt; you need real Bulgarian yogurt. Additionally, it goes really well with banitsa.
Bulgarian Wine
The country has one of the best win assortments. The technologies with which they produce wines go back to the Thracians era. Moreover, Bulgaria has the ideal conditions for high-quality grape production. The warm, Mediterranean climate accompanied by quality soils and hilly terrains contribute to the premium-quality wine production. In fact, Bulgaria is the second biggest exporter of bottled wine.
Beer
Bulgarian beers are as good as Belgian or German beers. The beers in the country contain average alcohol content of up to 10%.
---
Boza is a traditional Bulgarian drink that is rooted in the history of the country. And, in the last couple of years, the drink has gained back its old popularity. It is a classic drink that represents the culture of Bulgaria. And you can try the drink with different variations as well. Make sure to try banitsa with Boza as it is a heavenly combination.
---
Recent Recipes