Simple Bulgarian Princess Sandwich
Princess sandwiches are one of the most popular Bulgarian street foods and a uniquely Bulgarian invention.
Also called printsesa, these quick and easy ground meat sandwiches utilize ground pork, herbs, and onions for tons of flavor. We also offer a few variation ideas below.
Let's dig into the recipe.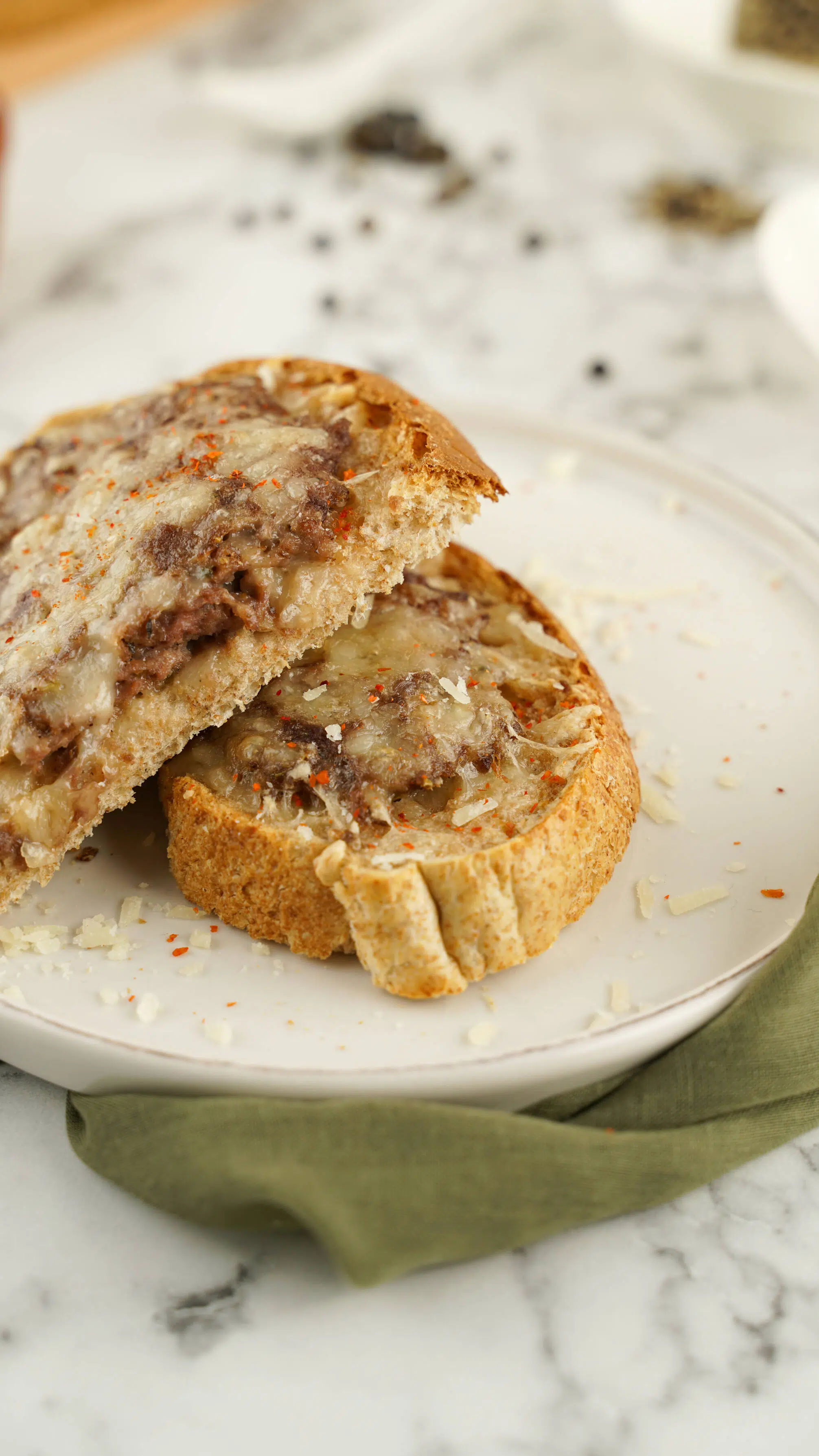 Ingredients
1

pound

minced pork

8

slices

of good crusty bread

regular or gluten-free

1

egg

optional

1 1/2

cups

grated cheese

1

teaspoon

salt

1/2

teaspoon

black pepper

1/2

teaspoon

dried savory

1/3

teaspoon

dried fenugreek

1/2

teaspoon

paprika

optional

1/2

teaspoon

ground cumin

optional

1/2

teaspoon

dried thyme

optional
Instructions
Preheat your oven to 400° Fahrenheit (220° Celsius)

In a large bowl, mix together the minced meat, grated cheese, egg (if using), and spices using a spoon or your hands.

Line a baking sheet with parchment paper and put the bread slices on it.

Spread the mixture on the bread slices with a butter knife or the back of a spoon.

Adjust the oven to top heat only if your oven has this setting.

Spread the bread slices evenly on the baking sheet and bake for 20 minutes or until the meat is browned through.

Let stand for one minute and serve warm.
Video
Notes & Tips
If you run out of butter partway through buttering the bread and don't have more handy, mayonnaise (regular or vegan) will work as a substitute in a pinch.
Less is more when it comes to dressing the sandwiches with spices. Use a light hand. You can even measure the spices into your palm first and then sprinkle them on the sandwiches for a more even coating.
You also don't have to use all of the spices. Choose the combination that appeals to you and adjust to taste.
Princess sandwich variation ideas
Baked with yellow cheese on top
Baked with eggs and cheese on top
Add diced onion
Add sliced tomato or roasted red peppers
How to shop for Bulgarian spices
Savory and fenugreek are not always common pantry staples.
Savory is a spice in the mint family with a peppery taste. Its leaves are grayish-green in color. You can find ground savory at many major online retailers or in the spice aisle of your grocery store.
Fenugreek is native to southern Europe, western Asia, and the Mediterranean. Its seeds taste and smell like maple syrup. It has been used in cooking and traditional medicine since ancient times. You can buy it online or choose a substitute. Maple syrup, mustard seeds, or curry powder can be used as stand-ins for fenugreek.
Common Questions
What type of cheese should I use?
You can use any kind of yellow cheese you prefer. To be super traditional, use Bulgarian kashkaval, a yellow, semi-hard cheese made from sheep's milk. You can also use a vegan cheese substitute. If you do use a vegan cheese, make sure to select one that will melt well when heated at a high temperature.
Can I substitute another type of meat for pork?
Yes, you can use a mixture of pork and beef or just use beef.
Can I make these sandwiches on the grill?
Yes, you can make them on the grill. Grilling is very prominent in Bulgarian cuisine and will make the sandwiches super crispy.

You can use a panini press or a conventional grill. Preheat the press or grill. Close the panini press or the lid of the grill and cook for 15 minutes or until the sandwiches are golden and crispy, the meat is cooked through, and the cheese is starting to melt on top.
Optional sides or compliments
Beer (regular or non-alcoholic)
Onion rings
Baked potato or potato chips
Coleslaw
Feta or white brine cheese salad
Bulgarian shopska salad with tomatoes, cucumbers, peppers, and white cheese
Yogurt (yogurt consumption in Bulgaria is higher than in other European countries!)
What do Bulgarian princess sandwiches taste like?
Princess sandwiches are best eaten warm because they are a toasted open-faced sandwich. The cheese melts and the delicious juices from the ground pork seep into the crusty bread.
Storage
The sandwiches should be stored within an hour or so after making them or they will dry out.
To prevent the princess sandwiches from becoming stale in the fridge, wrap them tightly in aluminum foil, plastic wrap, or place in an airtight sandwich container. They will last for two to three days in the fridge.
Believe it or not, the sandwiches can be frozen, too. If you are planning to freeze them, coat the bread with a layer of butter (regular or vegan) or margarine before adding the toppings. This will help prevent the bread from becoming soggy when the sandwiches are thawed.
The sandwiches can be reheated in the microwave or in the oven. To reheat in the microwave, place the sandwiches on a microwave-safe plate and heat at medium power for 45 seconds at a time. To reheat in the oven, preheat the oven first to 350° Fahrenheit (177° Celsius). Place the sandwiches on a baking tray lined with aluminum foil. Warm in the oven for 8-10 minutes or until the cheese on top is just crackling.
History
It's unclear why or how exactly this meat sandwich got the name "princess." According to some sources, the sandwich was invented in the 1960s as a way to make meat last longer, since it was very expensive at the time. Other legends say that it has some connection to medieval rulers. Regardless of where the name came from, these tasty sandwiches are nearly universally loved in Bulgaria.
---
Recent Recipes