Homemade Bulgarian Kebapche
Bulgarian kebapche is a yummy grilled meat kabab that goes great with Bulgarian spreads! I visited Bulgaria for a few days as an undergraduate and it was a wonderful experience. The country is absolutely beautiful and the food is warm and hearty (though I did visit during Autumn, so I didn't get to try any warm weather food). I did not have the pleasure of eating kebapche while I was there, but that didn't stop me from making it on my own.
This recipe is super simple and has a very short list of ingredients. Because of that, the flavors of the meat really shine through. This recipe is best cooked on a grill, but if you don't have one, read below for other methods of cooking.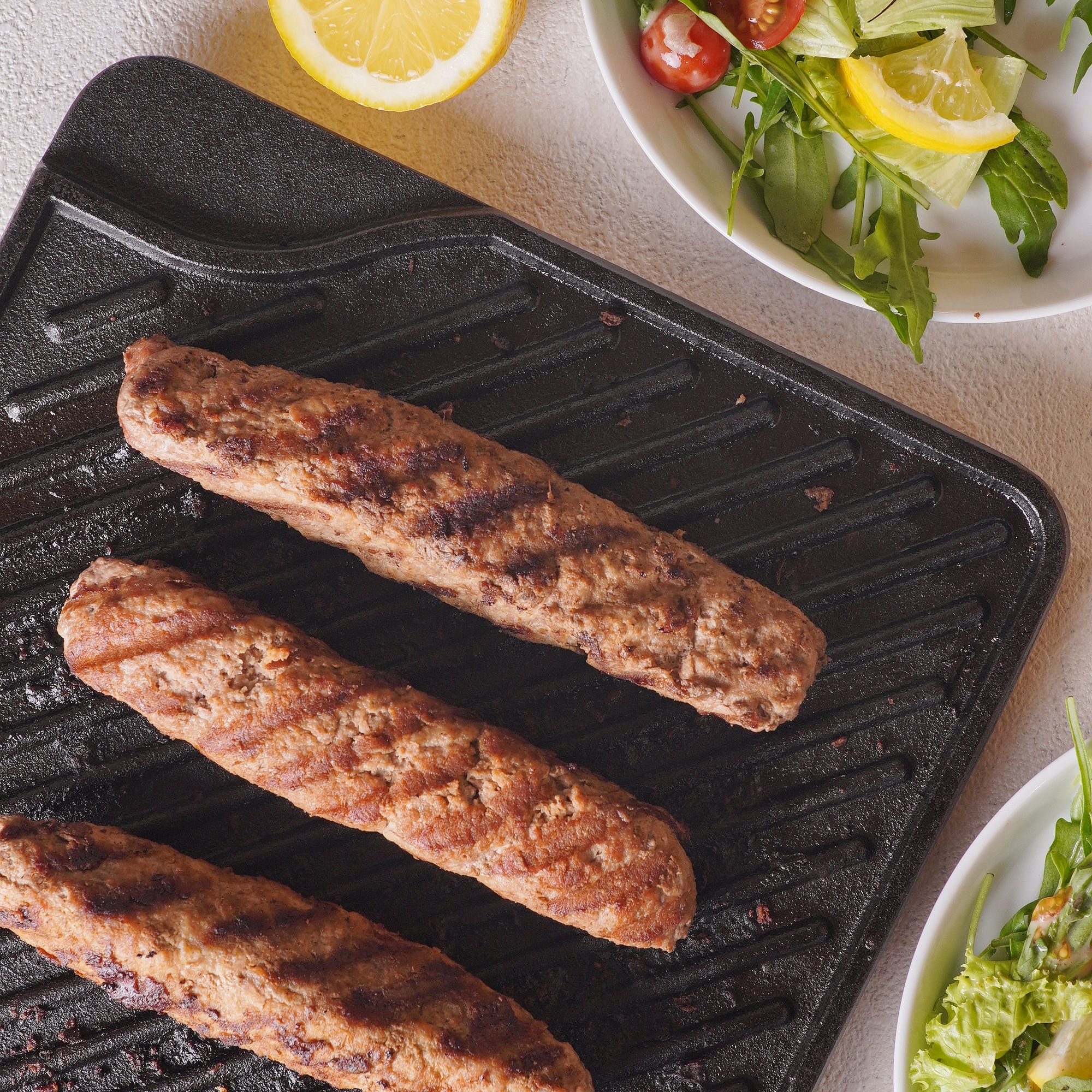 Ingredients
¾

lb

ground pork

¾

lb

ground beef

1 ½

tsp

ground cumin

¼

cup

beer

½

tsp

salt

½

tsp

ground pepper

1

egg
Instructions
All ingredients ready? Let's begin!

In a large bowl, add the pork, beef, cumin, beer, salt, and pepper.

In a small bowl, add the egg. Whisk with a whisk or fork until the yolk breaks and the egg is evenly mixed.

Add the egg to the mince bowl and thoroughly mix everything together.

You can do this using a spoon or spatula, but I recommend getting your hands in there to mix. It does a more thorough job and the texture is kind of fun.

Once everything is mixed well, cover the bowl with plastic wrap or a kitchen towel and leave it to marinate for 20 minutes to an hour.

After an hour, separate the mince into five even portions.

Use your hands to shape the meat into sausage shapes. I do this by rolling them into a ball between my palms then rolling that out on the counter into a log.

Turn your grill on to medium-high heat and allow it to get hot before cooking.

Once the grill is hot, place each kebapche on the grill.

Cook for around 7-10 minutes, making sure to turn them occasionally so every side is evenly cooked.

If you are unsure whether or not they are finished, you can check by inserting a meat thermometer. Don't stick it all the way through, the tip should be at the center of the kebapche, not coming out the other side. If the thermometer reads 160F or higher, it's done! If the temperature is any lower, you should let it cook a few more minutes to be safe.

Remove from heat, turn off your grill, and serve!
Video
Nutrition
Calories:
372
kcal
|
Carbohydrates:
1
g
|
Protein:
24
g
|
Fat:
29
g
|
Saturated Fat:
11
g
|
Polyunsaturated Fat:
2
g
|
Monounsaturated Fat:
13
g
|
Trans Fat:
1
g
|
Cholesterol:
130
mg
|
Sodium:
330
mg
|
Potassium:
408
mg
|
Fiber:
1
g
|
Sugar:
1
g
|
Vitamin A:
61
IU
|
Vitamin C:
1
mg
|
Calcium:
34
mg
|
Iron:
2
mg
Notes & Tips
If you have any leftover kebapche, you can store it in an airtight container in the fridge for 5 days or so. To reheat, pop it in the microwave.
The beer in this recipe is optional–a lot of people just mix together the mince and spices and slap it on the grill. I like the beer and letting the mince marinate because I think intensifies the flavor.
What Kind of Meat to Use?
This recipe uses pork and beef, but it's a kebab, so you can use whatever you have or prefer as long as it's minced. I usually use a combination of whatever mince I have because this is a great way to use up anything left from other dishes. If you're watching your fat intake, consider using ground turkey. Turkey is leaner than beef or pork, so it is a bit healthier. However, if you use only ground turkey without any beef or pork, you'll miss out on a lot of fatty flavor.
You can use any supermarket mince, but if you go to a butcher or specialty store and are willing to pay just a little more, you can get some high-quality meat. As a general rule, the better quality the meat, the better the flavor. However, if you get quality meat one time, you might not want to go back! This is a good recipe to splurge on because it's so simple. Get good meat and let its flavor speak for itself.
How To Cook Without a Grill?
If you don't have a grill, I totally get it. Fortunately, you can still enjoy Bulgarian kebapche without one. There are a few alternative methods you can use. One method is by using a skillet or pan over medium-high heat and cooking the kebapche in that, turning over every so often to cook evenly.
Another method is using the grill setting on your oven. Put the kebapche on a rimmed baking tray covered in aluminum foil and turn your oven on to the grill setting at medium-high heat. This method is a little riskier, because oven grills tend to burn food really quickly if you aren't paying attention. You will need to turn the kebapche over a few times using this method as well.
Whatever way you use to cook your kebapche, I recommend using a meat thermometer to check the temperature. It's a good way to make sure everything is perfectly cooked.
Serving Suggestions
I've read that in Bulgaria kebapche is often served alongside fries. I like French fries, but they can always be spruced up. That's why I like to make chicken sausage gumbo fries to go with this dish. The gumbo fries are really filling on their own, so serving them with kebapche helps make the meal go farther if you're feeding a large gathering.
Because the gumbo fries and kebapche are very meaty and filling, I also like to serve a light salad or something similar. This lovely lemon asparagus couscous salad is not nearly as heavy as the previous options, but it still offers a lot of taste and nutrition.
Where is Bulgaria?
If you are unfamiliar with the Republic of Bulgaria, you can find it in Southeast Europe. It shares borders with Romania, Serbia, North Macedonia, Greece, Turkey, and the Black Sea. Bulgaria has a rich history and is believed to be one of the earliest arrival places of modern humans in Europe!
---
Recent Recipes