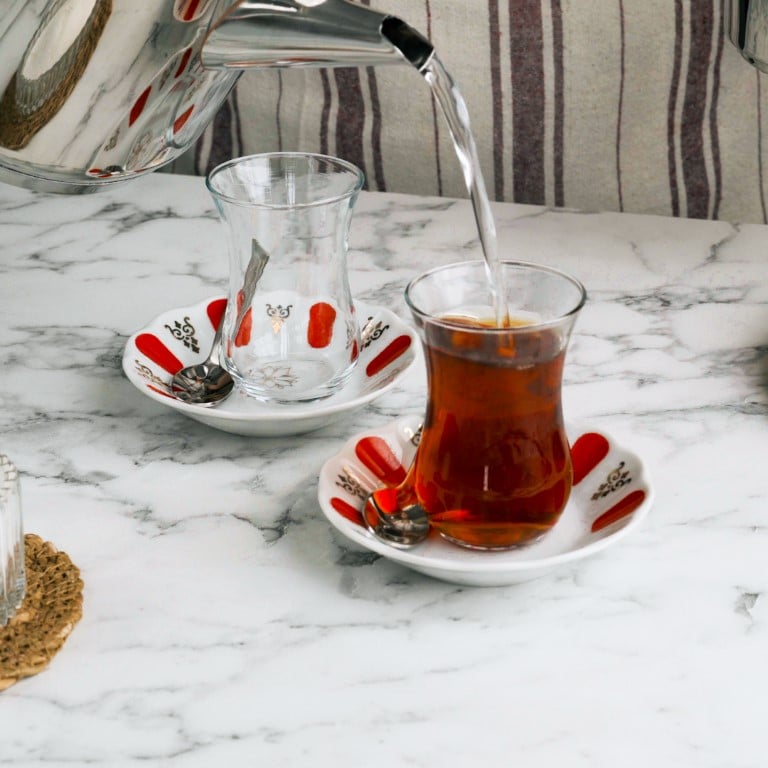 Ingredients
¼

cups

black tea

2

cups

of hot water

for brewing

4

cups

of water

for serving

Sugar

optional
Instructions
First, be sure to start with fresh, cold water. Bring your water to a boil. Put the black tea and then pour the water into the upper teapot.

Pour the cold fresh water into the upper teapot or kettle again. Let the water boil. When the water boils, remove it from the heat and let it rest to brew.

After 8-10 minutes, reheat the water before serving.

Pour the brewed tea into half of the tea glass and pour boiling water into the other half.

If desired, you can add sugar to the tea glass.
Nutrition
Calories:
0.1
kcal
|
Carbohydrates:
0.04
g
|
Sodium:
18
mg
|
Potassium:
5
mg
|
Calcium:
11
mg
|
Iron:
0.003
mg
Tips, Notes & Substitutes
When brewing Turkish tea, there are a few things to keep in mind to get the perfect cup. Here are a few tips and tricks:
Use fresh, cold water for the best flavor.
For a stronger tea, add more black tea granules. For a weaker tea, add less.
When brewing Turkish tea, it is essential to use a double teapot that is explicitly designed for this purpose. The lower teapot is in direct contact with the heat. There is only boiling water lower teapot. The steam of the lower teapot heats the upper teapot, and the brewed tea is on it, allowing it to brew slowly.
The teapot should have a long, narrow spout to allow for a slow, steady pour.
The water used to brew the tea should be at a rolling boil, and the tea should be allowed to brew for 8-10 minutes before being served. After brewing, you may want to reheat and pour it into tea glasses at the boiling point.
Using finely ground black tea leaves is crucial when making Turkish tea.
You will need a longer brewing time for the tea you brew in a single teapot on the kettle, or you can brew at the same time and fill the glass with more tea and less water.
The water needs to be constantly at the boiling point until it is finished; the amount of water will decrease as it boils, so make sure there is more water in the lower teapot than you will consume.
It is usually served in specially produced tulip-shaped glasses. If you do not have such a glass, you can also use a glass tea cup.
Turkish tea goes very well with pastries.
Serve your tea plain or with sugar or a few drops of lemon juice. Enjoy!
---
Recent Recipes