If you are thinking that ramen only refers to those cellophane packets with a block of dried noodles and a super-salty flavor packet, think again. Don't get me wrong, those 99 cent noodles got many of us through some long nights in college. But ramen is so much more and it has taken the food scene by storm lately. I admit to being totally into the ramen craze.
Ramen generally refers to wheat-based noodles that are steeped in a flavorful broth and often topped with protein or vegetables and garnished with green spring onions and toasted sesame seeds. There are ramen shops that specialize in bowls of noodles with a variety of toppings to choose from. The noodles are either in broth or are served brothless or dry. Brothless ramen is known as mazemen ("maz-eh-mon").
I make a complex bone broth every month to store in my freezer for soups and stews. It is a multi-layered stock made with bones, mostly chicken in my case, fresh herbs, a knob of ginger, carrots, a piece of kombu, and some unfiltered apple cider vinegar. Everything is covered with water and it simmers for at least 4 hours and up to 20 hours. A slow cooker is great for this. I strain the broth and place it in containers to have all winter for soups and my steady stream of ramen bowls.
But who wants to make bone broth in the heat of summer? I still want my noodles in warm weather, I just don't feel like hot soup. That is when I make brothless ramen. I simply cook noodles in boiling water, drain them, and fill up a bowl with noodles, pre-cooked chicken breast, fresh vegetables and herbs, and a light sauce of coconut aminos, miso, ginger, and toasted sesame oil. I even go so far as to boil a lot of noodles and roast a whole chicken on a Sunday so I can make mazemen during the week for a quick lunch while I am working.
This particular ramen recipe isn't technically brothless because the sauce for the noodles does have a little broth or stock in it to lightly coat the noodles. This ramen can be served warm or cold. After cooking the noodles, just dress them with sauce and top with pretty much anything you like.
As for the noodles themselves, there are tons of options. You can make this with a packet of those quick-cooking, dried ramen noodles that we all enjoyed as kids. Or, you can step that up a notch by using Japanese buckwheat soba or udon noodles. You can also use bean threads, glass noodles, rice vermicelli, spaghetti, or shirataki. My go-to noodle is Korean japchae cellophane noodles made from yams. Any long, thin noodle will do.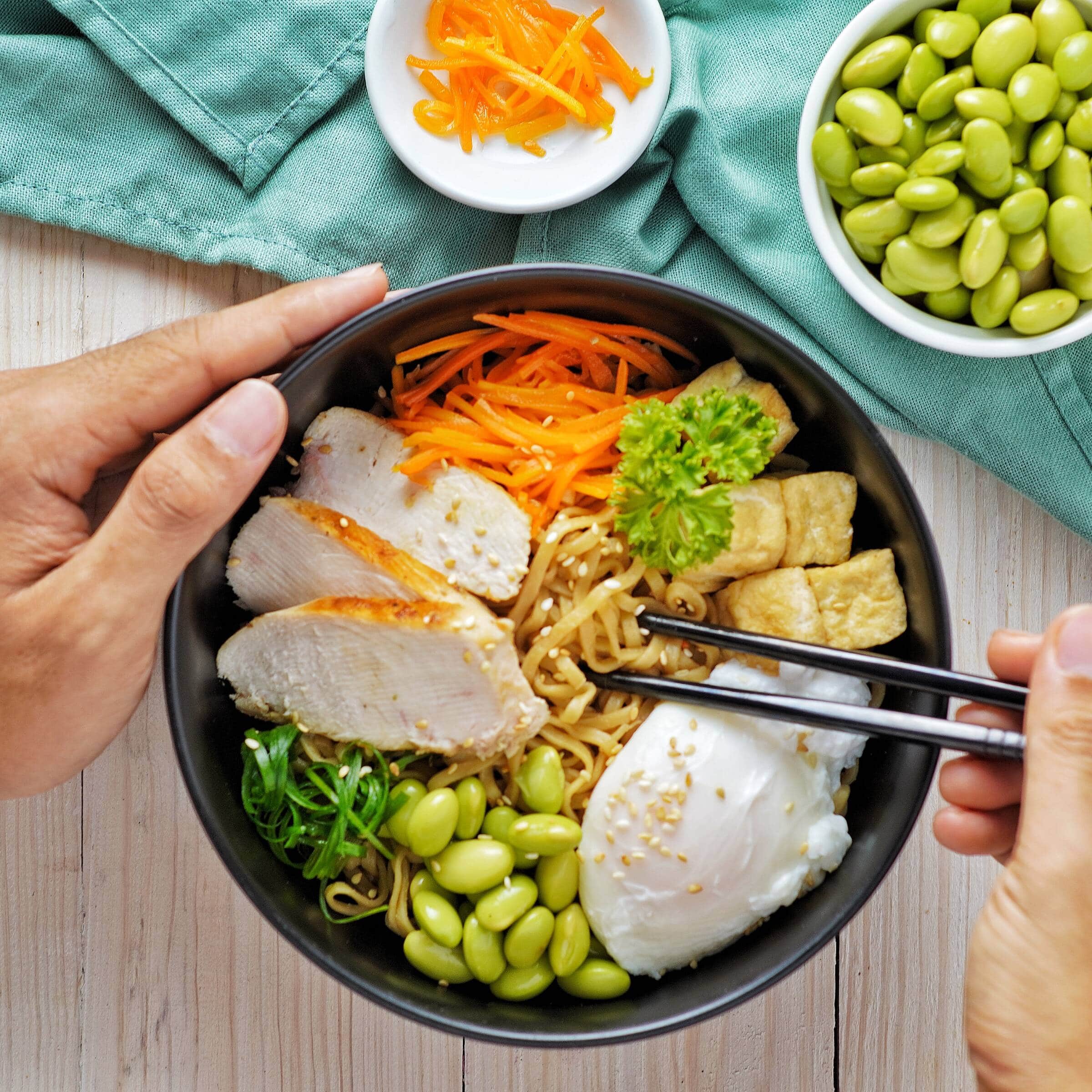 Ingredients
Base
1

lb.

long thin noodles of your choice

1

cup

chicken or vegetable broth

1/4

cup

soy sauce or liquid aminos

1

Tbsp

mirin

sweet rice wine

1

Tbsp

light miso paste

1

tsp

toasted sesame oil

1

garlic clove

1

tsp

grated ginger
Topping Options
Grilled chicken breast strips

Pan-fried tofu cubes

Pork belly slices

Poached eggs

Fresh herbs

Julienned carrots

Edamame

Sautéed asparagus tips

Kimchi
Garnish
Scallions

sliced thinly

Toasted sesame seeds
Instructions
Assemble your ingredients and check you have everything.

Cook the noodles according to the package directions. Make the sauce while the noodles are cooking.

In a blender, place the broth, soy sauce, mirin, miso, sesame oil, garlic, and ginger. Blend at high speed until smooth. Set this aside.

Drain the cooked noodles. Place the sauce in the pot over medium heat and allow it to come to a simmer. As soon as the sauce begins to reduce, return the noodles to the pot of sauce and toss to coat them evenly. The starch released by the noodles will help the sauce to thicken and cling to them.

Transfer the coated noodles into serving bowls and top with protein and veggies of your choice. Garnish with scallions and sesame seeds.
Video
Nutrition
Calories:
595
kcal
|
Carbohydrates:
77
g
|
Protein:
23
g
|
Fat:
22
g
|
Saturated Fat:
9
g
|
Polyunsaturated Fat:
3
g
|
Monounsaturated Fat:
9
g
|
Trans Fat:
1
g
|
Cholesterol:
16
mg
|
Sodium:
3556
mg
|
Potassium:
387
mg
|
Fiber:
3
g
|
Sugar:
3
g
|
Vitamin A:
26
IU
|
Vitamin C:
5
mg
|
Calcium:
97
mg
|
Iron:
6
mg
Notes & Tips
You can make the sauce ahead of time and store it in a sealed container in the fridge for simple ramen bowls during the week. The sauce can also be used for dipping the noodles into if you wish.
As well, you can cook and prepare your proteins and vegetables ahead and keep them refrigerated. Grilled or roasted chicken is always a good option. I like to fill a sheet pan with sturdy vegetables, such as carrots, radishes, Brussels sprouts, and cauliflower florets. Just coat them with a little olive oil, sea salt, and pepper. Roast at 350°F until tender.
Substitutions & Options
What I like about ramen bowls is the ability to customize them for just about any diet. Here are some ideas to fit into your particular dietary preference.
Vegan/Vegetarian: Egg-free noodles with a sauce made with vegetable broth topped with grilled tofu cubes, steamed green beans and bok choy, and grilled shitake mushrooms.
Paleo & Keto: Zoodles (zucchini noodles) with a sauce of bone broth, coconut aminos, apple cider vinegar, sesame oil, garlic, and ginger. Top with pork tenderloin, fresh cilantro, and a poached or hard-boiled egg.
Gluten-Free: Buckwheat or rice noodles with a sauce made with wheat-free tamari in place of soy sauce. Top with any combination of protein and fresh vegetables.
---
Recent Recipes