Easy KFC Style Fried Boneless Chicken Thighs
The best KFC fried chicken recipe that is suitable for complete beginners. In this recipe, I'll teach you how to make Kentucky fried chicken at home that tastes just as good or even better than KFC's fried chicken. Once you bite into that perfectly crunchy and tender chicken thigh bursting with flavor, you'll wonder why you haven't made this recipe before. It's finger-licking good!
Fried chicken is one of the most iconic comfort foods of all time and is on the menu of pretty much any restaurant. But, there are many benefits to making this classic dish at home. You get to choose what oil you use for frying, the quality of the chicken, and how to season it to your liking.
I find that what makes this the best KFC chicken copycat recipe is the secret ingredient MSG and the double coating. But if you don't want to use MSG, that's okay, your crispy fried chicken will still be super tasty.
Now, let's get right into how to make KFC-style chicken at home in a few easy steps!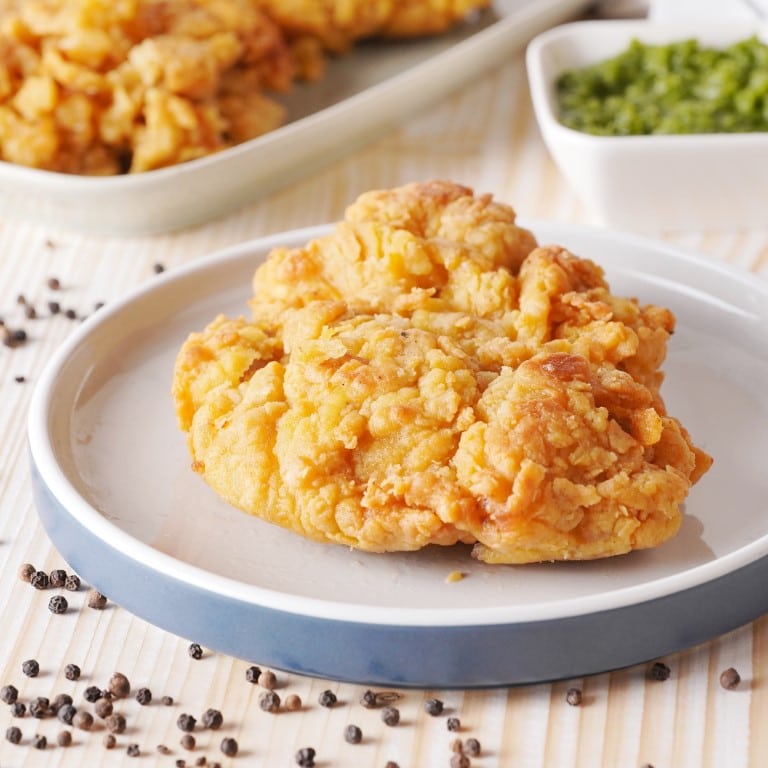 Ingredients
1

lb.

boneless chicken thighs

with skin

¼

tsp.

salt

1

Tbsp.

ketchup

1

Tbsp.

lemon juice

½

Tbsp.

light soy sauce

1

tsp.

ginger paste

1

tsp.

garlic paste

1

tsp.

freshly ground black pepper

½

tsp.

MSG

optional, but recommended
For coating | The flour mixture:
1 ½

cups

all-purpose flour

¼

cup

corn flour

½

Tbsp.

chili powder or paprika

½

tsp.

garlic powder

½

tsp.

salt

¼

tsp.

turmeric powder

optional
The buttermilk mixture:
4

cups

buttermilk

1

tsp.

salt

½

tsp.

garlic powder

½

tsp.

freshly ground pepper

½

Tbsp.

chili powder or paprika
For frying:
Vegetable oil

canola, or peanut oil with a high smoke point

A large pot
Instructions
All ingredients ready? Let's begin!

Wash chicken thighs, then pat them dry with paper towels.

In a large bowl, mix salt, ketchup, soy sauce, lemon juice, garlic paste, ginger paste, black pepper, and optional MSG. Add chicken thighs and coat evenly with marinade.

Cover the chicken, put it in the fridge, and let marinate for at least 2 hours. Then remove from the fridge and let it sit at room temperature for 30 minutes.

In a deep-dish baking tray, prepare the dry coating. Sift together flour, corn flour, chili powder, garlic powder, salt, and optional turmeric powder.

In a separate medium-sized bowl, add buttermilk, salt, pepper, chili powder, and garlic powder, and whisk together.

Take one piece of chicken, coat it thoroughly in the flour mixture, then dip it in the buttermilk, and coat it again in the flour mixture. Make sure you get a nice layer of flour for extra crunchy results. Place coated chicken on a clean plate.

Repeat step 4 until all the boneless chicken thigh pieces are coated.

Heat the oil for frying on medium-high heat. It should be at 350°F, not hotter.

Carefully place coated chicken thighs in oil in small batches and fry for 12-15 minutes until golden and crisp.

When golden and crisp, remove chicken and place it on a wired rack to cool.

Serve fried chicken hot with your favorite dipping sauce. I recommend salsa verde. Enjoy!
Nutrition
Calories:
623
kcal
|
Carbohydrates:
59
g
|
Protein:
33
g
|
Fat:
28
g
|
Saturated Fat:
10
g
|
Polyunsaturated Fat:
5
g
|
Monounsaturated Fat:
10
g
|
Trans Fat:
0.1
g
|
Cholesterol:
138
mg
|
Sodium:
1376
mg
|
Potassium:
768
mg
|
Fiber:
4
g
|
Sugar:
13
g
|
Vitamin A:
1610
IU
|
Vitamin C:
2
mg
|
Calcium:
328
mg
|
Iron:
4
mg
Notes & Tips
To ensure the crispiest and tastiest KFC-style fried chicken, there are a few steps you shouldn't skip.
Marinate your boneless chicken thighs for at least 2 hours or up to 24 hours before proceeding with the rest of the steps. This allows all the flavors of the marinade to seep into the chicken thighs. Your taste buds will thank you for your patience.
Make sure to let the chicken sit at room temperature for at least 30 minutes before you start coating and frying. If you put cold chicken pieces in the frying oil, it'll reduce the heat of the oil and compromise the browning process.
You want the chicken to cook in ideally 350°F hot oil. Anything hotter can lead to burning. Don't let the temperature go below 325°F either. Anything cooler can lead to soggy fried chicken.
Don't skip the double coating with the buttermilk mixture. This step ensures that your fried chicken pieces will have that satisfying crunch we're all looking for.
Also, don't shake off any of the flour mixture. Instead, pat it in well so that there's a thick coating on each chicken thigh.
Cool the fried chicken pieces on a wire rack, don't use a plate lined with paper towels. This is another tip to ensure crispy chicken thighs. Cooling them on paper towels to remove excess oil can result in adding unwanted moisture to your Kentucky fried chicken.
Serving Suggestions & Substitutions
Fried chicken is best served hot with your favorite dipping sauce. To make this a full meal, I like to add a side of carbs and a side of veggies. Some delicious options for the carbs side dish are mashed potatoes or potato mousseline. For the veggies, I love this easy Carrabba's Creamy Parmesan Salad or some simple Mediterranean grilled vegetables.
You can make this KFC crispy fried chicken recipe without buttermilk. Just substitute it for water and add a tablespoon of lemon juice to the water mixture for dipping and double coating. Now your fried chicken is dairy-free.
I recommend using the MSG in this recipe if you want to make copycat KFC fried chicken. But it's totally optional, you'll still get mouthwatering crispy fried chicken without it. If you don't have MSG, try using a little cumin or half a teaspoon of miso paste instead. These will both add a little warmth to the dish.
To make this a keto KFC-style fried chicken recipe, you simply need to find a replacement for the all-purpose flour and corn flour. After some research and recipe testing, I found the best substitute. You won't believe it works until you try it, but plain, flavorless protein powder will result in just as crispy and tender fried chicken as the original recipe. Protein on protein, yay!
How Long Can You Marinate Chicken?
Most recipes recommend marinating meat and poultry for 6 hours or up to 24 hours. But in this recipe, 2 hours is enough. Marinated chicken can sit in the fridge covered for longer, but you definitely don't want to exceed 2 days.
After 2 days, the marinade breaks down the meat's protein structure (or sooner, if the marinade is more acidic). This results in spongey and unpalatable chicken. You can find more information on how long you can marinate chicken in the fridge in our detailed article.
What Part Of The Chicken Is Best For Fried Chicken?
I love using boneless chicken thighs because I find them to be the most tender and flavorful cut of chicken meat. But this easy KFC-style fried chicken recipe will work with any piece of chicken. You could use any part of the chicken: chicken legs or "drumsticks" and thighs for dark meat, or chicken breasts and wings for white meat.
This foolproof recipe is one of the best ways to fry boneless chicken thighs at home. You don't need any special equipment and most of the recipe is just waiting for the chicken thighs to marinate. It's so simple, yet rewarding. I'm sure it'll become a family favorite!
---
Recent Recipes