Easy cheesy ramen noodles went viral on TikTok during the pandemic. After trial and error, I feel ready to share my version of the best cheesy ramen recipe with you. These have a true mac n cheese feel to them. I use real cheddar cheese and no water.
Cheesy ramen is Korean-inspired comfort food. This quick dish is not quite traditional, but it's super tasty and definitely comforting. And you can use your favorite flavor and brand of ramen.
Why Easy Cheesy Ramen Is So Amazing
This simple cheesy ramen is perfectly creamy and full of ooey gooey cheesiness. It's not watery or overcooked. Think of this recipe as ramen mac and cheese with your favorite instant ramen flavors.
It takes only 5 minutes to make and uses pantry staples. As long as you keep ramen in your pantry, you probably won't have to leave the house to make this easy cheesy ramen. It's ideal for when you want a quick and satisfying meal asap.
This easy cheesy ramen is the ideal comfort food. The recipe is super versatile and customizable so that you can make cheesy ramen that brings you the highest level of peace and satisfaction. Check out our Variations and Add-ons section for lots of ideas.
It's satisfying and not too heavy on the stomach. A pack of ramen is a great fast small meal or snack. Adding cheese, milk, and butter makes it all the more enjoyable.
What Do I Need To Make The Best Cheesy Ramen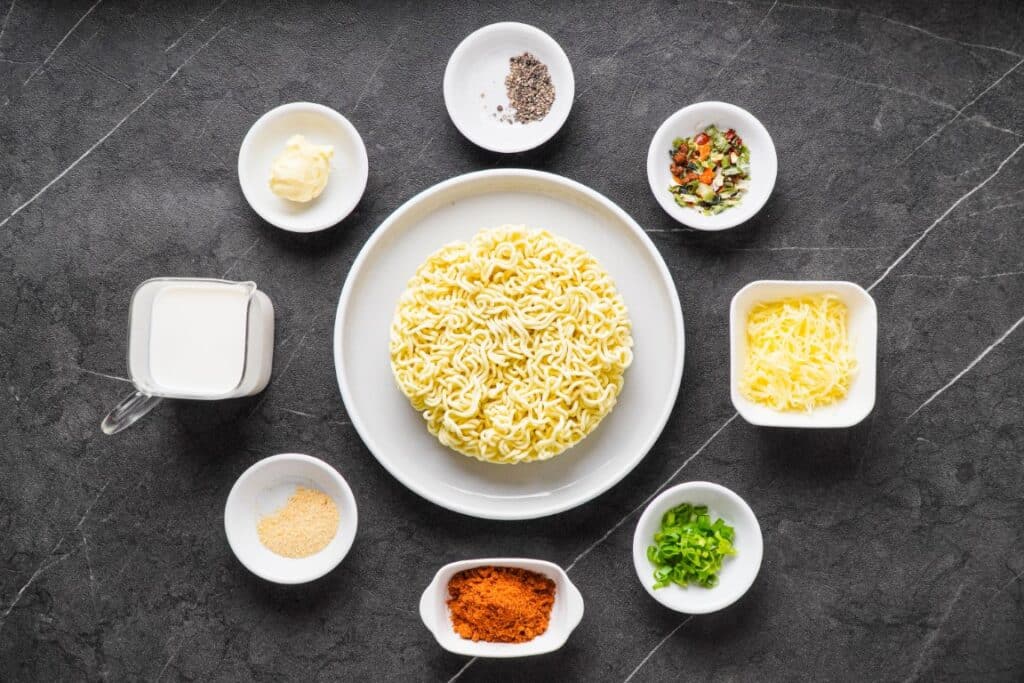 The ingredients are very simple, but you can adjust the seasoning and add anything you like:
1 pack of instant ramen (add as much seasoning from the pack as you wish)
½ Tbsp. butter (salted or unsalted)
½ cup milk (full-fat works best)
¼ cup freshly grated cheddar cheese (packed)
Garlic powder and black pepper to taste (I added ¼ tsp. of each)
Chopped green onions to garnish
How To Make Easy Cheesy Ramen
Step 1: Melt butter and simmer milk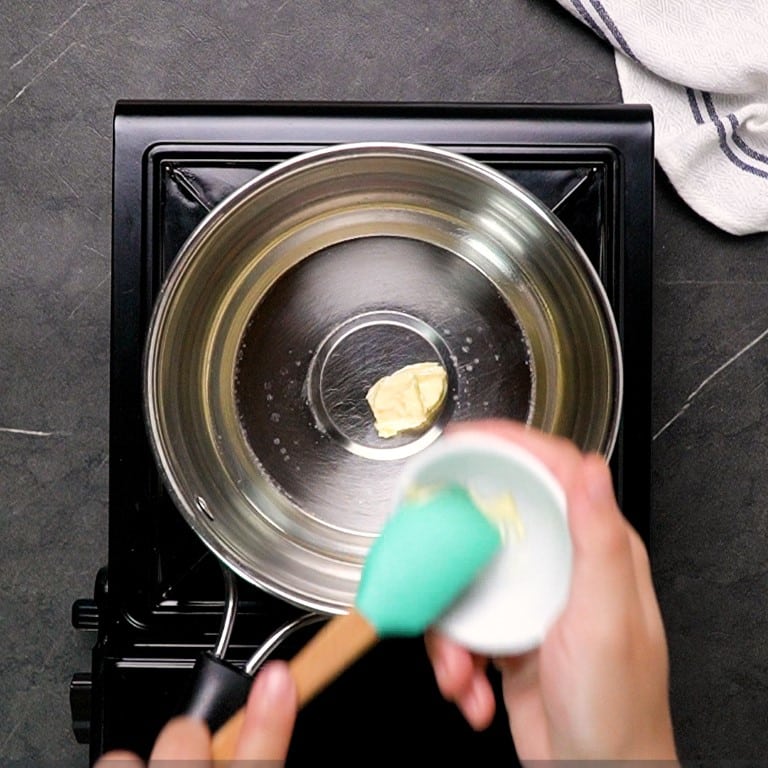 In a small pot, heat butter on medium until melted.
Step 2: Simmer the milk and ramen noodles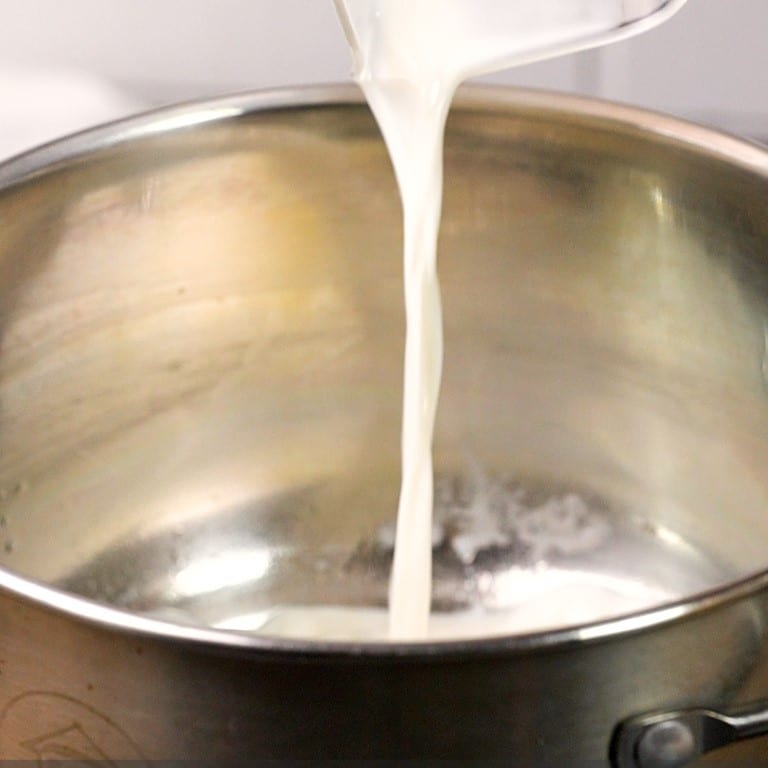 Add milk and bring it to a simmer. You want to use a small pot so that the milk can cover most of the ramen noodles.
Step 3: Cook the ramen noodles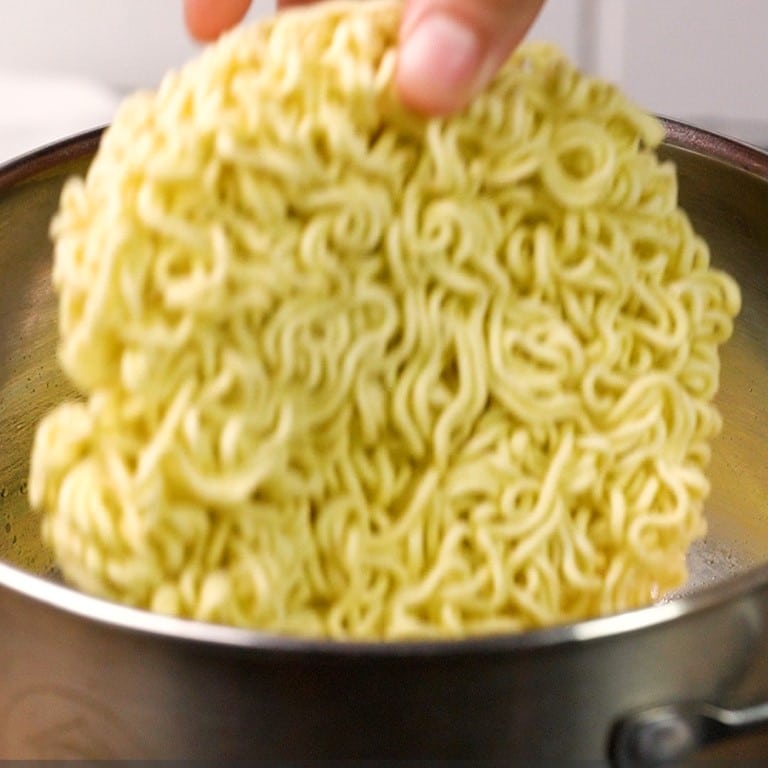 Now add the ramen, cover the pot, and cook for 1 minute. Flip the noodles to the other side, and cook for 1 more minute, uncovered. Be careful not to overcook them, but make sure the milk is bubbling.
Step 5: Add spices to the mixture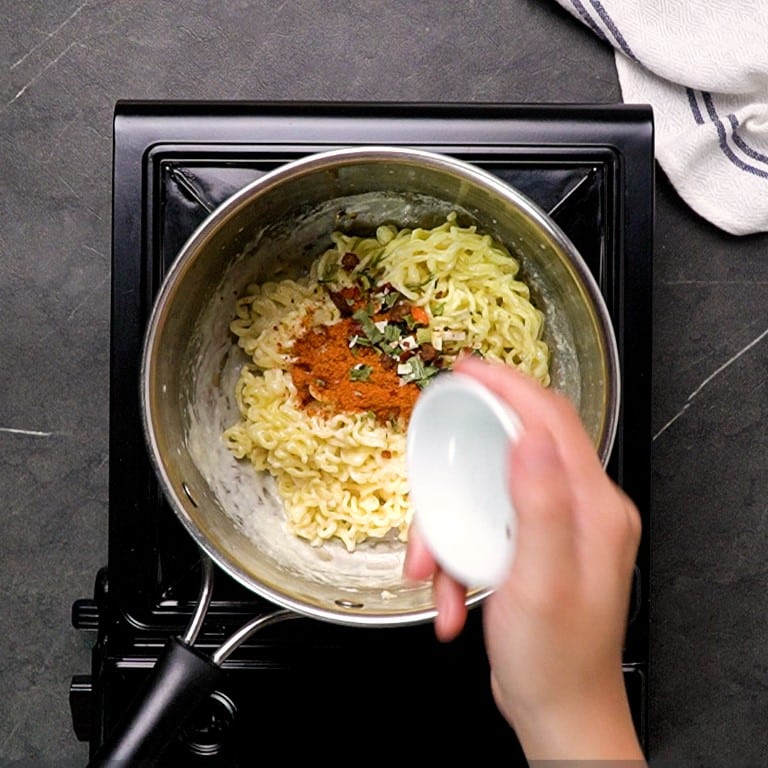 Now add spices (ramen spices, pepper, and garlic powder), and mix them in. T
Step 6: Add cheese to the mixture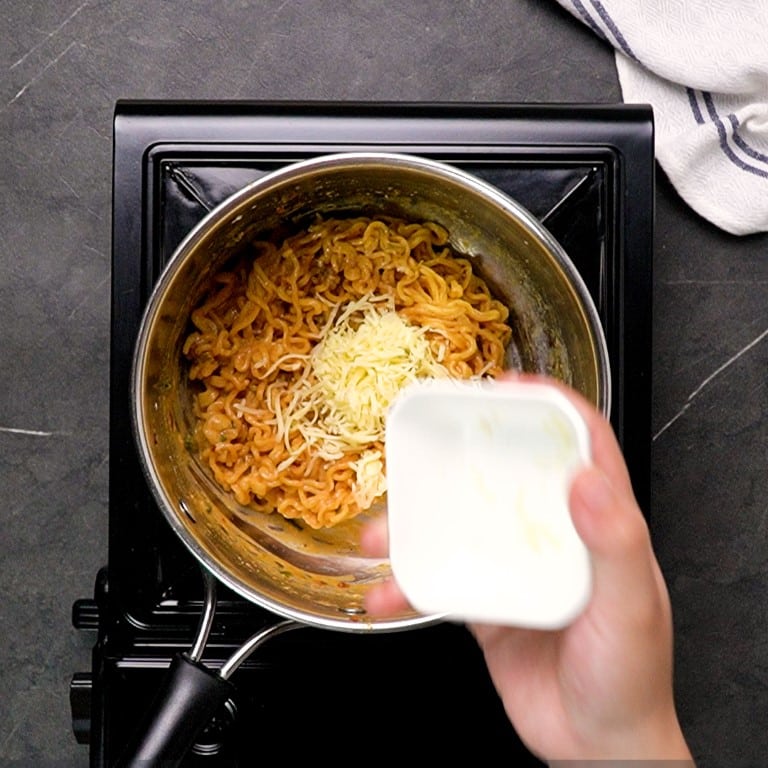 Then add the grated cheese and mix until melted and gooey. Turn off the heat.
Step 7: Serve and enjoy your Easy Cheesy Ramen!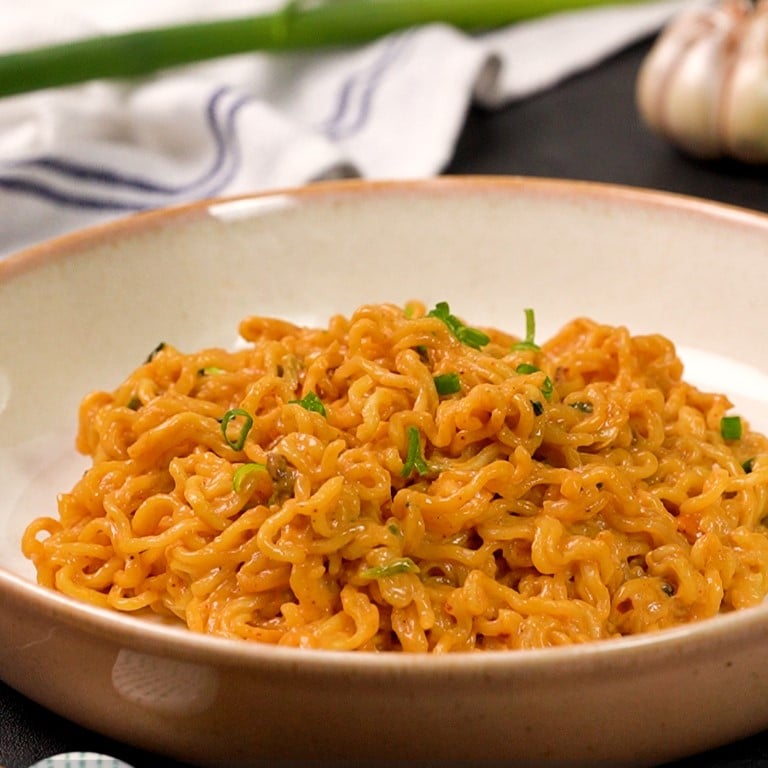 Serve with chopped green onions and any other toppings of your choice. Check the ideas below for some inspiration.
Variations & Add-ons
Make it vegan with vegan butter, unsweetened almond milk, and vegan cheese. Ramen is generally vegan already, but the spices might not be. If you want to be safe, make sure to check the packaging.
Add sautéed veggies like zucchini, broccoli, cauliflower, corn, green beans, pumpkin, or snow peas. Crispy tofu like this miso-glazed tofu is also a great addition.
Up the protein level by adding a fried or soft-boiled egg, shredded chicken, pork, turkey, ground beef, or any protein of choice. Some sausage or spicy homemade sausage balls taste great with the cheesy ramen.
Make cheesy ramen soup by adding ¼ cup of water and more of the spice pack. It makes a creamy cheesy broth that delightfully coats the noodles. Perfect to warm you up on colder days.
Instead of the spices in the instant ramen pack, you can use whatever seasonings you fancy. Try sriracha, soy sauce, taco seasoning, chili paste, jalapeños, or even Cajun seasoning. If you have a favorite condiment, feel free to try it.
I used Organic Valley Raw Mild Cheddar for this simple cheesy ramen recipe, but you're welcome to pick any cheese you like. I did a taste-testing of over 20 cheddar cheeses that you may find helpful.
Some other cheeses that would work are mozzarella, gouda, Monterey Jack, provolone, or even parmesan. You could also do a combo of 2-3 cheeses. And feel free to add more cheese if you're heart desires.
Get your dose of green leafy vegetables by adding some fresh spinach to the cheesy ramen noodles. You can mix them in after turning off the heat right before. The ramen is so cheesy and flavorful that you won't even feel the spinach.
The green onions, also called scallions or spring onions, are optional, but recommended. You can also garnish with sesame seeds, chopped parsley, chives, or shallots. Check out our article on The Best Substitutes For Green Onion for more ideas.
To make cheesy ramen with egg, use this trick to make a poached egg in the microwave: fill a large teacup with water about 2/3, add a pinch of salt, stir to dissolve, then crack the egg into the cup. Microwave for 45-60 seconds, then remove with a spoon
N.B.: each microwave is different so make sure to check on the egg to not overcook it). Caution, some microwaves have hot spots which may cause the egg to explode. So, I advise you to proceed at your own risk.
Other Ramen Recipes You Won't Want To Miss
Try this Easy Birria Ramen – a mix of Mexican birria, a heavy stew full of spices and beef or lamb, and Japanese ramen, a hot noodle dish with broth. Together you get the fun of noodles and the rich flavor of birria.
Don't want to be slurping those noodles and get broth all over you? Try our recipe for the Best Brothless Ramen. It takes only 10 minutes to make, it's delectable, and is super satisfying and fresh.
What Are The Best Ramen Toppings?
If you need more ideas on what to add to your cheesy spicy ramen or any ramen bowl for that matter, check out our list of The Best Ramen Toppings. You'll learn about the types of ramen and the most traditional toppings.
Can't find some of the Asian products mentioned in that list? Check your local Asian grocery store, on Amazon, or take a look at our list of the Best Online Asian Markets in the US (some ship internationally too).
Are you always mesmerized by the stunning ramen bowls at Japanese ramen joints? If you love making ramen, maybe it's time to invest in one of these beauties. We've compiled a guide to the Best Ramen Soup Bowls on the market and included lots of FAQs to answer any doubts.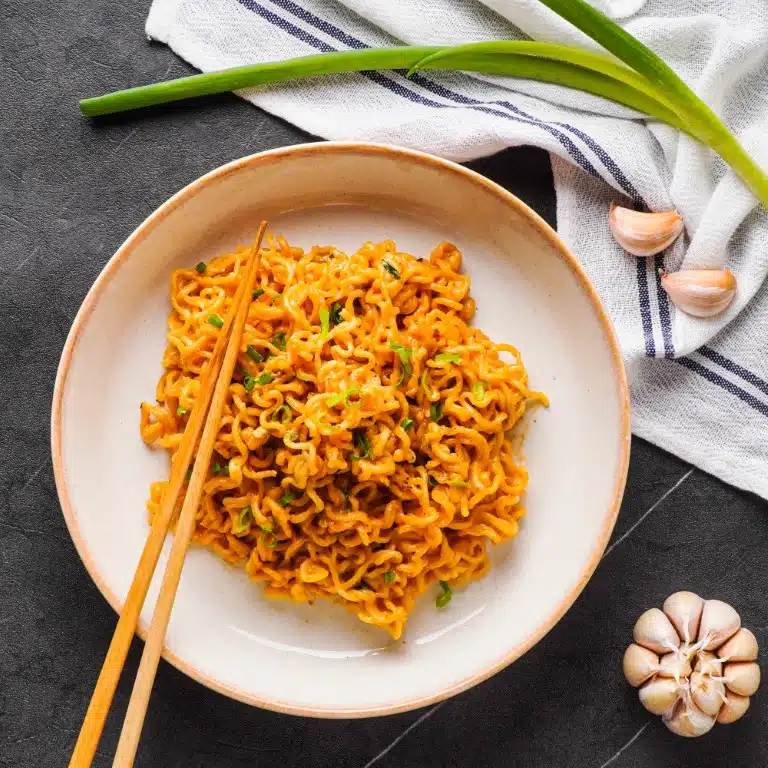 Ingredients
1

pack instant ramen

½

Tbsp.

butter

½

cup

milk

¼

cup

freshly grated cheddar cheese

Garlic powder and black pepper to taste

Chopped green onions to garnish
Instructions
In a small pot, heat butter on medium until melted.

Add milk and bring to a simmer. Add the ramen and cover, cook for 1 minute.

Uncover, flip the noodles to the other side, and cook for 1 more minute.

Now add spices (ramen spices, pepper, and garlic powder), and mix in.

Add the grated cheese and mix until melted and gooey. Turn off the heat.

Serve with chopped green onions.
Nutrition
Calories:
569
kcal
|
Carbohydrates:
62
g
|
Protein:
20
g
|
Fat:
27
g
|
Saturated Fat:
14
g
|
Polyunsaturated Fat:
2
g
|
Monounsaturated Fat:
9
g
|
Cholesterol:
44
mg
|
Sodium:
1972
mg
|
Potassium:
409
mg
|
Fiber:
2
g
|
Sugar:
8
g
|
Vitamin A:
653
IU
|
Vitamin C:
3
mg
|
Calcium:
394
mg
|
Iron:
4
mg
---
Recent Recipes