My brother-in-law's family is of 100% Italian ancestry. I will never forget the first Thanksgiving my family shared with his family. I think there were 7 courses that I had not properly planned for. I was stuffed on lasagna before the turkey ever came to the table. I don't remember all of the offerings in this epic meal.
What I do remember is the antipasti course that we started the meal with. There were cured meats, cheese, olives, steamed shrimp, and an eggplant salad to spoon on top of garlic-rubbed crostini. I had never tasted this eggplant condiment before and I loved it. Nona gave me the recipe verbally because it was only in her head, not on paper. She called this dish caponata.
Caponata, or caponatina, is a somewhat chunky salad of cooked eggplant, onions, tomatoes, olives, capers, celery, aromatics, something sweet, and a good hit of acid. It is savory, salty, sweet, and tart. It can be eaten with a fork alongside other appetizers. For spreading on crostini, this dish can be made more like a relish using smaller knife cuts of the eggplant, vegetables, and olives.
About 10 years after my first Italian-American Thanksgiving feast, I offered to make the antipasti course. I marinated and grilled fresh squid, boiled some shrimp, toasted crostini that I rubbed with a clove of garlic. I also made my version of caponatina. Nona tasted it, chewed slowly, looked at me, and finally said, "this is very good and tastes authentic". Then she smiled and I let out a sigh of relief. It made my day.
I have a pretty easy and tasty caponatina recipe that is hard to resist. It is soft and easy to spoon on toasted baguette slices. This is the perfect appetizer that is also completely vegan. I love having vegan and gluten-free options to serve when making a holiday dinner so that everyone is considered. I will serve the caponatina with grain-free crackers for a gluten-free option.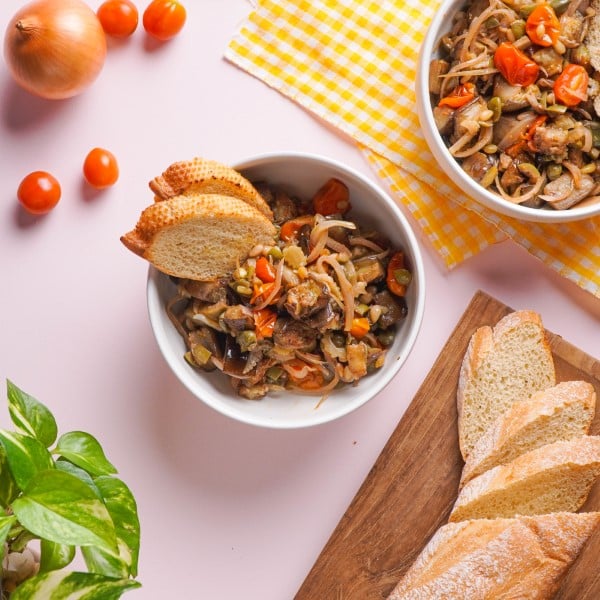 Ingredients
2

medium eggplants

½

cup

jarred capers

¼

cup

vegetable oil + more as needed

3

Tbsp

extra virgin olive oil

1

large onion

thinly sliced

3

bay leaves

3

celery stalks. Thinly sliced

20

grape or cherry tomatoes

sliced in half

½

cup

chopped green olives

¼

cup

pine nuts

¼

cup

red wine vinegar

2

tsp

sugar

Sea salt and freshly ground pepper to taste
Instructions
All ingredients ready? Let's begin!

Cut then ends off of the eggplants. Cut the eggplants into 1" cubes. You can partially peel the eggplants (vertical stripes) to minimize any bitterness.

Place the capers in a strainer and rinse well, especially if they are packed in salt. Set aside to drain.

In a large skillet over medium to medium-high heat, warm up the vegetable oil. Fry the eggplant in a single layer until golden brown, approximately 2 minutes per batch. Don't crowd the pan. Using a slotted spoon, transfer the eggplant to a paper towel lined platter.

Remove any excess vegetable oil from the pan. Pour in the olive oil and warm it up. Add the onions and bay leaves. Cook until the onions have softened, approximately 10 minutes.

Add the capers, celery, tomatoes, olives, and pine nuts to the onions. Cook through, stirring as needed until the celery has softened, approximately 5 minutes.

In a small saucepot over medium heat, warm the vinegar and sugar until the sugar dissolves.

Add the eggplant and vinegar/sugar mixture to the pan of vegetables and warm everything up for about 30 seconds until the flavors combine.

Remove the bay leaves and discard them. Season with salt and pepper to your liking. Spoon the caponatina into a serving bowl and set aside until it cools or refrigerate overnight.

Serve with toasted baguette slices. This can be spooned onto the crostini.
Nutrition
Calories:
269
kcal
|
Carbohydrates:
18
g
|
Protein:
4
g
|
Fat:
22
g
|
Saturated Fat:
3
g
|
Polyunsaturated Fat:
8
g
|
Monounsaturated Fat:
10
g
|
Trans Fat:
0.1
g
|
Sodium:
607
mg
|
Potassium:
612
mg
|
Fiber:
7
g
|
Sugar:
10
g
|
Vitamin A:
499
IU
|
Vitamin C:
20
mg
|
Calcium:
51
mg
|
Iron:
2
mg
Notes & Tips
You can make this dish a day or 2 ahead of time and store it in the refrigerator until ready to use. It actually gets better with time. Allow it to come to room temperature before serving.
The skins of eggplants can be bitter, especially if the eggplants are young and firm. I like to peel some of the skin off in vertical stripes to minimize the bitterness.
Capers can be found in jars in the condiment aisle of most markets. They will either be packed in salt or in a liquid brine. If using the salt-packed capers, be sure to rinse all the salt off under cool water before adding to the dish. Brined capers can benefit from a quick rinse, but it isn't necessary.
If you would like this dish to be more like a spread than a chunky salad, place the cooked vegetables and fruits in a baking dish and bake at 350°F for up to 20 minutes until the eggplant breaks down to a spreadable consistency.
Substitutions & Variations
The first time I made caponatina I added raisins to the recipe for their inherent sweetness. This also added another textural element to the dish. While on the topic of sweetness, you could definitely use honey in place of the sugar. However, this would not be vegan compliant.
Any green olives will work. My personal favorite olives in this recipe are Castelvetrano olives from Sicily. Just make sure you get olives that are pitted.
Some caponatina recipes call for tomato paste diluted in a little water or vegetable stock rather than fresh tomatoes. This adds a deeper tomato flavor and a touch more sweetness. It also makes the dish a more spreadable consistency. I do like the freshness of the grape or cherry tomatoes.
---
Recent Recipes