The souffle originated from France in the early 18th century. You likely have heard of cheese and chocolate souffle. These are fairly common. Did you know that you can make a vegetable souffle as well? Puréed vegetables can be combined with butter, flour, and eggs to make a light, airy, and healthy souffle. I have boiled down broccoli, pulsed it in my food processor, and added it to a cheese souffle batter. When it bakes it is a vibrant green color that I serve as a savory side dish or vegetarian main course. 
This particular recipe is for a carrot souffle. It is a little sweet and has a lovely orange hue. Carrot souffle can be served as a side dish with roasted turkey during the holidays or with pork loin chops for Sunday dinner. It also makes a nice dessert.
I always have carrots in the crisper drawer of my fridge. Carrots are incredibly affordable and very nutritious. These sweet tubers are rich in antioxidants, vitamins, and dietary fiber. They are also low in calories, fat-free, and have no cholesterol. Carrots provide us with beta-carotene, vitamin C, and vitamin A. Beta-carotene and vitamin C help our bodies to combat harmful free radicals. Vitamin A promotes optimal eye health and improved vision. The natural sweetness of cooked carrots makes them a good sugar substitute in sauces and cakes, allowing you to cut back on the amount of sugar a recipe calls for. I add shredded carrots to my homemade tomato sauce to cut the acidity of the tomatoes.
For this carrot souffle recipe, you will need carrots, butter, vanilla, cinnamon, eggs, flour, baking powder, salt, and sugar. These are things that most home cooks have in their pantries and refrigerators. You will also need a stockpot, food processor, and a 2-quart porcelain or glass baking dish or souffle dish. A souffle dish is a round, taller baking vessel. Alternatively, you can make individual souffles in oven-proof ramekins.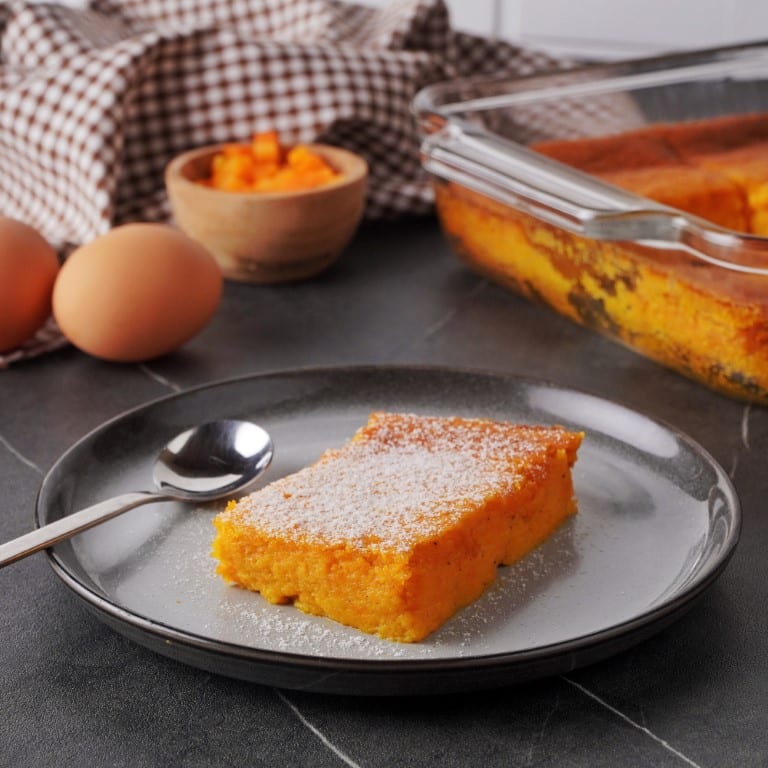 Ingredients
2

pounds

carrots

washed, peeled, and diced

1

stick

½ cup softened butter + more for the baking dish

4

large whole eggs

1

tsp

pure vanilla extract

¼

tsp

ground cinnamon

¾

cup

granulated sugar

use less for a more savory dish

¼

cup

all-purpose flour

1 ¼

tsp

baking powder

¾

tsp

sea salt
Instructions
All ingredients ready? Let's begin!

Preheat the oven to 350°F. Grease the bottom and sides of a 2-quart baking dish with butter.

In a large pot over high heat, boil enough water to cover the carrot pieces. Add a pinch or 2 of salt to the water. Add the carrots and cook for 16 minutes or until the carrots have softened when checked with a fork or a sharp paring knife. Drain the cooked carrots through a colander in your sink.

Place the carrots, softened butter, vanilla, cinnamon, and eggs in a food processor. Pulse until the carrots are smooth.

Add the sugar, flour, baking powder, and salt to the food processor and pulse until everything is well combined.

Pour or spoon the souffle mixture into the greased baking dish. Place this in the preheated oven and bake for approximately 50 minutes until the souffle has risen and set. The top will be golden brown.

Remove the souffle from the oven and allow it to rest for 3 to 5 minutes.

Serve the souffle while warm.
Nutrition
Calories:
362
kcal
|
Carbohydrates:
44
g
|
Protein:
6
g
|
Fat:
19
g
|
Saturated Fat:
11
g
|
Polyunsaturated Fat:
1
g
|
Monounsaturated Fat:
5
g
|
Trans Fat:
1
g
|
Cholesterol:
164
mg
|
Sodium:
652
mg
|
Potassium:
542
mg
|
Fiber:
4
g
|
Sugar:
32
g
|
Vitamin A:
25910
IU
|
Vitamin C:
9
mg
|
Calcium:
124
mg
|
Iron:
1
mg
Notes & Tips
I like to start a souffle with the butter being very soft, rather than melted. I just leave a stick of butter on my kitchen counter until it is soft. If you forget, melt the stick and allow it to cool slightly before adding it to the food processor. I also like to cool the carrots and allow the eggs to come to room temperature. The reason for all of this is so the eggs don't cook or curdle when added to the food processor.
I recommend cracking the eggs into a tall measuring cup before adding them into the food processor to ensure you don't accidentally get any broken shells in the mixture.
Anyone who has ever baked a souffle has likely encountered a failure at least once. Souffles are delicate and need to rise and set gently. It is best to keep noise and banging to a minimum so the souffle doesn't fall in on itself. Don't be tempted to open and close the oven door while the souffle is baking. I once accidentally checked a souffle and not closed the oven door gently. This caused the souffle to collapse. That was very disappointing.
Substitutions & Shortcuts
You don't have to use carrots in this recipe. There are plenty of substitutes for carrots. I like making this souffle with different varieties of winter squash, such as butternut, acorn, or kabocha pumpkin. You could also use sweet potatoes.
If you would like the dish to be more on the savory side, use less sugar and eliminate the vanilla. For a sweeter version, add a little brown sugar to the top before baking. It should caramelize. Or, top the souffle with powdered sugar just before serving it.
I do have a shortcut for carrot souffle that I discovered while we were under COVID quarantine and couldn't always visit the market. I keep containers of baby food and canned goods on hand for these emergencies. I always have jars of puréed carrots and puréed sweet potatoes that you can make so many things with. Canned pumpkin also works well.
If you are one who doesn't look forward to chopping 2 pounds of carrots (I don't blame you) there is no shame in buying packaged pre-diced carrots or butternut squash from the produce aisle of the grocery store. These are super convenient. Likewise, good-quality frozen carrots are also an option.
---
Recent Recipes