Simple Snoop Dogg Fried Chicken
If you haven't made Snoop Dogg's fried chicken recipe, then this is your sign to make it now. Snoop Dogg's fried chicken secret is crispy BBQ-flavored potato chips. That's right, he puts crushed potato chips in the coating to make it extra crispy and flavorful.
Now, you can use any potato chip flavor your heart desires – cheddar cheese, sour cream and onions, mushrooms and cream, or simply salted potato chips. But I love the smoky BBQ flavor from BBQ chips or the spicy kick from jalapeño-flavored chips.
Besides the secret ingredient in the coating, this recipe wouldn't be complete without Snoop Dogg's fried chicken brine recipe. Letting the chicken pieces marinate in an aromatic sweet and salty brine overnight helps tenderize the chicken and elevate its flavor.
Serve this finger-licking-good fried chicken at the next Super Bowl, family game night, or dinner party. It's also a great snack food for movie night or to satisfy your late-night munchies.
I've tried a lot of fried chicken recipes and this is by far the best. No joke. Snoop Dogg knows what he's doing in the kitchen. In fact, he's written a whole recipe book called From Crook to Cook that is full of his favorite recipes from all over the world, his family staples, go-to comfort foods, and foods from his favorite restaurants in California, where he grew up.
But enough talk, let me show you how to make Snoop Dogg's fried chicken in a few easy steps!
Dip a chopstick until it touches the bottom of the pot and observe the bubbles that form. If the bubbles are relatively fast and large-ish, the temperature is around 350°F. If the bubbles are smaller and slower, the temperature is too low. And if the bubbles are super-fast and small, the temperature is too high.
Don't overcrowd the oil, fry the chicken wings in batches. Otherwise, you'll end up with greasy chicken that hasn't fried evenly.
It's important to let the chicken rest at room temperature after coating and before frying. But this doesn't mean the chicken pieces won't affect the temperature of the oil. Once you add the chicken wings to the hot oil, measure the temperature again to make sure it's still at 350°F.
You can use any potato chip flavor, and even add more potato chips for a more intense flavor. There's no such thing as too many potato chips in Snoop Dogg's potato chip fried chicken recipe.
Use a rolling pin to crush the potato chips while they're still in the bag for minimal clean-up. You could also use a food processor, but why get it dirty?
For optimal flavor, marinate the chicken in the fridge for at least 10 hours and up to 24 hours. And don't forget to pat the pieces dry after since the marinade is pretty intense and we want it to only seep into the flesh.
Finally, make sure you let the marinade cool down completely before adding it to the chicken wings. Otherwise, you'll end up pre-cooking them and getting a weird texture. Also, make sure the brine covers all the chicken pieces.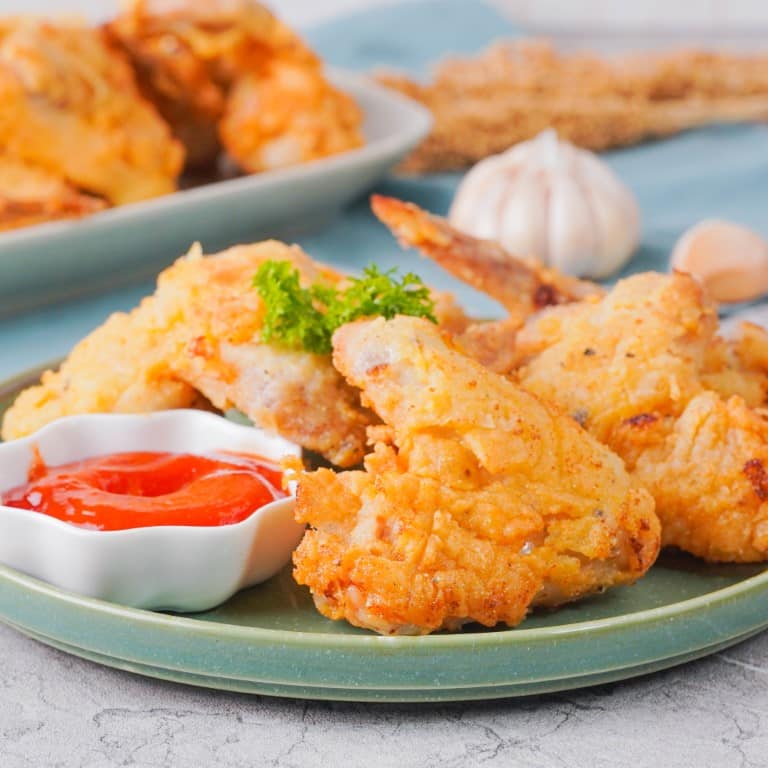 Ingredients
Brine:
⅓

cup

granulated sugar

⅓

cup

salt

1

bay leaf

1

teaspoon

red pepper flakes

add more if you're spicy, or omit if you'd like

Peel and rind of 1 orange

4

pounds

of chicken wings

Enough water to fill a medium-large pot ⅔ way
Frying:
2

cups

all-purpose flour

¼

cup

crushed potato chips

¼

cup

cornmeal

1

tsp.

cayenne powder

2

tsp.

freshly ground black pepper

2

tsp.

Salt

2

tsp.

Garlic powder

½

tsp.

baking powder

2

cups

buttermilk

Vegetable oil for frying
Instructions
All ingredients read? Let's begin!

Fill a medium-large pot with water and bring it to a boil. Add sugar, salt, bay leaf, red pepper flakes, and orange peel. Simmer for a minute, while stirring, until the salt and sugar dissolve. Let it cool completely.

Place the chicken wings in a large bowl and pour the cool brine over them. It should cover all the chicken pieces. Cover the bowl with plastic wrap and refrigerate for at least 10 hours or up to 24 hours.

Remove the chicken from the brine and place it on a baking tray. Pat dry with paper towels to get rid of any excess brine.

Now for frying. Mix the dry ingredients in a large shallow bowl until combined; flour, crushed potato chips, cornmeal, garlic powder, cayenne, pepper, baking powder, and salt. Place another large shallow bowl next to the dry mixture and pour the buttermilk into it. Prepare a wire rack or baking tray to set the battered chicken wings on.

Take a wing and submerge it in buttermilk, lift it, and let the excess milk drip off. Roll the wing in the flour mixture until it's well coated and place on the rack. Repeat with the remaining wings. Let the wings dry for 30 minutes before frying.

Heat the oil in a deep fryer or large pot until a thermometer measures 350°F. Prepare a wire rack for the fried chicken pieces.

Fry the chicken in batches and don't overcrowd them. The oil temperature will drop when you add the chicken so, adjust accordingly.

Fry the wings for 8-10 minutes or until golden brown. Transfer the wings to the prepared wire rack to drain and season with salt.

Serve with hot sauce or over waffles with butter and maple syrup.
Nutrition
Calories:
662
kcal
|
Carbohydrates:
56
g
|
Protein:
38
g
|
Fat:
33
g
|
Saturated Fat:
9
g
|
Polyunsaturated Fat:
7
g
|
Monounsaturated Fat:
13
g
|
Trans Fat:
0.3
g
|
Cholesterol:
135
mg
|
Sodium:
7197
mg
|
Potassium:
533
mg
|
Fiber:
6
g
|
Sugar:
19
g
|
Vitamin A:
881
IU
|
Vitamin C:
14
mg
|
Calcium:
189
mg
|
Iron:
4
mg
Serving Suggestions & Substitutions
Snoop Dogg's fried chicken wouldn't be a complete meal without some fluffy buttermilk waffles and maple syrup. If you think maple syrup and chicken sounds weird, trust me, so did I until I tried it. It tastes like the food served by an angel from heaven.
Whip up some classic buttermilk waffles or try any of these quick and healthy vegan waffle brands. Top off with freshly fried chicken and warm maple syrup for absolute bliss. Snoop Dogg would be proud.
If waffles and fried chicken isn't your thing, then simply serve Snoop Dogg fried chicken with plenty of hot sauce or your favorite dipping sauce. Snoop Dogg is a fan of Heinz ketchup himself, and you can mix it with two parts of mayonnaise for a classic dipping sauce.
If you're using BBQ-flavored chips in the recipe, BBQ sauce is a great condiment for dipping those wings in. But if you have your go-to dipping sauce, try it and discover a new elevated dipping experience.
The one thing I'd say is substitutable here is the cut of chicken. If chicken wings are not your cup of tea, use drumsticks, or boneless chicken thighs (my personal favorite). Don't cut off the skin, you want that crispy goodness and the fat makes the meat tender and more flavorful.
Of course, you can omit the red pepper flakes if you don't want any spice in your fried chicken wings.
---
Recent Recipes