Irresistible Herb Crusted Asparagus Recipe
Asparagus is a gourmet vegetable with flavor that's truly one of a kind. The fresh, green earthiness is perfectly rounded off by just a touch of bitterness, creating a bold taste that pairs extremely well with a range of specific herbs and spices. Our herb-crusted asparagus recipe uses a blend that brings out the best from asparagus rewarding the palette with dimensions of flavor and a crispy texture that keeps calling you back for more.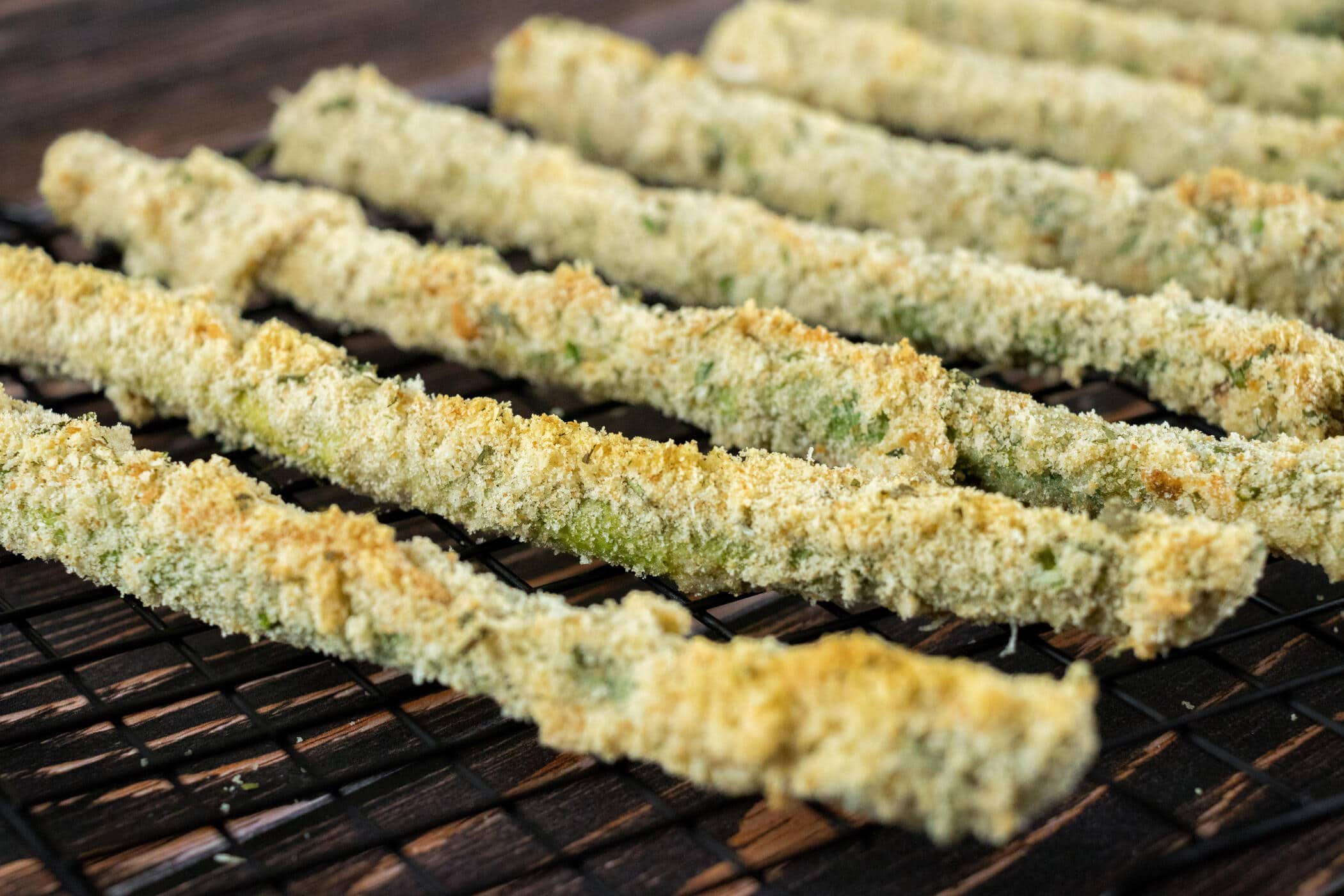 Ingredients
1

Bunch Blanched

Asparagus (Ends Trimmed)

3

Egg Whites

Beaten

¾

Cup

Panko Breadcrumbs

Or Breadcrumbs

½

Cup

Parmesan Cheese

Grated

¼

Cup

All-Purpose Flour

¼

Cup

Cornflour

2

Teaspoons

Chives

2

Teaspoons

Parsley

2

Teaspoons

Tarragon

2

Teaspoons

Marjoram

1

Teaspoon

Salt

1

Teaspoon

Ground Black Pepper
Instructions
Transfer the beaten egg whites to a shallow dish large enough to contain the asparagus spears.

After drying thoroughly, dip each spear in a 50/50 mixture of flour and cornflour.

Shake off all the excess flour and lay the asparagus spears side-by-side in the shallow dish containing the egg whites.

Place the asparagus spears soaking in egg white in the refrigerator, ensuring that they're submerged, and allow them to soak for 15 minutes.

Mix together the herbs, breadcrumbs, and parmesan cheese and season with salt and ground black pepper.

Place into a shallow dish large enough for the spears.

Preheat your oven to 400°F and lightly oil a shallow baking tray.

Once the asparagus has soaked for 15 minutes, dip each spear in the seasoned breadcrumbs and parmesan mixture, making sure to coat everywhere evenly.

Place the coated asparagus spears onto your oiled baking pan. Ensure they're all coated, sprinkling a little extra crumbs wherever is necessary, and transfer to your preheated oven.

Bake uncovered for 10 to 12 minutes or until the herb-crusted asparagus begin turning golden brown and crispy. Transfer to serve and enjoy!
Video
Nutrition
Calories:
382
kcal
|
Carbohydrates:
54
g
|
Protein:
24
g
|
Fat:
8
g
|
Saturated Fat:
5
g
|
Polyunsaturated Fat:
1
g
|
Monounsaturated Fat:
2
g
|
Cholesterol:
17
mg
|
Sodium:
1810
mg
|
Potassium:
691
mg
|
Fiber:
7
g
|
Sugar:
6
g
|
Vitamin A:
2046
IU
|
Vitamin C:
14
mg
|
Calcium:
428
mg
|
Iron:
8
mg
Herb Crusted Asparagus Substitutions
Any breadcrumbs will do the job, but Panko has the best taste, texture, and appearance. The larger-than-normal crumbs are excellent for soaking in seasoning but feel free to use regular breadcrumbs if you're all out. The herbs listed here have been selected because they all pair well with asparagus. Feel free to add, substitute, or replace any listed. Oregano is a leading favorite which we can see being swapped out for a subtle but noticeable spin on the basic recipe. It's generally best to stick to a limited number of flavorful herbs, so cooks are advised to keep to four varieties at the most.
Herb Crusted Asparagus Tips
Never overcook your asparagus. Take great care when picking out the optimal spears for roasting, and pay attention to how done they are throughout cooking. The thickest spears will need 15 minutes at the most. Too long, and your asparagus will be stringy. To test, pierce with a fork. Perfectly cooked asparagus will be easy to puncture and tender inside. Unfortunately, there's nothing you can do to save overcooked asparagus. About the only use for limp, stringy spears is cooking it away in a soup or stew.
How To Pick Asparagus Spears
The perfect asparagus spears are midway between pencil-thin and very thick and woody. Too thin, and your asparagus will be lacking flavor while cooking limp and floppy. Too thick, and you run the risk of them not cooking all the way through. Ideally, thicker spears are best for roasting, searing, and grilling, whereas skinny stalks are better in sautes and stir-fries.
Does Asparagus Need Blanching?
Asparagus does not always need blanching, but blanching ensures that the inside is cooked at the same time as the outside when grilling, roasting, or searing. Some chefs go as far as professing that all asparagus must be blanched regardless of how it's cooked. Blanching destroys many of the enzymes that would otherwise make asparagus and other vegetables mushy on the inside. For our herb-crusted asparagus spears, less than 30-seconds in salty water provides light seasoning and just the right degree of interior cooking.
Remember that after blanching comes shocking, otherwise your asparagus will continue cooking for too long. Always shock for the same duration as you blanched or 30-seconds for our herb-crusted asparagus recipe. Let the spears drip dry thoroughly before drying lightly with a clean towel before dredging. Dipping the asparagus in flour effectively combats moisture while helping the egg and consequent coating cling to each spear.
What Can You Give A Herb Crust?
The basic mixture of breadcrumbs, herbs, and parmesan can be used to coat just about anything. Beaten egg white is the best solution for making sure your coating sticks. It's great on fish, pork, steak, and veggies like mushrooms and roast potatoes too. You can even give a herb crust to tofu and certain types of cheese. For something rich but decadent, try coating cubes of halloumi or paneer.
What Is The Best Dredging Mixture?
While more porous foods like cuts pork and beef do fine with beaten unseparated egg, delicate skinned vegetables like asparagus call for egg white only. Egg white does not contain the fat present in yolk and therefore adhere to the surface of the asparagus spears far better. Cooling the asparagus while soaking in the mixture helps the egg bind better, which makes the coating stick. Keep to the cooled, soaked egg-white coating, and you'll never struggle with your crust crumbling and falling off in certain places or sticking to the pan instead of the asparagus.
All-purpose flour is a reliable dusting agent which soaks up moisture while coating perfectly fine in most cases. However, asparagus is delicate and has a very thin diameter. Dusting the asparagus in a blend of flour and cornflour is preferable as it adheres better. Cornflour and flour together also ensure that exposed areas without crumbs cook crispy instead of forming a batter or thickened bread-like crust.
What To Serve Herb Crusted Asparagus With?
You can serve herb-crusted asparagus with just about anything. It's even great, alone as a crunchy snack. The flavor of asparagus pairs exceptionally well with fish. We suggest that you try these tasty, crispy asparagus spears with salmon peperonata for a combination that grants a great fusion of flavor and texture.
---
Recent Recipes