What has delicious chicken? Sweet berries? The most flavorsome rice and lots and lots of deliciousness? This chicken berry pulao! It is simple, it is delicious, it is filling and can feed the whole family. Spiced rice combined with juicy chicken and a hint of sweetness; every mouthful is a burst of flavor. This can be made as a one pot dish, made in bulk and frozen or refrigerated and eaten by itself or with a simple yogurt dip or side salad.
The main ingredients are chicken, rice and cranberries, everything else can be modified and substituted and it still makes a hearty meal. This chicken berry pulao has something for everyone and can be whipped up for an elaborate feast or a simple dinner.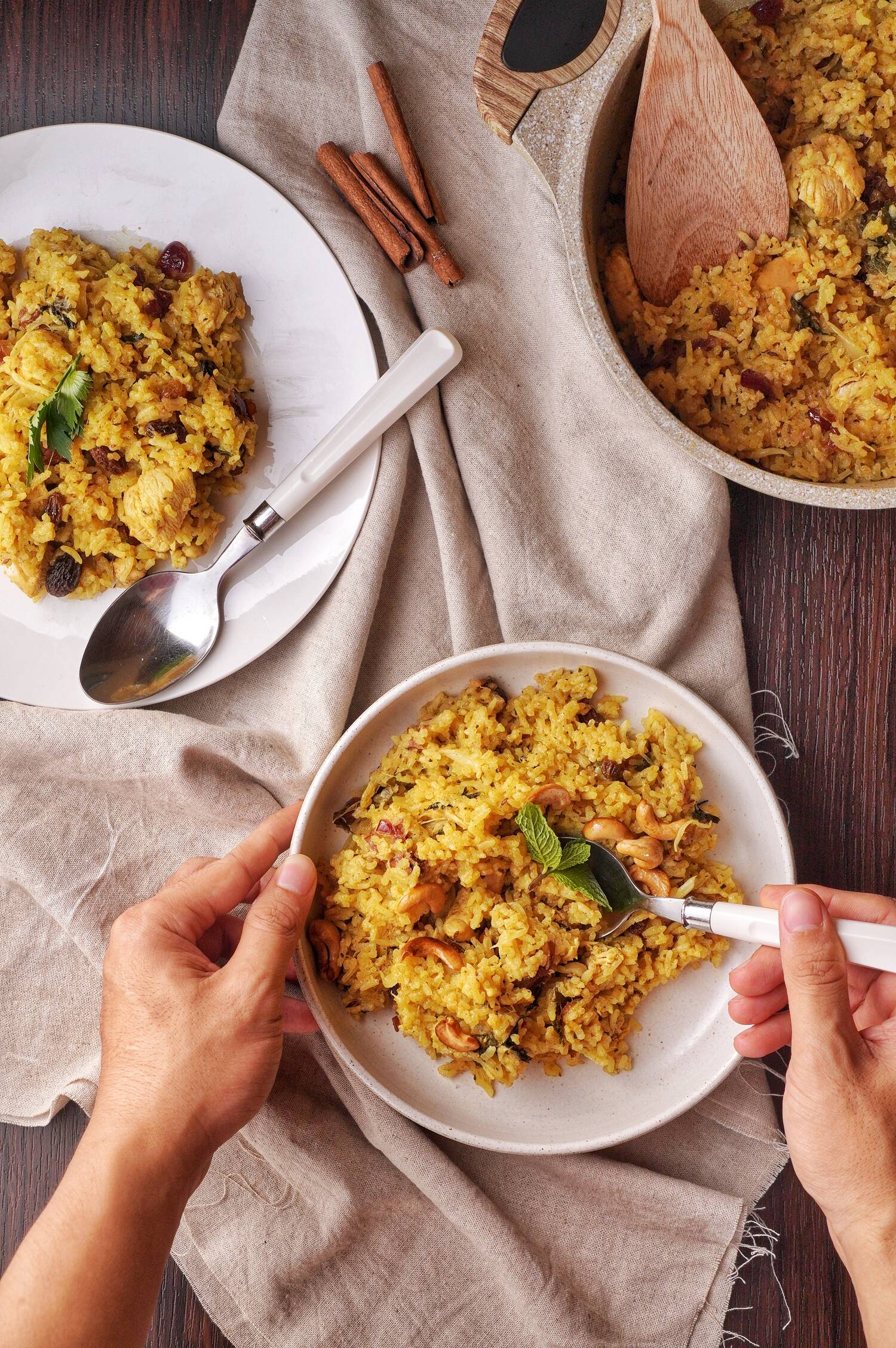 Ingredients
For the rice:
2

cups

basmati rice

3

cups

water or stock

1

teaspoon

cumin seeds

4

cloves

4

cardamoms

1

bay leaf

1

inch

cinnamon

2

green chilis

slit

1

onion

sliced finely

1/3

cup

dried cranberries

1/3

cup

raisins

Handful of fried cashew nuts

2

tablespoons

of milk with a pinch of saffron soaked in it

2

tablespoon

ghee

1

tablespoon

vegetable oil

Mint

Cilantro
For the chicken:
1

pound

chicken

cut into small pieces

1

cup

yogurt

1

tablespoon

ginger-garlic paste

2

teaspoons

red chili powder

1

teaspoon

coriander powder

1

teaspoon

turmeric powder

1

teaspoon

garam masala

A few sprigs of mint

chopped finely

A few sprigs of cilantro

chopped finely

Salt
Instructions
Assemble your ingredients.

Wash the basmati rice till the water runs clear and then soak the rice for 30 mins. Drain and set aside.

In a bowl marinate the chicken with yogurt, ginger-garlic paste, red chili powder, turmeric powder, garam masala, coriander powder, chopped mint, chopped cilantro and salt. Set aside for 30 mins to 24 hours.

In a large cooking pot heat the ghee and oil together

Add the cumin seeds. Once it sizzles add the green chilis, cloves, cardamom, bay leaf and cinnamon stick.

Once it turns fragrant, add the onions and sauté till they start turning brown.

Now add the marinated chicken and cook till it starts becoming pale

Now add the mint and coriander leaves and mix well together

Now add the cranberries and raisins and mix together

Add the drained rice and give it a stir

Add the water and salt.

Again, give it a good stir, close the lid and cook and low for 15-17 mins. When the rice is almost done, add the milk with saffron strands. Don't stir. Close the lid and let it continue cooking.

Take it off heat and let is sit for a minute.

Fluff with a fork.

Add the fried cashews, mint and coriander as garnish.
Video
Nutrition
Calories:
444
kcal
|
Carbohydrates:
68
g
|
Protein:
14
g
|
Fat:
13
g
|
Saturated Fat:
6
g
|
Polyunsaturated Fat:
2
g
|
Monounsaturated Fat:
4
g
|
Trans Fat:
1
g
|
Cholesterol:
46
mg
|
Sodium:
116
mg
|
Potassium:
354
mg
|
Fiber:
4
g
|
Sugar:
8
g
|
Vitamin A:
303
IU
|
Vitamin C:
5
mg
|
Calcium:
99
mg
|
Iron:
2
mg
Tips & Tricks
Let the chicken marinate for as long as possible, it retains the flavor better
Wash the rice properly, this prevents them from getting mushy
The rice needs to be soaked for at least 30 minutes; it helps the rice expand well while cooking
The saffron soaked in milk is not necessary but I think it elevates the pulao
Pulaos, unlike biryanis, are lighter on the spices, especially powdered spices. Here the spices are used mostly to marinate the chicken.
You can make this pulao in the Instant Pot for 6 minutes.
Don't stir the rice during or after too much, as it breaks the rice. Let it cool down, and then fluff with a fork.
You can remove all the whole spices before serving.
You can also cook the rice and the chicken separately and once the rice has cooled down you can mix it with the chicken and berry curry.
Storage
This chicken berry pulao get better with age. Keep it in an airtight container in the fridge and it will last for 2-3 days. It will still be good after, but it will start drying out.
Heat in the microwave or the stove. You can add some ghee or water to it while heating to keep it from drying out. The pulao can be frozen for up to two months in an airtight container. Let it thaw for 45 minutes to an hour before heating.
This is also a great make ahead dish. You can marinate the chicken and refrigerate and take it out and cook the day of.
Questions
My rice always ends up soggy, is there any other way to make this pulao?
This can be because, there is too much water, or you are stirring the rice too much during the cooking process. So, then cook the rice and chicken separately and then mix together.
For the chicken, follow till step 8. Cook till chicken is cooked completely and then set aside.
In a pot, heat a teaspoon of ghee, add the drained basmati rice, add water, a little squeeze of lemon juice and some salt. Cover and cook for 15 mins on low heat. Once done. Take off heat, open the lid and let cook. Then fluff with a fork. Now add the chicken curry to the rice and combine gently. Garnish.
Substitutions
Chicken: Lamb Berry Pulao is a great option. You can also replace with mixed vegetables like potatoes, peas, cauliflower and beans and make a Vegetable Berry Pulao. Add some paneer for more protein.
Whole spice: Generally, pulao doesn't contain a lot of spices, so whatever you don't have, just eliminate it. But you do need a few basic ones like cardamon and cloves.
Mint and cilantro: The chicken berry pulao needs both mint and cilantro. The spiciness of the chicken and sweetness from the cranberries and raisins mingle well with the brightness of the mint-cilantro garnish. Mint and cilantro are essential for the chicken marinade, for the rice and for garnish. If you find it too overwhelming, you can always remove it from one of the elements.
Saffron and milk: This is entirely optional. The taste does not change without it. The chicken is just as juicy and the rice just as flavorful.
Fried cashews: Entirely optional. You can also garnish with crispy onions.
Accompaniments
This chicken berry pulao pairs nicely with a raita, or a yogurt dip, seasoned with cucumbers or spices. A rich paneer side dish also goes well with the chicken berry pulao.
This entrée doesn't need any sides or accompaniments and works great on its own.
Here are some more delicious chicken recipes for you to try out, an easy sour cream and onion chicken and a delicious cinnamon coconut milk chicken.
---
Recent Recipes