Best Low FODMAP Spaghetti Sauce
There's no problem being on an elimination diet when you've got rich, decadent spaghetti sauce like this. We've got a low FODMAP spaghetti sauce recipe that packs authentic Italian flavor that's up there with the best sauces around. Serve it as is or add your favorite protein, either way, it's a marinara that no one will ever forget.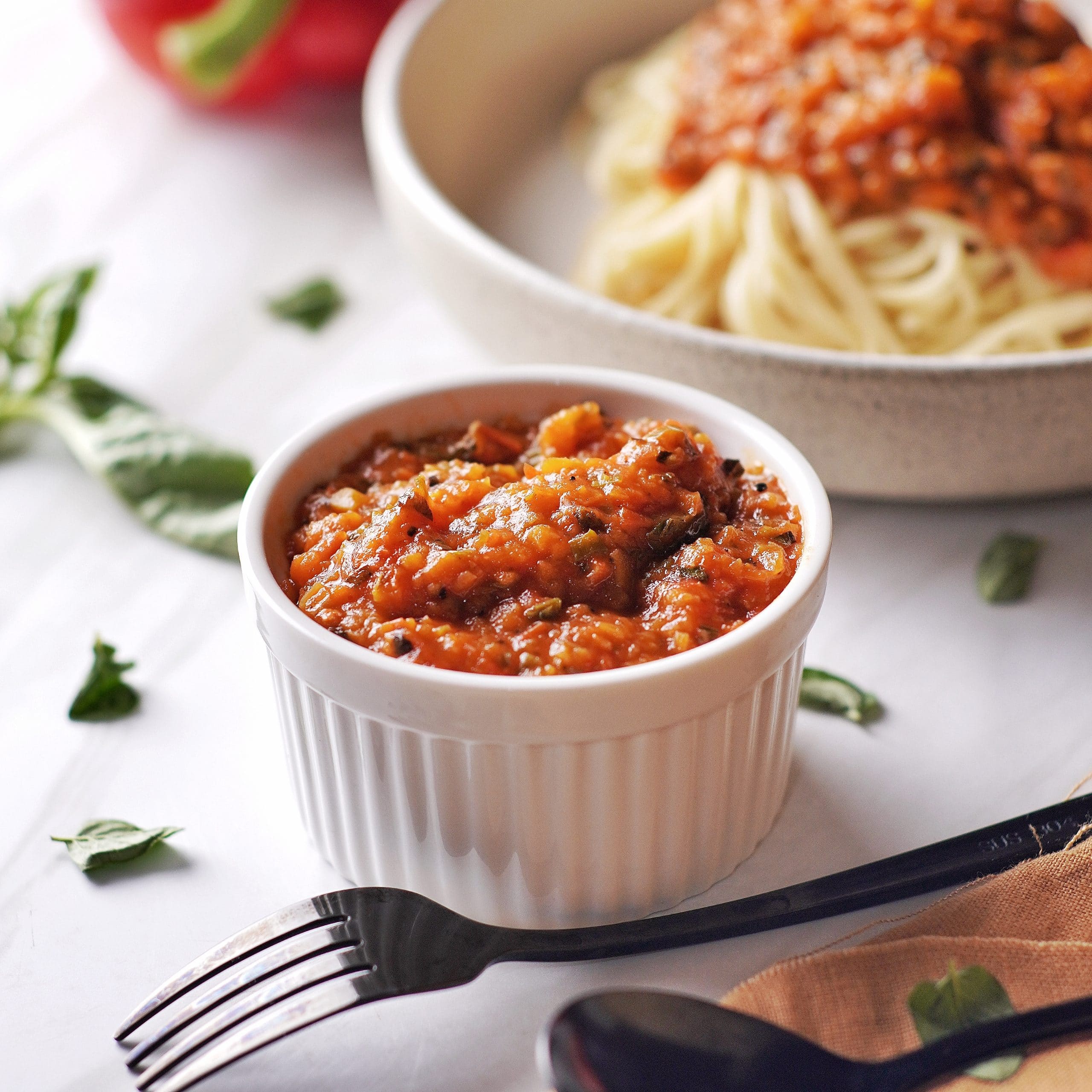 Ingredients
3

Tablespoons

Garlic-Infused Olive Oil

½

Large Red Bell Pepper

Stemmed, Seeded & Sliced

1

Teaspoon

Red Pepper Flakes

1

Red Chili

Stemmed, Deseeded & Minced

½

Celery Stick

Thinly Sliced

1

Medium Carrot

Finely Chopped

12

Elongated Tomatoes

Stemmed, Skinned & Chopped (Roma, Grape, Cherry)

½

Cup

Water

2

Tablespoons

Red Wine Vinegar

1

Tablespoon

Refined Salt

1

Tablespoon

Ground Black Pepper

1

Tablespoon

Granulated Sugar

1

Tablespoon

Cornstarch

⅓

Cup

Fresh Chives

Chopped

⅔

Cup

Fresh Basil Leaves

Chopped

⅓

Cup

Fresh Oregano

Chopped

3

Tablespoons

Water
Instructions
All ingredients ready? Let's begin!

Heat a large saucepan containing three tablespoons of garlic-infused olive oil over medium heat.

Add the chopped red bell pepper, red pepper flakes, and the minced red chili.

Saute for 2 minutes and add the thinly sliced celery and carrot to your pan. Fry while constantly stirring for 2 to 3 minutes or until the bell pepper becomes tender.

Add the chopped tomatoes, red wine vinegar, and a tablespoon each of salt, black pepper, and sugar.

Saute for 4 to 6 minutes or until the tomatoes have become mushy.

Stir in half a cup of water and continue cooking uncovered while infrequently stirring for 15 to 20 minutes or until the sauce reaches a silky, smooth consistency.

Mix in the chives, basil, and fresh oregano.

In a small container, blend cornstarch and water to create a slurry.

Combine two tablespoons of the hot spaghetti sauce liquid with the slurry and mix well.

Blend the cornstarch and sauce slurry into the spaghetti sauce, turn the heat to low, and constantly stir for 2 minutes to ensure it doesn't stick.

Cover and remove from the heat.

Allow to rest for 3 minutes and serve.
Video
Nutrition
Calories:
142
kcal
|
Carbohydrates:
18
g
|
Protein:
3
g
|
Fat:
8
g
|
Saturated Fat:
1
g
|
Polyunsaturated Fat:
1
g
|
Monounsaturated Fat:
5
g
|
Sodium:
1192
mg
|
Potassium:
732
mg
|
Fiber:
5
g
|
Sugar:
10
g
|
Vitamin A:
4518
IU
|
Vitamin C:
60
mg
|
Calcium:
87
mg
|
Iron:
2
mg
Low FODMAP Spaghetti Sauce Tips
If you have the time, oil the skins of the bell peppers and roast them either directly over an open gas flame or in the oven. As soon as the skins have blackened partially and the flesh becomes tender, remove, peel and include the skinned peppers in your recipe. Roasting peppers brings out a distinct sweet quality that suits spaghetti sauce to perfection.
Instead of using garlic-infused oil alone, use a combination of onion or shallot-infused oil and garlic-infused oil for a flavor that's even closer to classic marinara. Try making onion-infused oils with a variety of different onions to discover the taste that you like best. Most cooks enjoy the pungency of a yellow or white onion over milder shallots and other varieties.
Low FODMAP Spaghetti Sauce Variations
Our low FODMAP spaghetti sauce doesn't contain any protein, but it's versatile enough to be cooked up with just about any meat or vegetable preferred. Carnivores should consider browning half a pound or more of lean ground turkey just after sauteing the onions and garlic for the healthiest option. Cook for fifteen to twenty minutes while pouring off any excess fat, and then proceed to add the tomato and follow the rest of the recipe. Otherwise, go for the classic combination of a 50/50 mix of ground pork and ground beef. The flavor is unbeatable, and unprocessed meats are low FODMAP.
Vegetarians and vegans can consume this spaghetti sauce as-is atop their favorite pasta, but we have several suggestions to add more substance to the meal. Oyster mushrooms are the only low FODMAP shroom but fortunately also a tasty addition that holds form well throughout cooking. Add two cups of chopped sauteed oyster mushrooms to our spaghetti sauce, and you're safely delivering half the FODMAP allowance at half a cup per person or less if serving more than four.
If you're opposed to oyster mushrooms or would prefer a different protein, quinoa is a great option. The texture comes out especially appetizing if you add both a cup of quinoa and a can of lentils. Lentils are low FODMAP at a serving size of half a cup per person
What Type Of Pasta Is Low FODMAP?
Any pasta made from rice, corn, or quinoa is free game for anyone on a low FODMAP diet. For our low FODMAP spaghetti sauce, you're looking for something light like brown rice pasta or soba noodles. Be sure to keep the serving size at ⅓ cup per person, and you're safely within low FODMAP limits. Otherwise, serve zucchini noodles and eat as much as you want.
Are Tomatoes Low FODMAP?
As long as you stick to fresh tomatoes, you're ensured low FODMAP levels. Unfortunately, once one switches to canned tomatoes, the fructose is far higher. Only three-quarters of a cup per serving is considered safe, so rather avoid tinned tomatoes completely. We suggest that you keep to elongated varieties of fresh tomatoes so that they're packed with flavor instead of moisture without any risk of causing gastrointestinal discomfort of any sort.
Is Spaghetti Sauce OK With IBS?
Red sauces typically trigger gastrointestinal distress for IBS community members due to containing garlic, onions, and high sugar concentrations. Most commercially produced red sauces such as tomato and marinara are only high FODMAP because of those three ingredients. Our low FODMAP spaghetti sauce should not trigger any discomfort. There's nothing that's difficult to digest and nowhere near as much fructose as forms in a tin of tomato paste or tomato puree.
What To Serve With Low FODMAP Spaghetti Sauce?
Spaghetti sauce is, of course, best served on spaghetti. Unfortunately, only small servings of wheat pasta are suitable for those on the low FODMAP diet. As long as you stick to half a cup of cooked pasta, our spaghetti sauce can safely be served on regular spaghetti. For those who can't limit themselves to that little pasta, gluten-free pasta varieties made with rice, corn, or quinoa are safe up to a serving of one cup per person. For an unforgettable filling meal, serve up this spaghetti sauce with our low FODMAP meatballs and spaghetti. 
---
Recent Recipes