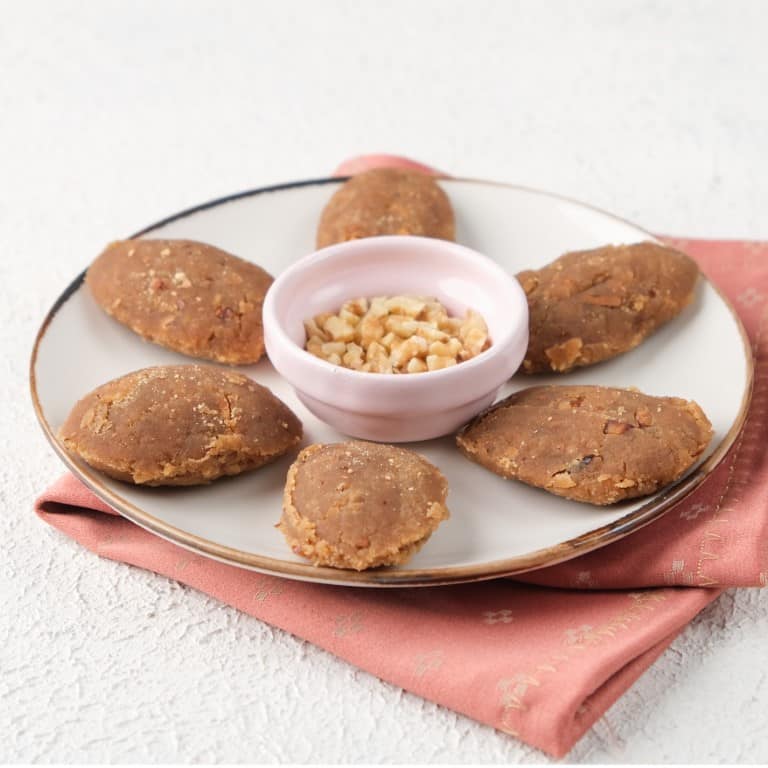 Ingredients
¼

cup

sugar

¼

cup

milk

¼

cup

water
For Halva:
4

tbsp

unsalted butter

½

cup

all-purpose flour

2

tbsp

walnuts

chopped
Instructions
To make sherbet, heat the milk, water, and sugar in a small pot until the sugar has just melted. Set aside.

Heat the butter in a heavy-bottomed non-stick pan. When the butter is melted, add the flour to the pan. Cook the mixture, constantly stirring, until it turns golden. Add the chopped walnuts to the pan and cook until it turns brown.

Pour the sherbets into the pan and continue stirring until the sherbet is completely absorbed and you get a smooth halva consistency that does not stick to the wooden spoon.

Remove the pan from the heat. Shape into a traditional oval form using two tablespoons and serve them hot with crushed nuts or ice cream.
Nutrition
Calories:
165
kcal
|
Carbohydrates:
17
g
|
Protein:
2
g
|
Fat:
10
g
|
Saturated Fat:
5
g
|
Polyunsaturated Fat:
2
g
|
Monounsaturated Fat:
2
g
|
Trans Fat:
0.3
g
|
Cholesterol:
21
mg
|
Sodium:
6
mg
|
Potassium:
44
mg
|
Fiber:
1
g
|
Sugar:
9
g
|
Vitamin A:
250
IU
|
Vitamin C:
0.04
mg
|
Calcium:
20
mg
|
Iron:
1
mg
Tips, Notes & Substitutes
If you're looking for a delicious and easy-to-make Turkish dessert, look no further than Turkish flour halva! Turkish flour halva is a delightful and popular dessert often served at weddings and other special occasions. The main ingredient in this dessert is wheat flour, which is responsible for the characteristic dense and chewy texture. This traditional dessert is made with flour, sugar, milk, and butter and is typically served topped with walnuts, pistachios, or almonds.
There are a few things to keep in mind when making this delicious dessert:
Use a heavy-bottomed pan or pot to prevent the halva from sticking to the bottom and burning. Also, be sure to whisk constantly while cooking to prevent lumps from forming.
If you're looking for a lower-sugar version of this dessert, you can substitute honey for the sugar. And for a dairy-free version, you can use almond milk instead of cow's milk.
If you're looking for a lighter option, you could try substituting wheat flour for almond flour or semolina. This will give the halva a nutty flavor and a slightly different texture.
It is essential to sift the flour before using it. This will help to break up any lumps and ensure smooth halva.
One of the essential things to keep in mind when making Turkish halva is patience. The halva must be cooked slowly and carefully to achieve the perfect consistency. So take your time and enjoy the process!
No matter how you make it, Turkish flour halva is sure to be a hit with your friends and family. Enjoy!
---
Recent Recipes