Simple Sardinian Culurgiones
Culurgiones are originally from Ogliastra, a region in central Sardinia. They are a dish that every village has claimed its own recipe for. The basic concept of culurgiones is similar to that of ravioli. This is a freshly made semolina pasta that is traditionally filled with potatoes, mint leaves, and pecorino cheese.
The shape of these is very different from ravioli. They measure between 2 to 4 inches in length and between 1 to 2 inches in width. The shape is inspired by the tops of wheat stalks and that is what they look like if done correctly. It does take a little practice to get these right.
This particular recipe includes making the pasta dough. It is so worth it to make your own so that it is very fresh and easy to work with. The ingredients are simply semolina flour, water, and salt. The filling is vegetarian, but this dish is definitely not low-carb. You only live once, so give it a try.
The filled pasta are boiled in water and then coated in a light tomato sauce and topped with more pecorino cheese. This is definitely a filling and satisfying dish that is perfect for a cool fall evening or a snowy day lunch.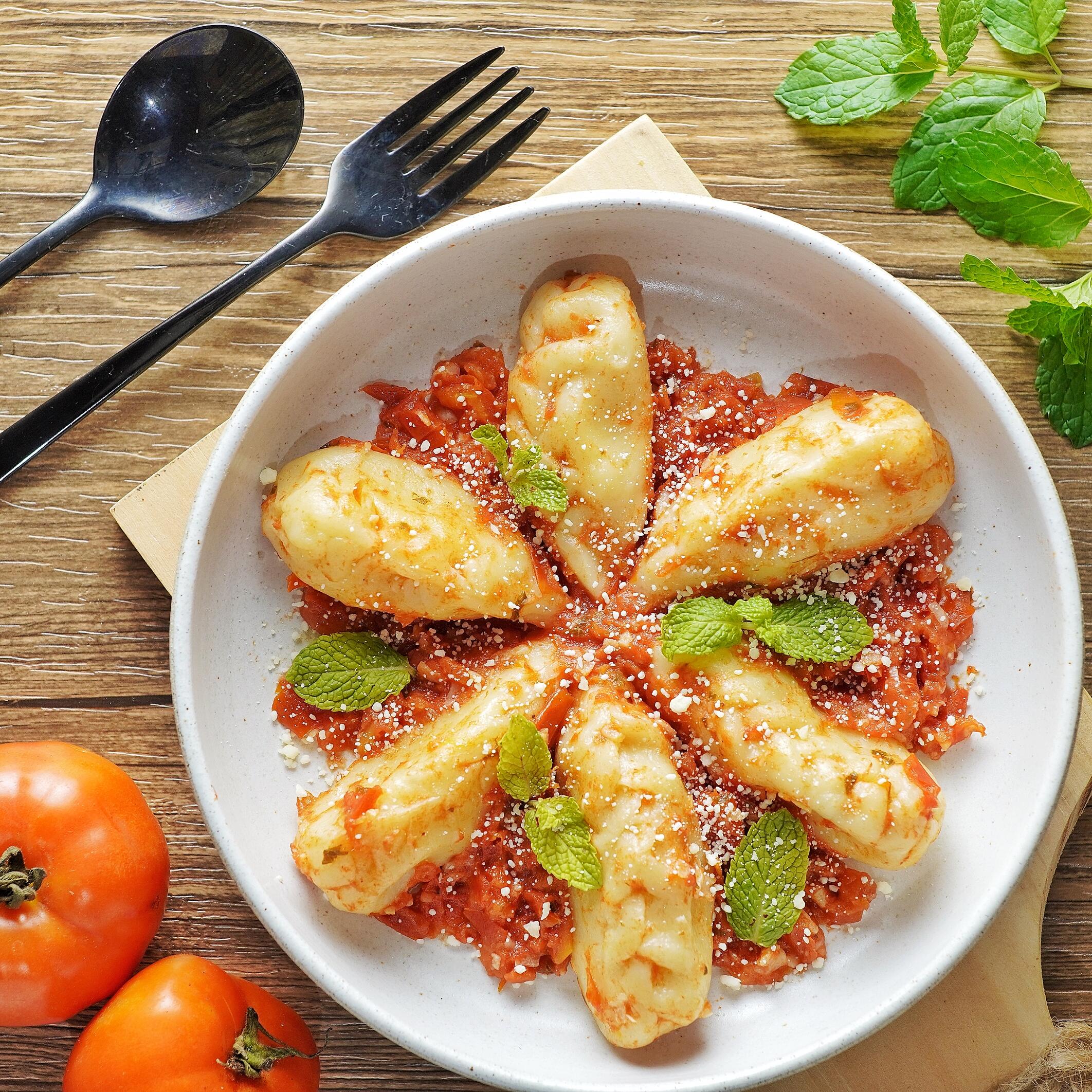 Ingredients
Sauce
2

TBS

extra-virgin olive oil

2

garlic cloves

thinly sliced

1

28-ounce can diced plum tomatoes

4

basil leaves

minced

Sea salt and freshly ground pepper to taste
Filling
3

large red potatoes

washed, not peeled

10

fresh mint leaves

minced

1-1/2

cups

of grated pecorino sardo cheese

1/2

cup

whole milk ricotta cheese

1

clove

of garlic

minced
Dough
4-3/4

cups

fine semolina or durum wheat flour

1-1/3

cups

water at room temperature

1

tsp

sea salt
Instructions
Make sure you have all the ingredients before you begin.
Sauce
In a large saucepot over medium heat, warm the oil. Add the garlic and cook until just lightly golden.

Stir in the tomatoes with juice, basil, and salt and pepper to taste. Bring the sauce to a simmer and cook until the sauce thickens and the tomatoes have mostly fallen apart, approximately 30 to 40 minutes. Adjust the heat as needed to keep the sauce at a steady simmer.

Prepare your filling and dough while the sauce is simmering. When finished, set the sauce aside for later. You can reheat it.
Filling
Place the potatoes in a pot and cover them with cold water. Add a pinch of salt to the water. Bring the water to a boil over high heat. Turn the heat down to a rolling simmer until the potatoes are tender when pierced with a fork.

Rinse the potatoes under cold water in a colander and set them aside to drain and cool. Remove the skins once cool enough to handle.

Place the potatoes in a large bowl and mash them. Add the pecorino, ricotta, mint, and garlic. Mix well to combine everything. You can use your hands. Cover the bowl with plastic wrap and place it in the refrigerator for a couple of hours.
Dough
In a large shallow bowl or on a work surface, Slowly add salted water to the flour and knead for several minutes until a smooth ball is formed.

Wrap the dough in plastic wrap and put it aside to rest for 30 minutes.
Assemble and Cook
On a well-floured work surface, roll out the dough to approximately 1/16 inch thickness. Using a glass or biscuit cutter, make 3-inch circles of the dough.

In each of the circles, place a walnut-size portion of filling. Close the pasta to form a football shape with decorative ridges to resemble a wheat stalk, as shown in this video. Pinch the end and fold it onto itself, and repeat it until you close the culurgione. Place them on a floured sheet pan.

Place your sauce in a pot over medium-low heat to warm it up.

In a large pot of salted, boiling water, cook the culurgiones in batches for 4 to 5 minutes. They should start to float to the top in about 2-1/2 minutes. Remove the pasta from the pot with a spider or slotted spoon and place them into a warm pot of sauce just to coat them.

Serve with grated pecorino cheese on top. Enjoy!
Nutrition
Calories:
265
kcal
|
Carbohydrates:
35
g
|
Protein:
10
g
|
Fat:
10
g
|
Saturated Fat:
4
g
|
Polyunsaturated Fat:
1
g
|
Monounsaturated Fat:
5
g
|
Cholesterol:
16
mg
|
Sodium:
559
mg
|
Potassium:
577
mg
|
Fiber:
3
g
|
Sugar:
2
g
|
Vitamin A:
335
IU
|
Vitamin C:
12
mg
|
Calcium:
163
mg
|
Iron:
2
mg
Notes & Tips
I call for the potatoes to be boiled whole with the skins on. I realize peeled and cubed potatoes boil faster, but they do lose some of the texture that makes this dish so good.
The sauce is meant to lightly dress the culurgiones. If you are more used to Italian-American-style pasta dishes with lots of tomato sauce, you might want to double the sauce ingredients.
Substitutions and Shortcuts
You can find Sardinian pecorino cheese at an Italian specialty market. If you don't have access to that, try to find a good aged pecorino cheese that you can grate or shred. It is best not to buy pre-shredded cheese, as it loses some flavor and softer texture as it sits in the container.
You don't have to serve culurgiones with tomato sauce. You can serve them with a brown butter sauce with some fresh mint leaves for something a little different. I am not 100% sure that this would fly in Sardinia.
If you don't feel like making tomato sauce, feel free to use your favorite jarred marinara that isn't too heavily seasoned with herbs. There is already fresh mint in the filling that you don't want to compete with.
The same goes for the pasta dough. If you are lucky enough to have a fresh pasta shop in your area, you can pick up a ball of dough that has already rested and just roll it out thinly to make the culurgiones.
---
Recent Recipes