Easy Maritozzo Italian Sweet Bread
Maritozzo is a true Italian delicacy. Maritozzo (plural maritozzi) is a delicious Italian pastry brushed with a simple sugar glaze and filled with whipped cream. They're perfect for a morning breakfast treat or after a night out on the town. It's one of those recipes that looks complicated but is actually super easy. And the romantic history behind maritozzi makes them taste even sweeter.
Let's learn how to make these delicious sweet buns.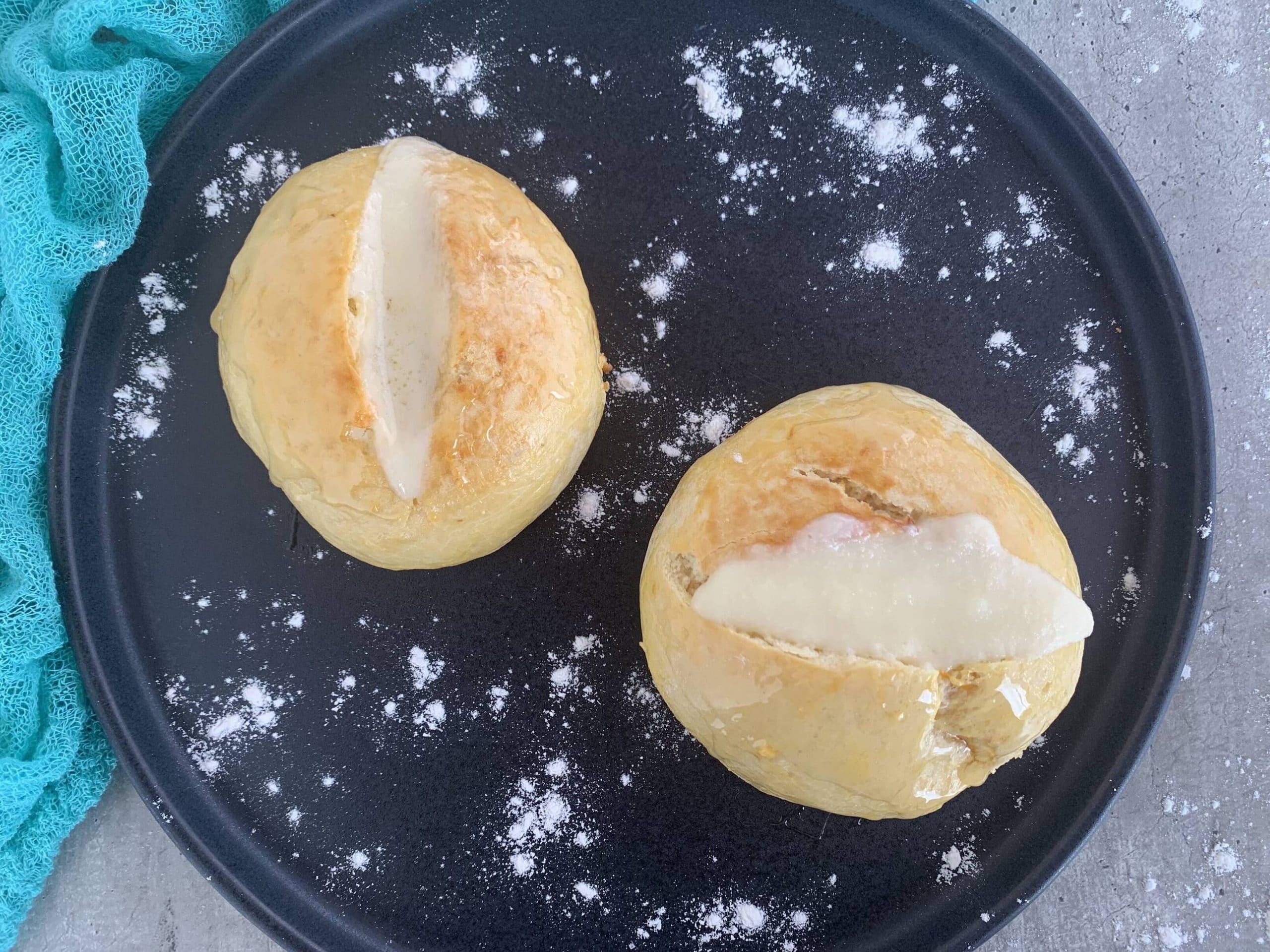 Ingredients
For the dough:
1

lb.

all-purpose

or gluten-free flour

1

c.

milk

any kind

2

eggs

2/3

stick unsalted or vegan butter

1/3

c.

sugar

1/2

tbsp.

honey

5

tsp.

fresh yeast

3/4

tsp.

salt

zest from 1 orange
For the glaze:
1

egg white

lightly beaten
For the cream filling:
1

c.

mascarpone cheese

1

c.

red ale

3/4

c.

sugar

1/2

c.

fresh cream or dairy alternative
Instructions
Assemble the ingredients before you begin.
To make the maritozzi:
Mix 1/2 cup and 1 tablespoon flour with 1/2 cup milk and 2½ teaspoons crumbled yeast. Let rise until it doubles in volume, about 30 minutes.

Chop the butter into 1/4-inch cubes. Mix the yeast starter with the sugar, honey, flour, and the remaining yeast and milk until it is smooth and elastic.

Stir in the eggs, then add the butter, salt, and orange zest. Knead until smooth, then transfer to a fresh bowl, cover with a damp kitchen towel, and let the dough rise again until it doubles in volume (about another 30 minutes).

Preheat the oven to 375°F. Shape the leavened dough into a large loaf, then divide it length wise into two elongated loaves, and then divide and shape each of these into small oval shapes.

Brush the maritozzi with the glaze and let rise for about 25-30 minutes.

Bake at 375°F for five minutes, then at 340°F for 10 minutes. Place on a wire rack to cool.
To make the filling:
Combine the mascarpone with 1/2 cup sugar. Add the cream and whip until just creamy. Over-whipping will make the cream split.

In a small saucepan, combine the beer, 1 cup sugar, and 1/4 cup water. Boil for one minute.
To dress the maritozzi:
Cut the maritozzi in half and longitudinally, leaving them just hinged together. Do not cut into the base.

Gently open the maritozzi. Brush the inside with the beer syrup and fill with cream.

Serve warm.
Video
Nutrition
Calories:
1139
kcal
|
Carbohydrates:
160
g
|
Protein:
23
g
|
Fat:
43
g
|
Saturated Fat:
25
g
|
Polyunsaturated Fat:
1
g
|
Monounsaturated Fat:
5
g
|
Trans Fat:
1
g
|
Cholesterol:
187
mg
|
Sodium:
479
mg
|
Potassium:
320
mg
|
Fiber:
4
g
|
Sugar:
69
g
|
Vitamin A:
1484
IU
|
Vitamin C:
1
mg
|
Calcium:
203
mg
|
Iron:
6
mg
Notes & Tips
This recipe makes four maritozzi. Double the ingredients to make more.
A light hand is the key for a successful outcome. The maritozzo dough is very pliable but should still be handled with care. The same is true for the cream filling. It should be whipped until it is just smooth.
Because they have to rise for about 90 minutes total, make sure to plan your time carefully. You can make the glaze and the filling while the maritozzo dough is rising, or wash some of the dishes. Cleaning up as you go along can make it easier to focus on the next step.
You can add a few toppings if you would like. Pine nuts, raisins, or candied orange would work great. But they're equally fantastic dressed plain.
How to shop for maritozzo ingredients
You can find mascarpone cheese in an international food store or by making it yourself with heavy cream and citric or tartaric acid.
The reason mascarpone works so well for this recipe is because it's very silky and easy to spread. It tastes like cream cheese but slightly sweeter and more acidic.
Note that mascarpone cheese is different from mascarpone cream. This recipe calls for mascarpone cheese. What's the difference? Mascarpone cream is made from mascarpone cheese, eggs, and sugar that are whipped together into a fluffy topping for tiramisu.
Red ale originates in Europe but can be found at any liquor store. You can easily find non-alcoholic variants, too.
Some versions of this recipe call for Manitoba flour, which is a type of flour from Canada. It has a higher absorption capacity that works well for the fat content of the recipe and the long rising time of the dough.
If you can't find Manitoba flour, or are gluten-free, any all-purpose flour or gluten-free all-purpose flour will do the trick.
Optional sides or compliments
We recommend enjoying maritozzo the Italian way: with a cup of strong coffee or espresso. If you are not a coffee person, tea will do the trick too!
If you are enjoying maritozzo for breakfast, you can pair it with fresh fruit, which would balance out the richness of the pastry.
If you are enjoying maritozzo at night, you can pair it with a glass of warm milk (dairy or dairy-free) for a soothing pre-bedtime treat.
Storage
Unfilled Maritozzo rolls can be kept tender for up to one week when stored in a zipped bag in your pantry. Cream-filled Maritozzo rolls need to be stored in an airtight container and refrigerated. They will last about three to four days in your fridge.
History
This tasty treat comes from the Lazio region of Italy, which is where Rome is located. This region is known for its bread grain and cheese production, so it's no surprise that a sweet baked treat using mascarpone cheese was invented here.
Maritozzo has a very romantic history. The name "maritozzo" comes from the Italian word marito, or husband. Male suitors would fill these sweet treats with small gifts and offer them to the woman they were courting. Legend says that the women who made the best maritozzo were likely to get married first.
Maritozzo treats were also served during Lent as a small, permitted indulgence during the forty-day fasting period.
Common questions
Can I use a kneader for the dough?
Yes, absolutely. A kneader or the kneader attachment on your stand mixer will do the trick.
What does Maritozzi taste like?
Heavenly! They are tender and fluffy and have a cream filling with just the right amount of sweetness. A true Italian delicacy. The texture is a bit spongy on the tongue.
Where is Maritozzi from?
Maritozzo comes from the Lazio region of Italy, which is where Rome is located. Mascarpone cheese was also invented there, clearly a delicious place.
---
Recent Recipes