Refreshing Watermelon Mocktail
Summer is the season for ripe and juicy watermelon. It is so refreshing and one of my favorite fruits to serve when I have weekend guests and we head to the beach or light up the grill on the patio. I usually serve wedges that can be eaten with your hands. Or, I will cut it into cubes to be eaten with toothpicks or a fork. I also skewer and grill watermelon or make it into a salad with feta cheese and a drizzle of balsamic vinegar.
I can't say enough about how good watermelon is. It is naturally sweet, a bit crisp, and very cooling. It has everything you need to beat the summer heat. Watermelon is very hydrating. It is a great source of electrolytes, lycopene, and vitamin A. Lycopene and vitamin A are powerful antioxidants that aid in fighting damaging free radicals. While watermelon hydrates you, it also quenches your thirst.
You can extract the naturally sweet water from the melon to make cocktails and mocktails. When I do so, I use seedless watermelon flesh that I can easily process in my blender. I usually strain the juice through a fine sieve, unless I want a slushy drink and I will simply blend the fruit with ice. Kids love watermelon mocktails which is great if they have been playing on a hot summer day and not drinking enough water. It is definitely better than reaching for a sugar sports drink.
My watermelon cocktails have either vodka or tequila shots in them. My mocktails have lime juice and mint. In either case, I don't add any sugar. I think watermelon is sweet enough with all its natural sugar content.
To make this watermelon mocktail, you will need a blender, a citrus juicer or reamer, a muddler, a sieve or fine strainer, a small pitcher or cocktail shaker, and four 8 to 10-ounce cocktail glasses. The ingredients are seedless watermelon, fresh limes, fresh mint leaves, sparkling water, and ice. This drink is fresh, cold, sweet, sour, and minty. You can have a bottle of vodka, tequila, or rum and a shot glass on hand for those who want to spike their watermelon mocktails.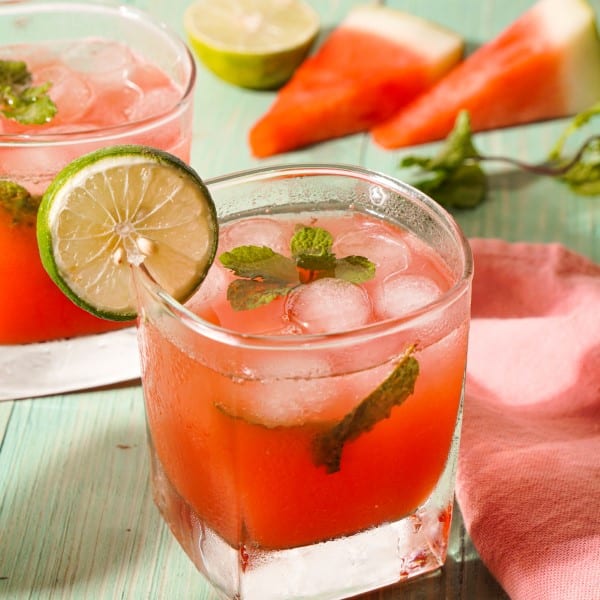 Ingredients
3

cups

seedless watermelon cubes

Juice of 2 fresh limes

16

fresh mint leaves

Ice cubes

16

ounces

sparkling water or seltzer

4

slices

of lime for garnish

4

mint leaves for garnish
Instructions
All ingredients ready? Let's begin!

Place the watermelon and lime juice in a blender. Process until smooth.

Using a fine sieve, strain the watermelon and lime juice into a small pitcher or cocktail shaker.

Using a wooden spoon, press any extra juice out of the pulp through the mesh of the sieve. Set the pitcher aside.

Place 4 mint leaves at the bottom of each of four 8 to 10-ounce old-fashioned cocktail glasses. Use a muddler to smash the mint and release the oils and herbal aroma.

Fill each glass with ice cubes. Pour the watermelon/lime juice over the ice to fill the glasses 1/2 way. Top each glass with sparkling water.

Garnish each mocktail with a lime slice and a mint leaf. Serve immediately and enjoy.
Nutrition
Calories:
47
kcal
|
Carbohydrates:
13
g
|
Protein:
1
g
|
Fat:
0.3
g
|
Saturated Fat:
0.03
g
|
Polyunsaturated Fat:
0.1
g
|
Monounsaturated Fat:
0.1
g
|
Sodium:
26
mg
|
Potassium:
173
mg
|
Fiber:
2
g
|
Sugar:
8
g
|
Vitamin A:
680
IU
|
Vitamin C:
21
mg
|
Calcium:
28
mg
|
Iron:
1
mg
Notes & Tips
I definitely recommend using a seedless watermelon. If you blend watermelon with seeds in it, it will taste bitter. If you only have seeded watermelon, just spoon the seeds out.
Straining the blended watermelon and lime juice is a good idea because the pulp can be a bit mushy when trying to drink it.
I urge you to use only fresh lime juice, not the overly concentrated bottled lime juice.
Substitutions
Watermelon: If watermelon isn't available and you are craving a sweet fruit mocktail, you can make this drink with Crenshaw or honeydew melon. Other good substitutes are ripe strawberries, juicy pears, or blood oranges.
Lime Juice: You can use lemons if you don't have limes. I might suggest using Meyer lemons because they have a touch of natural sweetness.
Mint Leaves: Basil is always a good substitute for mint in my recipe arsenal. I also like kaffir lime leaves that are a little citrusy. Lavender is another fun herb to play with in cocktails. If you prefer heat over mint, a couple of slices of jalapeño peppers muddled into the bottoms of the glasses will work.
Sparkling Water: I prefer sparkling or mineral water to club soda because it is less carbonated and the soda has sodium added to it. If you want more citrus flavor, use lime-infused seltzer.
What To Serve With Watermelon Mocktails?
I think of this beverage as perfect for a summer barbeque or picnic. I always think of my childhood summers when we gathered at my cousins' backyard pool. We ate wedges of watermelon and spit the seeds out. The juice ran down our arms, but we didn't care. It tasted so good and we were in wet bathing suits anyway. My aunt and uncle would also serve fried chicken, fried shrimp, sticky ribs, coleslaw, and corn on the cob. It was pretty perfect in my mind.
Here are some slightly more interesting recipes that you might want to make to enjoy with your fruit mocktails during your summer backyard lunch or dinner.
---
Recent Recipes